As the name implies, productivity apps are used to increase productivity. These apps have revolutionized our work in many ways in recent years. In this smartphone era, from small email to large relational databases, everything can be maintained by these productive mobile apps. These applications are not only restricted to office work. Today college students, entrepreneurs, retailers, everyone is using productivity applications frequently.
You would be surprised by knowing the fact that there are almost 71,762 productivity apps available for the Android platform, and this number is growing day by day.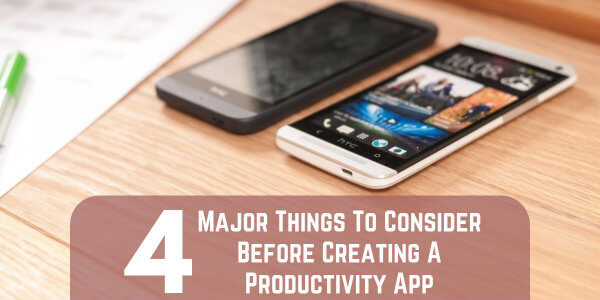 The primary reason behind the increased popularity of productivity apps is the benefits provided by these apps. These apps are not only used for checking emails, scanning documents but also used for advanced office tasks such as making presentations, worksheets, databases, charts, graphs, digital paintings, and digital videos, etc.
So, if you are looking to build these types of mobile apps for your business, you should know well enough about productivity applications.
Here are some important factors that you should consider before creating a productivity smartphone app. Let's check them out.
The Prime Motto of Your Productivity App
If you want to make money from your productivity app, your campaigns should be proper. Your app should not be targeted to only one or two countries, it should cover at least 10 countries. Also, your app should be available on all the possible platforms. It should not be restricted to a single or a particular platform.
Other concern includes complex coding at the backend. For that you can either hire an offshore developer or onshore developer, we would suggest hiring those developers who are proficient enough to make these type of mobile apps.
After it, the next challenge for you is the best programming language of your productivity app which depends on the operating system of your app.
The Programming Language of Your Productivity App
The programming language depends on your desired platform for which you are developing that mobile app. The platform can be Andriod, iOS, blackberry or windows.
If you choose Android for your productivity app then your preferred language would be Java but if you want to develop your productivity app for Apple devices, then you should go for Swift programming language.
The mistakes
There are certain mistakes that people make with app development, you have to understand these well so that you don't repeat them. Some of them are listed below:
Targeting the wrong audience
You have to know well about your target audience, what they expecting from your productivity app.
Many entrepreneurs failed to understand the target audience. They build productivity apps from their own perspective not according to the users. At the end they fail to achieve the success, thus you should research well about your target audience.
Partnering with wrong mobile app developer
Finding and hiring the right mobile app developer is very important, if you choose the wrong developer then you won't be able to achieve the aims you have set with your mobile app. You have to be very careful when you are choosing the outsourcing company, you should check their reviews, past works, client testimonials etc.
The details on your productivity app
The details on your productivity app should be specific. Your productivity app should be easy to use and responsive. One more thing, we want to add here is that your app should be small sized. There is a limited amount of space in devices, so you should try for a small sized app so that your app should be noticed and get downloaded.
You could take an idea from some successful productivity apps as well. We are telling you few successful productivity apps below for a better understanding.
Letterspace
Letterspace is a note taking app which helps you to organize your notes. It uses iCloud for syncing all the notes between devices. You can take help from this app if you are making a note taking productivity app.
CloudMagic
CloudMagic is an iPhone app that covers email with numerous powerful features. It covers Gmail, iCloud, Exchange and IMAP. You could take advantage if you are looking for a mobile email app.
Trello
This is a digital bulletin board which includes lists, task, notes and much more. Users can drag and drop anything from the list and customize according to their convenience. If you are also looking for a digital bulletin board, just check this app once, it will surely boost your work.
Conclusion
Your prime goal is to make users more productive and for this, you should consider the above-mentioned things. But apart from these, you should keep an eye on the current trends and what users actually want. We think by the help of current market trends, you will grab every opportunity to surprise your customers.