In today's world when the mobile handset market is hyperventilating there are only two platforms that seem to have taken up the market. It's a high probability that while you are reading this article you may be holding one of the two platforms based device.
Yes, there is this huge possibility that the shining device you are holding in your hand is powered by either Android or iOS. Now let's give it a thought that while we have had a huge range of mobile platforms ranging from Java (of course J2ME), Bada, and Windows, etc. why Android and iOS are winning the race.
Android Vs iOS: Who is Clear Winner
iOS
Now before we start talking about the iOS platform let's understand what it did to the market when it was launched. On the very fortunate day, none other than Mr. Steve Jobs announced the launching of the iPhone (the year was 2007 to be precise) he brought into the fray a device like no other. It was so unreal that it seemed a device right from the future. As he explained the device he raised the curtains from the OS supporting the phone and Voila!!! Here it was our pretty little neat OS- iOS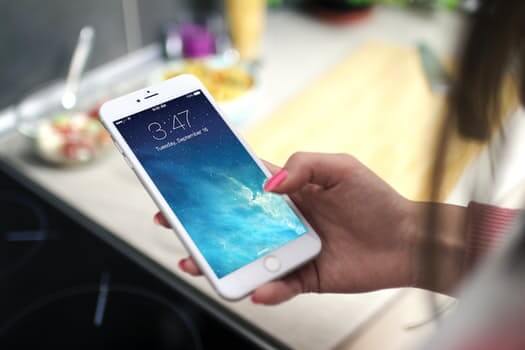 Not only iOS brought the touch screen concept of touch screen handheld devices but it provided a fresh clean UI for the users. iOS utilizes the concept of direct manipulation which is directed by the users Multi-Touch gesture. There were many new things like swiping, button touch, tap, pinch-to-zoom, etc.
This was a wonderful experience and was accepted hugely by the mass and it became a clear front runner with all the other devices of the age look a decade older in a day (I haven't even yet talked about accelerometer and other fantastic features iOS and iPhone offered combined to the users).
Also Read: 10 Major Challenges for iPhone App Development in 2020
Android
Now this lovable child of Google was born in November 2007, Wait!!! Yes, you probably got it wrong when you suggested September 2008, the Android beta was released in November 2007 and the commercial version 1.0 was launched to the market in 2008.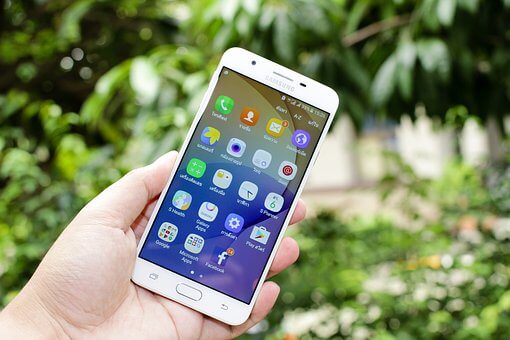 And with the inception of Android, was the beginning of the still-unknown huge rivalry between the two tech giants. Android not only matched what iOS was offering but it also broke few shackles that were previously applied regarding the iOS. It was similar yes it had a touchscreen and multi-touch recognition capabilities along with all that.
And the War Begins!
Soon after the release of Android Apple and Microsoft upfront raging a war on it. We would rather like to leave out Microsoft from the discussion here as it has not been a threat to both these platforms. So why Apple raged a war against Android is very basic they both have similar features. But the base of the problem was it provided the user with freedom. Android made itself available in the Open source market. Now, this must-have spoiled the party for Apple (chuckles!).
Apple made the iOS and dependent devices to be forced into a closed environment whereas Android asked nothing, forced nothing but encouraged people to enjoy the freedom. The end results in the Android-based devices are much more open and independent.
Also Read: Android or iOS App, Which One Would You Develop? Rock Solid Comparative Analysis Report
Market Study
In Q4 of 2013 Android had a market share of 77.8% while iOS was 17.8%. So that's pretty clear about who is actually winning the battle. On a second thought to make a dramatic impact let me throw in a pie-chart.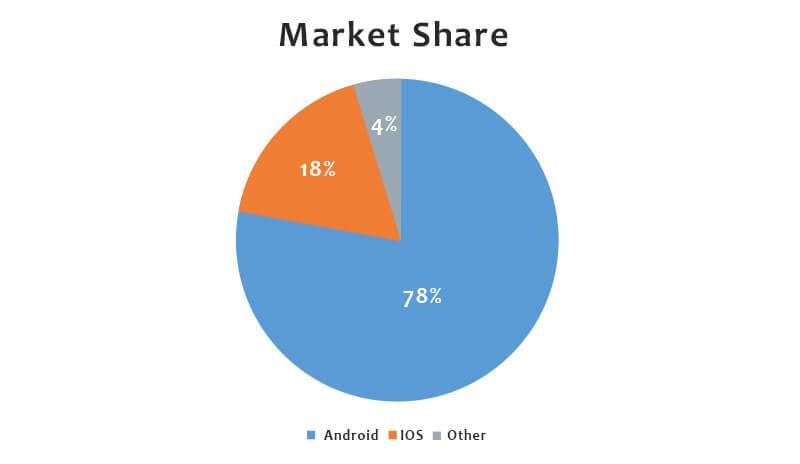 Seems like we have a winner. Android it is!!! But this is based on many aspects primary of which is the affordability of the devices. Now Apple is a premium device manufacturer that retails at a rate that not every man can get an Apple device whereas Android-based Devices are low priced thus much more affordable.
It comes down to two aspects: Affordability & provided features. This is exactly where Android has hit Apple hard. First Android devices are affordable and have an extensive range of offerings, along with that Android never fell short of delivering features to the users.
I know apple loyalists would disagree to me a lot and would call out for the quality of a "Premium" apple device V/S the plastic Android devices. Certainly yes, Apple is way ahead in terms of the quality of the devices, but how many common people can afford the devices.
Interestingly there is a surprise that awaits us in the section of revenue generation comparison between the two platforms. Here Apple's iOS is able to completely turn the situation over its head. The majority of revenue generation is upon iOS platform and by the majority, I mean a good 60 to 70%.
Let's Spare a Thought for the Goliath: Windows Mobile
Although many of us would laugh out at the possibility of Windows pulling down iOS and Android, but let's try to understand what is happening now:
iOS and Android are very near to the point of saturation, they are dangerously close to the threshold point where every result would turn around.
Windows Mobile: A smooth, Tile-based eye catchy UI and with good capabilities stands as good competition for both the Giants, in today's time when users are looking for something different in their devices, Windows for sure offers a respite from the old interfaces iOS and Android offers.
The problem with Windows: Applications!!!! Simply the reason is Applications that are available for the Windows platform. There are not enough applications for the Windows platform to keep the user hooked onto this platform. I mean seriously the device lacks any good apps (people keep saying they are on their way).
The current trend has given a shocking result, In the US and Worldwide Windows phone has gained market share in a considerable amount. Individually Windows was the highest gainer in market share(please do not misunderstand by this I mean the highest gainer which is compared to the market share of Windows mobile-only in the past).
It's a long way to go but we can hope for miracles from this little Goliath, realizing the fact that it is backed by a huge Giant named Microsoft. Microsoft's plan of aggressively promoting app development for the windows platform may give good results in the longer run. For now, we can just wait and watch.