While you start a business, you can target the whole market and offer the best products at reasonable prices. However, then come to some brands who target an only niche market and offer exclusive products.
Some brands are known for extremely high-quality products and high standards. As the only thing matters here is quality, the rates of the products are too high for ordinary people. Hence they target only a niche market.
The particular set of people are ready to pay high amounts to hire ios developer in the market. Also, another aspect is the status symbol.
Have you used smart devices? What are the parameters you prefer following while buying any smart device? There can be many things like battery life, looks, screen size, camera, etc. However, the most important and influencing thing is the operating system.
As we know, there are many operating systems in the market right now, but the most talked about operating systems are Android and iOS. The two operating systems have competition from years, and both are known for different features and advantages.
The number of Android users is more than iOS users. Both brands have different advantages and cons. The reason why iOS is expensive and is a status symbol is the strict rules and policies.
Some strict rules and reasons why Apple rejects many apps:
iOS apps labeled with "Beta," "Preview," and "Version 0.9." are usually rejected by iOS.
There is a maximum loading time limit given by all operating systems such as Windows, iOS, Android, etc. In the case of iOS, the maximum loading time limit for apps is 15 seconds. If the app does not load completely within 15 seconds, Apple will reject it from being published as an iOS app.
In iOS, it is mandatory that all payment mechanism should be done through the built-in iTunes-based in-app purchasing mechanism. This rule is applicable to only digital services or merchandise.
Mentioning rival platforms by name is not at allowing. This rule is present in all operating systems.
Proper use of storage and filesystems is mandatory.
The app must continue working through user denies permitting access to the data such as contact list, Facebook account, photo gallery, location, calendar, reminders, Bluetooth, etc.
Apple engineers want apps to behave and that is the reason they have rejected some apps for improper use of icons and symbols. The UI must be according to Apple's policies. Same applies to the trademarks and logos.
There are 2.2 million iOS apps available in the app store as per the data of Statista from the year 2017. It is expected to reach a bit higher in the current year 2018 and not much difference.
What comes to your mind when you hear Apple's ringtone playing? Heads turn around when an iPhone comes out of pocket. That is because from day 1 Apple has created an image of the iPhone as a smartphone for professionals. All iPhones have iOS as an operating system, and no other OS is supported in iPhones.
Benefits of developing iOS apps
As discussed earlier in this article, the brand value of Apple is high. The brand has earned a perfect image and is known for delivering best quality solutions. Enhanced user experience is the most talked about feature of iPhones and iOS.
Some apps such as WhatsApp, Instagram, facebook, etc. are available in both operating systems. Such apps are called cross-platform apps. However, some features are still different as discussed before, Apple is very strict about rules, and hence the iOS apps are a bit different than Android apps. Not only features but also icons are different and a bit appealing as compared to android app icons.
As we know, iOS apps give higher preference to the security of user's data and confidential information. Every user needs to store specific sensitive data about themselves, and iOS apps take care of security properly.
Where to find and hire iOS developers?
1.
Toptal: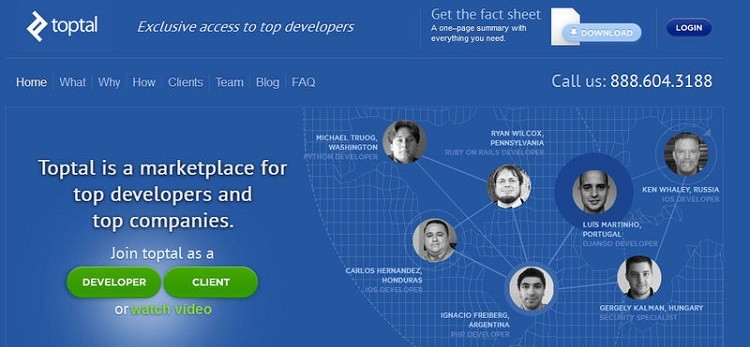 This is a professional talent matching portal which has skilled designers and development experts. As Toptal offers only the best resources and has a policy of delivering top developers, it is likely your best option.
Toptal has a trademark system for vetting talent and selects only 3% of applicants in search of best from bests. The technical tests conducted by Toptal are too tough, and hence they can provide the best iOS developers and designers.
2.
Authentic Jobs:
Authentic Jobs is a job board where creative people can get an excellent opportunity to showcase their talent and work on good projects. Since an iOS developer should possess certain qualities like creative mind, updated knowledge of technology, Authentic Jobs is the right place for you.
3.
Stack Overflow: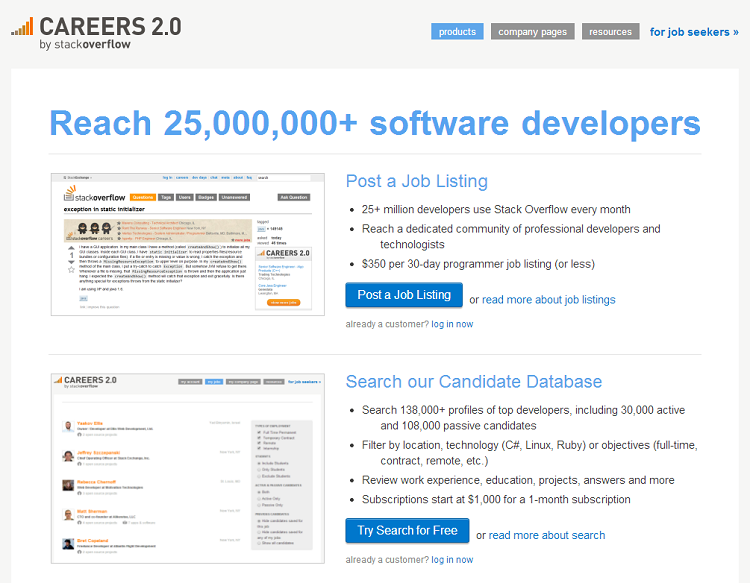 Have you ever visited Stack Overflow? Developers who have just started their careers often post on Stack Overflow to discuss issues and get appropriate answers too. Yes, it is a portal to exchange knowledge. Though this is the first motto, the portal also helps with job postings and recruitments.
4.
Crew.co:
The crew, as the name suggests, assembles teams of freelancers. These teams work on new projects. This is a good choice if your project is huge and you are going to need more than 1 developers.
Companies where you can hire iOS developer
The Ninehertz: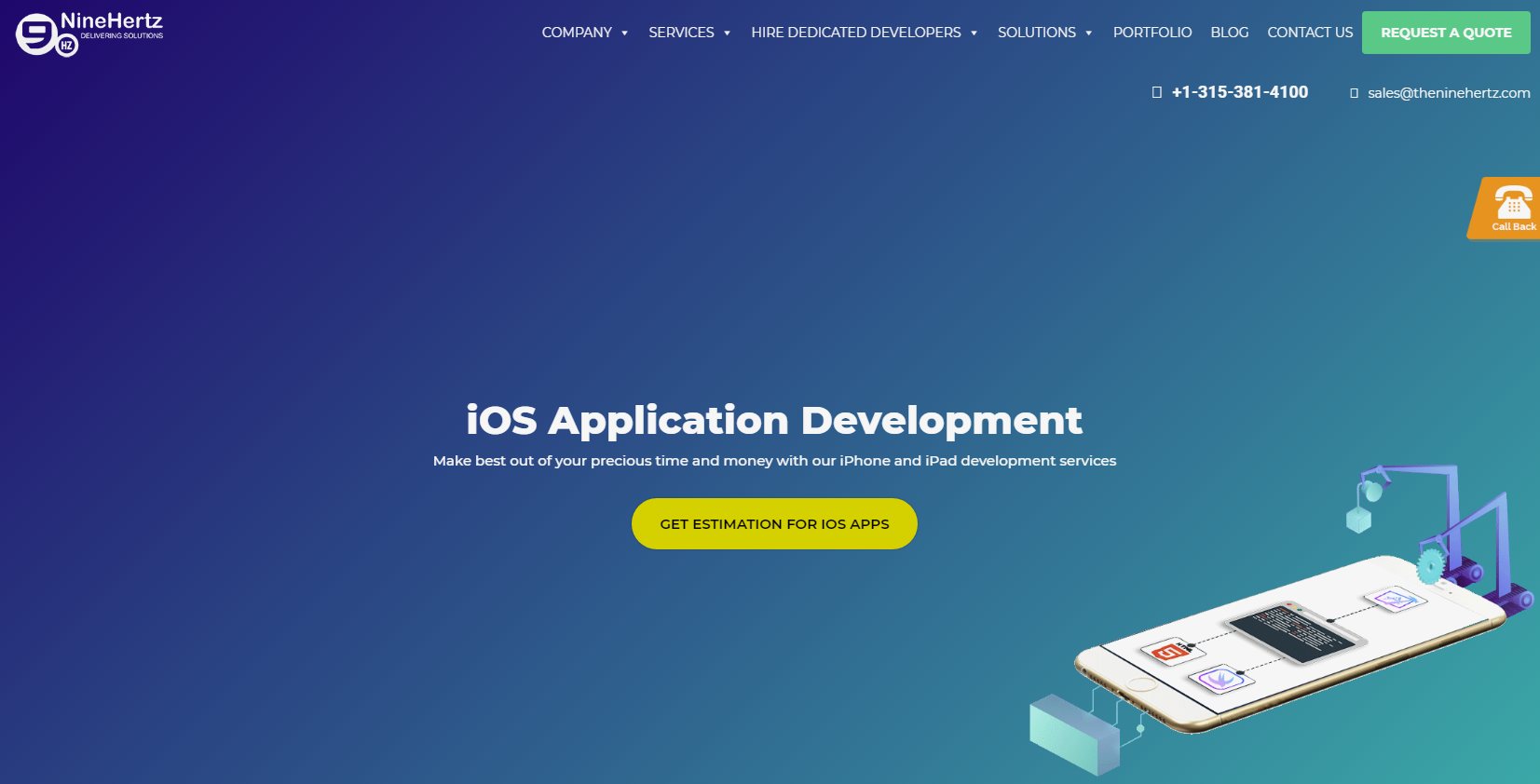 Being the old player in the game of iOS app development, The NineHertz can assure you great quality iOS apps. The Ninehertz hires only professional and highly experienced iOS developers to work on client projects.
24×7 support
Easy management
Peace of mind
60% less turnaround time
50% less cost
High-quality apps
Innovative strategies
450+ clients from 15+ countries
Appinventive:
Appinventive has clients from India, the USA, and Dubai as well. It has over 300 developers, designers, and testers. It has successfully developed more than 500 apps.
iOS App Development
Android app development
Mobile App Testing
IoT App Development
Chatbot App Development
Sourcebits:
Sourcebits is located in Bangalore and serves clients from India and the USA. They offer strategy, design, development, and testing.
Cross-platform mobile app development
Android app development
iOS App development
Want to hire an iOS developer? Follow these steps
Check portfolio:

App Development Companies and freelance developers always have a portfolio that showcases what work they have done to date. Examine that portfolio to analyze whether to hire or not.

Skills are essential:

In iOS app development, skills are mandatory. The developer must have knowledge and experience of developing iOS apps. Experienced iOS app developers have an idea of what can get rejected by Apple and do not add any such incorrect things in the app.

These developers can deliver high-quality solutions.

Recommendations:

If someone reliable is recommending that developer, there are higher chances of better work experience since no recommendations are gained with poor quality work.

Ask for a paid sample:

If you are ready to pay for sample work, any developer can deliver the desired module. In this sample, ask developers to code a small part of the app and not the entire program.
Conclusion
iOS developers are the one who cannot afford any mistake as Apple directly rejects apps for any small or large flaw. Hence, companies must select the best iOS developers to deliver excellent customer experience and increased return on investments.
To hire an iOS developer, it is important to select the best sources/companies. Also, refer steps to hire iPhone developer. If you are searching for a professional iOS app development agency that excels best in ios app services, then you can get in touch with us.