Driving cars is a tough task. 93 percent of road accidents happen due to human errors. Thousands of minor car strikes take place every day all over the globe. While purchasing a new car, users are notified about insurance plans.
Insurance of cars is essential as it recovers the cost associated with damage repair. Since cars are getting expensive, users do not want to spend more money on repairs. If you are thinking of a startup, auto insurance is a good option for you.
In this article, we are going to explain what are the necessary features required in an auto insurance app.
User profile-
Make sure you offer easy onboarding. The users should be able to create a profile in less time. Since mobile app developers are going to create auto insurance app, offering separate profiles to each user is vital.
Allow users to get the lowest price insurance-
Not all users wish to spend a big amount on car insurance. Most of the drivers demand cheap car insurance policies. Make sure the app sort down the cheapest policies for users.
Filters-
As mentioned in the first point, most of the driver prefer low-cost insurance. But some drivers might have different requirements. As per the requirements, it is important for the mobile app development companies to offer the best suitable apps for the users.
GPS-
An auto insurance car must have GPS installed. It offers real-time tracking of vehicles. This system can be used to offer roadside assistance.
Compare different quotes-
There are different quotes as per different requirements. Offer a brief comparison of all quotes. This can help the user understand which quote is suitable.
Allow them to buy insurance through the app-
After selecting appropriate insurance, the user should be able to purchase the insurance immediately.
Documentations-
Most of the auto insurance app developers allow users to capture the images of documents and submit those images. Since documentation is mandatory, mobile app developers can also allow users to scan the documents for submission. Users need not stand in long queues to submit required documents for insurance.
Invoice-
Provide a detailed invoice to the users. As per the selected quote, the user can get an invoice on the app itself. This makes it more convenient.
Receipt-
After the successful payments, the app users should get acknowledgments. Make sure these receipts are in detail and are authorized.
Claiming-
Usually, claiming insurance quotes is a time-consuming task. Drivers need to go to the office and fill in some forms to claim the insurance. To delete this problem, offer them easy claiming options. Mobile app development company can even allow drivers to upload images to claim insurance.
Push notifications-
It is important to notify users about app updates, upcoming payment cycles, invoices, receipts, etc. Make sure you send important in-app notifications as well as emails.
Multi-lingual support-
To drive app engagement and increase app retention, developing a multilingual app can be beneficial. If you target a complete globe, then the app should have a multilingual feature.
Payment gateway-
This is the most important feature. Since you are allowing drivers to select quotes, purchase insurance, get invoice; then you should allow them easy payment options. It can be through credit cards, debit cards, or even e-wallet apps.
Cross-platform ability-
Cross-platform app development can help you target Android as well as Apple audience. Since both platforms possess a potential number of users, it is important to develop a cross-platform app.
Telematics-
Now, this is a cool feature. Let us tell you that this feature is really expensive and worth it. Telematics uses artificial intelligence. It uses GPS, accelerometers and gyroscopes data on the smartphone. All this data is used to evaluate drivers' driving skills. A famous app called Root uses telematics. The driver is supposed to give test drives for a span of 2 weeks.
In this span, the app identifies driving behaviors and patterns. It analyzes different things such as drivers' frequent destinations, usage of the smartphone while driving, the total time the vehicle is in use, how often drivers change lanes, do they follow traffic rules, etc.
All this data is used to evaluate driving skills. If the driver drives safe and qualifies all steps, he gets to pay less amount for auto insurance. Since there is a low risk of accidents and damages, the app offers cheap auto insurance policies.
Customer support-
Since you are going to start an insurance startup, it is vital to focus on customer support. Make sure you offer 24×7 customer support for enhanced user experience.
Conclusion
There are various amazing auto insurance apps like Progressive, Root, etc. Make sure you add all the above features to create the best auto insurance mobile app.

Additional Perk: How to Turn a Book into a Mobile App? Know Its Benefits, Features, and Costing
---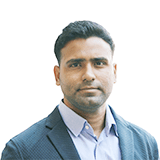 My name is Hemendra Singh. I am Managing Director and co-founder of The NineHertz, a Mobile App Development Company. I am having a keen interest in the latest trends and technologies that are emerging in different domains. Being an entrepreneur in the field of IT sector, it becomes my responsibility to aid my audience with the knowledge of latest trends in the market.