Apple will launch the iOS 12 officially for the users later this year. But, the users can download and use its public beta version. Apple is trying to make its OS reliable and competitive with the Android P operating system of another famous giant in the market, Google. With the new release of the iOS 12, users will get new features. Apple has made it compatible with all the devices that are running on the iOS 11. The iOS 12 Public Beta 3 will tend to launch the apps 40 percent faster. Moreover, with this new release, users will be able to know how frequently they are using their iPhone. Besides this, users will get a smarter version of the Siri.
The features of the iOS 12 Public Beta 3
1. 
Compatible Devices
The new iOS 12 Public Beta is compatible with all the devices running on iOS 11. What are the other devices on which iOS 12 Beta is compatible?
iPhones
The iOS 12 Public Beta is compatible with the following versions of iPhones:
iPhone X

iPhone 8 and 

iPhone 8 Plus

iPhone 7 and 

iPhone 7 Plus

iPhone 6s and iPhone 6s Plus

iPhone 6 and iPhone 6 Plus

iPhone SE

iPhone 5s.
iPads
The iOS 12 Public Beta is compatible with the following versions of iPads:
12.9-inch iPad Pro 2nd and 1st generation

10.5-inch iPad Pro

9.7-inch iPad Pro

9.6-inch iPad

iPad Air 2 and iPad Air

iPad 5th generation

iPad mini 4, iPad mini 3, and iPad mini 2.
Talking about the iPod, iOS 12 Public Beta is compatible with iPod touch 6th generation.
2. 
Performance
According to the Apple, this new update will double the performance of the iOS. The apps will launch 40 percent faster.
3. 
Measure App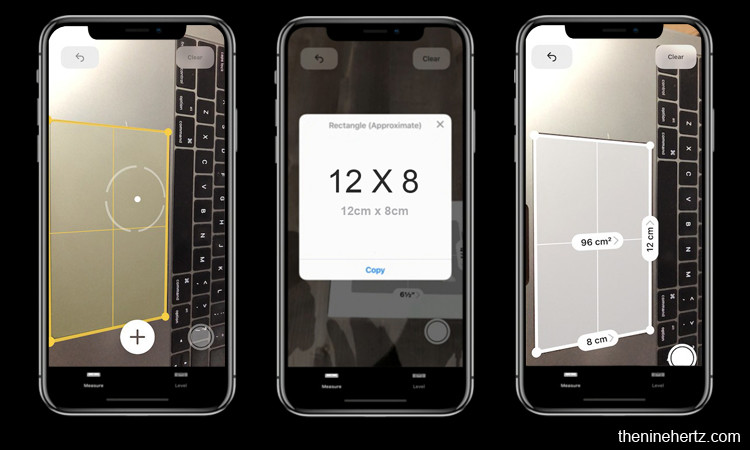 Apple released a new measurement app. It is an AR measurement tool which can measure and detect the real world objects. The app features two tabs – measure and level. It also comes with a camera view which lets users tap, drag a line, and measure.
4. 
ARKit 2
Apple is updating ARKit with some new abilities such as face tracking, realistic rendering, 3D object detection, persistent experiences, and shared experiences. The shared experiences feature lets users share their AR experience on various iPhones.
Read More: Apple Adds New Features in the Update of Augmented Reality iOS 12
5. 
Photos App
iOS 12 features a smarter photos app. To fight with its closest competitor, Google, Apple is adding to add new features in Apple Photos. The Apple Photos recognizes photos by event and indexes them accordingly. It lets users search by "an event". Searching by event also features some other smart suggestions. These intelligent suggestions include filtering by people, places, and relevant dates. If the users search via Siri, they will find this feature more comfortable.
Besides this, Apple has also upgraded the iOS 12 photos search capabilities. Users can use multiple search terms at a time. It is the issue of iOS 11 which has been solved with the new iOS 12.
Moreover, a new tab is also coming to the Apple Photos app. Apple named it "For You". It comes with the personalized suggestions about how to improve and share our pictures. It has a section named "On This Day" which comes with existing memories, looping Live Photos, Portrait photos, and more. Apart from this, the For You tab will also suggest the users try the editing tools.
6. 
Apple News
Apple will be going to improve the Apple News by adding a new "Browse" tab to it.
7. 
Voice Memos
The Voice Memos are coming to the iPad and Mac. Apple has entirely rebuilt the Voice Memos. Apple said that the iCloud support would also be available soon. It lets users sync their recordings.
8. 
Apple Stocks
Apple has been rebuilt the Apple Stocks. The new Apple Stock app has the Apple News. It lets users see the latest news while checking out their investment portfolio. Apple said that the Stocks are coming to iPad soon.
9. 
Grouped FaceTime calls
With this new Grouped FaceTime feature, users will be able to make video calls with up to 32 people.
10. 
Apple Books
Apple is going to add a new feature to the Apple Books. A new "Reading Now" section in the Apple Books will show users where they were left off.
11.
Notifications
Apple is going to provide its users with more control over the notifications.
Apple is going to add a new "Do Not Disturb Bedtime" feature. It will hide the notifications on the device's lock screen at night. If the users "hard press" this function, they can easily see the time limit for it. Moreover, if the users "press in" to a notification, they will see some options such as "Send to notifications center".
Users will also be able to customize the notifications from the lock screen.
Read More: Apple's iOS 12 Notifications update Comes as a relief to users
12. 
Screentime
The new iOS 12 will show users how much time they are using their phone. Users can view a weekly activity summary with a graph. The graph will show them how much time they are spending on their phone. In addition to this, users will also be able to view the usage time of each app, how often they unlock their phone, etc. Also, the iOS 12 will also show users which app serves up the most notifications. According to the Apple, it will also be possible for the users to limit the usage time for each app per day. For their children, they can set the "App Allowances".
Read More: Apple iOS 12 Screen Time Feature – All You Need Know
13. 
Siri Shortcuts
Every iOS app developer at Apple is working hard to improve customers' experience. Apple has made Siri smarter than before. Saying just "I lost my keys", Siri will understand that you want to ring your Tile Tracker.
Apart from this, Siri can now translate over 40 language pairs. Apple is also going to improve the food and celebrity facts for Siri. Now, users will get smarter search results for food knowledge and celebrity facts.
14. 
Animoji and Memoji
Apple will be going to update the Animoji. The new update of Animoji will support the "Tongue Detection". Memoji is a new thing. According to the Apple, Memoji is a customizable mask that can look like you – or the real you. Memoji builder lets you select the select your skin color, hair, etc.
Conclusion
Due to improvements in the technology, users' demands are continuously raising. Hence, to meet the needs of the users, Apple releases new updates every year, like iOS 13 update is in the queue. Updates are also necessary to reduce the increasing security threats. Users want some new features with the release of every new update. With the release of each update, Apple tries to increase the customers' experience. It is what the iOS app development companies are considering.