Fantasy sports app is highly successful among people because it provides fun and excitement besides the opportunity to be part of their favorite sports, virtually. The app caters to a variety of sports such as football, Kabaddi basketball, volleyball, etc.
A few years back during the time of cricket match, fans used to be thrilled and excited with every fall of a wicket, a catch or a boundary scored and other such sequences. But with the advent of fantasy sports app, today there are more thrilling scenarios to experience. Fantasy sports app have enabled fans to gain a deeper level of understanding and knowledge about their favorite sports.
Fantasy sports app has become a norm or an essential part of sports lifestyle among scores of fans. No sports are complete today without the involvement of Fantasy Sports app. Take the example of a cricket match.  Whenever there is a cricket match around the corner, fans waste no time in collecting information about the teams concerned.
The information includes details about the venue of the match, the condition of the pitch, and various other aspects. Highly interactive fantasy sports app takes the engagement level of fans to a whole new level. With an increased level of engagement, fans begin to put much effort. Thereby, excitement and their involvement in the match increase many folds.
Benefits of Fantasy Sports App Development
According to Harsh Jain, Chairman, IFSG & CEO of Dream11, fantasy sports app will have 100 million users in India alone by the end of 2019.

–source: Financial Express
The commendable growth and success of fantasy sports app demonstrated by Dream11 led to the surge in the number of fantasy sports app operators from 10 to 70 in India. According to fantasy sports app developers, there has also been a sharp rise in the demand for Dream11 clone script following the success of Dream 11.
Fantasy sports app caters to 5 crores + sports fans at present. This number is only posed go up as the online sports viewership reaches an all-time high in India. Though fantasy sports app involves sports like football, kabaddi, basketball, volleyball, etc., cricket is the biggest market of profit for the sports business and for fantasy sports app developers.
In India where cricket has become a new religion for its fans, it has become an important and promising market for fantasy sports software development companies or to be more precise for the fantasy cricket app development companies. This should not be a surprise considering the fact that 2 out of every three sports enthusiast belong to cricket.
This fact is enough to give a good idea of the dominance of fantasy cricket app development over other fantasy sports software development. Also, this is a sheer reason that majority of fantasy sports app developers are surrounded by fantasy cricket app development projects.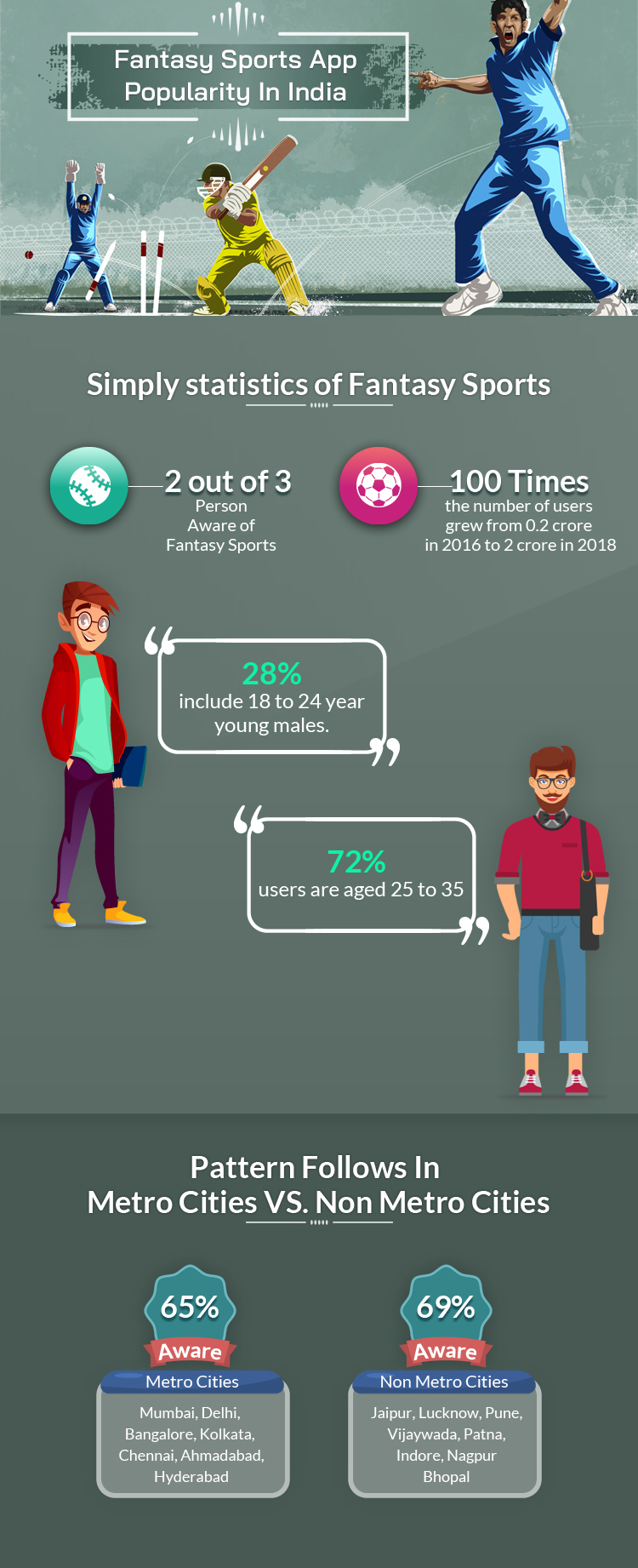 The NineHertz for your Fantasy Sports App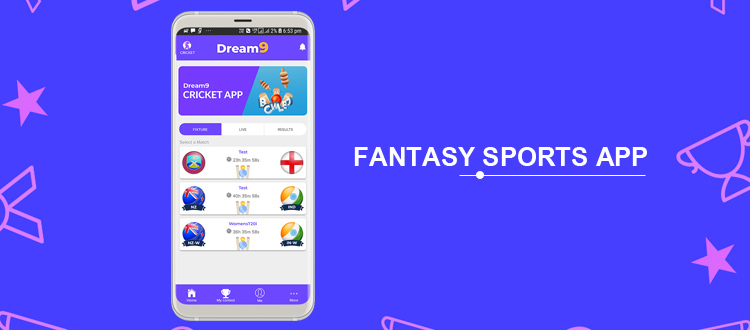 The NineHertz has developed hundreds of apps for clients from around the globe. Every app that we have developed has given us greater insight not only in terms of development but also what users want in an app.  Backed with experience and demonstrated skill sets, we are well positioned to help you with technologically sound fantasy sports app development and industry insider knowledge crucial for sports app success.
You can count on us for robust and scalable mobile apps development for the sports industry. We enjoy a long lasting relationship with our client because we believe in a strong work ethic and post delivery support. Our goal is not only to build apps for our client but to also help them succeed. Throughout the development cycle, we work very closely with our clients to help them understand the pros and cons of each option they choose.
India is a complex country in terms of regulations and compliances. By the virtue of our experience of developing hundreds of sports app, we can build an app that adheres to all the regulations and compliance.
Our fantasy sports app is scalable and reliable. We are always ahead of the competition and offer a top-notch solution to all our clients. We provide fully customized integrated features with responsive and UI-rich fantasy sports app solutions.
Simple Facts About Our Fantasy App
For developing a prominent fantasy sports application, we use proven technologies that engage users, create a stir among audiences and drive sales to your business.
Technologies Used:
Python (Django) as a back-end
Ionic as a front-end
JavaScript for admin Panel
Time Required:
Average time required to develop a Fantasy Cricket App is 20-25 weeks.
Top Features for Your Fantasy Cricket App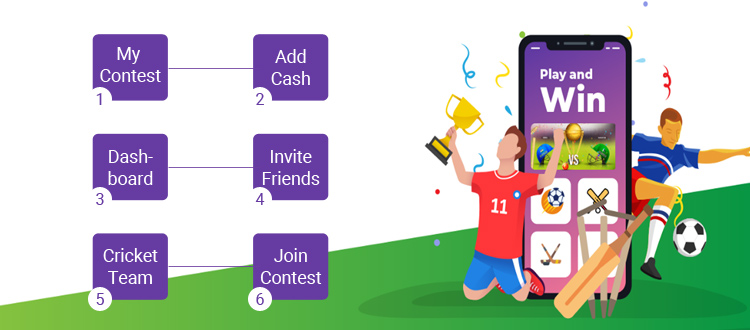 The NineHertz understands the pulse of the sports fantasy app market. Over the years of experience of developing sports fantasy app, we have gained a substantial understanding of the end users. Based on our in house research and experience, we suggest below list of features that can help you attract new users and gain early traction. This is only a short list of feature to give you a clue of what users are looking for.
1. Real-Time Analytics
As the fantasy sports app market matures, users have become sophisticated and more demanding. We want real-time analytics that adds value and helps to improve performance. Real-time analytics has also seen to increase fan engagement through various features like activity analysis and live tracking.
2. Feed Customization for a Real-Time Update
Customized experience tailored to the individual user has become a norm today. Fans don't want to stick to feature that comes with the app. They want the app to have the option whereby they can customize their feed to receive the information that they want. The NineHertz can develop sports app for you that will allow users to customize their feed to get the live update, scores and breaking news about their sports.
3. Sports Calendar
The sports calendar is a feature that provides fans with information such as venue and date of major sports events scheduled to happen around the world. Sports calendar feature will allow users to customize the app to receive game schedules of the favorite team or sport.
4. Live Streaming of Video
This is an especially good feature for fans who cannot watch their sport on a television set. By providing the option of live streaming of video on the fantasy sports app, fans can watch their sports from anywhere. The fantasy sports app we develop for you will bring the game to the user's location with HD video.
5. Gamification
This feature is excellent for those fans that care about their fitness. Gamification will make fitness fun by adding immersive experience to daily fitness activities. App users can use gamification features for routine fitness activities such as running, exercise workouts, and spinning.
6. Event Booking Facility
Availability of this feature in a fantasy sports app will help fans to book a venue to schedule events. Fans can also find a partner or team member for an event using their mobile phone.
7. Augmented Reality
With the use of augmented reality, we can develop a fantasy sports app for you that can provide fans dream-like experience. It's an amazing experience that helps users to play their favorite sport along with their stars right from their home.
8. Match Highlights
This is a good option to re-engage your users after the match is over. This feature allows app users to enjoy match highlights. They can explore short videos, awards, scorecard, prediction results and a lot more.
9. Referral Program
Scheme such as invite and earn help keep users loyal to you and give them a chance to earn. This feature provides fantasy sports app users the option to recommend your app to their friends. By recommending they get the chance to win a cash bonus which they can use later to participate in a cash contest. This is just an example of a referral program which can be tailored to your specific requirement.
10. Push Notification
We can build this feature in your fantasy sports app if you request. This feature allows app users to receive information related to any special contest or an upcoming match. Push notification is an easy method to send alert to users device to inform them when the match will begin or when its time to create a team.
11. Blockchain Integration
This is an amazing feature and an upcoming trend that allows fans to pay through cryptocurrency for match fee. This feature also allows them to withdraw the winning amount in cryptocurrency. This option is not only easy to integrate but it also encourages more and more users to try your app.
Depending on your fantasy sports app project, we may suggest more features. This means when you hire the NineHertz for your fantasy sports app development projects, you are not alone. We not only develop a sports app for you but also work towards ensuring its success by sharing with you our experiences and success tips. Many of the features that we describe below are proven to act as a hook for app users.
Also Read: How to Design and Develop a Fantasy Sport App like Dream11​?
Takeaway
Fantasy sports app market is comparatively very nascent. Yet it has garnered 100 million users in India alone, in a very short amount of time. There is an immense potential for a market segment that has just begun. Since there is a low entry barrier, this space is getting crowded day by day. This has also attracted a multitude of development companies to proclaim themselves fantasy sports app developer.
However, the great majority of fantasy sports apps are far from tasting any success. That's because every other fantasy sports app is delivering pretty much the same thing. If you want to prevent your sports app from getting lost into the crowd of the existing app, you need to offer more. For success and early traction, you have to come up with a fantasy sports app that delivers all the existing features and provides more.
With years of experience, we are expert in building all the existing features into your sports app in a minimum turn around time. Moreover, our expertise can bring life to your fresh ideas thereby enabling you to pamper your app users with more features and options.
---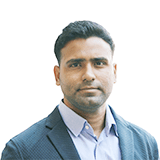 My name is Hemendra Singh. I am Managing Director and co-founder of The NineHertz, a Mobile App Development Company. I am having a keen interest in the latest trends and technologies that are emerging in different domains. Being an entrepreneur in the field of IT sector, it becomes my responsibility to aid my audience with the knowledge of latest trends in the market.