'Ionic is the most native-like a framework for the development of iconic mobile application development surveyed by Kissmetrics'
The alliance of mobile apps with the native-like framework is inseparable. When the mobile UI and UX matter most for the varied ionic app development company the kin to develop an iconic mobile application using 'Ionic' a native-like a framework considered by the Ionic app developers most.
Talking about the Ionic antiquity, it was initially released six years ago (2013) by drifty. As it is open-source and available under MIT license the developers found it code-friendly framework for mobile app development.
What is Ionic Framework?
Ionic is an open-source HTML5 based framework for designing hybrid applications. Hybrid apps are rich in Webview which offered many advantages compared to the native applications in terms of speed, coding, testing, and performance criteria.
Ionic apps are well-written in HTML, Javascript, and CSS which helps developer, customer, and owner to feel the UI and UX utmost. This is the reason behind the inception of Ionic 4 development, supported by Angular.
Although, you might agree with my statement that 'the lives of mobile apps is strictly based on its UI'. Perhaps, Ionic can be considered as an app-friendly UI framework that handles hard of hardest UI interactions of application with the support of native elements and excels design.
When your idea and strategy to deal with the IT apps, then it becomes more important to design, integrate, and deploy the application using the perfect framework.
Considering a new age framework called Ionic supported via Angular leverage you exile benefits. While you are not in the shadow world, you have many other options you opt for mobile app development, but today hot-topic and UI friendly framework is Ionic, chosen by the developers.
Leveraging The Benefits Of Ionic App Development
1. It is Easy to Ratify

One of the topmost benefits of opting Ionic is that the developer found it easy to use, adapt, and use. The HTML, Javascript, and CSS are easy to learn, if a developer familiar with it, then development turns into an effective one.

For the enterprise, it is easy to welcome ionic if their requirement and needs call for the hybrid application development.

2. Developer Friendly UI

In the market, you have many options to pick and leverage with friendly UI. But, in case you want extra or say something unique with flexibility, you might turn your attention to the Ionic UI framework.

The themes and components of Ionic are customizable like folding mobs. Although the ionic framework allows add and adapt the components on which the application running.

3. Powered by AngularJs

We know that Ionic series of 3 and 4 are powered by Angular Js. So, when it comes to the functionality test, the developer will never compromise in that.

The use of AngularJs allows the Ionic developers to provide a robust structure and intuitive interface that makes the code more manageable.

4. The Winner of Performance

The performance metric of Ionic is magnificent. The native mobile app framework code utilizes in PhoneGap (Apache Cordova) which renders higher-performance compared to hybrid applications. AngularJs accelerate the native hardware performance, GPU level, and maximize available processor time.

5. Utilization of Cordova Plugins

The Ionic framework utilize the world's most rich Cordova Plugin in the app's inception. The designer and developer can access different components according to the need of time and adjustment.

The Cordova plugins can access features like GPS, Camera, Flashlight, and more where further developers use these features to add in application prototype.

6. Support C.P

At last, the most immersible benefit of using ionic for app development is that it supports cross-platform app development i.e. developer has the option to deploy apps for multiple platforms. Ionic is a complete front-end SDK for cross-platform app development.

The information says that Ionic supports Android 4.1 upwards version and iOS 7 along with the support of UWP (Universal Windows Platform).

Summing Up

No doubt that Ionic is a deadbolt hybrid app development framework. While there are other competitors in the market besides Ionic which you can opt. But for the bright app development, you must go for the Ionic era.

Talking about Ionic feasibility, the framework is easily available and can learn very partly. It is cost-efficient and reduces the need for maintenance too. If you're interested to develop UI rich mobile app with robust performance hire an ionic app developer to kick start your developers fast.
---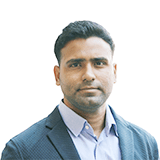 My name is Hemendra Singh. I am a Director and Co-founder of The NineHertz, IT Consulting Company. I am having a keen interest in the latest trends and technologies that are emerging in different domains. Being an entrepreneur in the field of the IT sector, it becomes my responsibility to aid my audience with the knowledge of the latest trends in the market.