If you are in the real estate industry, you must be aware of recent technological advancements. There have been some revolutionary changes in real estate mobile app development today. There has also been a significant advancement in real estate app development features. You can gigantically profit from the real estate mobile applications which give attractive returns quickly.
The organizations get the chance to offer substantial legitimate postings in an incredibly engaging way. You can easily reach both local as well as international clients. In addition to it, you can smoothly manage the material in your site. Not only that, you can get texts and warnings as well for instant development.
You must be thinking about building up your business and brand. However, you are not interested in the usual route or for costly techniques promotions, calling, etc. In this case, you can significantly profit from a property mobile application. With an expert and extremely proficient property apps, you can manage significant undertakings.
For instance, managing your postings, tracking deals, demonstrating houses, settling an arrangement, closing negotiations, etc. The best part is you can do this anywhere from your home or office.
Top Real estate industry players in the USA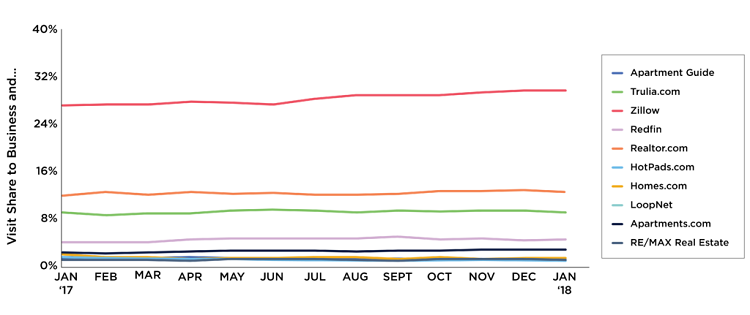 The Key Statistics on U.S. Real Estate Market
The revenue of the real-estate property management in the U.S. is expected to hit the mark of 70.028 U.S. dollar by 2020.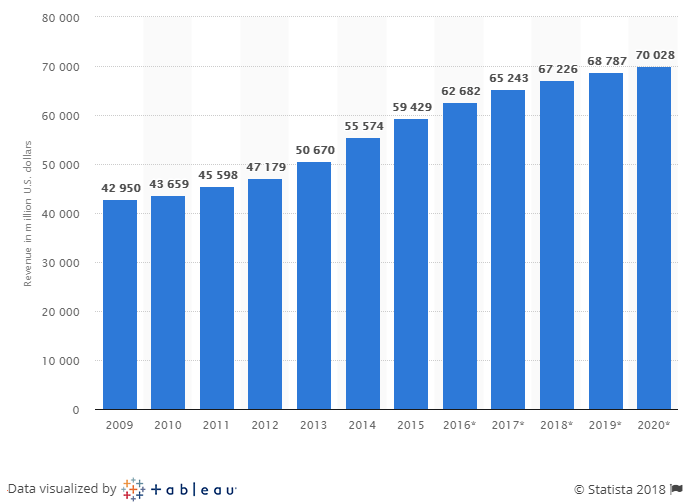 What are the advantages of having a Real Estate Mobile Application?
Having a useful real estate app can do wonders for your business. You will not realize it until you have one. Their functions are not limited to just monitoring your transactions or closing on deals only. They do have a few incredible features that make them unique of their kind.
Here are the top Real Estate app development features:
#1 Three Dimensional Vision of the desired Property:
The property apps are capable of offering three-dimensional perspectives of the whole property. It is an essential component as it entices the purchasers for buying it. Such a feature also enables them to have complete information about the property.
#2 Apps provide you with information about brokers or middleman:
It is helpful and straightforward to contact the merchant of your coveted property. The reason is you will get all the contact points of interest furnished here.
#3 Contacting merchants through Email or sent request message:
Purchasers searching for property can contact the dealer through an email. They can send a request message as well. The reactions are generally immediate.
#4 Arranging:
Apps enable clients in filtering the properties from highest to lowest or lowest to highest. The filtration is usually according to the territory, costs and different components.
Do you think that these are all features that a real estate app has? Not really, they do offer you some additional attractive features too. Here goes: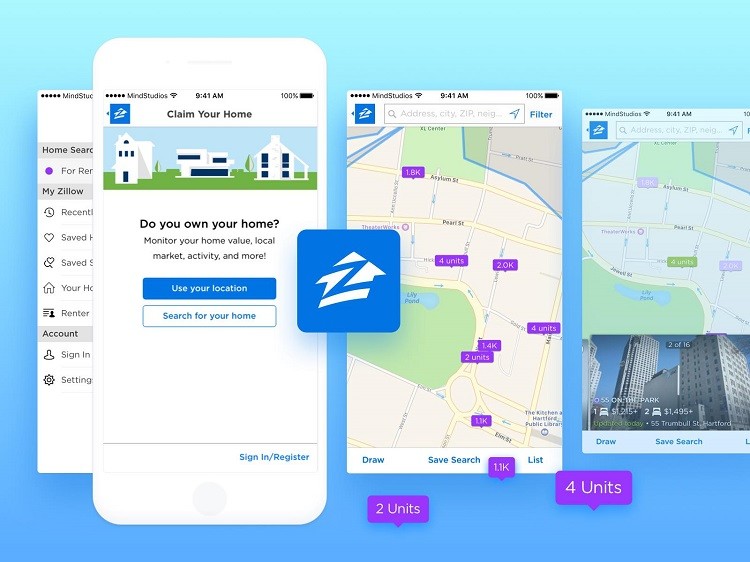 Such an element is very indispensable for intuitive applications for property dealing. It permits the application clients to discover adjacent properties. The geolocation highlight inside the app uses the GeoTag or GPS area of a phone.
Hence, it is feasible for clients to search for properties utilizing the cell phone's GPS. Customers get an opportunity to see the properties or homes available for purchase. GPS helps to find those properties close-by their present area continuously on a map.
Apps have a smart feature to calculate interest rates:
Property dealing apps have inbuilt features for calculating interest rates. With their help, clients can get payment estimates, along with tax and insurance provisions. They need to enter the cost of the home, the initial installment, and other required points. Sooner they input the data, the rate of interest will appear likewise.
The first administration programming in the property dealing apps plays a significant role. They are a vital component in changing over more leads into bargains quicker. Such an element will enhance the lead changes and help you in receiving the rewards. It is a compelling component and can assist in running things more efficiently. It can further enable you to investigate customer exercises to measure client dependability too.
Push innovation comes as an excellent arrangement for connecting with the clients. They do not just keep them mindful of the extraordinary offers, occasions, news, and properties. They also guarantee that your application will stay on their mobile for some time span.
The usage of Augmented and Virtual Reality: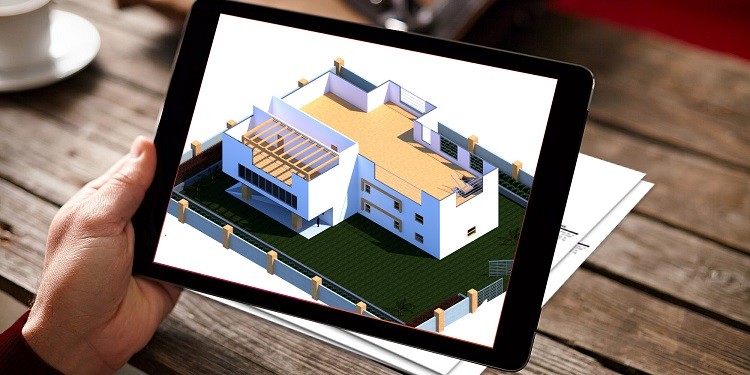 With rising AR and VR Innovation, the property dealing business can profit a considerable measure. E.g., you can exhibit the homes in three-dimensional views. It can give your clients a genuine picture of how a property resembles. Augmented Reality innovation can provide clients with the feel of your property web design.
The blend CRM arrangement with property dealing applications helps in increasing sales. With CRM you will see that how small information can significantly turn things for you. The framework is helpful in sending messages to the clients concerning different offers. In addition to it has an impressive part to play in advertising and advancements plans.
Land Application Advancement: Difficulties that arise and how to fix them?
Property information is getting intricate consistently. The information isn't merely giving data to everybody. They are offering knowledge for customers regarding the particular industry, business, and workers. Besides, the quantity of gadgets creating information from various sources has expanded immensely. As mobile innovation keeps on getting more intelligent, property dealing business will keep on evolving.
With property dealing app you can identify land ventures and property administrators. Accordingly, property dealers can concentrate on exercises like determining rents and managing tenants.
Innovation can change land resource administrators' tasks. The full utilization of 'mobility' innovation encourages working from home. Customarily in the property dealing business, a select number of individuals monitors large data's.
Those data's have a relation with occupants and houses. With effective utilization of innovation, reliance on a few individuals to monitor colossal information will lessen. It is evident to expect a noteworthy increment in the usage of information analysis.
Difficulties with Real estate app development:
Mobile application advancement for the property dealing business accompanies challenges. However, one must look for solutions to get the most out of such mobile apps. The reluctance to accept such innovation stays to be one of the essential difficulties.
Safety Issues:


Property dealer's keep private information with them. They can include occupant, merchant, and representative data. Organizations need to secure the data and avert access to the interconnecting occupant and seller frameworks.
Real Estate Mobile Application Advancement Administrations and Openings
1. Area-based Applications:
Apps direct clients to open properties and lands for sale. The applications can accumulate information and propose posting. The phone's GPS knows the right area of customer and allows access to the area maps.
2. Property Administration:
Innovation in apps helps property proprietors and administration organizations manage and track their business.
3. Online Property Pursuit and Posting Administrations:
Searching is the principal criteria for a land business to help proficiently oversee properties. It enables clients to look, see and pick the suitable item online.
4. Cloud:
Storing information in cloud-based applications is helping operators to monitor customers. They can take notes and make documentation.
5. Coordinated effort Devices:
Stages to help consistent correspondence between purchasers, merchants, vendors, specialists to oversee end-to-end property exchanges.
6. Property Examination:
Innovative answers for overseeing the valuation of property outline and execution of a property posting.
7. Booking:
Application with an in-built booking structure displays date-book to demonstrate accessibility to customers.
Also Read: Real Estate App Development Guide
Conclusion
The property dealing business is developing at a quick pace. We have not yet reached the most superficial layer for innovation enabled advancement. The selection of mobility in the real estate can find new potential outcomes to generate business. As the world keeps on developing mobility is the now the new standard. Today, you cannot think about a successful business without mobiles. On-demand apps have possibly outranked real estate website development today.
If you are hoping to modernize your land business, you must take some critical decisions. One of them is to cooperate with a mobile application advancement organization. They will convey an extensive variety of designing and improvement benefits over practical territories. For example, brokerages, researching, investigation, valuation, contract, office administration, etc.
Before collaborating with mobile application advancement organizations, it is essential to check portfolios and procedures. Remember, your improvement accomplice will determine the success of your property dealing venture.
---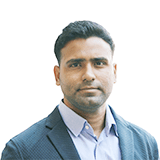 My name is Hemendra Singh. I am a Director and Co-founder of The NineHertz, IT Consulting Company. I am having a keen interest in the latest trends and technologies that are emerging in different domains. Being an entrepreneur in the field of the IT sector, it becomes my responsibility to aid my audience with the knowledge of the latest trends in the market.