The two biggest groups, Salesforce and Google tied up together opening endless possibilities of better user experience. Marc Benioff, Salesforce CEO told that the aim of doing salesforce google partnership is to achieve Google's functionalities and increase the productivity for their customers. Google is a big world of uncountable information and its analytics will be used to merge sales, marketing and provide better customer insights.
Google's G-suite will be combined to Salesforce by which customers will be able to promote their companies widely to have a license for one year without additional charge. A series of business-friendly apps are available to improve collaboration. Salesforce will optimize the Google cloud platform for global infrastructure expansion.
Sridhar Ramaswamy, Google's senior vice president of Ads and Commerce told in an interview – "Our customers want a holistic view, a total view across Salesforce's CRM systems and Analytics, where all the website action takes place. This is really a first-of-its-kind integration."
It is the ultimate mission of Salesforce to help organizations (Salesforce users) by providing their customers' information and interactions on a single platform. The way Salesforce is serving its clients, i.e., providing global access to resources, opening to them identifying opportunities and fulfills the needs of customers, has proved itself a better CRM and opens up more opportunities for Salesforce development services.
Nan Boden, head of Global Technology Partners, Google Cloud, said-"Our partners are incredibly important in helping our customers maximize the value of their cloud investments."
Also, he added, "Our partnership offers a unique opportunity to turn marketing, service and sales data into actionable insights and better business outcomes."
Salesforce Google partnership has been formed an alliance for more than 10 years, but Google Cloud is preferred for Salesforce's international expansion.
This strategic partnership of Google and Salesforce aims to provide collaborative experiences and deliver new and smarter integrations to customers.
Let's take a look at the main highlights of Salesforce Google partnership –
Google Analytics 360 Suite
From top to mid, we have talked about customer experience. It is very much important to know your customer, because after all your offerings must suit his choice, otherwise, they will never feel satisfied with you.
As a business, you have to know your customer to retain them. There are various activities like ads, emails, applications designing, and many more. To put all these in front of customers, you have to focus on their needs first and on the basis of their needs, you have to offer the right things that can suit their demands. Now the question arises, how well you can do this?
If you have any mechanism to view your customer interaction, you can better understand them and analyze what they want. Integrating Salesforce with Google Analytics 360 allows viewing customer analytics which helps you to smartly engage and retain them.
Here are the two ways of optimizing the data –
• Create customized audiences and snatch them in a marketing cloud to get that data always ready for direct marketing channels.
• Integrate your sales cloud data in Analytics 360 for sales purpose such as ad targeting.
• With the help of this, marketers will gain scopes and have rich customer experience.
Connect Salesforce With G Suite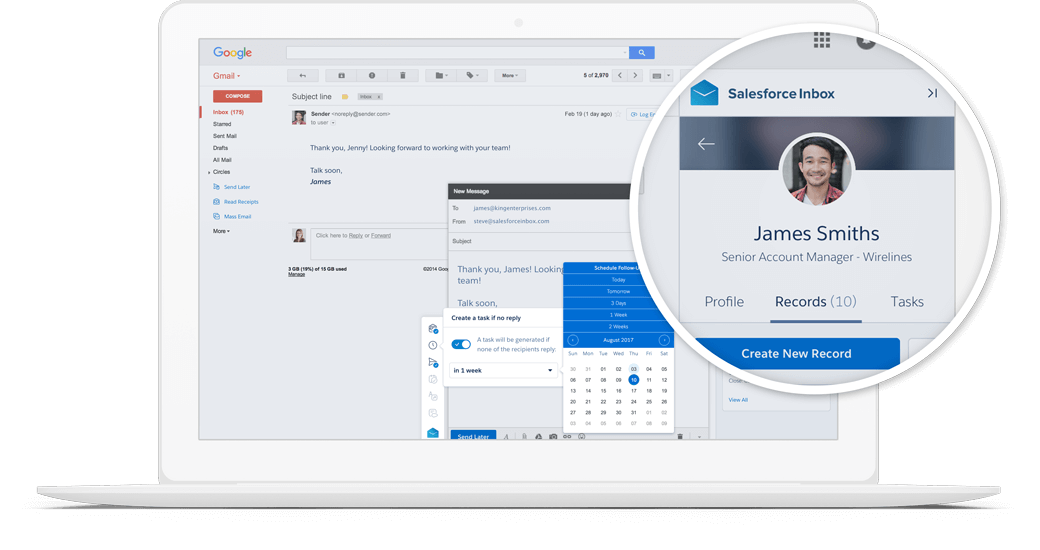 G-suite is an office suite and cloud computing brand created by Google to provide collaboration and productivity tools. It comprises with all required Google's functionalities such as Google+, Gmail, hangouts, calendar, Drive, Docs, sheets etc.  With the help of G-suite, you can get in touch with your customers, make decisions faster and collaborate in real time. Also, the joint customers will be able to connect sales and marketing tools with Google Analytics 360 (paid version).
Now you can imagine the power of these two (Salesforce and G-Suite). Users will be able to grasp customer experience in an amazing way. You can get customer intelligence between G-Suite and Salesforce lightning and Quip.
Let's take a glance at Google's features which will be provided to get seamless integration and use –
• Gmail
• Google Sheets
• Quip Live apps for Google Drive and Calendar
• Hangout
There will be a greater visibility into customer behavior which will further increase productivity and effect marketing efforts. This suite will be provided to eligible customers of Salesforce. The company must have 350 or more than employees to get it free for one year and the companies which are not fulfilling this criterion i.e. has less than 350 employees will get it free for 3 months only.
According to the partnership agreement, G- suite will become Salesforce preferred email and Google will stick to Salesforce cloud platform and expand its infrastructure globally.
As a Marketers Perspective
• It is a great step which can create more opportunities for both B2C and B2B marketers while moving for Salesforce integration services. Both sectors will have more power to gain visibility into customer behavior and express their actions with more control.
• The partnership comes with the promise of making customers smarter and more productive.
• Sales cloud data can help B2C marketers to get on the custom audience and promote products for them.
• Marketing clouds can be used in order to direct marketing channels such as email or SMS.
• Potential customer's data can be stored in marketing cloud to target them.
• You can take advantage of combined service of Google analytics 360 which are available on upgrading it to get more valuable insights.
• With the help of these tools, you can yield sales revenue and more designed marketing efforts to increase your growth.
• Lightning was the center of attraction when the Salesforce-Google partnership announced. The two main things discussed lightning in this strategic partnership was –

– Lightning Migration
– How to successfully migrate from Salesforce Classic to Lightning console?

• This collaboration brings in another platform apart from Amazon's AWS to sell its products, enhanced offering to expand its market, and many more.
It is not the first time when this two announced collaboration, back in 2008, the partnership was to bring Salesforce into Google Apps but didn't come out as forceful as this one.
This global strategic partnership of Google and Salesforce will give more surprises to its users. Let's see what's next. We hope the outcome of this collaboration open lots of opportunities to users and developers.
For better guidance, you can keep an eye on all its latest updates and take help from Salesforce technical support services to know all ins and outs of this partnership. Contact us  here if you would like to learn more about Analytics 360. We hope you're as excited as we are!