It is obvious that all internet users love to browse. These browse about any little thing and can visit numerous websites to gain information. An average user used to visit 89 websites per month in the year 2010. After 8 years, the data has changed a lot. What do you notice first when you visit a website? The first thing a user seeks is information. But what if the user is not looking for information? What if the client is looking for services or products? Reason can be anything but the primary thing is the user interface and user experience must be excellent.
What is the User Interface?
The user interface is nothing but a simple to understand and access design that interacts with the users. This is a way through which an internet user interacts with the website. User interface contributes to improving the user's overall experience. Touch screen interfaces, icons, menu bar, toolbar, windows, buttons, and images are some parts of the user interface.
These elements influence the user's decisions with great efficiency. Hence these are the factors to concentrate on. Websites need to be user-friendly. If any website is difficult to understand, the color combination of web pages are ambiguous, there are higher chances of increased bounce rate. The color grids are supposed to be pleasant for the eyes and all buttons should be handy.
What is the User Experience?
User experience in the terms of websites is nothing but offering an experience that meets the exact user needs with no fuss and bother. While strategizing user experience, it is not enough to provide what the end users are looking for. Rather, offering something extra that is unsaid and not asked. In the marketing language, fulfilling consumer's demands offer satisfaction.
But offering something more, beyond expectations delights the end users. A delighted user is better than a satisfied user. It boosts the brand loyalty. For instance, when you buy a refrigerator, the dealer installs it for free and charges no installation fees. These delights end users.
Read More: The Future with AI: How AI Impact UX Designing?
Users leave websites within few seconds for 2 major reasons:
When they do not get anything useful. Users visit any website for one primary reason that is information. Information can be about anything like any topic, brand, product or service. If the user does not get proper information, he or she can immediately close the window and leave the website.
When a user does not know what to do. Many websites and mobile apps attempt to deliver some extraordinary features and end up in confusing users. Many times consumers do not understand which button to click and which option to select.
Also, content plays an important role. Developers might select some unique alternatives for simple words. For instance, Say Hello for the Contact Us button. This might confuse the user and ultimately the user will leave the website.
UI UX designers are different. UX designers work on technicalities whereas UI designers work on graphics.
Sources to hire UI UX designer
1. Freelancer.com-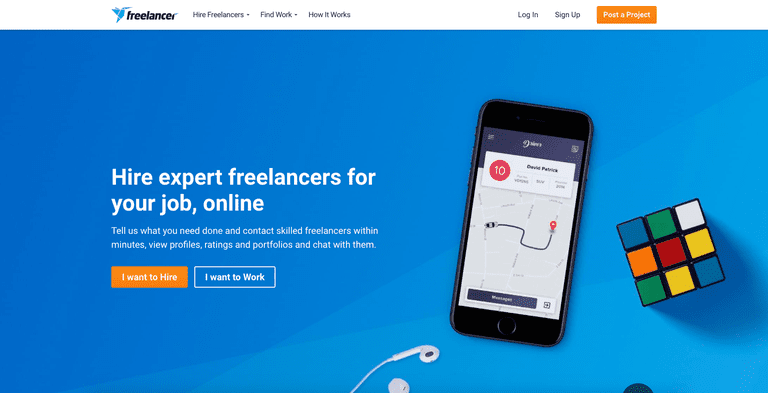 Freelancer.com has everything and everyone. You can get android app development, ios app development, Magento development, angularJS development, etc. here. This place is full of talented people and experienced resources. Companies who wish to hire UI/UX designers can get skilled designers here. Hire UI UX designer on the basis of various parameters like experience, skills, number of projects handled, etc. Freelancer.com takes a small percent of share from both recruiting company and freelancer.
2. Toptal-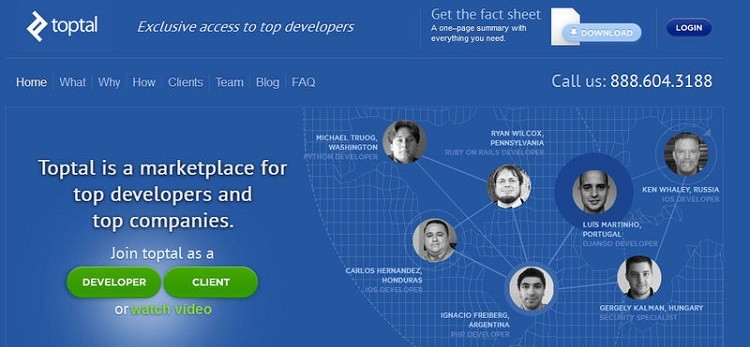 Toptal's team claim that they offer only the best 3% of freelancers. Companies can get excellent skilled and experienced UI/UX designers. Their selection criteria are very tough. It is a paid service.
3. Upwork-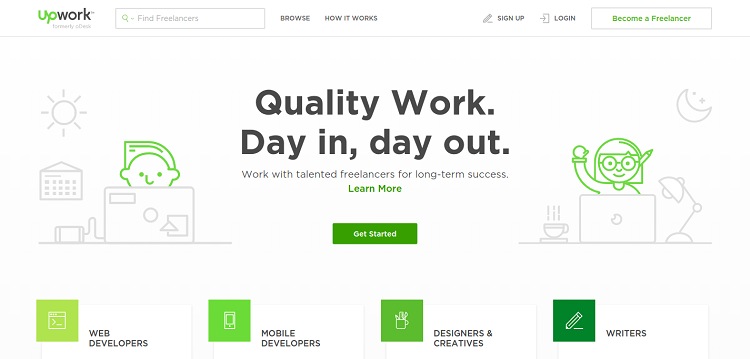 Upwork is similar to freelancer.com. It is a great place with thousands of designers and developers. There are many UI/UX designers in Upwork. You can select the best ones by filtering on the basis of experience, earn points, projects completed, etc. Upwork charges a certain percent of your deal with the freelance developer.
4. Smashing jobs: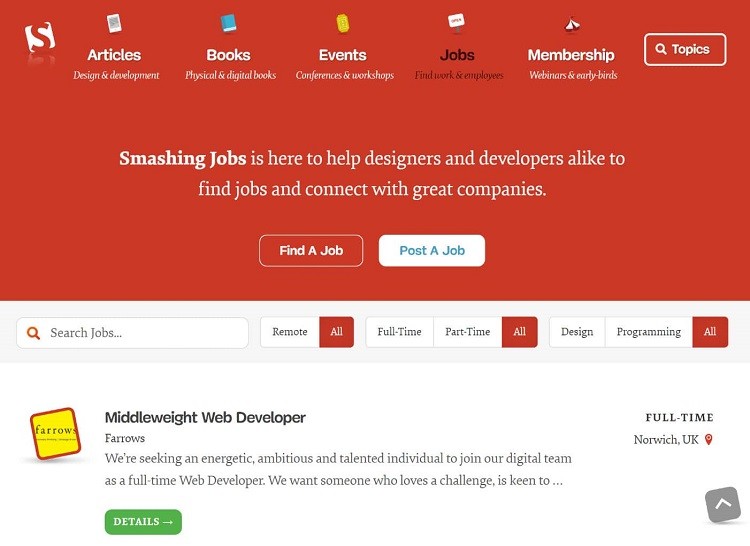 Smashing jobs also known as Smashing magazine. The primary purpose of Smashing magazine is to publish articles about technology. They also work as a platform to hire various resources such as UI/UX designers. It is a paid service. Hence you can expect a professional approach only. An organization who wishes to list their UI UX designer job will cost $225 for listing full-time positions and $75 for freelance. It has 2000000 monthly unique visitors and hence it is one of the most renowned and reliable platforms to find UI UX designer.
Want to hire UI/UX designer? Here is a list of top companies offering best UI UX designer
1. The Ninehertz:
The Ninehertz has many creative resources who provide UI UX design services. They are known for delivering best and highly interactive websites, web apps and mobile apps. They develop sophisticated graphics, logo designs that bring ahead the prominent user interfaces.
– Direct access to resources
– Weekly meeting with clients via Skype or mail
– Hire full-time, part-time or hourly basis
– A dedicated in-house team of certified UI/UX developers
– Incorporating emerging technologies like IoT, Beacon, Wearables, etc.
– Meticulous user-oriented strategic approach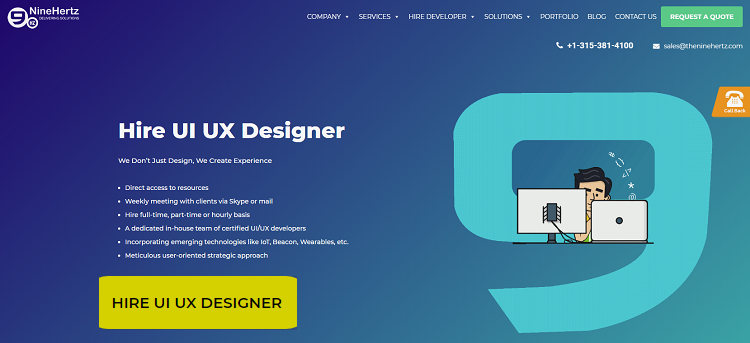 2. Wink Tales:
Wink Tales offer full cycle UI UX designing. It also offers testing and improvements. They offer:
– Digital strategy
– User flow
– Information architecture
– Wireframing
– Interface and visual design
– Interaction design
– Content strategy
– Prototyping
3. Mindster:
Mindster is one of the best UI UX Design Companies in India. They are known to create stunning functional B2B apps with improved usability. They offer:
– Wireframing and designing
– Prototyping
– Visual design
– Usability engineering
– Development
– Testing and support
Steps to hiring quality UI UX designers:
Check Portfolio/Previous Work/Reviews: Portfolio is nothing but a list of work done. It includes all websites, web apps, mobile apps designed by the UI/UX designers. Reviews are very important to judge a designer. These reviews or ratings given by previous employers indicate what was the performance in the previous projects.
Communicate: Communication can decrease chances of ambiguities and improve performance. Designing is a crucial task and hence companies must clear all requirement related points in the beginning.
Check the Experience: There is a certain project in which freshers with a couple of years of experience cannot fit in and a designer is needed with decades of experience. Hence, it is important to check the experience.
Pre-Employment Testing: When it comes to hiring UI/UX designer, evaluating technical skills well in advance with talent assessment tool helps in identifying the job fit candidate faster. Checking their portfolio & previous work experience is one thing, but assessing their job-specific skills not only help you select predicts their future performance and help you get your next best hire.
Conclusion
Designs play an important role in websites, web apps, mobile apps, etc. these designings include UI designers and UX designers. To hire UI UX designers, it is important to select the best sources/companies. Also, refer steps to hire UI UX designer.
If you are searching for a professional web development company that excels best in design services, then you can get in touch with us.