77% of Americans use smartphones. This data is of the year 2017. In the year 2011, 35% of Americans were using smartphones. There is an ascending graph that indicates the popularity of smartphones. In the UK, 81% of people use smartphones.
Why are smartphones called so? Since they are smart and has the answer for every small query. The best part about smartphones is the internet. Since the RAM is higher, smartphones are way faster than old mobile phones. An average internet user spends 2 to 3 hours on the internet. The maximum internet is used by the millennial and teenagers. There are various apps built especially for youngsters that have amazing features. Apps are a part of our lives and we just cannot survive without them.
197 billion mobile apps were downloaded in the year 2017. There are more than 3 million apps present in the play store of the most used operating system i.e. Android. Another most used operating system is iOS. It has 2.2 million apps present in the app store. Thus, many businesses are looking to hire iPhone app developer for developing their own iOS app or Android App.
An average person has 80 to 90 apps in the smartphone. Most used apps in the world are WhatsApp, Facebook messenger, Facebook, etc. Games is one type that has created most of the revenue. There are some games on the market that are way too amazing and cannot be beaten. Many apps are famous since they use artificial intelligence, augmented reality, virtual reality, etc. Such technologies are very expensive and so are these apps. But the benefit offered by such apps is amazing.
Have you ever checked what type of apps do you have on your phone and what apps you use frequently? There are some corporate apps, some games, on-demand apps (OLA, Uber, Zomato, etc.), event apps, healthcare related apps, e-commerce apps, messenger apps, social media apps, etc. Many routine tasks are done using mobile apps. These tasks include checking steps while morning walk, chatting with friends, video calling, watching recipes online, booking flight tickets, ordering food, etc.
How Technology is changing the Food Industry?
Food is everyone's favorite topic! Since technology has been evolved to a great extent, it is very easy to learn new cuisine recipes and eat them. As hotel management also uses technology to the fullest, learning foreign dishes without traveling is very easy these days. On the other hand, people are changing their tastes. Unlike previous days where only a few regional dishes were famous and people denied trying new dishes, now almost everybody wants to try new places and explore new food items.
Lifestyles are changing and hence, percent of hoteling is also increasing. Imagine you are a working woman and have worked for 9 hours and traveled home in heavy traffic for 1 hour. After reaching home, will you cook for yourself? We don't think so! It is very easy to order food online. You can get any type of food from nearby restaurants by just one click. How easy was that!
There are various food-related apps like on-demand apps; where many restaurants are registered and a user selects any of them, views the menu card and selects some food items and order them. A user can also pay online since these apps are integrated with third-party apps like wallet apps, paytm, etc. There is also an option of debit card and cash on delivery.
Another type of food-related app is a restaurant finder. In this type of mobile application, all restaurants register their services and simply display the name, address, contact info, menu card of the restaurants to the end users. Users who are confused about where to have lunch or dinner, usually use these apps and select the best nearby restaurant on the basis of menu card items as well as reviews/ratings.
If you are in the hotel business, there are many things you need to take care of. For instance, getting a professional staff, ordering veggies and other ingredients, getting a good place at rent or buying it, promote your restaurant, etc. people who have knowledge of restaurant business can manage it very easily but the toughest part is marketing! Restaurants need to be branded. Branding is very essential. Branding includes a logo, slogan or tagline, cool name, website, etc. But is branding enough? No! Branding is just a small and first step. Marketing is the hero!
Are you having a restaurant? How do you manage the marketing of that restaurant? You put hoardings, banners, use Facebook, give news in the newspaper, etc. But have you thought where the market is heading to? As per a survey, 81% of smartphone users order food or select restaurants using mobile applications. This is a huge percent and it indicates that why restaurants need a well-executed mobile app. Hence, Restaurant mobile app development market is taking a good speed of progress.

• Boost your brand:
Having a successful restaurant is nothing but an achievement! It is extremely tough to have a restaurant that generates tremendous profits. To get customers attention, you can offer the best quality food, great service, cool ambiance, some cool offers, etc. Still achieving top of the mind awareness (TOMA) is very difficult with these efforts only. However, having a website and social media pages is a good way to increase brand awareness but still having a mobile app reduces all complications.
Once the user installs your mobile app, he or she might not use it every day but is able to see the logo all the time. Keep the logo unique and easy to recognize. Plus, there is an option to push notifications. This will surely increase the brand awareness of your restaurants. Mobile application development is the best option to boost brand awareness.
• Notifications:
These are the notifications that are sent to the users almost every day and are about the latest offers, discounts, new items on the menu, today's special items, etc. Some great ideas about notifications include great catchy content with some good message. Notification should not be about something that user already knows about. Keep it unique.
• Easy reservations:
When any user uses your restaurant app, he or she should be able to reserve a favorite table without any hassle. It is not very feasible for users to book tables in peak hours or festival days. For instance, during the New Year eve, almost every restaurant gets full. Calling the restaurant and doing the reservations is not feasible all the time. Hence, apps are used through which tables can be reserved with just one click and no need to call anyone!
• Reach the audience easily:
The main pain point is how to reach the target audience? Restaurant Business Apps can reach local people using location-based coupons, iBeacon technology, etc.

• Better processing of payment:
In many old restaurants, still they do not use machines. Customers come, eat, pay a bill on the counter and leave. What to do in peak and rush hours? It happens many times that people skip the payment and restaurant has to bear the loss. In some cases, the calculations are made wrong, and the customer might pay the wrong amount. To avoid all such cases, it is recommended to use the mobile app for payment as these restaurant apps are integrated with third-party payment apps.
• Learn from reviews:
You can organize small loyalty contests that include some questionnaires. On the basis of answers received, restaurants can take a dig of how loyal customers are. Also, reviews are the best way to learn where your business is going? All the reviews and ratings received from the users are usually analyzed and then a strategy is formed for better business.
• Stand out from the competition:
As mentioned earlier in this article, there is a huge competition for restaurants. Almost everyone wants to start a restaurant or cafe. No matter how unique cuisines you are offering or what great ambiance you have, users always want something more. Having a special mobile app dedicated to restaurant helps you stand out of the competition. For better results, hire a mobile app development company to get professional output.
Conclusion
A mobile app development company is the best option if you want to develop for your restaurant. Restaurant mobile app development requires extremely talented resources. There are many reasons why a well-executed app is necessary for your restaurant. It helps you increase brand awareness, improve the business, stand out of competition, send push notifications, etc.
---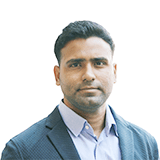 My name is Hemendra Singh. I am Managing Director and co-founder of The NineHertz, a Mobile App Development Company. I am having a keen interest in the latest trends and technologies that are emerging in different domains. Being an entrepreneur in the field of IT sector, it becomes my responsibility to aid my audience with the knowledge of latest trends in the market.