A recent study revealed that the smartphone sale is going to touch the exceptional mark of 1.5 million by 2017 and this is why a large number of entrepreneurs are adopting Mobile Development as their forte. Apart from this, the launch of iPhone in 2007 added fuel to the fire and mobile apps become an extremely large industry all of a sudden and mobile app development agencies identified the treasures of money in the arena.
The shift of enterprises on the five-inch screen with the hope of getting a boost in their business and the constant innovation in mobile devices across platforms call for mobile app developers to create a number of versions of an application for several varied platforms using a single language and plenty of chunks of reusable code. This clears that businesses largely bank on developers to create a user-friendly yet excessively engaging app to keep a huge customer base. The selection of the most suitable language for mobile development is what very significant.
We have compiled this post is a complete guide to the commonly preferred languages in a beautiful infographic format to make development experience extremely pleasant.
Read our detailed analysis of top programming languages for smartphone app development in an infographic format with all their technical aspects.


---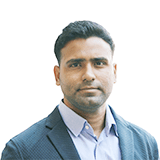 My name is Hemendra Singh. I am Managing Director and co-founder of The NineHertz, a Mobile App Development Company. I am having a keen interest in the latest trends and technologies that are emerging in different domains. Being an entrepreneur in the field of IT sector, it becomes my responsibility to aid my audience with the knowledge of latest trends in the market.