Are you a cryptocurrency enthusiast?
Are you developing a Bitcoin trading software?
Do you want to know more about cryptocurrency exchange development?
This article will tell how cryptocurrency is changing the entire idea of global trading. Also, we will discuss more about the benefits of peer-to-peer exchange.
About P2P Exchange
Peer-to-peer exchange is a decentralized form of exchange. This maintained and operated exclusively on software. Usually, in trade, there is a third party involved to process transactions and trade. As the name says, peer-to-peer means that there is no third party in between. This started way back in 2014 when cryptocurrency faced a major setback.
The number of scams became frequent and many countries denied the use of cryptocurrency. This gave a new system called P2P cryptocurrency exchange development. P2P added a new definition to cryptocurrency. It is no longer exchanged like centralized money. Here two companies or entities directly exchange cryptocurrency.
Trade with P2P exchange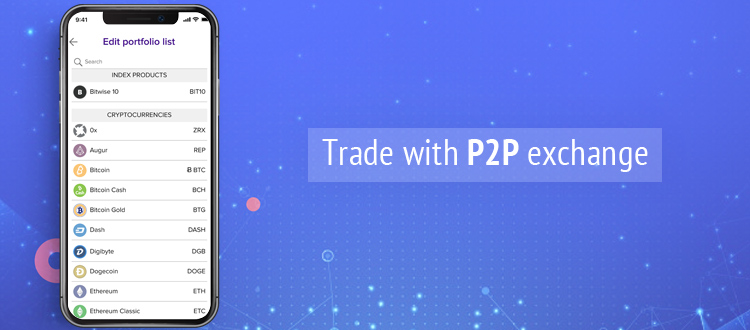 As trade diversified, exchange methods also changed. Earlier, it was different. If a person needs to exchange Bitcoin, they post an order. This order contains the amount and price of the Bitcoin. All such orders get collected in a common ledger and are termed as an order book. So the buyer comes looking for these orders. They start selecting an order which suits their budget. The trade process starts as soon as buying and selling order is matched.
This entire process takes a lot of time. Bitcoin or other cryptocurrencies exchanges in this procedure involves a third-party also. This when peer-to-peer Bitcoin exchange script came into existence. Thus, cryptocurrency exchange development became easier. In this model, if you exchange cryptocurrency then trade gets settled instantly. Here the transaction of physical currency is not complete. Still, the trade between the entities come to a closure.
This Bitcoin trading software looks for orders and connects people with similar interests. Later they negotiate and the trade is complete within themselves. This does not get into the hands of any third party. However, for security reasons, third parties are involved in the form of arbitrators only. Bitcoin trading software is effective in quickly finding orders from anywhere. This is how P2P cryptocurrency exchange is done worldwide.
Must Read: Sharp Distinction Between Cryptocurrency and Traditional Currency
Benefits of Peer-to-Peer Exchange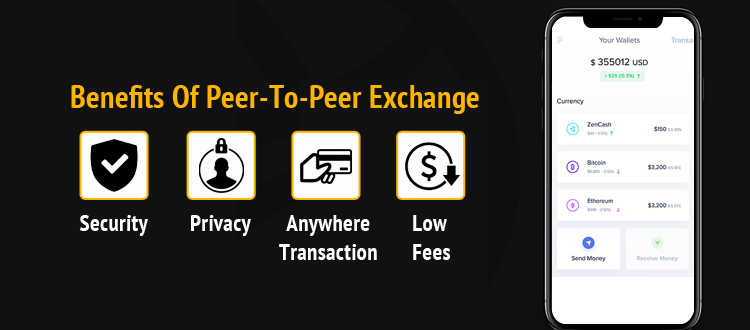 If you wish to create your own peer-to-peer exchange clone script, then knowing their benefits are highly important. Hence here are some fruitful benefits of using P2P cryptocurrency exchange. This will also help you understand the requirements of creating a peer-to-peer exchange clone script.
1. Fully secure and safe
Every transaction is recorded in a public ledger or blockchain. Therefore, there is no need to worry about who is dealing with you. Additionally, the KYC details are always synced with the database. So the identity of the person is not mistaken. As there is no centralized authority to control, there is less chance of fraud.
2. Censorship in transactions
The blockchain is a public ledger in which your transactions happen. Thus, there are no chances of hacking your details. Every information and transaction detail is distributed. So no one can track all of them together. This automatically brings your popularity for your peer-to-peer exchange clone script.
3. Transactions done to anywhere
The fiat money used these days take very long for international transactions. Cryptocurrency exchange is not of that kind. This allows any person from around the world to use the P2P system. Even nations that have not legalized cryptocurrency usage can transact in this mode. This is also the reason why several buyers and sellers in this mode have increased.
4. Low operational fees
Only when there is any involvement of a third party, operational fees are high. Moreover, these P2P exchanges are done through software. This actually pulls down operational fees to zero. Sometimes it exists but is very low when compared to other exchanges.
5. Complete privacy
There is no need at all to trust a third party operator in P2P cryptocurrency exchange. Thus, this mode of exchange guarantees full privacy. This Bitcoin trading software just helps you get in contact with a buyer/seller. It is between you both that transactions take place. Clearly, nobody can lose or steal cryptocurrency. This can never take place unintentionally or intentionally too.
Also Read: How The World of Cryptocurrencies Will Shape-Up in The Near Future
Steps to Prevent Fraud
Several scams are reported about the exchange of digital currency This is common and most countries do not allow its usage too. But this cannot stop any enterprise to block the use of cryptocurrencies. As we know, there is no separate authority to monitor these transactions. They are all done in the Bitcoin trading software and stay within them only. Still, fraud cases are reported. Now, how do developers face them? Some important things to remember here can prevent most of the fraud cases in cryptocurrency exchange development.
Always when any transaction happens, there is a community of people. These people help you in maintaining the deposits privacy, time for a trade etc. Usually, they come into the picture when disputes start to develop between the buyers and sellers.
Disputes are one of the major cause of frauds to take place. This is prevented if you include the right security features. One example is where both the parties pay some amount before the trade. If the trade settles, this amount is returned. If not, then arbitrators talk about it and try resolving them. Later both the parties compensate the currency between them.

Conclusion
Clearly, the P2P exchange model is becoming the most reliable exchange models of all. The many benefits especially the security benefits make it very potential. We have put some other vital points to remember for peer-to-peer exchange script below.
Make sure you are aware of the cryptocurrency laws in your country.
Develop a secure Blockchain system. Even though it is not possible to hack, a security alert is a must.
Ensure that every buyer or seller submit their own KYC details only.
Now, start with the P2P exchange system. Begin creating a highly secure trade link around the world.
---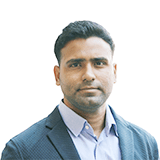 My name is Hemendra Singh. I am Managing Director and co-founder of The NineHertz, a Mobile App Development Company. I am having a keen interest in the latest trends and technologies that are emerging in different domains. Being an entrepreneur in the field of IT sector, it becomes my responsibility to aid my audience with the knowledge of latest trends in the market.