Pamper your
well-being

with the help of

latest tools

and technology


Make your efforts stand out with the help of digitalization in the health sector. Technology is playing a crucial role in keeping the health care organizations potent and self-reliant. We deploy ourselves to provide you an advanced technological
solution.
With the help of technology, one can monitor health issues and improve them by taking suitable prescriptions. We at The NineHertz bring out the health and fitness solution for our clients. We provide web and app development solutions for health and fitness fields.
We develop user- friendly applications for different platforms such as Android, iOS and Windows. The applications are designed to give you necessary health information. Set your fitness goals and achieve them in a better way.
Facilitate
yourself

with complete

technologically

advanced health

facilities

Prime quality Healthcare solutions to live a healthy life

Fitness App Development
We develop fitness based apps for Android, iOS and Windows platform. We can run these apps at the time of running, jogging exercising to keep an eye on calories. You can set your customized health targets and improve them with the help of these apps.

Wearable App Development
Wearable apps are developed especially for wearable devices like smart watches, smart glasses, ring, shoes, etc. These apps are very helpful to track your health without using Smartphone. You can wear the device and monitor your calorie intake, pulse rate, Blood pressure and many more without visiting a clinic.

Website Development
Fitness centers like Gym, Yoga booths, need to highlight their web presence. We provide cost-effective website development solution to them. Our talented web developers develop responsive websites with professional designs.

Digital Marketing Solutions
Our digital marketing experts provide you best-in- class SEO services to improve your ranking and searches. We define better search results and boost brand awareness for pre-built websites by applying necessary SEO efforts.
We consider every
single

need of a project as a

serious

task and make efforts to provide

reliable

and premium

quality

solutions.

We delivered a bazillion of health and fitness solutions to our global clients

Result-oriented Solutions
Our experts stay updated with latest trends and implement latest data analytics in their development solutions. Proper strategies, case studies and data searches are included in our development approach.

Consulting solutions
We provide resourceful business solutions to our clients with consulting services. Our business experts are efficiently providing consulting solutions for various businesses including fitness and health sectors.

Cloud Management
Cloud-based services are the prime needs of any business to secure data without any external resource. We provide advanced cloud management services to boost productivity and help to secure data online.
Solutions
we

provide



Health

App development



Website

development for Fitness Centre



Pharmaceutical

App development



Inventory

solutions



Customized

Software for health clinics



CRM

Solutions



Maintenance

and support services



Wearable

Tech & Cloud Development



Hospital

Management Solutions
Why
us

?

Native and Hybrid
App Development

Secured
Development

Management
Services

Customer-Centric
Solutions

UI/UX design
services

Experienced
Team

Effective Marketing
Solutions

Ongoing Maintenance
Services

Proven
Methodologies
Join us to get
high

tech and

swanky

development solutions

We attempt momentous efforts to cater your enterprise needs. We build responsive websites and highly functional applications for organizations. Our team of developers is experienced and knows how to deliver valuable services to global clients. The team is not only skilled but very friendly to interact and listens to your every need and deliver more than expected.

We, The NineHertz are a renowned IT solution company. Since 2008, we are providing top notch health and fitness solutions to the clients worldwide. We have 200+ people in our team to deliver awesome services for app development, website development, customized software development and business solutions.
Healthcare

software solutions for

medical industry

. Our client's are the

priority

for us.

You can view our rich portfolio where our clients shared their experiences of working with us.

Choosing Nine Hertz to develop my project was the right choice and working with them is Pleasure.
Their team did great work and i'm Carefree.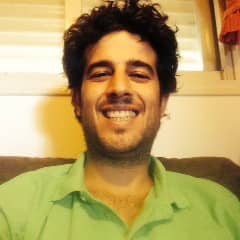 Nitay
I have been working in the tech industry for 3.5 years now, and during the time I have had many different developers for different solutions. Never finding the right mix was tough, until I met NineHertz. In all honesty I could not be happier, from attention to detail, to time efficiency I have never been more satisfied. Would I recommend them? Of course!

Mario Aguayo
Nine Hertz is a great company that is very competent. I worked hand and hand for several months with my Nine Hertz project manager and was very impressed by his knowledge and hard work. Nine Hertz is a great option for those looking for top-tier developers at an affordable price.

Mani Masshafi
Nine Hertz was extremely responsive in all aspects of our communication and planning. Professional and knowledgeable! Will work with them in the future and highly recommend!

Mike Johnson
I endorse Nine Hertz and their team of highly qualified professionals as one of the few great web development company overseas today and thank every one of the team members of Nine Hertz that worked on our application-build to make it a success.They were able to take our plans and ideas and bring them to life. I hope to work with this high caliber team in the future.

Negi Boaka
View More Reviews