iPad Application Development Services
Customized iPad application development services enclosing wide range of devices
Latest technologies and best industry practices for new generation iPad app solutions
Smart and continuous iPad application development services
---
9+ years of extensive Experience in transforming innovative iPad apps
Competitive prices and superlative supporting models for high-quality iPad app solutions
---
Offering suitable technology and vertical domain to make sure you find a needed piece for your iPad apps
100% direction towards reducing the delivery time of iOS project
---
Proven expertise in developing various iPad applications
Bringing your favorite iOS applications on iTunes App Store

Cost-effective Solutions
We include the structured methodology that is pointed towards cutting down the development cost of your iPad apps.

Reduced Turnaround Time
We practice code reuse to ensure that the high-performance apps are developed without wasting any time.

24×7 Technical Support
Our team offers the essential level of the technical support 24×7 by extending world-class communication systems.

Competitive Pricing
We do more than just developing applications. We provide cost-effective iPad solutions that ensure the highest return on investment.

Expert Developers
Our skilled and convincing specialists are fine-equipped with latest development tools, platforms to perform client-centric iPad mobile solutions.

ISO 9001 Processes
Our ISO 9001:2008 standards guarantees great performance execution during entire project cycle.

Seamless Communication
Our communication channels are open anytime so that you connect with the right team of specialists to reduce complexity and improve the potency of your project.

Proven Methodologies
We are working as the diverse client-base company and latest technologies that enable The NineHertz to adopt best practices and proven methodologies.
Frequently Asked Questions
What is iPad app development? What services do you provide in iOS app development?
Developing iOS Applications for iPad Devices is known as iPad Development. We provide iPad Applications that best suits your requirements and budget within less time. We provide various types of iPad apps like Fitness Apps, Business Apps, Educational App, and Customized iPad App.
What is the cost to build an iPad app?
The cost of an app is determined by the resources, factors and app idea. We have to know about the idea to determine the cost. Still, there is no fixed price for any kind of app. It depends on the set of features, functionalities and various development factors. So, come forward to discuss your idea and we can estimate a ballpark figure for you.
What programming languages are used in iPad development? How much experience you have in iPad app development?
iPad apps are developed on iOS platform. Swift and Objective C are required for iPad development. We work on all the latest technologies along with Cocoa Touch, AF Networking, Sirikit, Callkit, and CocoaPods.
We have an experienced team of developers who carry more than 4 years of experience in iPad app development. They are skilled with the latest tools and technologies of iOS app development and have a profound knowledge of programming languages and frameworks.
How much time do you take to build an iPad app?
For standard iPad app development, it takes about 2-3 weeks to get completed by our development team. Complex apps take more time to add required features and functionalities. We can say 4-7 weeks is the time we experienced in the development of complex apps.
How would you approach our project?
We approach every aspect of development with deep brainstorming to bring an extreme level of quality. We discuss your requirement with our team and find out the best methods to put uniqueness in end solution. All team members included business development and project management teams are included in every process. We follow the agile methodology to take your insights in our development process.
Creating
extraordinary

impressions for

Custom iPad

projects since

2008

Extensible, Highly scalable, and reliable iPad applications to empower clients to exceed contestants

Choosing Nine Hertz to develop my project was the right choice and working with them is Pleasure.
Their team did great work and i'm Carefree.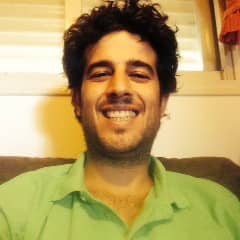 Nitay
I have been working in the tech industry for 3.5 years now, and during the time I have had many different developers for different solutions. Never finding the right mix was tough, until I met NineHertz. In all honesty I could not be happier, from attention to detail, to time efficiency I have never been more satisfied. Would I recommend them? Of course!

Mario Aguayo
Nine Hertz is a great company that is very competent. I worked hand and hand for several months with my Nine Hertz project manager and was very impressed by his knowledge and hard work. Nine Hertz is a great option for those looking for top-tier developers at an affordable price.

Mani Masshafi
Nine Hertz was extremely responsive in all aspects of our communication and planning. Professional and knowledgeable! Will work with them in the future and highly recommend!

Mike Johnson
I endorse Nine Hertz and their team of highly qualified professionals as one of the few great web development company overseas today and thank every one of the team members of Nine Hertz that worked on our application-build to make it a success.They were able to take our plans and ideas and bring them to life. I hope to work with this high caliber team in the future.

Negi Boaka
View More Reviews