Cater the Needs of Guests with our Restaurant Mobile App Development
Succeed in reaching out to your audience of food lovers with our industry-driven solutions


At The NineHertz, our methodology of working is based on the perspective of our clients; our restaurant mobile app developers aim to work in the most efficient manner possible so that the needs of the clients can be fulfilled.
Our services and the kind of restaurant mobile application that we create have delivered effective business solutions to clients, so much that they are happy to share their experiences with our services!
Tune in with our services & enhance the relationship with your consumers
Deliver the best solutions to boost your business with our Restaurant App Development

Boost your Brand Awareness
Our team of experts will lay out the best solutions for you to boost the awareness of your brand. The strategies that we build not only help in attracting gourmets but will retain their interest in your business!

Management of Risk
Every business is prone to specific risks; both predictable and unpredictable. Our business developers plan different risk management strategies to eliminate and overcome any chances of predictable losses.
Every restaurant app developer at our company works in a very flexible way and adapts modern technologies to ensure that the quality of work remains excellent. Moreover, they also indulge in doing various case studies to get a better notion of the dynamic aspects of businesses.

Managing Inventory
The task of managing the inventory of your business is a hidden task; your customers are not aware of it. We understand how vital the backend features are, which is why we provide a complete inventory management system to provide ease in the working and management of your service.

Restaurant Support Desk Management
The interaction between the business and customers would be enhanced; the customers can add their details while they are writing reviews and providing feedback about their services.
Our team of dedicated members make us the best choice for clients.
The focus of our entire team lies in delivering the most accurate solutions that meet the requirements of your business. Other than inputting the most innovative techniques, we also alter customised solutions for our clients, and that demonstrates that the strategies we intake aim to chase perfection in every mobility solution!

Easy Process of Ordering Food
With our services, we give the users the option of both ordering the food and paying for it through the app. The app would also offer various coupons and user-centric products to the users. We have developers who have significant experience in developing highly professional apps, and they build functionalities with keeping in mind to provide exceptional experiences to the users!

CRM and Business Management Services
Integrating the back-end application of your app with third-party CRM software integration opens up more availability of tools that have the power to strengthen the relationships with customers.
We provide the best CRM solutions to our clients keeping the future vision of your business into consideration.

The Identity of the Brand
For any business, the most crucial aspect is to have a brand identity. Without that, it is more or less impossible to survive in this highly competitive market! We pride ourselves on investing in resources that would groove your brand in the best possible way.
Our approach is entirely result-oriented. Thus, we follow the on-going trends. We also have experts in Digital Marketing that enhance the presence of your brand using SEO, SMM, SMO & SEM.
Our Restaurant App Services Include:



App

development



Website

Development



Cloud

Management services



Inventory

Management



Food

Ordering App



Customized

Software



CRM

s



Business

Consulting services



Digital

Marketing
Go for a
smart

decision and

join

hands with The

NineHertz

We focus on your needs. We listen to your every single need. You can hope a better quality IT solutions from us. The app development especially facilitates you to order food by selecting food of your choice from the menu, pay through e-wallets and get loyalty rewards to use it in future. We design highly secured and customized app to provide better user-interface to its users.

Choosing Nine Hertz to develop my project was the right choice and working with them is Pleasure.
Their team did great work and i'm Carefree.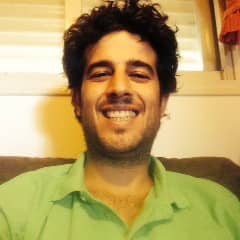 Nitay
I have been working in the tech industry for 3.5 years now, and during the time I have had many different developers for different solutions. Never finding the right mix was tough, until I met NineHertz. In all honesty I could not be happier, from attention to detail, to time efficiency I have never been more satisfied. Would I recommend them? Of course!

Mario Aguayo
Nine Hertz is a great company that is very competent. I worked hand and hand for several months with my Nine Hertz project manager and was very impressed by his knowledge and hard work. Nine Hertz is a great option for those looking for top-tier developers at an affordable price.

Mani Masshafi
Nine Hertz was extremely responsive in all aspects of our communication and planning. Professional and knowledgeable! Will work with them in the future and highly recommend!

Mike Johnson
I endorse Nine Hertz and their team of highly qualified professionals as one of the few great web development company overseas today and thank every one of the team members of Nine Hertz that worked on our application-build to make it a success.They were able to take our plans and ideas and bring them to life. I hope to work with this high caliber team in the future.

Negi Boaka
View More Reviews