Services Offered by Healthcare app Developers
Medical app development companies seek to fulfill the prime requirement for healthcare professionals and hospitals to connect with and serve the patients better. We integrate hyper-connectivity, innovative features, and real-time data sharing in the healthcare mobile applications which makes our services unique and unparalleled.
Laboratory Management App
Power your medical lab with our seamless laboratory management application that helps meet your needs flexibly and provides a robust facility.
Healthcare Mobile App
Benefit from our range of healthcare mobile applications that are robustly built to assist your patients for their needs and keep their data safe.
Medical Chatbots
Powered with Artificial Intelligence, our medical chatbots help your patients find answers to your queries and route them to the best healthcare experts.
Seamless Medical Record Tracking
Leverage the expertise of our medical app developers as you save your medical records for the future and access them anytime.
Smart Healthcare Apps for Wearable Medical Gadgets
Let your wearable gadgets perform helpful diagnosis and keep your customers on track of their health hassle-free with our professional healthcare app development.
Telemedicine App
Make the most of the expertise of our healthcare app developers, as you create a flawless telemedicine app that bridges the gap between patients and healthcare experts
Evolving Healthcare Software Solutions
In line with the latest breakthroughs and developments taking place in the healthcare industry, we provide newer healthcare software solutions
Healthcare app development
mHealth Platform
Wearables
Third-party API integration
Application maintenance
Backend development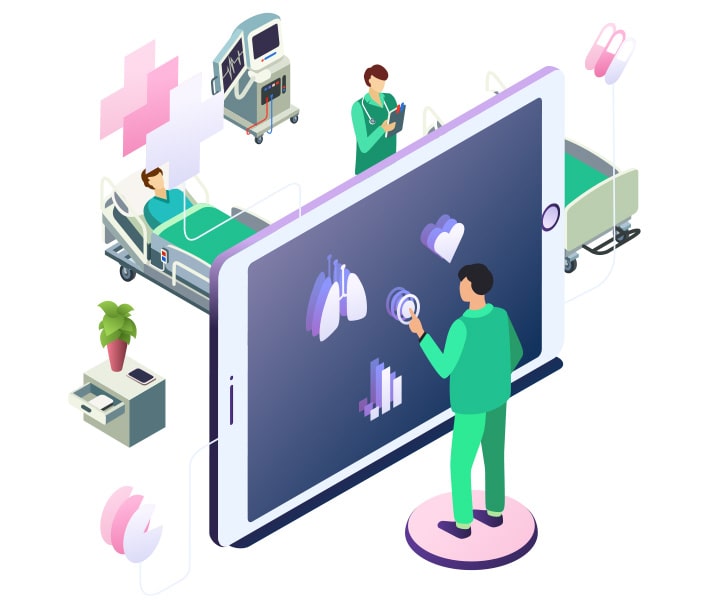 Medical apps
Fitness apps
Telemedicine apps
Laboratory information
Pharmacy Management solutions
Health Information Exchange
Building Trust with HIPAA Compliant Healthcare Mobile Applications
Our team of medical app developers at our top-notch healthcare app development company in USA & India helps you add value to your user's life and provide them with a reliable HIPA compliant app, they can trust at every step of the way.
Our Range of Healthcare App Development Services in India, USA
Being one of the top medical app development companies in India & USA, we believe in driving the healthcare industry with technological improvements. Our healthcare app developers help empower organizations and individuals wishing to step-up and offer value to the society through healthcare app development services. From developing robust patient portals to pharma solutions, medical records and EHR integrations, we specialize in several health app development services.
Our Core App Development Services in Healthcare Industry
Remote patient monitoring
Telemedicine
Fitness and well-being
Mental health
Electronic Health Records
On-demand application
Health Insurance
IoT based apps
AI-powered healthcare apps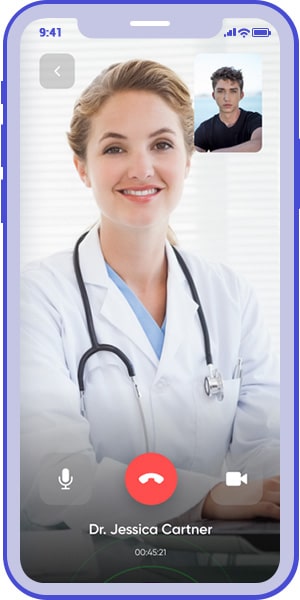 Hassle-free Doctor Appointment Mobile App Development
At The NineHertz we understand the importance of seamless on-demand doctor appointments through healthcare mobile applications. Leveraging the latest technology and the expertise of developers at our healthcare application development company, we offer robust solutions for seamless doctor appointments like the popular Practo app at the fastest speeds.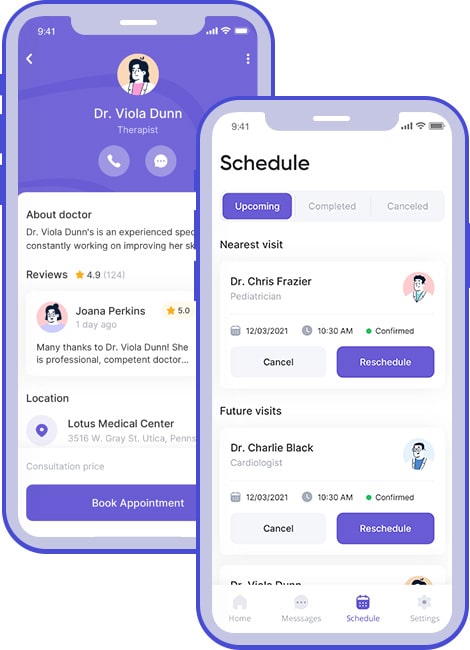 Easy Login

Login to your healthcare application easily through your social media, email or phone number.




Patient Profile

Create a digital profile and manage your medical records, treatment details and more all at one place.




Online Prescriptions

Receive the best advice from healthcare experts across hundreds of issues. Receive your online prescription seamlessly through the app.




Book Appointment

Find the best healthcare experts and schedule appointments with them at your convenience and the doctor's availability.




Virtual Consultation

Leverage the age of digital services as you receive consultations from doctors and therapists from the convenience of your homes.




In-Build VR Assistance

Connect with your preferred doctors through video calls and make the most of your meetings with them through the integrated virtual reality assistance.




In-App Payment

Pay for your healthcare services through the secure and reliable payment gateways on the end-to-end seamless healthcare mobile app.




Chat and Suggestions

Chat with a general physician or receive expert advice from them within minutes. Visit your chas again through your digital medical profile.
Mutelcor: Healthcare App Development Services in India, USA
Bridging the gap between healthcare experts and patients through a seamless remote patient monitoring healthcare mobile application
Enable remote monitoring of patients, while keeping them engaged on your platform with personalized care plans that are based on the patient's recent consultations, surgery and disease specific protocols. Let your doctors keep a close eye on their patient's health seamlessly with one of India's top medical app development companies.
Accelerated Mobile Healthcare Efforts
With Mutelcor's scalable app development for healthcare, step up your healthcare efforts through careful planning and prevention.
Cutting-Edge Digital mHealth Platform
Mutelcor's digital solution is robustly built with the latest technology to provide a safe and authentic experience to the users.
Superior Electronic Health Records
Keep a track on the medical and treatment history across rural and urban areas through a hassle-free and reliable EMR.
Easier Monitoring of Patient Health
Mutelcor's mhealth app development bridges the gap between patient and doctor and enables easier monitoring of patient vitals.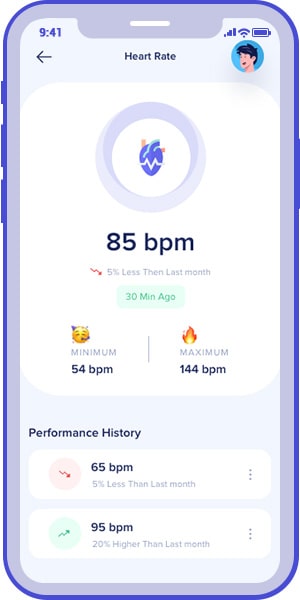 Looking for Other
Services

?

Explore our over the top services to discover how we help enterprises to accelerate their time-to-value and reimagine business!!

Explore All Services
Our Branded Projects As Healthcare App Development Company
Our Healthcare App development portfolio showcase expert skills that understand perfection. We bring value to leading enterprises, SMBs, and startups in various industries.
Advancements in health app development technologies that we've assimilated



Artificial Intelligence (AI) based systems

AI powered systems that are designed to intelligently assist and ease the work of frontline healthcare professionals.




IoT for enhanced connectedness

We leverage the power of Internet of Things (IoT) to build IoT healthcare devices that ensure greater connectedness within the healthcare device ecosystem.




Machine Learning to process voluminous data

Mammoth datasets whose processing is beyond human capabilities are processed using Machine Learning algorithms that smartly convert data into comprehensible insights.




Blockchain

Enable secure transfer of patient and medical records as you manage the healthcare supply chain with complete efficiency. Protech patient identity as you accelerate care and drive automation.




Voice Enabled Technology

With voice enabled technology in your healthcare system, take a step towards the future. Empower users and bring a smoother transition to digital health solutions.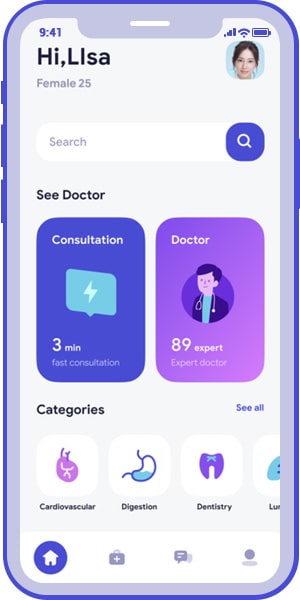 Why Hire Medical App Developers from the NineHertz?
No matter what your needs are, build a robust and engaging application by leveraging our healthcare mobile app developers with years of expertise and professional skills.
World-Class Mobile App Development Team
Hire the best developers for your dream healthcare mobile app project on a pay-as-you-go model. Get your solution delivered within strict deadlines.
Pocket-friendly solutions
Dedicated service hours
Easier monitoring of KPIs and pay-as-you-go
Frequent reviews and quality checks
Flexible and Agile Methodologies
Benefit from an engagement model that is designed as per your convenience and budget. Scale your application as and when you need.
Flexible and scalable offerings
Collaborative and agile service
Diligent planning and measurable results
Budget-friendly
Hassle- free App Development
From formulating your blueprint to delivering the final product and taking care of its maintenance, we do it all for you. Take your healthcare app to the next level with our end-to-end development capabilities.
Flexible payments
No hidden payments
Measurable KPIs and pay-as-you-go
Scalable team requirements
Compliant Healthcare Mobile Application Development
When it comes to rules and regulations, we make sure we're on top of them. Our healthcare mobile app development services are authentic and reliable for you and your users.
ISO 9001:2015
NineHertz possesses multiple ISO certifications for strict data and security protocols.
GDPR
We adhere to the policies around personal data collection, processing and security.
FHIR
At NineHertz, we comply with the Fast Healthcare Interoperability Resources standard for data formats and attributes of a healthcare application for exchange of any information related to the Electronic Health Records.
HIPAA
Being one of the a leading healthcare app development services, we abide by the secure electronic access to health data and follow the esteemed privacy regulations by the HHS.
FHIR
We comply to the standards for the exchange, sharing, integration and retrieval of all kinds of health records stored electronically.
DICOM
Due to the nature of medical imaging data, we follow all protocols for its transmission, storage, retrieval, process and display through our healthcare mobile applications.
SNOMED
When it comes to expertise in medical terms, we follow the SNOMED protocol. These include adopting codes, terms, synonyms and definitions that are used as a standard in clinical documentation and reporting.
CCDA
For the purpose of creating documents and template methodologies for medical documentation, we abide by the Consolidated Clinical Document.
Latest
Blogs

and

News

Stay updated with the latest development insights, technologies, trends.
publish date
| January 19, 2021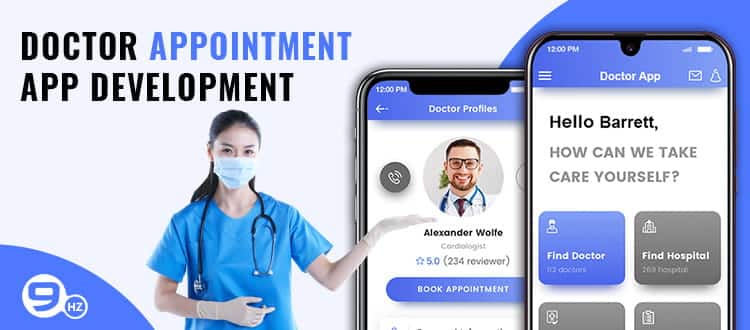 Online Doctor Appointment Mobile App Development [Cost & Features]
Are you facing difficulties managing your clinic? Does your staff also take hours scheduling your appointments every day? In such a case, maybe you need a way to manage appointments in an effective manner. Let us see by giving some…
Read More
publish date
| June 17, 2020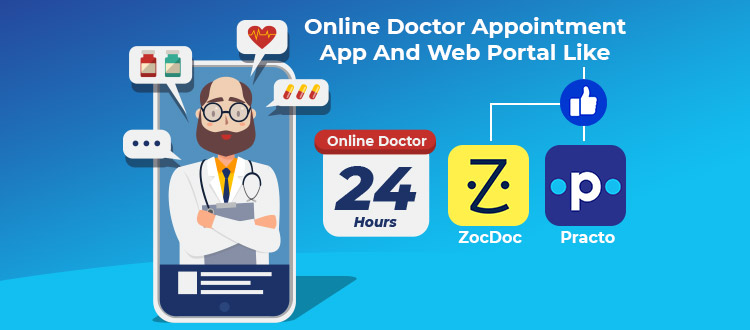 How to Make Doctor Appointment App like ZocDoc, Practo [Key Features, Cost]
If you are witnessing that your administrative staff is spending hours scheduling appointments every day. And want to get rid of this appointment management situation. Doctor appointment app is the key to all your problems. The world's top clinics are…
Read More
Latest
Blogs

and

News

Stay updated with the latest development insights, technologies, trends.