Cross Platform App Development Services We Offer
We have expertise in conveying best of cross platform app development services to our clientele which comprises the development of UI/UX design, wearable apps as well as web-based and AI integrated apps. We ensure efficient QA testing along with app maintenance and support post its deployment on the app store.
AI Integrated Cross Platform Apps
As technology is ever-evolving and Artificial Intelligence (AI) is the future of technology. The NineHertz qualifies to handover AI integrated cross platform apps.
Wearable Cross Platform Apps
We provide the facility of developing hybrid wearable apps that enables users with augmented user experience. Thanks to cameras and sensors' integration to the mobile apps.
Web Based Cross-Platform Apps
Sometimes downloading an app feels burdensome for many of the users. We provide the best alternative of applications; Web-Based Cross Platform apps with the world's best design.
Custom Multiplatform App Development
Being the leading multiplatform application development agency, we offer custom hybrid app development services that are tailor-made to effortlessly run on multiple operating systems.
Cross-Platform UI/UX Design services
Thanks to a dedicated, experienced team of UX/UI designers, The NineHertz enables delivering cross-platform apps to the requisites with fantastic User Interface (UI/UX) and less execution time.
Cross Platform Apps Consulting
We offer software development service to help businesses build effective strategies, manage market risk, overcome challenges, and launch a single cross-platform app for all operating systems.
Cross-Platform Mobile App Development
Frameworks
Cross Platform App Development bestows a plethora of app development frameworks that businesses can choose considering their project requirements. The NineHertz, a leading cross platform app development company, has expertise in delivering robust, performance-oriented mobile apps using topmost tools and frameworks.
Benefits

of Cross-Platform Application Development

In recent times, the popularity of hybrid application development is rising immensely. It has benefited businesses in unimaginable ways. Due to its amazing advantages, all the enterprises and startups are using Cross-platform development technology. Most significant Cross-Platform App Development benefits are:
Reusable Code
Developers can use same code across all the platforms instead of writing fresh for every platform resulting in eliminating repetitive tasks.
Fast to Develop
With the deployment of a single script, the cross platform app development process becomes much quicker that ultimately leads to better management.
Less Development Cost
As you no longer need to spend on developing applications for separate platforms, a huge chunk of your cost is saved. Thanks to cross platform app development.
Easy Maintenance
With Hybrid app development, you only need to focus on one single app as this same app works on all platforms, thus making maintenance and updates very easy.
Effective Reach to Target Audience
Multiplatform mobile apps are compatible with all the platforms resulting in a higher reach to the targeted audience. Cross-platform apps are the best way of popularizing your app in less time.
Simplified Cloud Integration
Hybrid mobile apps are easy to integrate with the cloud for hosting services. Single code source can be integrated with multiple extensions and plug-ins making the app more functional.
Why Choose Us as Your
Cross Platform App Development Company

in India?

The NineHertz is the leading cross platform application development company in India. Hire cross-platform app developers who successfully delivered Hybrid mobile application development services to over 450 clients worldwide. With an extremely impressive client retention ratio, you must choose The NineHertz if you want to outsource multiplatform app development services.
Guaranteed Cost-efficiency
Post-Production Support
Hybrid App Development Consultation
Quality Testing Services
Creative & Skilled Teams
Unique and intuitive ideas
100% Quality & Safety Compliance
Absolute Discretion Of Your Ideas
Excellent Client Retention Ratio
Assured Innovation
Result-oriented Path
NDA Guaranteed
60% Less Expenses
100% Genuine Reviews
500+ Professionals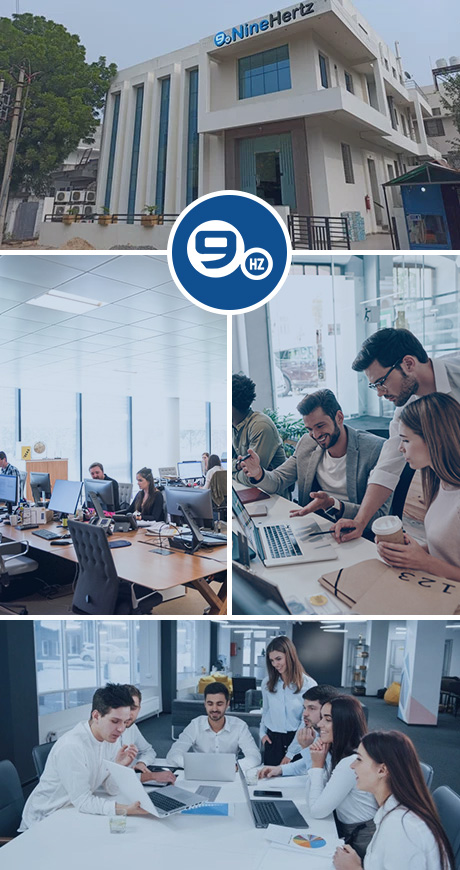 Looking for Other
Services

?

Explore our over the top services to discover how we help enterprises to accelerate their time-to-value and reimagine business!!

Explore All Services
Our Best-In-Class
Cross-Platform

Application Development Portfolio

With over 12 years of expertise in Cross-Platform App development technologies, we have successfully delivered various cross-platform development projects for our global clients. We thrive in delivering the best customized cross-platform mobile applications. Here are some of our Cross-Platform App Development case studies.
Our
Hybrid

Mobile Apps Development integration
GPS Integration
Chat Server Integration
Payment Gateway Integration
Wearable Integration
Custom API Integration
1,789+

Successful Projects Delivered

12+

Industry Experience

450+

Happy Customers

85%

Returning Clients Across Industries
Ready to Skyrocket your business with us?
The NineHertz is one of the most reliable hybrid app development companies in India that is continuously delivering world-class on-demand cross-platform mobile apps for over a decade. Our team with outstanding multiplatform app development capabilities uses innovative app ideas along with latest Cross-Platform App Development tools to give our clients result-oriented web app solutions.
We offer Hybrid App Development Solutions To Different Industries
The NineHertz offers custom Cross-Platform solutions to every major industry in the market. Our expert programmers are capable of building hybrid mobile apps for every industry.
Healthcare
Logistics
Education
Retail
Finance
Wellness
Oil & Gas
Transportation
Travel
Social Network
Event
Productivity
Interested To Develop Your Own Mobile App?
Take a Glance
Our Greatest Achievements, Precious Awards, and Esteemed Recognition
As a prize for our hard work, commitment, and passion to deliver the best, The NineHertz is blessed to have won several prestigious awards and invaluable recognition.
We Have Worked With Some Amazing
Companies Around
The World
We're the proud Cross-platform app development partner of leading companies across the globe.
FAQ's
Stated FAQs will help you to understand more about our functioning
What is the difference between Cross Platform Development and Native App Development?
The applications built with the help of cross-platform are compatible with multiple platforms, whereas, Native apps are developed exclusively for a specific platform. The development of these apps is done in a language that is compatible with the platform. Most cross-platform apps are confined to iOS and Android operating systems.
Which cross-platform mobile app development framework is best? Ionic vs React Native vs Flutter vs Cordova?
Ionic: Ionic has more pre-development components and one can reuse the code to develop any platform. It is simple and consistent and since it is a web view, so testing can be done on any platform. REACT NATIVE: It is introduced by Facebook which allows the mobile app development on various platforms to deliver native-like performance. React Native has very few pre-developed components and one can reuse the code only for Android, iOS, and Windows Apps. It is fundamental, and code performance is excellent since there's no web view. Testing needs an emulator or mobile device. It is used by many renowned firms such as UberEats, Facebook, etc. FLUTTER: It is powered by Google, considered one of the best native-like performance tools for mobile development. It is more popular than React Native. The reason behind, it uses Dart, a programming language that has many advanced features to make the work go easy and attractive. CORDOVA: Apache Cordova is simple to learn and runs on all common browsers. It can access powerful native features of the device and hence makes the owner's life easier. Popular toolkits such as Sencha Touch, jQuery, and Dojox Mobile have their compatible environment with Cordova. It also supports a plug-in architecture that allows developers to expand the functionalities.
Why Hybrid Mobile App development is better solution?
Hybrid Mobile App Development allows developers to perform coding once so that all platform-specific apps can be generated using that same code. Hybrid app development comes with cost and time effectiveness which is one of its main benefits. Also, it is scalable and takes less development time.
It can help in the following ways:
Reduced development cost
Integration with the cloud space
Quicker development
Easy implementation
Almost no such complex updates
React native is considered best in the following ways:
Cost-Effective
Platform-specific UI elements
Common codebase
Less Debugging time
High Performance
The Ninehertz is a well-known technology company providing quality assured mobile and web-based solutions at affordable prices. We have a separate team of experienced developers working exclusively in the cross-platform app development domain. We also provide you with post-sales support for timely software updates and maintenance.
We will provide you with a dedicated team to complete your project. Generally, it consists of at least 5 members or more depending upon the complexity and size of your project. The first is the Business Analyst, who does the requirement analysis and various other aspects to start the project. Budget prediction is also discussed by BA, after this, the project gets started. The Project manager will be given the responsibility to supervise the development process and makes sure the deliverables are according to the client's requirements. The next is the developer who codes the entire product for the client. Once the development process is completed, The Quality Analyst checks the output is as same as it was promised. Lastly, the Server administrator, who deploys the final product to the server and makes sure it run well.
Benefits:
Lesser Development Cost
Unlimited use of the created code
Quicker development
No Complex Updates
Easy implementation
Integration with the cloud space
Risk:
Lags in performance
Lack of storage options
Average Graphics
Sometimes it uses the camera and microphone of your device
Yes, you will get the entire source file of the code. We maintain transparency with the opportunity to examine the ownership policy before starting the project.
The NineHertz offers extended app support and protection plans. If the project is built from the tip to end by us, we provide 90 days of support and maintenance to avoid any problem. We provide 24×7 support to our clients to assist them in any possible way. We also offer app migration and customization services.
Yes, The NineHertz provides cost-effective cross platform web app development solutions. There are no hidden charges apart from the discussed project budget. We discuss requirements with the client at the beginning of mobile app development and then price the quote accordingly.
Latest
Blogs

and

News

Stay updated with the latest development insights, technologies, trends.
Latest
Blogs

and

News

Stay updated with the latest development insights, technologies, trends.