Entertainment plays an essential component in a human being's life. It fuels our energy, relaxes our fatigue, and prepares us for the hard comings. Watching TV is the most common form of entertainment all over the globe. In this Guide, we will explore the top OTT app development services and how to choose the best OTT app development company.
The introduction of over-the-top (OTT) platforms broadened the horizons of this particular form of entertainment. And made movies, web series, sitcoms, reality shows, etc., available on mobile phones, computers, and laptops. In 2022 OTT App development companies have gained a significant revenue of $149.34 billion at a compound growth rate of 15.2% annually.
Furthermore, from 2021 to 2022, there was a 20% increase in OTT subscribers. Today, the number of OTT Development Companies is growing at an increasing rate. Here you can find a detailed guide on how to create an ott app.
20+ Top OTT App Development Companies
So here is a list to know about the best OTT app developers all over the world.
| Company Name | Founded Year | Founder Name | Company Size |
| --- | --- | --- | --- |
| The NineHertz | 2008 | Narendra Chauhan | 171 |
| Oxagile | 2005 | Sergey Marchuk | 291 |
| Daffodil | 2002 | Yogesh Agarwal | 500-1000 |
| VPlayed | 2008 | Sriram Manoharan | 500-1000 |
| Vimeo OTT | 2004 | Anjali Stud | 500-1000 |
| Maz Systems | 2010 | Shikha Arora | 11-50 |
| AppSquadz | 2014 | Chandrakant Agrawal & Priyanka Agrawal | 51-200 |
| Kaltura | 2006 | Ron Yekutiel, Shay David, Michal Tsur, and Eran Etam | 750 |
| Builder.ai | 2012 | Saurabh Dhoot | 250 |
| Oodles Technologies | 2009 | Sonia Mada, Maneesh Madan, Ishwar Datt Madan | 501-1000 |
| Uscreen | 2014 | PJ Taei | 48 |
| Vidapp | 2013 | Dave Hancock & Hannah Curd | 11-50 |
| Tothenew | 2008 | Deepak Mittal | 1739 |
| Zype | 2014 | Yogi Sadana | 30 |
| RisingMax | 2020 | Gurpreet Singh Walia | 11-50 |
| Consagous | 2008 | Rajesh Kumar Soni | 105 |
| Engro Technologies | 1965 | Nachiket Nitin Vyas and Vishal Anil Malhotra | 201-500 |
| RNF Technologies | 2009 | Raghib Khan | 201-500 |
| Coders | 2015 | Ammar Bandukwala | 201-500 |
| SoluLab | 2015 | Chintan Thakkar | 51-200 |
List of OTT App Development Company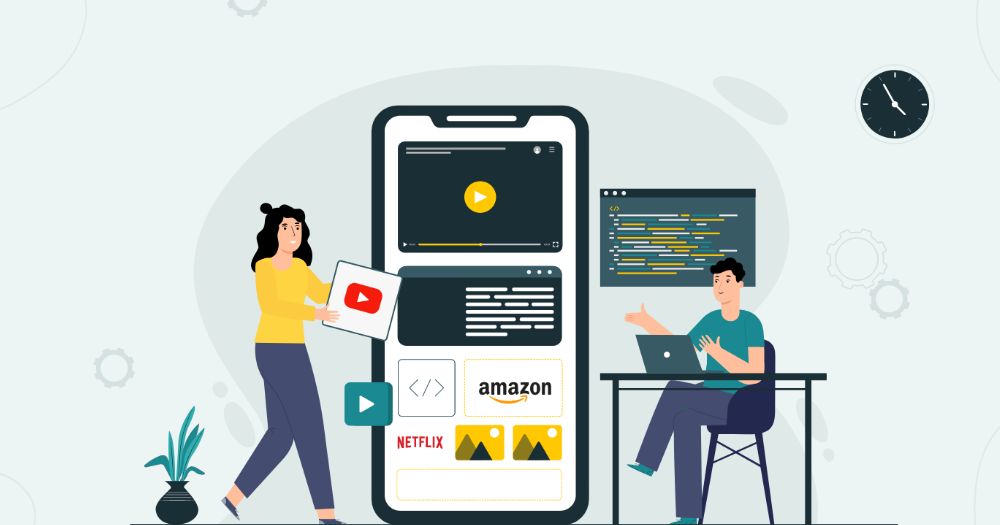 1. The NineHertz – Top Rated OTT Platform Development Company
The NineHertz is a renowned OTT app development company. It is a reliable live streaming app development services provider that comprises some of the finest web and mobile app developers worldwide. It has designed some of the most incredible custom mobile apps, web pages, and other digital transformation solutions for Fortune 500 firms. Among the OTT development companies, The NineHertz is well-known for its OTT space, streaming platform, and smart TV app development.
Hire OTT Developers from The NineHertz
Convert Your App idea into Reality
2. Oxagile
It is a professional OTT app development company with extensive experience, exceptional expertise in developing highly competitive media processing and delivery systems, and unique on-demand app development solutions that are properly adapted for any device, platform, or OS. The company has demonstrated success in collaborating with many business areas and providing an exceptional streaming experience across many devices, including iOS, Android, Android Televisions, Samsung, Apple TVs, LG, Roku, and STBs. Oxagile prioritizes audience engagement, scalability of produced solutions, and actual dependability.
3. Oodles technologies
To give users better OTT app development services, Oodles Technologies are working to provide app development services. They specialize in creating live Roku tv app development for consumers. Oodles Technologies has extensive experience helping businesses envision, plan, implement, and market video solutions. They create high-quality video streaming apps and robust OTT apps for next-generation technologies. The professional staff at Oodles makes IPTV app services for various applications. The developers are eager to provide a one-stop entertainment destination with their cutting-edge technologies.
4. Zype
The video platform provides risk-free app releases and end-to-end video delivery infrastructure. Zype has an enterprise-level domain of service and provides OTT platform development services for enterprises specializing in education, fitness, media and entertainment, and faith. When you launch your streaming service with Zype, you assure a durable and scalable video infrastructure that will help your business grow.
5. RisingMax
RisingMax is an excellent firm that creates apps for various uses. They are critical in developing cutting-edge web and mobile apps, software, blockchain, and data solutions. Aside from that, they are always experts in developing OTT apps. They provide the best options to satisfy the demands completely. They aim to deliver high-quality OTT apps that are suitable for you.
Want to Start Your Own OTT Services?
Convert Your idea into Reality
6. Builder.ai
It is an essential vendor for OTT video app developers. Builder.ai offers effective AI-powered solutions for small businesses, corporations, and individual entrepreneurs, focusing on their specific goals and allowing people who have never written a line of code to construct the streaming software they require. Cost and time effectiveness, success assurance, and process control. Create an OTT video application with ease by using the Builder.ai service.
7. Consagous
For over a decade, Consagous has been a top-tier app development firm that has realized its dream. Of course, they are a prominent mobile app development firm that continues to serve. Consagous' skilled staff is well-known for its OTT app consulting services. Every OTT app works effectively and designs swiftly since it has cutting-edge features. They provide a complete solution for developing a live tv app for Android and development solutions for entertainment.
8. Kaltura
Kaltura is another OVP that offers limitless options for developing world-class OTT streaming networks. Kaltura is an open, adaptable, and dependable video streaming service with industry-specific solutions. As a premier OTT platform development services provider, it has delivered many solutions for Thomson Reuters, Deutsche Telecom, and many others. Kaltura has demonstrated its ability to turn any video service concept into reality.
9. Engro Technologies
Engro is a pleasant and leading OTT platform development company. It provides the most valuable content to end users. Of course, this company creates OTT apps for both iOS and Android. They are the market leader in the OTT industry, enabling on-demand video creators and pros. Engro provides customers with digital network and streaming solutions. Engro's expert crew is top-notch, providing wholesome OTT and on-demand material for a better viewing experience.
10. Tothenew
A leading digital technology firm and OTT app development services. Tothenew is an appealing location for businesses of all sizes due to its 10+ years of experience and a lengthy list of satisfied customers. They offer solutions to independent software vendors and companies specializing in media and entertainment, finance, e-commerce, healthcare, and pharmaceuticals. Building OTT platforms with Tothenew expands digital frontiers for content providers worldwide.
11. VidApp
Are you looking for a reliable OTT app developer to help you launch a standout streaming app? VidApp is a platform with a distinct personality. VidApp app builder can create educational courses, fitness, yoga, lifestyle programs, and entertainment, among other things. The ease of use, combined with the ability to tailor solutions to specific sectors, results in a fantastic customer experience and high-quality digital products for end users.
12. Daffodil
Daffodil is a software technology startup partnered with approximately 100+ organisations globally. This company primarily creates OTT TV apps for online movie streaming. This corporation created around 800 innovations through invention, technological agility, and time-tested outcomes. This company is a blessing in developing OTT apps and meeting expectations. Daffodil software's android tv OTT app is more productive and efficient. They provide us with a venue to entertain ourselves.
13. SoluLab
Solulab is a renowned firm developing OTT apps for a seamless interface. Of course, our staff maintains video streaming apps that are both strong and scalable. The professional team was creating a live custom OTT app development services outfitted with improved content delivery models. The expert team provides an engaging UI/UX experience that makes streaming immersive for life.
14. Mastera
Gleantap, a client retention software company founded in 2018, introduced a breakthrough called Mastera. The primary goal is to assist teachers and creators worldwide in commercializing their passion and achieving financial independence. As a result, Mastera's invention made it extremely easy for anybody, anywhere, to create, market, teach, and earn money on a massive scale. Mastera launched in February 2021 and is open to instructors with a passion or expertise that they want to share and monetise.
15. Brightcove
Brightcove is a Boston-based company specializing in cloud encoding, live streaming, and custom OTT app development solutions. They are considered one of the first professionals in the OTT app builders field professionals. The main highlight is the provision of a high-end streaming software solution that is well-suited to improving the monetisation of any form of stream. Indeed, Brightcove enables you to launch OTT apps considerably faster and create visually appealing experiences.
16. Uscreen
Uscreen has been a market leader in the VOD app builder market for many years. They cover all functions for a monthly fee that starts at $99. They allow for extensive customising, allowing you to match the appearance and feel of our brand. They do not require any coding or third-party tools to be distributed.
17. Maz Systems
Maz systems which many famous firms use for their OTT needs, such as Cosmopolitan and Harvard Business Review, is another solid solution for your OTT app needs. They offer both an AVOD and an SVOD subscription platform. They also promise to be able to deliver your apps to market 150% faster than other providers. With pricing tailored to your specific requirements.
Want to Start Your Own Streaming Services?
Convert Your idea into Reality
18. Vimeo OTT
Vimeo OTT has a user base of over 5 million people. This provides them with a wealth of experience from which to draw. They provide customisable solutions starting at $1 per subscriber and can also create unique OTT pricing plans based on your requirements. They provide in-house help, eliminating the need to engage a separate support crew.
19. VPlayed
VPlayed is a self-hosted OTT streaming solution designed for broadcasters, content owners, filmmakers, sports broadcasters, and others. They provide your OTT platform with proven streaming enhancement technologies, allowing you to offer live streaming and on-demand video hosting. Because your audience is waiting for your original content everywhere, VPlayed will enable you to stream it across many platforms.
20. RNF Technologies
RNF Technologies, a well-known and renowned OTT app development business, provides end-to-end OTT platform solutions. From OTT development services and design to testing and support, this organization offers the most comprehensive solution for OTT apps for leading solutions. It provides end-to-end custom design based on the individual needs of the organization. A competent team quickly provides 100% satisfaction through app development services.
OTT App Development Company Working Process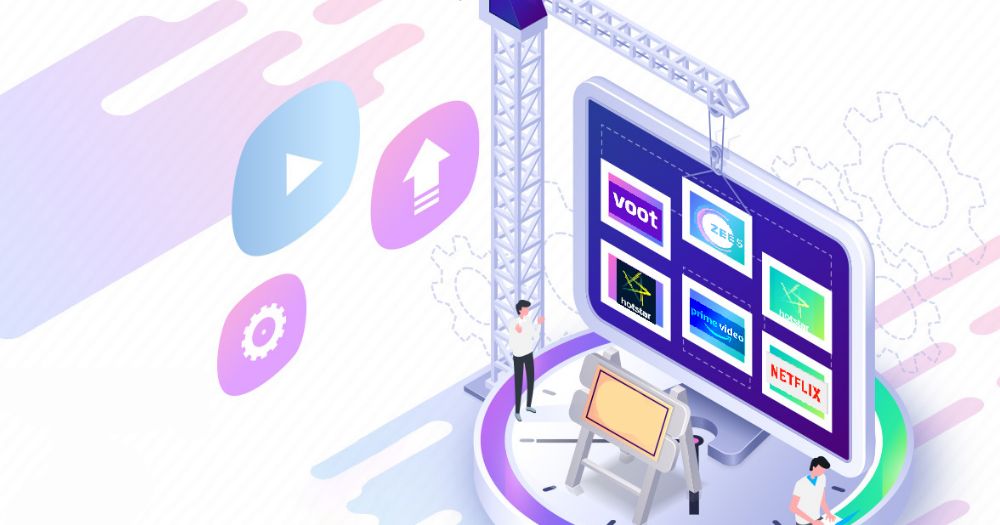 You must first select a technological stack to create a video streaming app or an OTT application, which includes selecting the appropriate server, streaming protocol, and security frameworks.
You must first select a technological stack to create a video streaming app or an OTT application, which includes selecting the appropriate server, streaming protocol, and security frameworks.
1. Choose a Niche
OTT video streaming app development is broad, and you should first decide what specialty you will pursue while entering this sector. Going specialty-specific is the key to winning in a crowded market environment.
2. Create a Content Inventory
Content is the true cornerstone of an OTT video application. You must recognize the inventory of the content that will be streamed on it after its launch. Also, ensure that the material is visually appealing, as this is the core of any OTT video app.
3. Select Your Business Model
OTT administrations use three business models: advertising-based, subscription-based, and transactional. Your application concept will suggest which business model you should use. These models each have advantages and disadvantages.
4. Make Your App
When you've decided which course of action to take, it's time to create the initial module of your OTT entertainment app development services, i.e., your website. Overall, your website will provide an accessible experience to your consumers regardless of whether they can access your OTT mobile application.
5. Select the Technology Stack
While you can utilize numerous OTT platform development technologies and third-party tools to build your OTT applications, the final decision will be based on your precise requirements and OTT app concepts.
6. Get Your OTT App Created
The final stage is to put your plans into action and construct your application. As a result, choose a crew of enthusiastic OTT app developers and embark on a journey to conquer the OTT industry. Here is a complete guide on how to create an app like Netflix.
How to Choose OTT App Developers?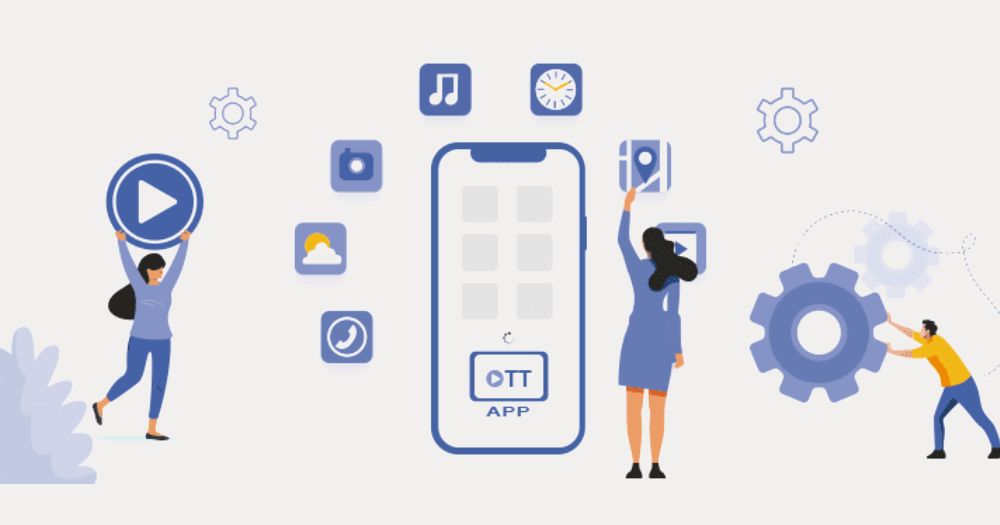 When making the final decision, various over-the-top app and platform builders can spin your head. Here are steps to help you make an informed decision and avoid regret.
1. Examine the Case Studies Page
Case studies should direct you through the list of OTT service vendors. You have an excellent idea for a media streaming app, but you need to know if the developer team will manage its development. A case studies page will help you compare a specific OTT platform builder experience with your concept image and decide if they're worth a shot.
2. Take note of partners and customers
Every reliable organization has a website that showcases its significant partners and their success stories. Look for well-known corporate names, Google obscure ones, and visit their streaming sites to evaluate their quality and appearance. If you like what you see, feel free to start designing your OTT app immediately.
3. Look for risk and outcome guarantees
Unless you choose the correct service provider, app and platform development is a risky business. The service aspects you should look for are process transparency, post-launch support, app maintenance, and scaling. With these, all risks are managed, and an OTT product is a success.
OTT App Development Cost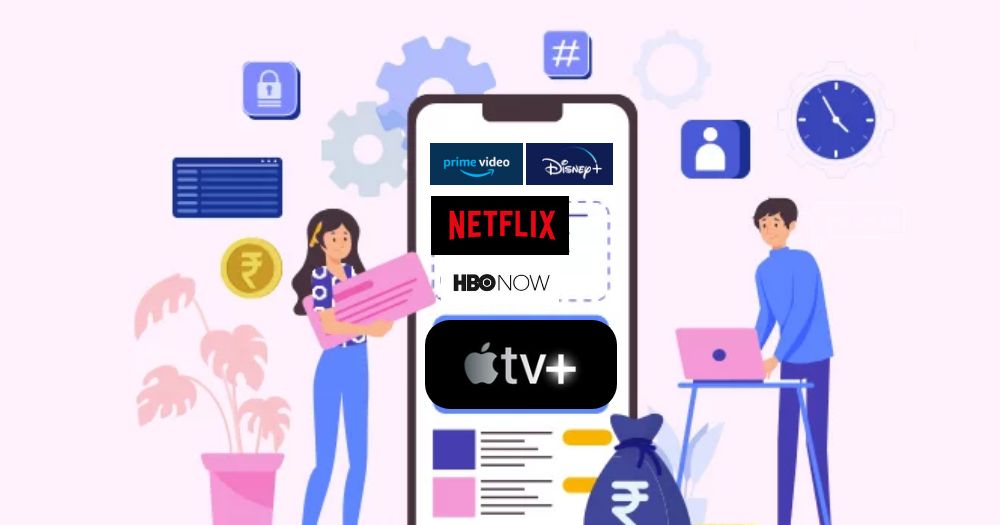 To construct an OTT app, you may need to spend between US $10,000 and US $50,000. Although the entire cost of developing a video streaming app is determined by several factors, including:
App features and complexity
OTT app development company's or developers' size and geographic location
The platform on which you wish to release the app
The technology stack necessary to build the app
Development team experience
The required time to develop the app
| OTT Platform | Average Cost |
| --- | --- |
| Netflix | $15,000 to $40,000 |
| Prime Video | $20,000 to $80,000 |
| Hot Star | $10000 to $50000 |
| Hulu | $4,000 to $13,500 |
Which is Best OTT App Development Services Provider?
The NineHertz is an IT Consulting firm that assists business owners in developing top-notch applications and websites using cutting-edge technologies. We uphold worldwide standards to deliver the finest IT solutions to our clients. The NineHertz delivers innovative solutions to all types of businesses. Also, we have experts with a wide range of experience and skills. Furthermore, we are a customer-centric organization that longs to satisfy its clientele with business solutions. Also, we assist in developing an OTT platform app at a low cost.
Conclusion: OTT Developement Services
Regarding content delivery and democratization, OTT technology has made an enormous difference. Today, both small video content owners and large media businesses have numerous options for laying a technological foundation for their streaming services. There is a way to adapt to a unique business case, whether a self-service builder or a tech partner will construct a bespoke system for high-load streaming services.
Moreover, this new era of OTT technology has connected people of all ages with old cinematic marvels like Friends, The Office, and several movies that got lost over time. Companies that understand the potential of OTT platforms and modify their marketing strategies accordingly are deemed to gain limitless benefits along their growth.
Hire Certified Developers
200+ Developers
FAQ's: OTT Development Companies
Q1: How Do I Make an OTT Platform App?
You can make your own OTT platform app by abiding by the following steps:
Select your streaming niche.
Make an attractive content inventory
Define a business model
Get your mobile app developed
Leverage analytics
Use a multi-CDN strategy
Secure your content
Q2: Which is the No 1 OTT Platform in the World?
Today, Netflix is the best OTT platform in the world. Because no matter the significant number of OTT applications available, Netflix has a massive library of original and On-Demand video content.
Q3: How do OTT Platforms Make Money?
Users of SVOD (subscription-based video on demand) pay a set cost to gain access to the whole content catalogue, which may include movies and television shows. Users of AVOD (advertising-based video on demand) have free access to the material but must bear adverts.
Q4: How Much Does it Cost to Launch an OTT Platform?
To construct an OTT app, you may need to spend between US $10,000 and US $50,000. The cost will depend on the specific app requirements.
Q5: Which is the Cheapest OTT Platform?
Zee5 is the most affordable among the top OTT platforms.