Being the leading iOS application development firm, We continue to discover the best user experiences
Our iOS application development mobile app will save even 70% of your budget and 60% of your time.
Building Premium-Quality iOS Apps is exciting. That's Why We Stay Focussed
One of the best iOS app development company with active technical knowledge and best practices in app development. The exclusivity provides an upper hand to iPhone App Development over Android app development. The use of right tools supported by advanced functionalities ensures the success of your app. Our pool of skilled and experienced iPhone app developers ascertains you get hassle-free development. Undoubtedly, they strive to fulfill all your requirements, but first, they listen to you carefully and understand what exactly you want.
---
From wearable solutions to M-Commerce apps The NineHertz has all iOS application solutions
We have a trend to build the company's dream and committed to providing the unique user experience. The NineHertz boasts the quality-rich iPhone app development services on the ground of clients for their specific project needs. Being one of the best offshore iOS app development service provider company, we have a team of more than 200 proficient developers to accomplish the bespoke client's needs. We distribute customized iPhone service that encloses the wide range of iOS devices, including iPad, iPod, iPhone and Apple Tv.
---
Our recent projects
Take a look at some of our most recent projects.
---
Entrust the Future of Mobile Applications to App Developers from us
We have a committed approach towards building an intuitive design and interface for your iOS application. Our developers have a keenness to learn the technology that helps them to deliver excellence. They bring the right tool into use for the right requirement and this proves their grip on development. No matter how varied your business vertical is, our expert and dedicated resources go beyond conventional theories and set new standards for iPhone app development.

Pool of experts
We deploy a pool of zealous and proactive personnel, who believe in diligence over luck.

Committed to the clock
We respect your time and money. Delivering projects within the committed time frame is our foremost commitment.

Personalized development
Make us understand your vision and we will make it a reality while eliminating all the non-essential inputs.

An inclination towards irreplaceable user experience
We think for our clients and design for the users. We deploy the practical designs to create a polished user experience.

Enthusiastic about new versions and technologies
A well-accustomed energetic troop with knowledge of latest iOS development techniques and updates.
Frequently Asked Questions
Which tools and technologies are used in iOS app development?
There is a number of tools are used in the development and all it requires proficiency and skill to optimize them. We 'The NineHertz' are optimizing Xcode editor, language Swift, iOS virtual machine, Objective-C programming for core development. Apart from development, we use testing tools like Appium, Calabash, Frank and KIF and Jazzy that is a tool for documentation.
What will be the experience of your developers and project manager?
We have an experienced team of developers, project managers, business analysts, technical support and technical heads. The developers are fluent in Swift and objective C programming. They have a maximum of 5+ years experience in technology. Project managers carry 7+ years experience. And so are the business development and technical team have.
What is your standard process of development?
We start everything from ground level. We discuss everything in detail with our complete team. Business developers prepare mockups and wireframes as per Apple's guideline. The work is allotted to the development team. The development team has skilled developers and each of them is associated with the project and provided with modules to complete. There are testers available who are supposed to test each module to test the quality. After development, the complete application is tested before delivery.
What do you require to quote on our app?
We require your concept for the app. Just tell us complete requirements and main functionality required in very clear words. You can share your reference ideas too in that quote. You can share your ideas, set of features and everything you want from us. Based on your requirement, we can give you a ballpark estimate. If you would like to proceed with us, we will guide you for the terms of development.
Who has the right to the idea? What about the finished app and source code?
It will be yours as it is your intellectual property. We just involve in your thought and input thought process. The final app with complete source code will be submitted to you and belongs to you. After the complete bills are paid to us, everything related to your app would hand over to you. Moreover, your idea is safe with us. We just try to provide quality and never interested in selling an idea to others. We will provide NDA agreement to you before development, so you can feel more comfortable by our side.
Invite the
magnetism

of top

notch

technology And lay the

foundation

stone of

grand

legacy with our

clients

Our methods are far-sighted, which help you to escalate even in the most challenging times.

Choosing Nine Hertz to develop my project was the right choice and working with them is Pleasure.
Their team did great work and i'm Carefree.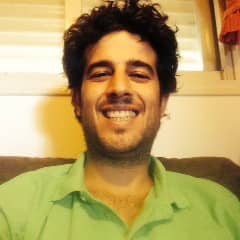 Nitay
I have been working in the tech industry for 3.5 years now, and during the time I have had many different developers for different solutions. Never finding the right mix was tough, until I met NineHertz. In all honesty I could not be happier, from attention to detail, to time efficiency I have never been more satisfied. Would I recommend them? Of course!

Mario Aguayo
Nine Hertz is a great company that is very competent. I worked hand and hand for several months with my Nine Hertz project manager and was very impressed by his knowledge and hard work. Nine Hertz is a great option for those looking for top-tier developers at an affordable price.

Mani Masshafi
Nine Hertz was extremely responsive in all aspects of our communication and planning. Professional and knowledgeable! Will work with them in the future and highly recommend!

Mike Johnson
I endorse Nine Hertz and their team of highly qualified professionals as one of the few great web development company overseas today and thank every one of the team members of Nine Hertz that worked on our application-build to make it a success.They were able to take our plans and ideas and bring them to life. I hope to work with this high caliber team in the future.

Negi Boaka
View More Reviews