Android

Application Development

Company

– Create what's

yours

and

expect

what you deserve

With the advanced tools and technologies, we are efficient enough to create highly customized Android applications. We have an innovative team of Android app developers to accomplish your business needs. The requisition of an Android application has grown in all type of enterprises in past few years. To satiate that, we are here to become your accelerator to craft brilliant Android app of your choice.

We have built a good reputation in IT industry by providing the best results according to the customer's requirements. Our result-driven strategies made us the top Android application development service provider across the globe.
What
Android

Application Development

brings

for you?

We understand the need for developing applications that can connect your business to the audience worldwide. Android platform has occupied 83% of the market share. It offers easy and effective customization of the application enabling to incorporate many advanced features.

Android users are growing very fast incorporating 35% of the world population and is believed to grow more in coming years. It is the peak time to get yourselves ready for implementing an Android application for your business.
Choose

us to

leverage

the advantages of

Our

Services

We boost the visibility of your enterprise by providing agile Android application development process. Our highly skilled developers are committed to delivering trouble-free Android apps. We understand the change in the scenario of the business technologies and make ourselves in harmony with the current trends to create highly customized Android applications. Our past experience and work showcase our brilliance in Android applications development.

Over the duration of 9+ years, we have developed effective and efficient 240+ Android apps for our prominent clients. We ensure reliability, integrity, and scalability of our applications and make sure that your business enhances its reach and ROI.



Programming Language

Android, Kotlin




Technologies

Android SDK, Android Native, Dev Kit




IDE

Eclipse, Android Studio




OS

Android 4.0-8.0 Support




Design

Material Design




Portfolio Database Engine

SQLite, Active Android




Testing/Debugging

Emulater, Testlabs
Make Your
Apps Influential
We know the key that brings impressive revenue to your business idea by implementing our skills of application development into it.



Beacon Integration




GPS Integration




Porting and Migration




MDN Integration




Payment Gateway Integration




XMPP Chat Server Integration




Wearable Integration




mBAAS Integration




Third-part App Integration




Audio/Video Live Streaming




Custom API Integration




BLE Integration
Delivered 240+

customized

Android

applications that accomplish your

enterprise

needs

We develop apps that fulfill your business demands and brings smile to your user's face
Perks of The NineHertz
Expertise in Various Platforms
Accessible Application Architecture
Dedicated QA team for Android testing
High-Level of Credibility
High compatibility
Reliable Data Security
Rich UI/UX design
Our Workflow
Exploring Brand Needs
Scope Discovery
Generating Project Report
Making Design Layout
Testing For Bugs
Engaging Customer
Creating Feedback Report
Quick Response To Queries
Project Delivery
Frequently Asked Questions
Why building an app is necessary nowadays?
Mobile apps are the basic need of any business. An application is a complete package that can boost your business growth by reinforcing your brand, increases sell through, and improves customer engagement. You can build an app for your workforce too so that the workers can stay in touch with the work and you can gain productivity. It will be the direct source to get in touch with the work and work members too.
Is Android a suitable platform for business app development?
In the smartphone market, Android is leading the user base. It offers great user interface and powerful functionalities. The main benefit of creating an app using Android platform is – its massive adoption. You do not have to do more, your audience will directly reach to you via the app. For any business, high ROI is a self-prize and developing apps using Android takes low investment and returns great value.
Moreover, you do not have to depend on a single market channel to distribute your app. Instead, you can optimize third-party market and with the help of your promoting strategy, you can distribute your app through multiple channels and reach maximum users.
What tools and technologies do you prefer in Android app development?
There are a billion of tools available for developing interactive android apps. We use Android Studio, Corona, Cordova as editor tools, Java, C++ as language resources, GSon, EventBus, Awesome Android Libraries as libraries and Genymotion and H.A.X.M. as plugin tools.
How many years of experience your developers have?
The developers are more than 6 years experienced. They are skilled, certified and have great knowledge in development. The background concepts of our development team are technically stronger and they are handy in optimizing their knowledge and skills in innovative development solution.
Is it possible to see the methods you are using in development?
Yes, it is possible with us. We follow the agile methodology in every project. We take our clients seriously and each step of development is discussed with them deeply. You are always invited to share your ideas and our team will try best to take traces of your ideas.
How much does it cost to develop an android app?
There is no fixed price for app development whether the platform is Android or iOS or any other. We can give you a ballpark figure once you quoted your idea and requirements with us. State your ideas, set of requirements and functionalities you want in your app clearly and we can figure out the estimated cost for you.
Committed

to

adapting

each of

Android

work into a

prosperous

venture

Developing feature-rich mobile apps that engage your target audience

Choosing Nine Hertz to develop my project was the right choice and working with them is Pleasure.
Their team did great work and i'm Carefree.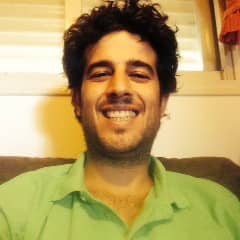 Nitay
I have been working in the tech industry for 3.5 years now, and during the time I have had many different developers for different solutions. Never finding the right mix was tough, until I met NineHertz. In all honesty I could not be happier, from attention to detail, to time efficiency I have never been more satisfied. Would I recommend them? Of course!

Mario Aguayo
Nine Hertz is a great company that is very competent. I worked hand and hand for several months with my Nine Hertz project manager and was very impressed by his knowledge and hard work. Nine Hertz is a great option for those looking for top-tier developers at an affordable price.

Mani Masshafi
Nine Hertz was extremely responsive in all aspects of our communication and planning. Professional and knowledgeable! Will work with them in the future and highly recommend!

Mike Johnson
I endorse Nine Hertz and their team of highly qualified professionals as one of the few great web development company overseas today and thank every one of the team members of Nine Hertz that worked on our application-build to make it a success.They were able to take our plans and ideas and bring them to life. I hope to work with this high caliber team in the future.

Negi Boaka
View More Reviews