Just imagine a scenario. It's 3 a.m., and you have a severe headache. The pain is terrible. You can't drive to the hospital for a doctor's consultation. Fortunately, you can now get the right help with a few clicks. Thanks to the rise of tech-based healthcare.
A doctor-on-demand app is an ideal solution. Here, you can "call a doctor at home" and get all the help needed. In this guide, we will explore the doctor on-demand app development process, cost, features, and more.
Telehealth apps are perfect for connecting with doctors instantly and getting instant treatment. These apps for online consultation are gaining popularity in recent times. They are easily accessible and deliver prompt services to patients. Not only does a doctor-on-demand app saves time for patients, but it also eliminates the need to visit crowded hospitals or wait in long queues.
Helped in part by COVID-19, the market expanded by 14.3% in 2020. However, it is predicted that the mobile health apps market will grow by 17–18% annually in the next 5 years.
So if you are a doctor or a medical practitioner wishing to enter this booming market, you have landed on the right page. This guide will help you explore everything about on-demand doctor app development and will explain how it can complement the traditional healthcare system. Here you can find the list of top on demand app development companies.
Let us first understand what actually an On Demand Doctor App is.
Want to Develop Doctor On-demand App?
Convert Your App idea into Reality
What is a Doctor On-demand App?
An on demand doctor app is an application/software that enables healthcare professionals and patients to connect. The telemedicine app contains valuable features that make it easier for patients to book appointments, get treatment at home, and pay their bills digitally.
Overall, the doctor appointment app is a mini-version of a hospital. Herein, the patients can search for doctors nearby, take their services, and get a virtual consultation in the warmth of their homes.
The Covid-19 pandemic significantly boosted towards going digital, and the healthcare sector came in first place. Instead of waiting in queues and outside the clinic, patients prefer to get medical help via doctor on demand app development solutions.
Let's look at some of the other benefits contributing to the popularity of medical apps for patients.
List of Top Doctor On-demand Apps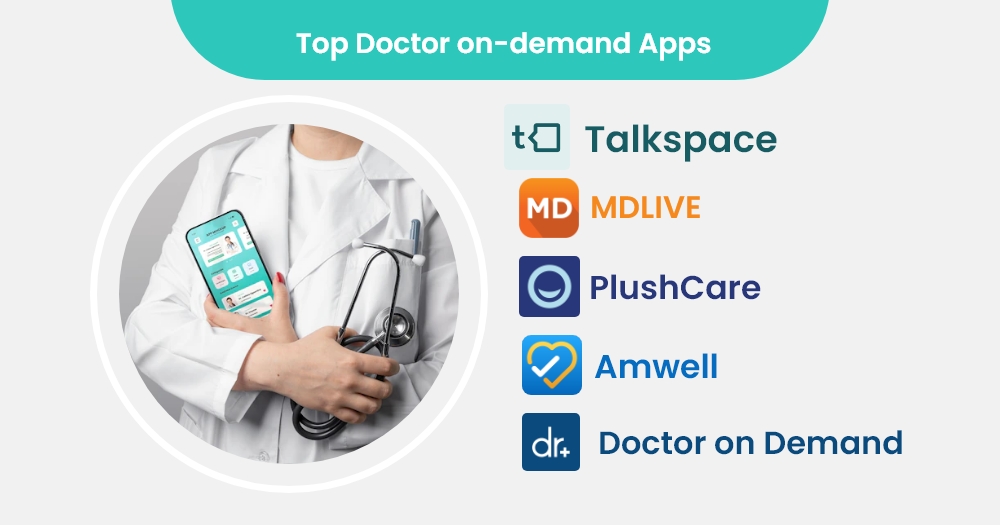 | App Name | Established Year | Supported Platform | No. Of Downloads | Generated Revenue |
| --- | --- | --- | --- | --- |
| MDLIVE | 2009 | iPhone/ Android | 1 million Downloads |  $100.0M |
| PlushCare | 2015 | iPhone/ Android | 3 Lakhs Downloads | $ 31 Million |
| Doctor on Demand | 2012 | iPhone/ Android | 60k Downloads | $75 Million |
| Amwell | 2006 | iPhone/ Android | 6 million downloads | $259 Million |
| Talkspace | 2012 | iPhone/ Android | 68,129 monthly app downloads | $144.8 million |
Doctor On-demand App Development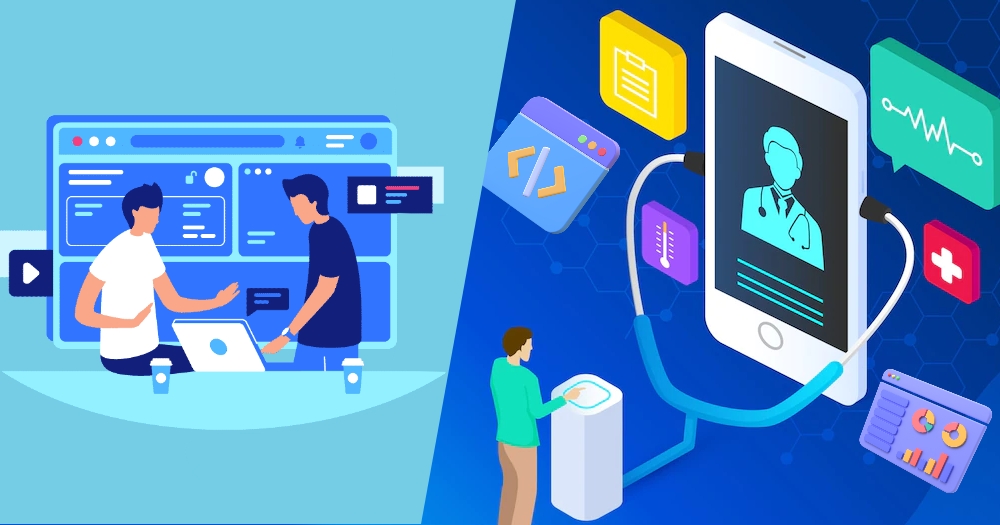 When developing an on-demand doctor app, adding a list of features isn't enough. Below are a few more things to consider if you plan to enter a lucrative global telemedicine market.
1. Target Audience
Before you plunge into doctor on-demand app development, you must know your target audience. Who are the users of your app most likely to be? What is their standard of living, income, and demographics? Will you directly compete with current apps in this market, or will you be addressing an unexplored niche?
2. Monetization Model
There are a lot of ways to earn revenue with your Doctor-on-Demand app. Here are some of the most recommended monetization strategies to earn consistent revenues through doctor on-demand apps.
A) Commission Model
Your application can deduct a certain percentage from the fees paid by the patient during the visit under this model.
B) Featured Listing Model
In this model, doctors and physicians pay to get listed in your doctor appointment app.
C) Subscription model
In a B2B approach, the service can sell its services to employers who, in turn, offer them to employees. For B2C, the service can require customers to subscribe at a monthly fee.
D) Sponsored or boosted listings
In this model, medical practitioners may pay a fee for prominent placement on search results and recommendations.
E) Premium app features
Your doctor booking app can charge a certain fee from people to access certain premium features. These premium features include free counseling, follow-up appointments, and regular checkups.
F) In-app advertising
Here, your doctor app generates revenue by advertising healthcare providers' services.
Choosing the revenue model is essential as it will determine the type of user interface of your doctor on-demand app.
3. Legal Matters
Healthcare is a highly regulated industry. If you are planning to enter the medical industry, your healthcare app must be 100% compliant with all rules, regulations, certifications, and laws.
4. App Development Budget
Developing healthcare applications does not come at a low cost. The more features you add, the more the development costs. Hence, it is essential to finalize your budget before investing in doctor on-demand app development.
5. Database of Doctors and Healthcare Providers
We cannot think of a healthcare app without a database of good doctors. Ensure that you include certified practitioners so that your doctor app becomes a trusted source of medical help. You can contact the reputed healthcare organizations near your app to build this database.
Additionally, you can buy commercial marketing databases with contact details of clinics, physicians, dentists, and other healthcare providers in that area. Then, invite them to register in your app and fill in doctor profiles.
Another important thing while building your database is to consider license verification. Ensure that you only include licensed physicians to register in your database and verify their licenses by number.
Want to Build Doctor On-demand App?
Convert Your App idea into Reality
Features to Build Doctor On-demand App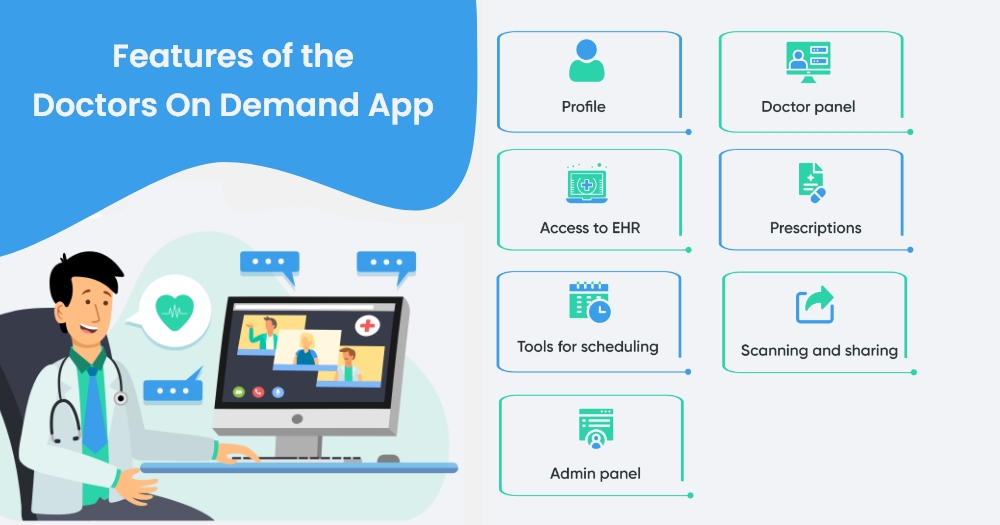 Your on demand doctor app will not make money unless it has some of the must-have telemedicine app features. Here are some of the important features to include:
1. User Profile and Sign-ups
A telemedicine app must enable users to create their accounts. It allows them to add their personal profile on the application with all their medical history and present medical conditions.
2. Schedule an Appointment
The app must have this feature. It is used to book an appointment with the preferred doctor and at the preferred time. This feature enables the patients to check the doctors' availability. And hence, schedule the consultation session accordingly.
3. Electronic Medical Records
The e-record feature helps both doctors and patients. All the information gets stored in the health app for future usage. Doctors can use it to improve these records to diagnose patients and offer quality services.
4. Live Video Calls
The app must have a live video feature. It enables patients to video call the doctor and explains health issues. As a result, doctors can examine patients in real time.
5. In-app Chat and Calling Options
This feature enables patients to send messages to communicate with the doctor. It is beneficial when there are any discrepancies in the information. The patient can connect on call or text and have their queries resolved.
6. E-prescription
The e-prescription feature enables doctors to prescribe medicines without any barriers of time and location. The patients can be miles away from their doctor but can still access the prescribed treatments. Telemedicine apps ensure data security by providing end-to-end encryption of data.
7. Doctor Management Feature
Under this feature, all the doctors are mentioned in the categories per their specialization. The patients can select a category, choose a doctor and get an appointment quickly.
8. Report Management
The doctors can manage the patients with all records separately with this feature. The report management feature also helps doctors generate reports whenever required.
9. Medication Tracker
This is another very trending feature of an on demand doctor app. It gives timely reminders to the users about their medication. Besides, the patients can set reminders for their upcoming appointments and even refill pills from the drugstore.
10. Ratings and Review
Every telemedicine app development should also include a function that pushes the users to provide a review. The rating option and feedback are a must-have to get honest feedback from the users.
11. Advanced Search Filters
Your doctor booking app must have robust search filters so that the users can easily filter and select their preferred telemedicine doctors. They should be able to search the doctors based on distance, specializations, experience, fees, etc.
Doctor On Demand App Development Technologies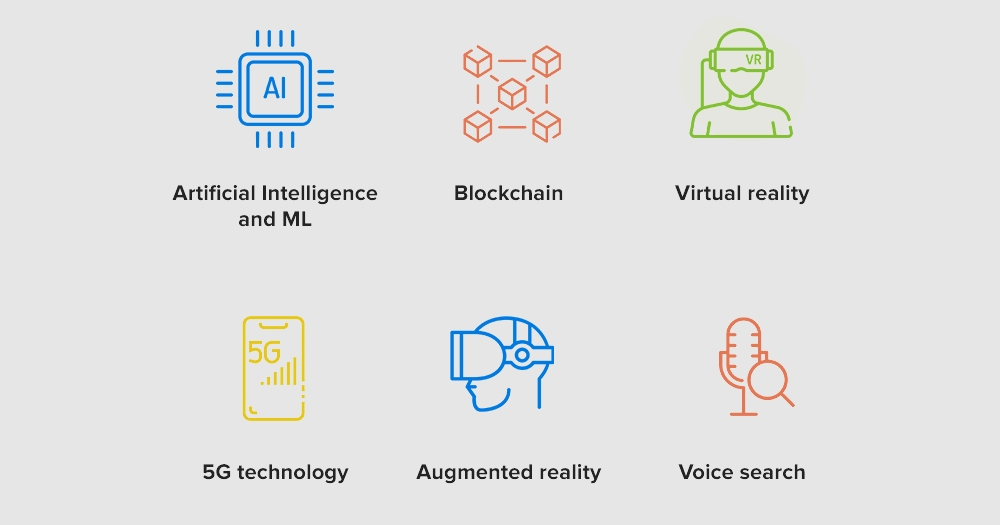 Along with an integrated tech stack, you should also be aware of the cutting-edge technologies that can give you an edge over your competitors.
1. Blockchain
Blockchain has a wide range of applications and uses in the medical industry. You can leverage the technology to store medical records confidentiality and update patient data across multiple systems and locations in real-time and with security.
2. Artificial Intelligence and Machine Learning
The need for personalized healthcare data and solutions is growing. And AI and ML play a huge role in meeting that demand. Your doctor app idea should combine AI and ML to collect and analyze patient data to ascertain whether they have any diseases, how their bodies respond, what treatment would be the best, and more.
3. Voice Recognition
Another effective strategy is incorporating voice search technology into your doctor's on demand app development solutions. Voice search technologies are changing how people look for products and services. Over the past few years, it has become firmly rooted in the healthcare sector.
4. Augmented Reality
By providing doctors and surgeons access to real-time data and patient information faster and more precisely than ever, AR technologies can improve their capacity to accurately diagnose, treat, and execute surgery on their patients.
5. 5G
A new health environment will be made possible by 5G, which promises to deliver significant levels of connectivity. The much-awaited technology will help in quick telemedicine sessions, High definition video consultations, and remote patient monitoring.
Cost of On-demand Doctor App Development
The average doctor on demand app development cost for a basic app goes around $25,000-$40,000 and could go as high as $40,000-$80,000 depending upon various factors and elements. For example, the geographical area of the application development team, accessibility of apps on platforms like iOS and Android, wearables, the complexity of the doctor app, and more are some key considerations affecting the costs.
Although the cost of app development also differs from country to country, let's talk a look to it.
| Country | Cost of Doctor on-demand App Development |
| --- | --- |
| USA | USD $150 to $250 per hour |
| Europe | USD $120 to $180  per hour |
| India | USD $40 to $80 per hour |
Benefits of Doctor On-Demand Apps

It is certain that virtual care is here to stay. Telemedicine apps offer the below benefits to its users.
1. Convenient
You can use the telemedicine app anytime and anywhere. You get quick help and get better treatment. Especially when no hospital is nearby, you don't have to travel miles searching for medical assistance. A doctor on demand app is convenient and helps avoid delays.
2. Reduced Costs
Sometimes, the doctor consultation fees can be pretty high, especially in emergencies. The on demand apps provide a transparent cost. You can check each doctor's prices and discounts directly on the app. And most telehealth apps are free to use. Hence, it is cheaper for the users.
3. Better Productivity
A doctor on demand app reduces the need for follow-ups. It also eliminates scheduling manual appointments, prescribing medications, and related tasks. The app offers automated nudges. Hence, doctors experience improved patient outcomes due to fewer administrative and operational tasks.
4. Consolidated Patient History
A doctor on demand app is online. Therefore all the records, prescriptions, and patient history is stored online. The tech stack like blockchain and cloud help in keeping crucial information. There is no need to go through all the paperwork since everything is stored in the mHealth apps.
5. Lesser Readmissions
A doctor on-demand app gives patients the freedom to experience better medical services without stepping out of their homes. They no longer need to go to the hospitals. This reduces hospital readmissions without affecting the quality of healthcare services.
6. Competitive Advantage
Telemedicine apps enable patients to communicate with their doctors via messengers. And not all doctors and medical organizations offer such services. Therefore, by investing in doctor mobile app development projects, you can gain a competitive advantage in the healthcare industry.
7. Better Return on Investment
These doctor on demand apps allow doctors to see a steady stream of patients without increasing their hospital employees, infrastructure, and equipment expenditures.
The increase in telehealth applications shows that more users are relying on the apps and using them to access services. Hence, these apps help doctors achieve higher ROI in this approach.
How Does On Demand Doctor App Work?
Much like social media, on demand doctor apps use patient location data to offer a choice of available professionals within their vicinity. These mobile apps work with both patients and healthcare providers. The typical user journey looks like this:
1. Register
Firstly, the patients create their accounts on the app by adding their details. The registration ensures that their data is stored securely and used for future visits. The patient also describes their problems and past illness.
2. Select Services
Once the account is created, patients can easily select any service. For example, a virtual consultation, booking an appointment, in-person appointments, teleconsultation, or home visits.
3. Choosing the Doctor
The doctor on demand app displays a list of available doctors showcasing their names, specializations, experiences, and even ratings. The patients can use different filters to select their preferred doctor.
4. Providing Preliminary Information
The doctor might require preliminary information, such as pictures, symptoms, current medication, or diet. The patients can answer the doctor's questions and upload images of the condition.
5. Payments
The next step is to pay the fees. Herein, the patient pays the physician or the hospital through an online payment getaway.
6. Consultation and Prescription
The consultation takes place, and the doctors prescribe medicines or tests. The patients also receive the doctor's prescriptions after consultation and can share them digitally with the chemist or take a printout.
Challenges While Developing Doctor On Demand App
There are some significant challenges that both mobile app developers and healthcare professionals encounter while working on doctor app development.
1. Providing an Incredible User Experience
Your app development company should carefully design the look and feel of medical apps. It's incredibly crucial to provide a user-friendly interface. The medical industry frequently uses green, white, pink, and blue hues. Therefore, the color palettes should also be carefully considered. In short, the users of the app should find it to be extremely straightforward to use.
2. Security of Confidential Data
Most people prioritize security, making developing a doctor app a significant problem. Every patient wants their personal information and other data to be secure and reliable in the modern world.
To ensure the safety and security of the users, developers should send and receive encrypted data and employ third-party servers that abide by the law. It will make your doctor's web app and mobile app safer.
3. Abiding by the Healthcare Legislation
Most developers find this to be one of the most challenging components of developing an app. While creating a doctor app solution, the rules pertaining to data collecting, storage, and processing shall be subject to the laws and regulations for various locations.
To preserve patients' privacy, pick an app development company that understands the law, creates an app, and complies with the rules and regulations.
4. Scalability and Performance
Developers should work on avoiding common performance problems that might ruin the user experience. These problems can be poor loading times, traffic peaks, DNS issues, etc. Also, the app development team can use DevOps to develop and configure the app infrastructure for good design.
5. Development Strategy
It is difficult for healthcare professionals to choose the best tech stack because many programming languages, frameworks, and development platforms are available. They frequently struggle to select the appropriate programming language.
However, choose a doctor on-demand app development company that is certain of a development strategy and establish a reasonable development schedule. For this, the company will consider the nature of your business and make a list of your future ambitions before beginning the app development to choose between hybrid, native, or web app development.
6. Secure Payments
Patients should have a secure way to pay through a doctor-on-demand app, whether a credit card or another option. Ensure your application supports all invoicing and payment methods while adhering to privacy policies and maintaining security.
An app with secure payment options and gateways is more likely to engage patients than one without. Therefore, focus on providing fast and safe payment practices to win your patients' trust.
Want to Create Doctor On-demand App?
Convert Your App idea into Reality
Conclusion
When COVID-19 hit the world, a lot of things shifted digital. The healthcare industry has also witnessed this revolution as one of the most vital services.
Technological advancements and digital transformation have accelerated the demand for services like online telemedicine services. The launch of such telemedicine solutions enable doctors and patients to connect easily from any corner of the world.
So, leverage the opportunity and take your medical practice online with a doctor on demand app that provides high-end solutions for doctors, hospitals, clinics, patients, and health centers. Gain the patient's trust and boost your app's recognition worldwide by overcoming the challenges mentioned above and coming up with excellent planning, QA, and development.
FAQ's
1. How Much Does it Cost to Develop a Doctor On Demand App?
Depending on the size and scope of the doctor on demand app you're looking to develop, costs could range from a few thousand dollars to well over $100,000.
2. What is On Demand Doctor App?
A doctor-on-demand app is an innovative solution that allows you to see a medical professional without leaving the comfort of your home. It is basically like visiting the doctor, but you don't have to worry about making an appointment, finding transportation, or even getting out of bed.
3. How Do I Make a Doctor App?
In order to ensure you have a successful doctor app, it is essential to map out the processes needed for timely doctor-patient communication and care. This includes considering the doctor's availability hours, the contact details of their practice, reviewing insurance information, and setting up payment methods. Additionally, consider how you want to connect with current patients, such as sending appointment reminders or providing resources they may find helpful. Lastly, if you are integrating technology into your doctor on-demand app, make sure it is compatible with various devices and up-to-date security settings.