Our Array of Software Development Services
Our Complete suite of Custom Software Development Solutions fosters automation and efficiency in each process of your business operations.
Custom Software Development
In a highly volatile and competitive landscape, we recognize the particular needs of our business, analyze their target audience, understand the nature of their business, and tailor long-term customized software.
Software consulting services
Turning ideas into digital reality, we analyze the client's needs and vision to suggest the best technologies to foster the software. Our consultation holds the client's back before, during, and after the project.
Enterprise Software Development
As a leading software development company, The NineHertz is committed to driving automation in enterprises. Our enterprise custom software application development services helps foster streamlined collaboration and business process.
Software Integration Services
Integrating novel software into existing business is a great practice to encourage productivity. We handle all challenges from designing to testing and execution during the integration lifecycle very effectively.
Custom CRM Development Services
Imparting strong customer relationships is a hard stone to turn and we make it possible with CRM development services. Drive efficiency in the business process with digitized software solutions.
Software Product Development Services
Building the software from scratch and adding each functionality according to the client's requirements is one of our core competencies. From market research to post-maintenance, we cover it all.
Our Core Areas of Expertise in Software Development
Our commitment as a leading software development services provider to innovation encourages us to explore the panorama of the technological world and bring the best Industry Solutions to the forefront.
Software Development Solutions
Every software that we work on through our custom software development services is crafted with keen perfection.
UX and Design
We impart creative and customer-responsive designs in each software to bring each functionality to the fingertips of the user. Our team of expert designers fosters the best user experience in every project.
Software Security
Security remains our topmost concern throughout the process. We ensure industry-leading security processes in the software and leave no stone unturned to make the software secure.
Data Science Services
By collecting, analyzing, and interpreting big data, we design software that matches the end-user expectations, thus making it easier to retain users for a long time.
QA & Software Testing
We place the QA and Software testing process at the center to make the digital product bug-free and error-free. The testing phase ensures the fast loading speed and efficient performance of the software.
Our Software Development Methodology
We impart the right methodology as per the specific business needs. Multiple options in project models enable us to simplify the routine activities of the software development service process and achieve the best result.
DevOps
We foster collaboration between software development and software operations teams to distribute the responsibility and leverage the best outcome as our software product. DevOps enables different teams to impart their role to eliminate the chances of errors.
Agile
When working on large projects, Agile allows us to break down the complete lifecycle into several sprints. The team moves toward the next sprint only when the previous one has been completed with utmost perfection. Moreover, each phase is reevaluated several times for improvement.
Scrum
Adhering to the pillars of the scrum model i.e. transparency, inspections, and adaptation, The NineHertz put this model to work when dealing with complex software development service projects. Scrum suggests knowledge transfer on a daily basis by holding meetings with stakeholders.
Waterfall
Waterfall is a strict project management methodology that only allows the team to move to the next phase after achieving the expected results in the previous phase. We use waterfall when the client has clearly established a goal for his project.
Industry-Centric Software Development Services
At The NineHertz, our team of best software developers collaborates closely with clients to understand their business objectives and deliver software solutions that drive efficiency, productivity, and growth. With a customer-centric approach and a commitment to excellence, we strive to be a valuable partner in the success of businesses across diverse industries.
Healthcare Software Development
Under our
healthcare software solutions
, we build custom healthcare software for mobile and clinic appliances to encourage efficiency and streamline the tasks at medical care centers and institutions. Our offerings cover varieties like EHR/EMR, telemedicine software, e-prescription, HIS software, pharmacy management, IoT, and wearable software development.
Real Estate Software Development
Smart software to embolden the sales of real estate agencies. Our innovative CRM and ERP software helps manage sales leads, enhance client engagement, drive better sales data tracking, and optimize the service offerings for prospects.
On-demand Software Development
Share your idea of a digital product and turn it into a live reality with the best software development service provider. Build a customized solution from scratch according to the specified needs of the business and the nature of the target audience. Pay only for what you need in the product.
Banking Software Development
As a one of the
top software companies in USA
, we offer secure banking software solutions, including online banking platforms, mobile banking apps, risk management software, and financial analytics tools to provide personalized banking experiences to their customers.
Travel software development
The travel software that brings the transportation, hotel, restaurant, and ticket booking businesses to the online landscape. These digital products enable contactless hospitality solutions, mobile kiosks, mobile accommodation applications, and much more with one click.
E-commerce and Retail
Bring the retail business online to confront a larger audience base. Retail software solutions assist in offering products to customers with a digital interface. Also, the store owners can streamline transaction processes, track inventory supply, and generate electronic bills in no time.
Our Custom Software Development Process
Perfection requires planning. Utilizing the right project management methodology, we carry out each step of software development with the utmost performance outcome.
Step 01
The project analysis phase, where the complete study of requirements, target audience, competition, and market conditions is conducted. The first step is dedicated to thorough communication between both parties.
Step 02
The design of the software is carried out to prepare an MVP. This phase is solely dedicated to gathering feedback from relevant stakeholders. The project owner seeks changes in any part of the software by learning through prototypes.
Step 03
Front-end and back-end development are core practices of phase 3. Tasks like API integration, and third-party integration instills the functionalities into software.
Step 04
Here comes the testing time when the software undergoes several performance and speed tests. Before deploying the product on the system, it is ensured that any bug or error doesn't affect the user experience.
Step 05
Post-maintenance support is crucial for the streamlined functioning of the software. Our developers provide timely updates in features and remove the errors as recognized with time.
What Makes Us Best Software Development Company?
Our commitment to crafting customized software solutions drives innovation in our project to provide clients with a competing digital product. Our competencies when combined, make us the best choice for a software development project.
Complete Transparency on priority
14+ years of experience
Broad Technology Stack
Commitment to Innovation
Customized Tailored Solutions
Least time to market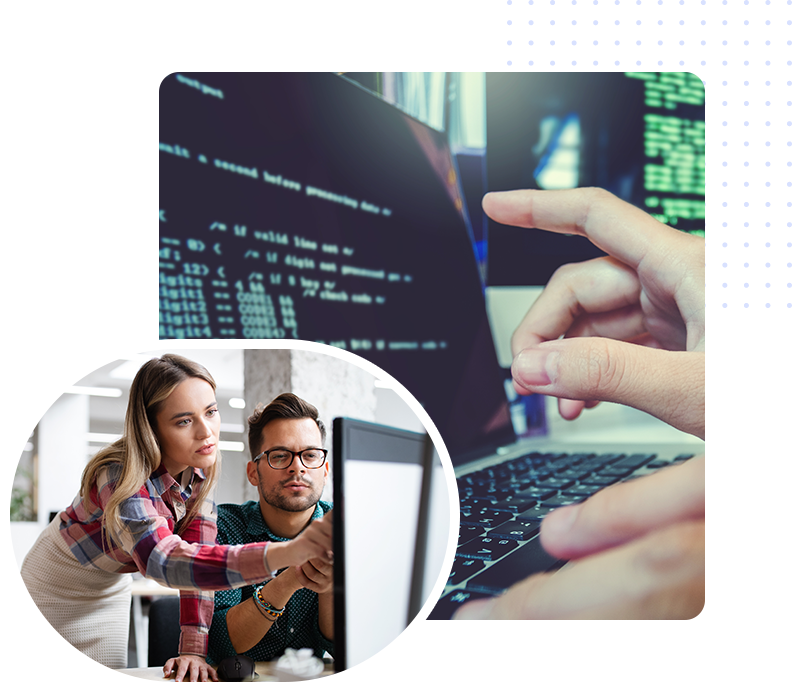 Our Command in Software Technologies
We combine various technologies to prepare a framework that helps to build customized features as per the client's product vision. We carry a broad technology stack to implement the right element in projects of different natures.
Why Choose Us as Software Development Services Partner?
Complete Quality Control
Quality of the software tops our priority list. We adhere to ISO 9001 quality standards to perform multiple rounds of testing and deliver the best version of software to our clients.
Transparency in service delivery
We keep the complete development process transparent to all our project stakeholders. The updates about the progress of the project, challenges faced, and mitigations implemented are shared periodically with all parties.
Accurate Budgeting
Budgeting is one of the biggest concerns for a project and we try to give an accurate budget estimation to our client. Once quoted the budget, we carry out all the tasks within the promised amount without fluctuating the outcome cost.
Real-time deadline estimation
Considering all the requirements of the project, we come up with a realistic deadline to complete the development process. Moreover, our team has ample experience to ensure that the deadline is achieved in every project without compromising with the quality.
Technological software improvements
The NineHertz fosters the next generation of technologies in the software solutions they develop. Moreover, improvements in features and UI/UX designs deliver software the competitive advantages.
Stakeholder communication
We impart a productive communication strategy in our development process. Periodical meetings help the project stakeholders to put forward their feedback, queries, and corrections.

}