Joomla Development Services
Our Joomla development websites are made to forwarding the future of your business
Our troop of Joomla developers understands your core need and put in the efforts accordingly
Most optimum Joomla solutions that fulfill all your business needs
The versatile platform of Joomla can embrace several website needs in it. The platform provides the right tools to support your dream. We develop Joomla websites for educational, news portal, corporate, property, recruitment, job portals etc
Supporting the pillars of your business through our highly efficient Joomla development
We rank high because of our diligence towards work

Joomla Website Development
With a rock-solid experience and a team of best Joomla developers, you can trust on The NineHertz for delivering high-quality Joomla websites.

Custom Joomla Development
Our expert developers uses the well-known and trusted approach in developing the most incredible web applications for various industries worldwide.

Joomla Website for Small Business
Get your custom website development by our expert developers. Just discuss with them your website functionality and requirements, and consider it done.

PSD to Joomla Conversion
We are experts at giving your website that edge by our profound PSD to Joomla conversion and gets the users hooked on to it thereby increasing conversions.

Joomla Migration and Porting
Entrust us with Joomla migration and porting development for enhanced user engagement and experience growth in website visitors.

Joomla CMS Development
We provide premium quality Joomla CMS Development services through professional-hands having years of experience with Joomla framework.

Joomla Theme Customization
The NineHertz uses well-known strategy to develop the incredible Joomla based themes.

Joomla Custom Modules Development
We develop Custom Modules for Joomla that give your website a eye-catching and unique look with incredible functionality.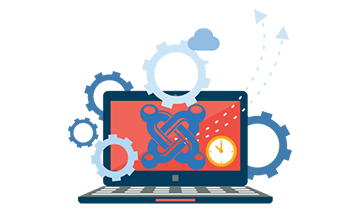 We have delivered 1000+ of Joomla projects for mid and large enterprises
Delivering conventional web to Full Stack Joomla development


Open Source Platform
The popularity of this platform has risen with the fact that, it can be accessed by anyone without any hassles of an intricate process.

Rationalized Admin Interface
You do not have to play too hard to understand the Joomla interface. You can simply, login and access all the features.

Extensions' Benefits
Extensions are readymade benefits of any panel. With several extensions available, the functionality of the Joomla amplifies with added benefits.

A Robust Forum Support
With a base of quintessential Joomla Forums, Joomla comes up with irreplaceable forum support.
We are continuously improving our Joomla development process to meet your standards

Multi-Language and
Multicurrency option

Automatic Image
Resizing

Discount Coupon
System

Search Engine Optimization
and SEO friendly options

Super
zoom

Multiple
Tax Rates
Unlimited Information
Pages

Frequently asked Questions
What does Joomla mean?
Joomla is an open source content management system for effective publishing of web content. It can be used independently of the CMS. It is effectively used to publish hefty amount of web content. The web app has been in use at the independent levels.
Is Joomla a web host?
Users can effectively build freely hosted Joomla websites on Joomla. The server infrastructure can effectively build free Joomla sites. Also, the users can independently make Joomla websites which are hosted without much of the costing.
Is Joomla better than WordPress?
Joomla, WordPress and Drupal are outstanding content management systems. Whereas, WordPress provides with the convenience of usage, plugins and themes, Joomla provides a versatile platform to build the apps. Joomla is the most appreciable CMS that is known to promote the ease of use. In terms of extensions, Joomla has thousands of them added in the directory of extension. The extensions come in many different forms including components, modules, files and plugins. Also, the very core form of Joomla varies from Joomla CMS which provides the potential to make applications which are PHP based.
Joomla is different because: It has multilingual back support: The specific language of the content can be made a priority in the admin area.
Mobile Apps: There are various third party applications available to make the necessary updates on site and mobile.
Unit Testing and System Testing: This provides an insight on the working areas of the website. Joomla has the whole of lot of support for MS SQL, MySQL, WordPress and PostgreSQL.
Why Should I Choose Joomla Over Anything Other?
Joomla has below benefits over any other development platform:
Content Management Features: Joomla is the best of its kind in the content management procedure. With so many available options, it gives a base to organize, display and create content in more number of ways than possible.
Selected Interface and Functions: Joomla does not lack in terms of features. Also, it has set controls of various other features. It brings up the base of secured CMS foundation which is the source of various features of Joomla.
Universal Language Support: Joomla reaps the praises worldwide because it provides support to the various international languages. Joomla has the convenience of installation of various languages. Language setting can be put in various ways to make the content, sections and navigation on a website.
Everything Works Consummately: The basic settings and features are available at all places in Joomla. Every other feature work without any dependency and are used in coordination.
Is there a standard cost to build a Joomla website?
More than just a development, We strive to be a complete Joomla development service provider firm as per the current trends and your individual need. We provide tailor-made Joomla services that best fit your requirements.
Can I take a look your website building process you follow?
Yes, we can check the look of your website. We provide the URL of your demo server where you can view the overall progress of your website development. You can also give suggestions well as give your guidance for improving your website.
Do all your websites are SEO optimized?
YES, Of course. All our sites are full of seo keywords. We additionally offer SEO Services that serves you the top rankings on influential search engines like Google, Bing, Yahoo, etc. Our dedicated SEO team assists you to choose the right keywords for your Joomla website.