The OTT industry has been booming since its launch. The majority of people have switched from traditional T.V. to OTT platforms for entertainment. As a result, the revenue generated from OTT platforms is expected to surpass the $275 billion benchmark by the end of 2022. A recent study shows that the revenue numbers might rise up to $476 billion by 2027. This is a complete guide on how to create an ott app in 2023.
Netflix, XUMO, Sling, and HBO are a few of the best-performing OTT platforms in the industry, with a major industry share. Anyhow, the OTT market still has a lot of opportunities and potential left. Therefore, it's the right time to step into the industry and get some profit in your hands by launching your own OTT platforms. In this guide, we will discuss OTT app development in detail.
What are OTT Apps?
It's better to start with the full form of OTT to understand it better. OTT stands for "Over the Top"; these platforms tend to deliver content on the internet for entertainment. Amazon Prime, Netflix, HBO, and Disney+ are a few of the most popular OTT platforms that you must have heard about. An individual must pay a specific amount as subscription fees to these OTT platforms to access their content. Such platforms are getting much attention lately as they offer exclusive and entertaining content. OTT platforms have officially taken over the traditional T.V., radio, etc.
5 Best OTT Platforms (Apps)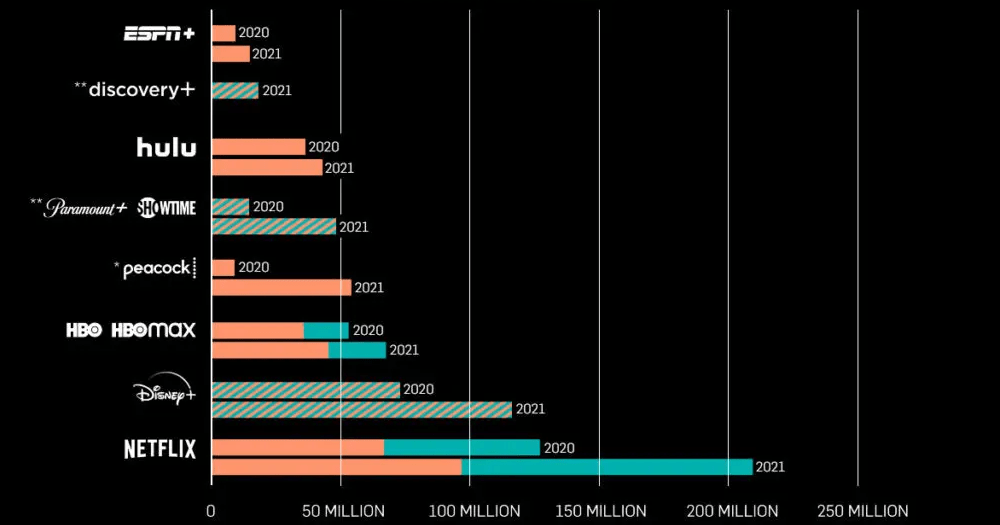 Netflix, Amazon Prime, Sling, HBO, and Hulu are the top OTT platforms in the industry. Each one of them has its pros and cons. Even the subscription plan of every OTT platform differs from others; here is a quick glimpse of the same. You might be interested to know how to create an app like netflix.
| Name | Subscription (Basic) | Subscription (Premium) | Business Model |
| --- | --- | --- | --- |
| Netflix | $8.99/Month | $17.99/Month | SVOD |
| Amazon Prime | $8.99/Month | $8.99/Month | Hybrid |
| Disney+ | $7.99/Month | $7.99/Month | Hybrid |
| HBO | $9.99/Month | $14.99/Month | SVOD |
| Hulu | $5.99/Month | $70.99/Month | Hybrid |
Let's discuss how to build an OTT app in detail.
How to Create an OTT App?- Development Process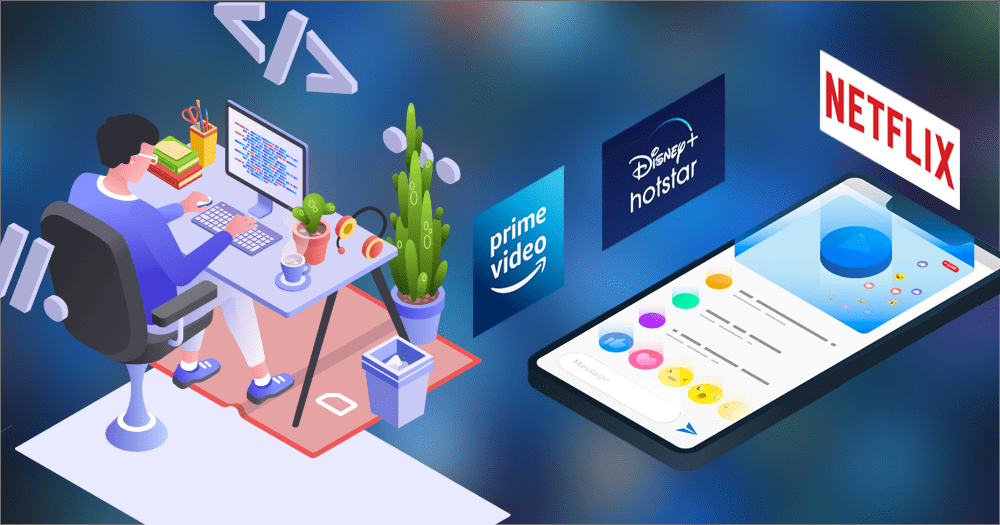 The profitability behind the OTT mobile apps would be quite clear by now. Therefore, here is a step-by-step guide to develop an OTT app.
1. Choose a Niche
The secret to having a winning edge over the others is to develop a niche-specific app. For example, either you can target small kids by streaming cartoons and animated movies, or you can develop a Netflix-type app that targets all types of users.
2. Creating an Inventory
Another step in the process is to build an inventory; once you have decided on the niche, it's time to gather all the movies and series available under that niche and make them accessible to your user on your website.
Want to Launch Your Own OTT App?
Request A Free Quote
3. Business Model
The third step is to select a business model. There are four business models to choose from. i.e. AVOD, SVOD, TVOD, and Hybrid. You can choose one amongst them and build your OTT platform around it to generate profits.
4. Hiring
Once you have finalized your niche and business model, it's time to start building the app and website around it. Building an OTT platform requires a lot of hardship and teamwork. Therefore, ensure that you hire the best OTT app developer in the industry. The best way to do so is by analyzing the portfolio of the OTT app development companies.
Key Features to Create an OTT Platform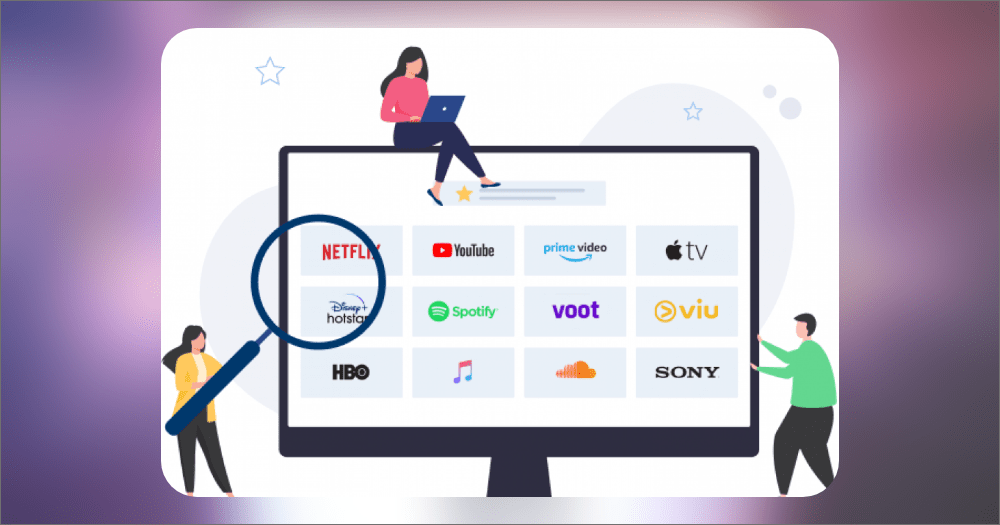 1. Payment Gateway
It is mandatory to build a secure payment gateway for the users to ensure quick and secure payment via bank transfers, e-wallets, debit, and credit cards.
2. Audience Analytics
The best way to improvise the consumers' experience is by recommending personalized content. The taste of any consumer can be analyzed by his behavior, ratings, and screen time. Analyzing the taste of the audience can help in consumer retention.
3. Search Bar
It is one of the must-have features in your OTT app. Using this feature, a person can easily find the movie or series they are looking forward to watch in their leisure time.
4. Multi-language Support
A well-reputed OTT platform offers its services in several countries. In order to make this expansion possible, it is important to offer service in multiple languages so that one can choose according to their comfort.
5. Watch Later
This feature works like a bucket list where the user can save movies and series they would like to watch in the future. It will also send them a notification reminding them about the content they want to consume.
6. Multiple Devices
Some like watching videos on their smartphone, while others enjoy watching them on a big screen. Therefore, it is important to make sure that the application runs smoothly on multiple devices; so that everyone can consume the content on whichever device they want to.
7. Download/Offline
Not every OTT platform offers this feature; however, it is the most crucial one. An unstable internet connection can lead to buffering and ruin the experience of watching videos. Hence, using this feature, an individual can download content for offline viewing.
Want to Launch Your Own OTT Platform?
Request A Free Quote
OTT App Development Tech Stack
It is essential to leverage the latest tech stacks to build an outstanding OTT application. Zencoder and Harmonic are the best tech stacks when it comes to Encoding and Transcoding. However, when it comes to analytics then Conviva, Google, and Omniture are the best options available. In short, there is specific technology for every stack of an application.
| Types Of Application | Teck Stacks |
| --- | --- |
| Encoding and Transcoding | FFmpeg, Envivio, Zencoder, Harmonic |
| DRM | Microsoft PlayReady, Marlin, Apple Fairplay, Google Widevine |
| Payment and Billing | Ayden, Braintree, Vindicia, Cleeng, Stripe |
| CDNS | Akamai, Level 3, Limelight Networks, Amazon CloudFront |
| AD Networks | DoubleClick, YuMe, SpotX, Adap.tv |
| Analytics | comScore, Nielsen, Sisense, Google, Omniture |
How Do OTT Apps Make Money? (Business Models)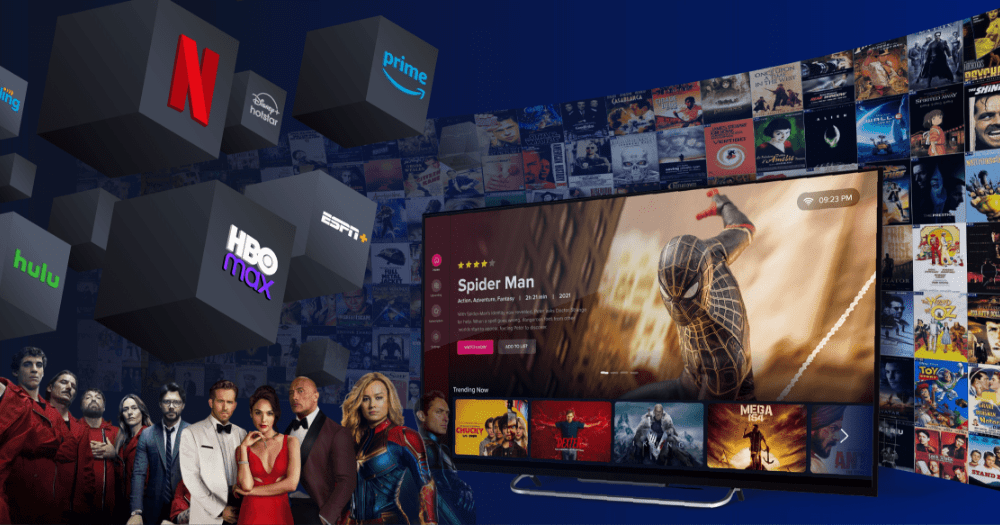 Every OTT platform is unique and has its ways of generating profits. Anyhow, the most-adopted business models in the OTT industry are as follows.
1. AVOD
The OTT platforms with an AVOD business model generate revenue through ads. These OTT platforms are free for consumers; they encounter multiple ads while consuming content. The OTT platform earns by telecasting a brand's ad on its platform. Here is my another guide on music streaming app development.
Prime Examples – Pluto TV, Xumo, Tubi
2. SVOD
These business models charge a specific amount from their customers as subscription fees to access the exclusive content. Netflix is the most-dominating OTT platform with this business model.
Prime Examples – Netflix, HBO, Apple TV+
3. TVOD
It is one of the most simplified business models. Here customers can either rent or buy movies and series. This business model is also reorganized as PPV(Pay-Per-View) and PPD (Pay-per-download).
Prime Examples – iTunes, CinemaNow, UFC
4. Hybrid Models
As the name suggests, this business model is a blend of SVOD and TVOD. Here, the consumer paying less fee can access the content but have to watch multiple ads in-between. On the other hand, customers buying premium subscriptions avoid ads.
Prime Example – Disney+
Why You Should Invest in OTT Platform Development?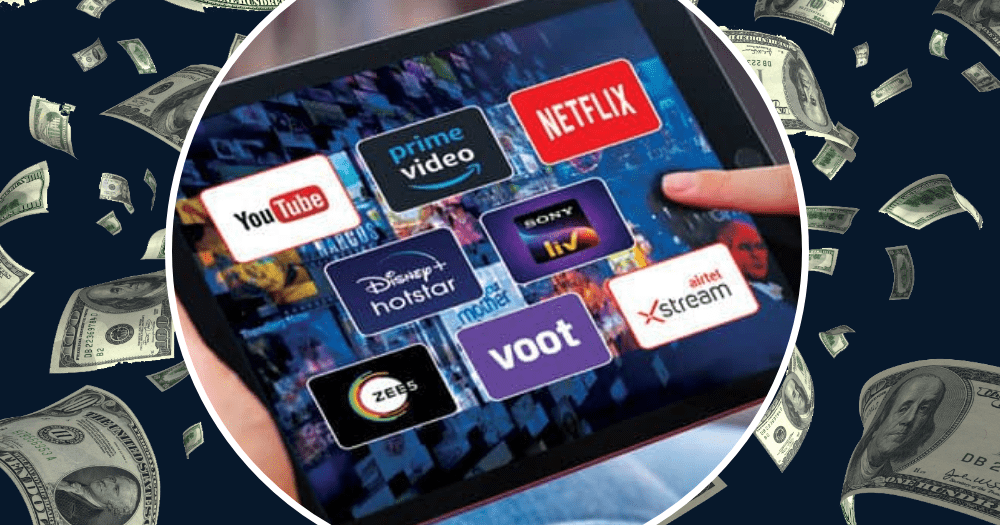 According to a recent survey, it was noticed that around 70% of U.S. residents prefer OTT streaming for entertainment.
OTT platforms are generating good profits by selling their subscriptions to the users and telecasting ads, depending upon the business model.
The industry is predicted to almost double its revenue by 2027.
This industry's skyrocketing growth can help OTT platform owners fill their pockets with profits.
Top 5 OTT App Builders To Create an OTT App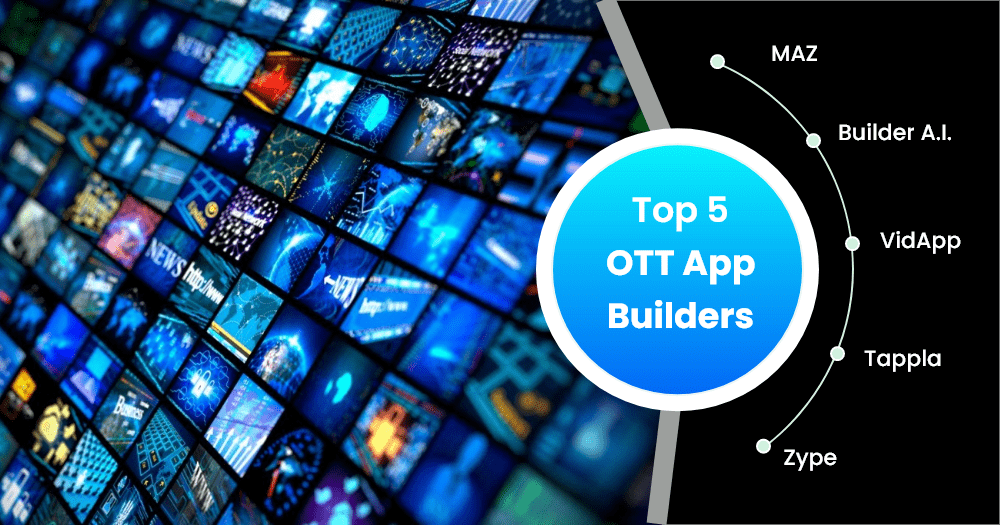 1. MAZ
This OTT app builder tool promises to help you create the OTT app 1.5 times faster. Enriching your application with features like live streaming and VOD capabilities is a cakewalk with MAZ.
Exposure to U.I. and UX patterns library
Support for content monetization
Easy creation and deployment of cross-device OTT apps
2. Builder A.I.
Here, you get access to pre-built designs and templates that can be used to easily build the OTT app. As the name suggests, it also offers a guide to help in application development.
Pre-build design for a quick prototype
Supports hosting on public cloud platforms like AWS, Digital Ocean, Azure, etc.
Native Analytics
OTT app performance optimization kit
3. VidApp
Your native WordPress website can be easily transformed into an application with VidApp. It lets you develop an app interface connection and push content over other channels.
Website-to-app porting feature
Supports Auto-sync
Easy new content synchronization from the control panel
SSO (Single-sign-on) feature for new users
4. Tappla
Video applications for Fire T.V., Apple T.V., and Roku can be built easily with the help of Tappla. It offers remarkable customization options along with dense and amazing visual development.
Easy editing and preview of designs
Supports live and on-demand video
Quick prototyping
5. Zype
It offers pre-made APIs for live streaming, video encoding, and player management, eliminating the hustle of coding from scratch.
API services
Offers over 28 pre-made video connectors
Native Integration
How Much Does it Cost to Develop an On-demand OTT App?
The estimated figure is around $90K to $120K in the USA or the number can be reduced up to $50k-$70K if the development services avail from India. However on-demand OTT applications can vary depending on various factors like the nationality of the OTT app developer, features in the OTT app, and the business model are a few of the major factors that affect the development cost of the applications.
Convert Your App Idea into Reality
Request A Free Quote
Best OTT App Development Company
The NineHertz is an video streaming app development company helping business owners to build best-in-class applications and websites leveraging the latest technologies. They maintain international standards around their work to deliver the best IT solutions to their clients. Hence, NineHertz can help create an OTT platform app at pocket-friendly prices.
FAQ (Frequently Asked Questions)
1. What Is An OTT App?
OTT stands for "Over the top"; these platforms deliver quality content over the internet. People can access this content from their smart devices like smartphones, laptops, tabs, etc. Anyhow, a person needs to pay a specific amount to the OTT platforms in the form of subscription fees to access their content.
2. What Are The Benefits of OTT App Development?
Multiple benefits are associated with OTT App development; here is a quick look at the same –
Everyone tends to watch movies and series in their free time; therefore, the business model has a broad audience.
With skyrocketing growth of the industry, it is easy to get started and make good money out of it.
Once an individual likes your video library, there is a high chance that he/she will return for more similar content.
3. How much does it cost to start an OTT platform?
As discussed earlier, the cost to start an OTT platform can vary on numerous factors. Anyhow, the average cost for the same is somewhere between $50k to $70K.
4. How To Choose The OTT App Builder For Your Business?
With the skyrocketing industry, the list of OTT app builders is also increasing. First, however, it is very important to choose the right agency for the work. Here is a list of points you can consider while finalizing the team of developers.
Discussing Budget – It is always better to cross-check whether the developer team is in your budget. It helps avoid future complexities.
Tech sacks – Leveraging the latest technologies in the development of your OTT application can give you a winning edge over the others. Hence, have a quick glimpse at the tech sacks of the development company.
Portfolio – It is important to choose an agency that has previously worked on such projects; therefore, don't hesitate to ask for the portfolio.
Deadline – It is better to start as soon as possible; hence mutually decide on a deadline to finish your project.
5. How long does it take to launch an OTT streaming app?
On average, launching an OTT application can take from a couple of weeks to a month. However, the launch period can be shortened if a big team of experienced developers manages the project. As the work will be divided among multiple individuals, the time consumed to complete it will be shortened.
6. Which technology is used in OTT platforms?
The OTT platforms have their own technology known as "OTT Technology." It is basically software that allows content broadcasting over the internet. This technology is also responsible for the smooth accessibility of content on smart devices.
7. Which is the No 1 OTT platform?
The OTT industry has hundreds of platforms in the industry; somehow, Netflix has managed to be the number one amongst them for quite a time now. Even this OTT platform has started releasing Netflix Original movies and series that will exclusively be available only on it.
8. What Are The Opportunities And Challenges For Starting An OTT Platform?
The biggest opportunity behind starting an OTT platform is that it is a skyrocketing industry and generating profits in it is quite easy. Where else the toughest challenge is that the majority of businesses are stepping into this industry, therefore, increasing the competition. Anyways, the competition can be eliminated by stepping in as early as possible.
9. Why OTT Video Apps Matter To Video Content Creators?
We all know that the OTT platform is a content hub, and lately, everyone is switching to these platforms for entertainment. Leveraging this benefit, the content creators are able to reach a much larger audience. The creators are leveraging their exposure to a broader audience and giving their best to build their business around it.
10. Which Is The Right Time To Launch An OTT Platform?
The only right time to launch an OTT platform is as soon as possible; the industry is booming, and many new businesses are stepping into the industry as they have sensed the revenue. Therefore, it's sensible to launch the OTT platform asap and build your roots in the industry.
Conclusion
By now, the profitability behind OTT app development would be quite clear. Therefore, try to step in as soon as possible for huge profits. The big players have already stepped in and are earning huge profits with their own OTT apps. Also, ensure to hire the best OTT app development services provider like The NineHertz to deliver a smooth experience to users.