Our
Taxi Booking

App Development Services

Our mobile app development services include various features ranging from essential taxi app development services to advanced. The expert taxi app developers can assist you in tracking, promoting, and modernizing your rides.
Car Rentals Service
Get a customized car rental app, keep track of your bookings invoices, and efficiently manage your fleet of cars.
Taxi Booking Service
From tracking drivers to generating automated invoices for bookings, we are adept at developing software that allows you to do it all.
Corporate Taxi Business
Expand your taxi business by offering to help the corporate sector book cars as per their constantly changing needs.
Air Taxi
Cater to people's urgent traveling demands by offering them impeccable chartered air services at the click of a button.
Limousine Service
Limousines can never go out of style. Help your customers book limos on the go, through our classy taxi booking app.
Fleet Management
Whether you have ten vehicles or a thousand, manage them in a few clicks with our fleet management solutions.
Benefits Of Using Custom Taxi Booking App
Developing a custom taxi booking app opens up a world of opportunities. Our taxi app development services aim to take your taxi business to a global market with all the below mentioned benefits: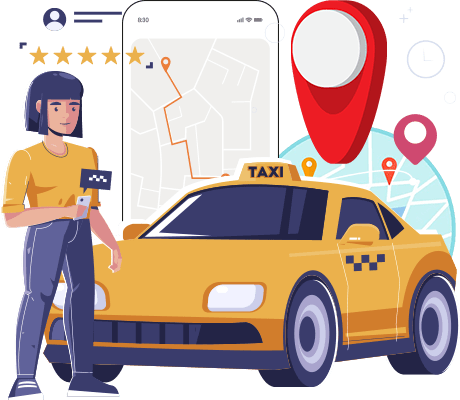 Your Exclusive Taxi App Development Solution
Our sophisticated taxi app solution is designed for transportation enterprises of all types and sizes to connect, optimize, and automate their fleets. Our booking app development team combines innovation and expertise while developing mobile apps. We attempt to design a taxi solution that doubles your revenues as the leading taxi booking app development business.
Whether you're a worldwide taxi startup, a fleet owner with a small or large fleet, or a taxi aggregator wishing to shift your own taxi business operations online, we can help! We're your one-stop shop for developing a custom taxi booking mobile app for various cases.
Carpooling Apps
Launch your own customized carpooling apps to encourage cost-effective and eco-friendly rides.
On Demand Chauffeurs
Expand your network of on-demand drivers and chauffeurs for hotels, restaurants, airports, and corporate bookings
On Demand Limos
Earn from exotic bookings for marriage, parties, etc., by launching your own Limousine car booking app.
Trucking & Logistics App
Launch a mobile app for your logistics firm to attract premium consumers via mobile applications.
Features Of Taxi Booking App Like Uber
An extensive collection of exceptional features drives our optimized online taxi booking app development. The taxi app solution saves your customers time and money by providing user-friendly applications for mobile devices.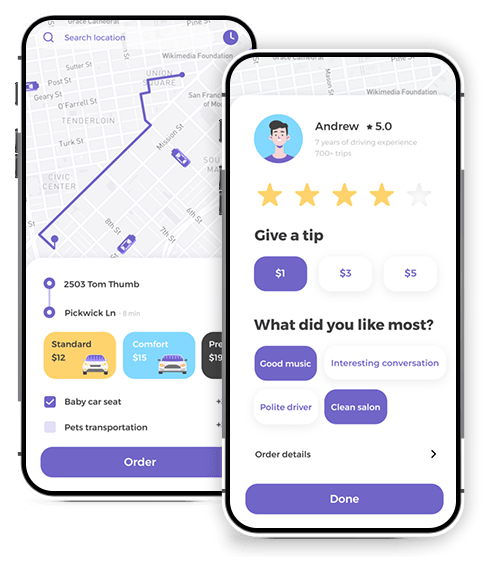 Passenger App
Leverage our feature-rich taxi booking app like uber to allow your customers to order a cab from anywhere and at any time seamlessly.
Registration/login
Mobile Number Verification
Ride Now
Driver Tracking
Cancel Booking
Contact Driver
Calculate Fare Estimation
Multiple Payment Options
Live Location Tracking
Notification Alerts
Review & Rating
Promo Codes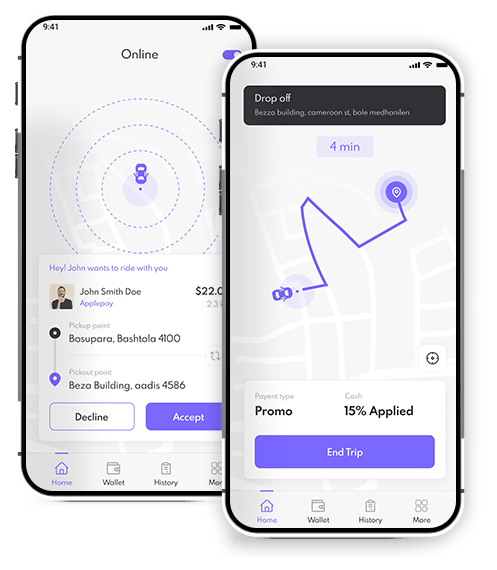 Driver App
A fully customisable taxi booking app like Ola allows your drivers to earn money and make the ride booking hassle-free and easy.
Register Now / Login
Trip Notification to Drivers
Accept/Reject
Navigation
Contact Passenger
Start/End Trip
Driver Dashboard
Cancel Booking
Trip Routes Using GPS
Go Offline
Automatic Fare Calculation
Payment tracking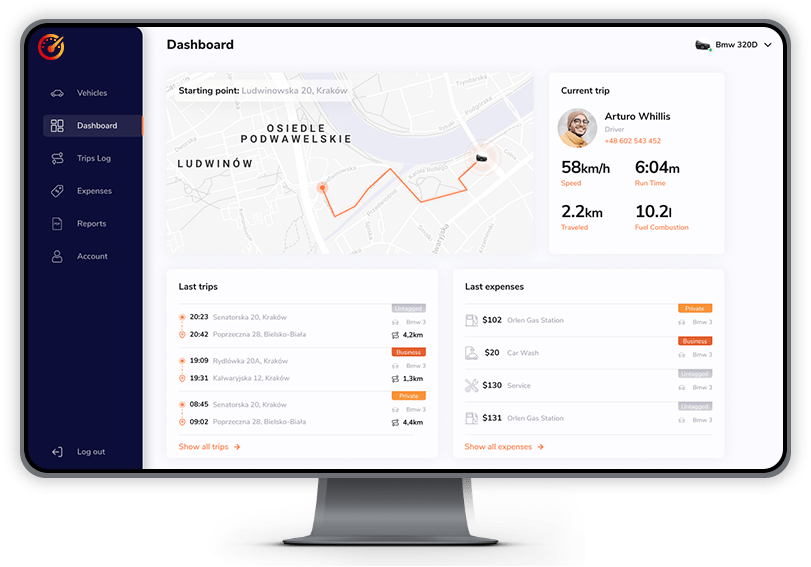 Admin Dashboard
An easy-to-access, robust and fully integrated admin panel for managing all business aspects of your own taxi booking app.
Secure Login
Admin Dashboard
Manage Drivers
Truck Drivers
Real-time tracking
User Control
Manage Categories
Reporting & Analytics
Country/Currency Settings
Manual Bookings
SMS Alerts Settings
Dispatch Panel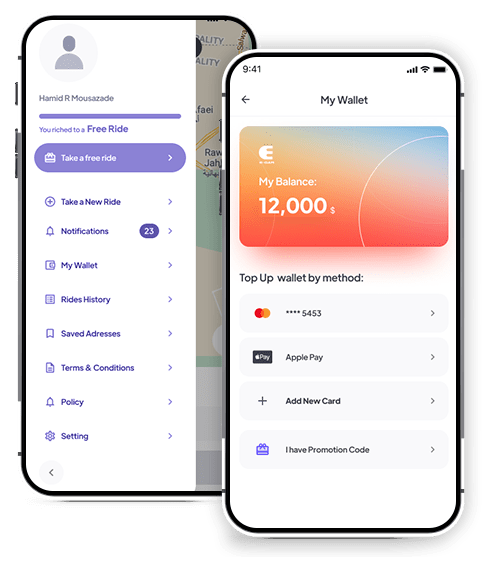 Advanced Features
Our set of advanced taxi app development features for your business will help you outshine the taxi industry.
Driver/User Authorization
Business Profile
In-app chat
Call Bookings
Zone Pricing
Surge pricing
Customer Service
Multiple Bookings
Emergency Contact
Loyalty Programs
Multiple Bookings
Fare Calculation
On-Demand Taxi-Booking Mobile App Business Models
Our taxi booking apps team is always available to assist you in identifying and implementing the most-effective taxi-booking mobile app model. We launch your taxi booking app and provide updates as needed as per the below business models:
Private Taxi Booking Business Model
Provide your customers with a safe and secure ride through this model
Ride Sharing App Business Model
Generate constant revenue through this model and be eco-friendly as well.
Cab Aggregators Business Model
Let your booking system provider connect riders and taxi drivers seamlessly.
Our Result Driven Custom Taxi App Development Process
To outperform your competitors, you must identify an epicenter of innovation, a distinctive selling proposition, and a bold, confident, and dynamic design language. In the race of modern transportation systems, The NineHertz's taxi app development process emerges as a lifesaver. Our taxi booking app development empowers taxi businesses in numerous countries to increase rides, save time, cut expenses, and boost your revenue.
We can make a personalised taxi booking mobile app that outperforms the competition and provides an enriching experience for your users, backed by an experienced team of mobile app developers.
01
Planning
First, we understand your taxi business and develop a roadmap based on the information gathered. We then use our findings to finalize project timelines, deliverables, and desired outcomes.
02
Design
In this stage we decide the overall layout of your taxi app. We create perfect graphics, color schemes, and iconography to meet your company's needs, preferences, and expectations.
03
Development
Our developers commence by creating taxi apps with the necessary features and functionalities so that you can manage your entire taxi business on a single platform to create a revolution.
04
Testing and Deployment
The final step is to test and deploy the app to App Stores (Google Play Store and Apple App Store, depending on your needs), where riders can find it and use it to book taxis from your services.
Why Choose The NineHertz as Your Best
Taxi Booking App Development

Company India?

The NineHertz is India's most popular taxi booking app development company, delivering high-quality taxi booking services in line with the future mobility ecosystem. When you hire a taxi booking app developer from us, you get highly secure and robust mobile applications that have the potential to put competitors at bay. Our unique taxi app solution can help your business increase customer interaction, traffic, and revenue.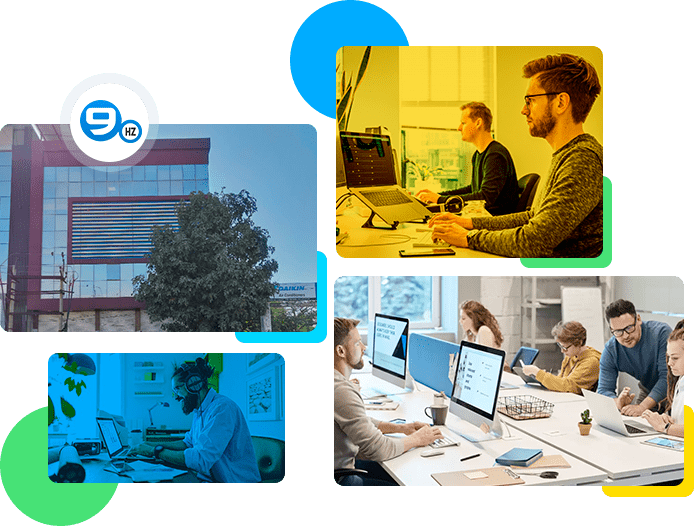 Scalable Applications
We always strive to provide futuristic solutions. We design scalable on-demand taxi booking software that responds immediately to sudden traffic peaks without affecting speed.
13+ Years Of Experience
We have spent 13+ years developing unique software solutions for our clients. With our experienced team, we deliver robust and satisfactory Taxi Booking App Development services.
Mission-Driven Services
Our wide array of expertise enables us to become your partner throughout your multifaceted journey of taxi booking app development, customer engagement, and retention plans.
App Store Optimized Solutions
We design, develop, and deploy taxi booking app solutions for the Android and iOS platforms, optimized for the App and Play stores, respectively.
Secured Payments
Leverage simplified payments, as our app integrates multiple payment gateways such as Stripe, PayPal, and Razorpay, for a safe and laid-back experience.
Diverse Market Expertise
Our experience has taken us worldwide, empowering a wide range of business models and markets. We have contributed to the growth of several startups and enterprises' stability.
1,789+

Successful Projects Delivered

13+

Industry Experience

450+

Happy Customers

85%

Returning Clients Across Industries
Let's Fire Up Your Business!
A journey of a thousand miles begins with a single step. Contact us and we will begin a partnership that will take your business to new heights.
Our Readymade
Taxi Booking

Clones

We are a leading taxi app development company in India that offers an impeccable readymade taxi app solution. Our taxi app development services provide ready-to-use taxi app clones that let you digitize your traditional taxi business easily.
Uber
Lyft
Grab
Gett
Ola
Didi
Cabify
LeCab
Gurb
GoCatch
inGoGO
Hailo
Taxi Booking App – Case Studies
In today's mobile-first world, we are an online taxi booking app development company that is redefining how taxi business owners operate. Our taxi app developers create mobile applications that are both seamless and agile. The outcomes have never let us down and have always delighted our customers. The below taxi app solution case studies reflect our expertise in taxi booking on demand app development.
Taxi Booking App- Support & Integration
We understand that our responsibility entails more than just designing and creating a sophisticated taxi booking app. Thus, we work intensely on support and integration for top performance.
Supported Countries & Currencies
USA (USD)
UK (Pound)
Canada (CAD)
India (NIR)
Australia (AUD)
Germany (DEM)
Taxi Booking Payment Gateway Integration, We Provide
Awards
We are delighted to display our awards, accolades and recognition in the IT industry for our hard work, commitment and loyalty.
World-Class
Brands

Trust Us

We're the proud Android app development partner of leading companies across the
Frequently asked
Questions
How much does it cost to develop a taxi app?
Developing a taxi app can range from $100,000 to $170,000 for a single app version on a single platform (iOS or Android). Various criteria, including outsourcing location, determine the final taxi app development cost, the number of features and their complexity, and the number of platforms supported.
Can I have multiple payment gateways?
As a customizable solution, the taxi app can be integrated with additional payment gateways. Please get in touch with our support team to discuss more.
What technology stack does a taxi booking app like uber use?
Depending on your needs, we can create a taxi booking app for both Android and iOS. For iOS apps, we use Objective C, Swift, and Xcode, and for Android apps, we use Java, Kotlin, and Android Studio.
Yes. Our taxi app developers will help build customized and tailor-made taxi booking apps to suit your business model.
Companies in the for-hire transportation industry are fairly similar. Although they use different technologies to differentiate themselves in the market, there are a few essential features and activities that make a simple taxi app development solution for iOS and Android:
Native Development (Android, iOS): 200 hours
UX/UI Design: 180-200 hours
Backend Development: up to 200 hours
Web Development (an admin panel): 170 hours
Testing and Quality Assurance: a third of the total time spent on app development To summarise, developing a taxi app for iOS and Android, creating a web-based admin panel and a backend, and implementing a QA procedure might take up to 1000 hours.
Taxi app development is one such solution that saves you time and money by developing user-friendly apps for your mobile phones. Taxi applications cover two key interfaces, Passengers and visible Taxi drivers, by making it simple to communicate with both simultaneously.
Some of the advantages a taxi app development are:
Real-time location track
Ease of Booking
Higher visibility
24/7 Service
Brand building
Cost-Effective Pricing
Multi Payment Option
Latest
Blogs

and

News

Stay updated with the latest development insights, technologies, trends.
Latest
Blogs

and

News

Stay updated with the latest development insights, technologies, trends.