In this current era, where the world is witnessing technological advancements. The terms like Artificial Intelligence (AI) and Machine Learning (ML) are gaining popularity due to their increased usability in almost every industry.
In the healthcare and medicine industry, the technology is helping in planning treatment plans and evaluating patient's death chances during surgical procedures. While in the HR industry, it is supporting different HR functions by improving their time and cost-efficiency. In the commercial airlines, the autopilot feature in the flights is inspired by AI technology. Not even this, the technology is expanding its footprints in the on-demand taxi business as well as considering its benefits not only for business owners and passengers but also for drivers as well.
In case you are having an on-demand Taxi business and want to handle functions with ease, choose to develop an AI-powered Taxi App. Prominent names across the world are offering the service of Taxi App Development. You can hire a Taxi App Development company or look for App Builders for hire to complete your Taxi app development project within budget and in time. So choose sensibly considering your project requirements.
Need Help with Taxi App Development?
Convert Your App idea into Reality
Taxi Apps with Artificial Intelligence on Mobile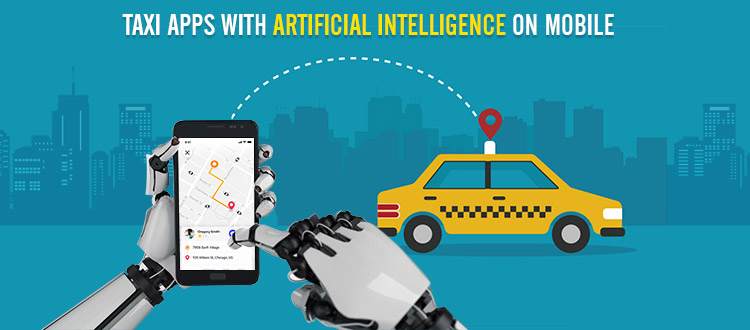 The companies with taxi businesses are experiencing growth in their productivity and personalization level with the integration of AI subfields like Machine Learning, Deep Learning, and Predictive Analysis.
Thanks to AI functions, the White Label Taxi Dispatch app like Uber and Lyft became able to conclude the costing of the ride and lowering waiting time, once the cab has been booked.
While the phenomenon of sending a discount message just around the time, when you usually hire a taxi, is also based on AI technology.
The latest development of the Taxi-Booking and Dispatch System with AI integration, promises much more to offer than its above-mentioned applications. It thoroughly automates and improves the functions, and processes of taxi apps to accomplish the demand of both the passengers and drivers. It helps in keeping your taxi business app up-to-date according to the current technological standards and is capable of maintaining the same in the near future.
Benefits of AI-Powered on Demand Services Like Taxi Apps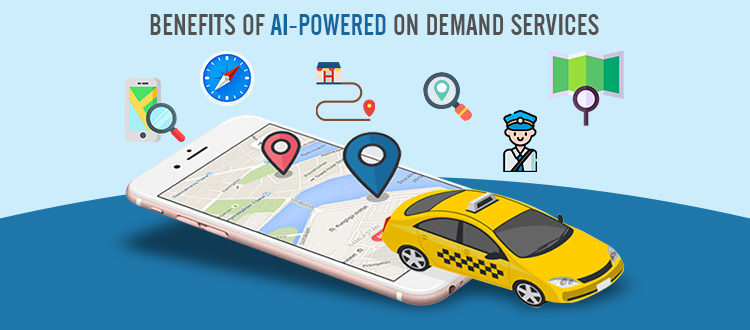 Brands that offer on-demand services are gaining a fair share of profits with AI-integration in their processes.
AI Allow Making Smart Business Decisions
Business operators can make smart and well-informed decisions with the help of data-driven analytics. It provides a quick, accurate, and in-depth analysis of historical patterns based on customer behavior and demand for services. Following which they can make a business decision understanding trends with the help of AI development. In addition to this, you can send recommendations to your users using predictive analysis. An important aspect in terms of generating revenue through on-demand service apps.
Hire Mobile App Developers from The NineHertz
Convert Your App idea into Reality
Personalization of App for Improved User Experience
The customization of apps according to the need of customers is what differentiates an ordinary on-demand service app from a highly successful one. It provides users with the ease of customization for received information, content, and special offers concerning their requirements. On the other hand, business operators get complete access over the user location, their active time, and information about the platform's users mostly use. Using such important details, business operators can deploy special offers to the users at the time, when they are most active and hence can increase user interaction with the application. Such a level of personalization was not easier to attain earlier that became possible with AI integration.
Scrutinize and Illustrate App Sentiments
For making improvements to app features and introducing a new one, it is important to understand the user behavior and their feedback towards service providing application. If you want to build a successful taxi booking app, here you can check the top must-have feature in taxi booking app. The AI-integration allows collaboration of different social media platforms, forums, and messaging platforms which offers complete data through which you can review your application for further enhancements.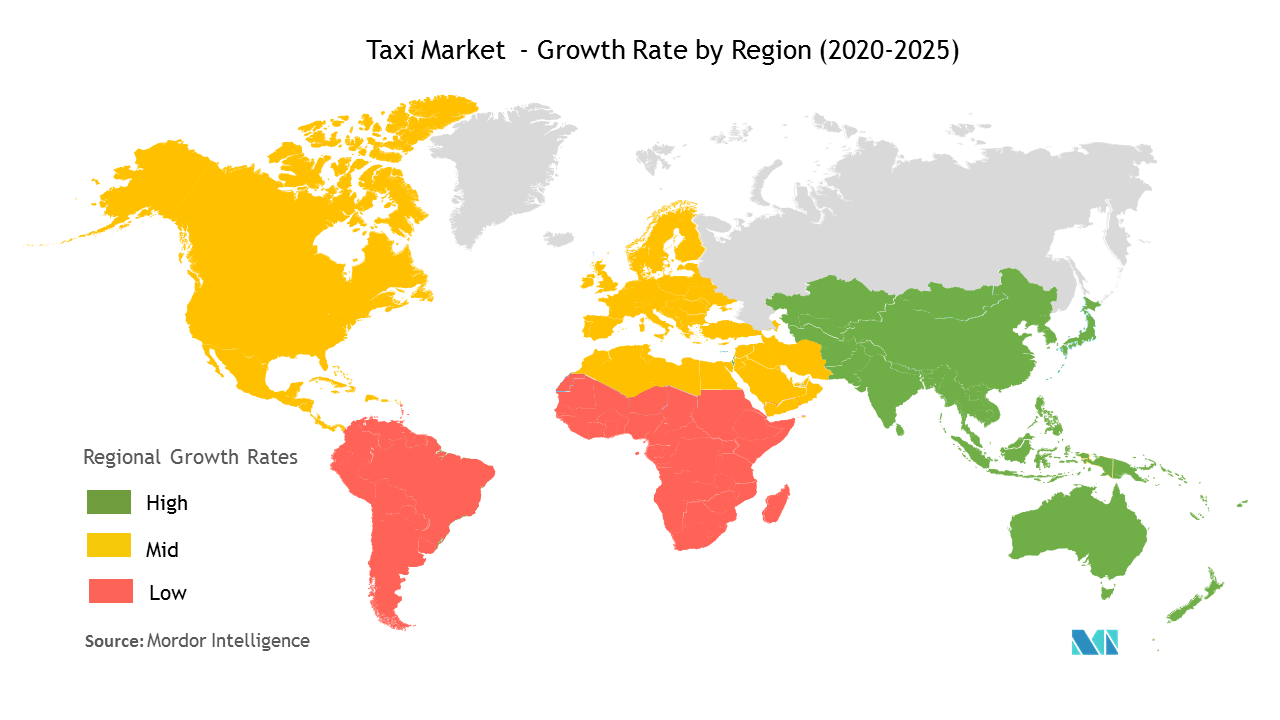 Source: mordorintelligence.com
Advantages of AI-Driven Taxi Dispatch System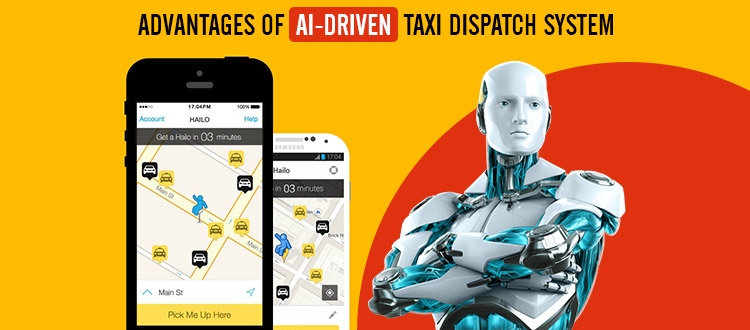 The AI technology offers numerous benefits for all the entities associated with the Taxi-business app. Whether it is business persons, the passengers, and the drivers. Here we have listed a few of them, have a look:
Demand Forecast
The provided features of Data-driven analysis and Predictive Analysis with AI technology helps in estimating the users' demand to the next level. In the Taxi-business app, the data-mining feature of AI recovers historical data related to users' demand for taxis in a particular range. Further, this data is analyzed based on Predictive Analysis which offers highly accurate demand predictions. Considering such refined data, business operators make resources available efficiently.
Route Optimization in Taxi App
AI-enabled Taxi Business apps provide an optimized route for the drivers to help them reach their destination within less possible time. To do so, the taxi app utilizes the key component of AI, logical reasoning. With the help of reasoning algorithms that analyze data from the drivers who have travelled on the path and then find the best possible way considering facts, time, and direction.
Autonomous Dispatch
The Artificial Intelligence functions data mining and pattern identification support refining and providing structured data out of chaotic and disorderly data. This further helps in easy analysis of data through which it became easier to find solutions for the most relevant problems encouraging disturbance in the dispatch system. Human errors are one of the most common problems that occur in a taxi dispatch system that can be eliminated with AI-integration in the taxi business.
Case Study: Collaboration of Japan Based Four Companies to Integrate AI in the Taxi Business
With an aim to integrate AI technology in the taxi business, four Japan-based companies Toyota, JapanTaxi, KDDI Corporation, and Accenture collaborated in a joint venture.
Together they successfully formed a taxi dispatch support system which foretells the demand for taxi service. The system uses data sourced from taxi service records along with demographic forecasts extracted out from location-based data and data from several other factors that affect the taxi demand in a particular region including weather conditions, availability of public transport, and others. With the help of AI technology, the system forecasts the number of occupied taxis in Tokyo. According to the reports, the system is able to propose a certainty of 94.1% in its predictions.
In this joint-venture, each partner plays a specific role. Toyota has the responsibility of collecting and examining all relevant data and further providing refined data for taxi demand prediction to JapanTaxi. Later, JapanTaxi developed the app based on the provided data to the drivers. Besides this, JapanTaxi collects data concerning the location of unoccupied taxis, service logs, and suitable routes to find a passenger.
KDDI develops a demographic prediction technology that analyzes and studies the movements of people from KDDI's location-based big data. Accenture, on the other hand, develops analytical algorithms for AI technology. The algorithm further runs the demand prediction engine. Thanks to synchronicity between the resources and knowledge that helps in developing the most accurate taxi dispatch support system with the integration of AI technology in the taxi business.
With the AI-integration in the taxi dispatch support system, it became easier to make accurate forecasts for your taxi business. In the coming future, AI and Machine Learning are going to be essential aspects of a taxi app business. Therefore, it is better to integrate AI technology in your taxi business as soon as possible in order to take an edge over your competitors.

Conclusion: AI Taxi App Development
If you are having a taxi business and want to get an edge over your customers. it is better to develop an AI-enabled Taxi Business App. The technology will help you with the above mentioned functions, features and benefits which will not only help you but also the passenger and drivers. The ease of handling application and getting alluring offers will increase your customer base which in turns will grow your business revenue exponentially. So choose for renowned taxi app development company or professional app builder for hire. To construct you AI-powered taxi business app.