Ola Vs Uber | With increasing digitalization, cab-hailing services are at the center of people's attention.
People are always looking for ways to save time and effort over traveling, increase in taxi services is helping them to enjoy the same.
With just one easy tap on your mobile, you can get a car with a driver right in front of you. Cab services have become means of transportation.
With the smooth and easy process of booking taxis, cabs, and other traveling vehicles Taxi Dispatch Softwares has started coming into the picture.
Applications like ola and uber have gained enormous growth. Both these apps are leading on their own within the taxi industry. These companies are providing high-quality taxi services to people globally. Here you can fid complete list of best rideshare apps in the world.
Ola and Uber India have become popular because of their robust functionality and advanced features. We will find Ola vs Uber which has gained an edge in the competitive world.
With such growth and popularity of applications like ola and uber many entrepreneurs are now looking forward to starting their taxi businesses.
This blog will provide you with information about features, business models, cost of building a taxi booking app, differences between ola and uber apps, and the market share of ola and uber.
All About Ola App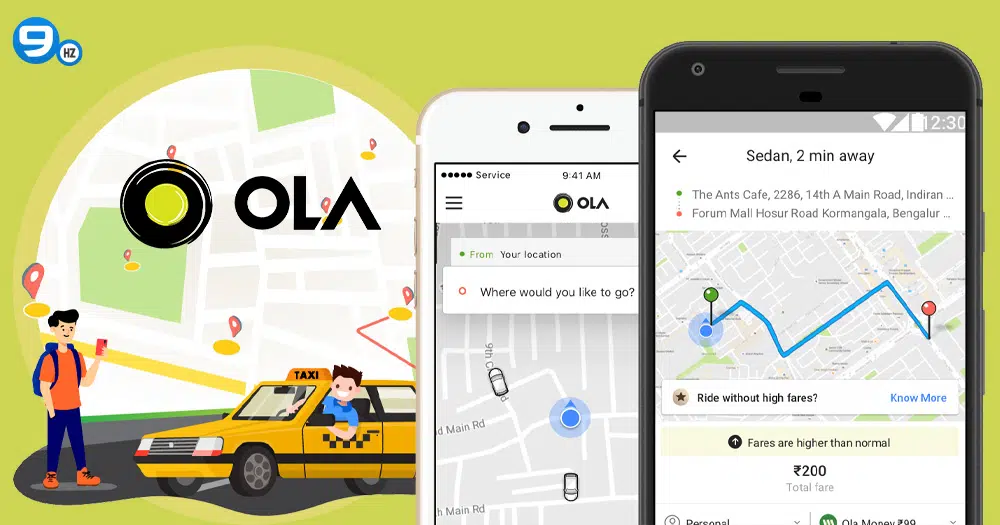 Ola cabs is an Indian multinational taxi service company, headquartered in Bangalore. It is amongst the top-notch taxi services started in the year 2010. The service of the application is rendered through the ola app.
Because of its advanced and miscellaneous features, the ola app has gained exponential growth in the market.
Ola app is successfully thriving within the competitive world of the taxi business.
Ola app keeps on re-inventing and strategizing new avenues to stay relevant with users.
The platform is very popular in India but has managed to come in limelight internationally due to its immense success and the ability to generate maximum revenue.
Hire Certified Taxi Booking App Developers
Request A Free Quote
1200+ Projects Delivered
12+ Industry Experience
450+ Clients Worldwide
200+ Certified & Expert Programmers
Business Model of Ola App: How Ola Makes Money?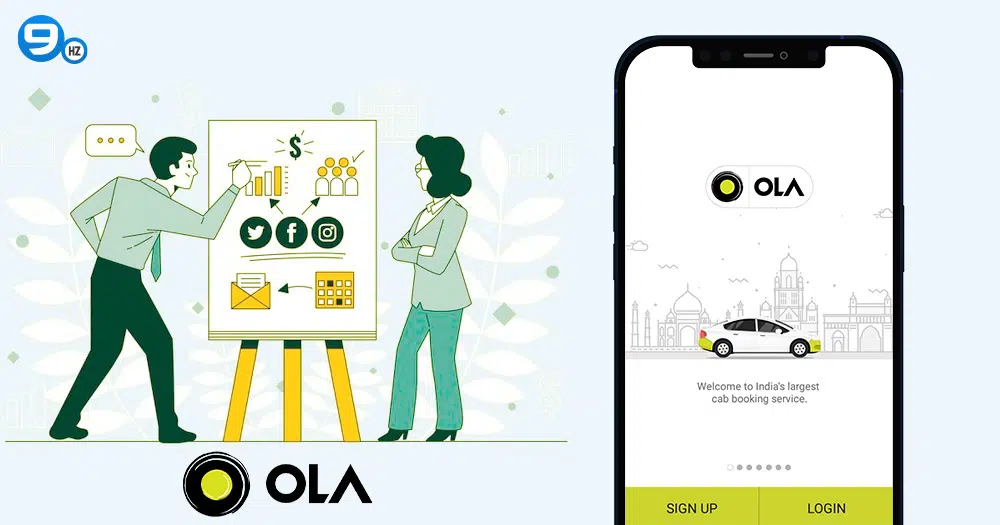 Ola serves millions of customers every day in over 169 cities. There are almost 125 million users registered on ola currently. Ola is valued at $10 Billion as a company generating an annual revenue of Rs. 2,544.63 Crores.
Let's dig a little deeper into Ola's business model to understand how Ola makes money.
1. Trip Commissions
Ola charges a percentage commission from the trips being carried out through its platform. Trip fares are charged to customers based on several factors like –
Base Fare – Initial flat fare
Distance Per KM fare – charged as per geographical location and also varies from car to car
Ride Time Fare – charged on the total time taken from pick up to drop off. Ride time fare is charged based on travel time in minutes
Wait Time Fare – it is charged if the driver has to wait
Peak Pricing – Extra amount is charged when there is a high demand for cabs
Advance Booking Fees – if the user is booking their cab in advance then advance booking fees is charged
Access Fees – it is a fee for auto rides
Convenience Fees – it discharged if there is any in-cab entertainment
Airport Fees – in case of airport pick up and drop surcharge fees are charged.
Tool and Parking Fees – it is based on usage when applicable
A cancellation Fee – it may be charged for canceled rides in certain situations.
Service Tax – it is charged on the entire trip fare
An estimated commission that Ola charges Per trip –
Introductory Promotion – 7.5% for new drivers
In India – ola charges about 20% commission from drivers.
2. Ola Money
Ola has introduced its own wallet just like the PayTM wallet. Payments can be made through ola money which contributes to the revenue of Ola.
3. In-Cab Promotions and Advertisement Commissions
Brochures, pamphlets, or other advertising tools are given to commuters. Ola charges commissions for these promotions.
4. Cab Leasing Program
Ola has started a cab leasing program for its driver-partners. It buys cars and leases them out to drivers to enhance the loyalty of drivers toward Ola.
There is an initial fee of ₹4000 non-refundable, and ₹21,000 – ₹31,000 refundable security deposit. Also, a fixed daily fee of ₹700 -₹1150 is charged to the drivers for running vehicles
All about Uber App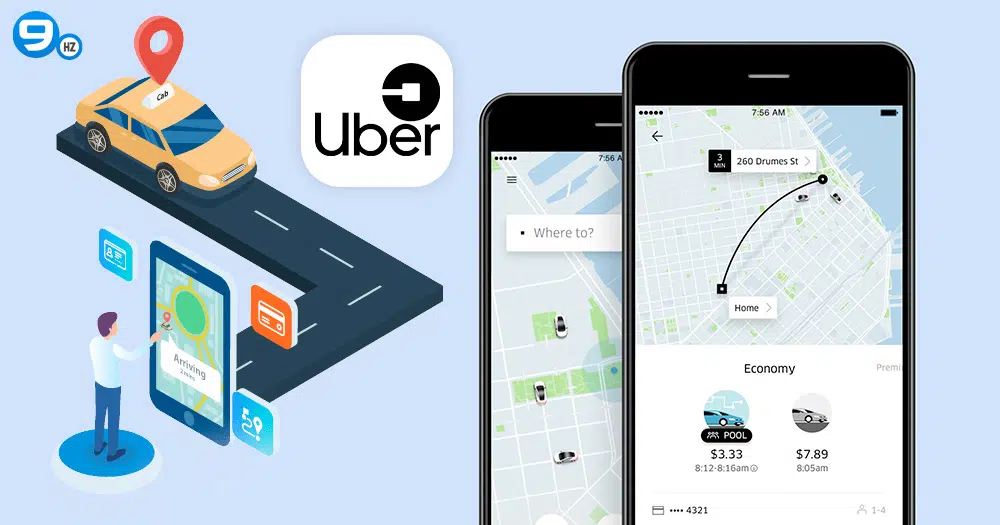 Uber Technologies, Inc. is American mobility as a service provider. It is based in San Francisco with operations in approximately 72 countries and 10,500 cities.
Uber is another topmost application changing the way people ride. Starting in 2008, uber officially launched in San Francisco.
Within 6 months of its launch, the uber app has gained 6000 users and provided about 20,000 rides making it grow faster.
The main reason behind the success of the Uber app is the next-gen features of the Uber app. You might be interested to knowing how to develop an app like uber.
Uber provides a transparent platform to start and accomplish the rides with a rider, driver, and admin feature.
Want to Create Your Own Taxi Booking App?
Request A Free Quote
1200+ Projects Delivered
12+ Industry Experience
450+ Clients Worldwide
200+ Certified & Expert Programmers
Business Model of Uber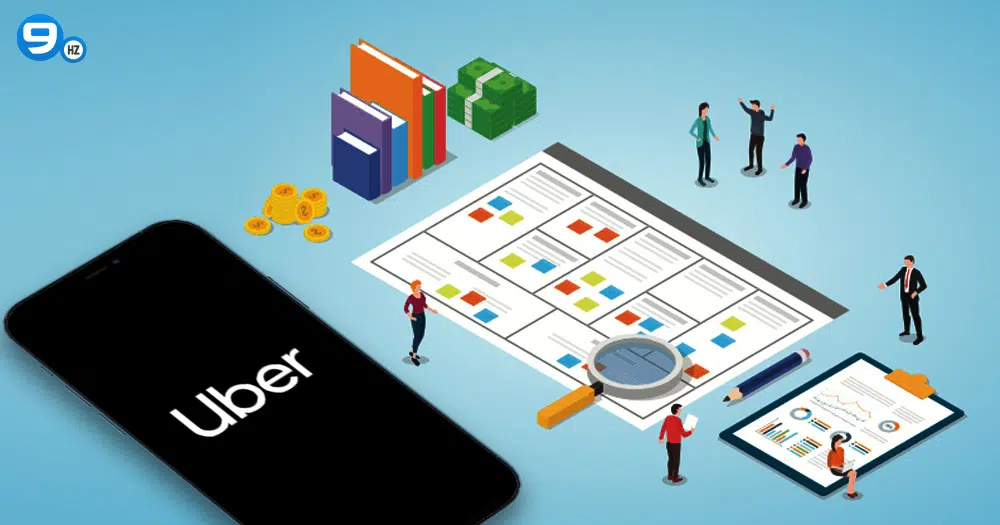 Uber is famous for its availability of luxury cars in the cab segment. Also uber provides corporate services to its clients. Uber generated revenue of $14.1 Billion in the last financial year. Let us look into the business model of Uber to better understand how Uber generates its revenues.
1. Uber Ride
Uber trip incorporate –
Booking Fees – it's about $1 – $3 based on location
Distance per mile fare – customers are charged fare distance per mile
Travel Time Fare – Travel time fare is charged based on trip time
Taxes – it is charged on basis of location
Appetite fee – this is a fee recently charged to its customers depending upon the previous data Uber has of the customer
Uber drivers make about 75% of the total ride fare and Uber's commission is about 25%.
2. Uber Eats
Uber has also started its venture Uber eats wherein they have created a network of local restaurants for food delivery services commissions based.
3. Uber For Business
It's a ride-sharing service aimed at business customers. Businesses can manage rides, send multiple rides and book rides even 30 days in advance for their clients or employees.
4. Uber Health
Uber has partnered with healthcare organizations. It did so to provide patients with different scheduling options.
Feature Difference Between Ola and Uber India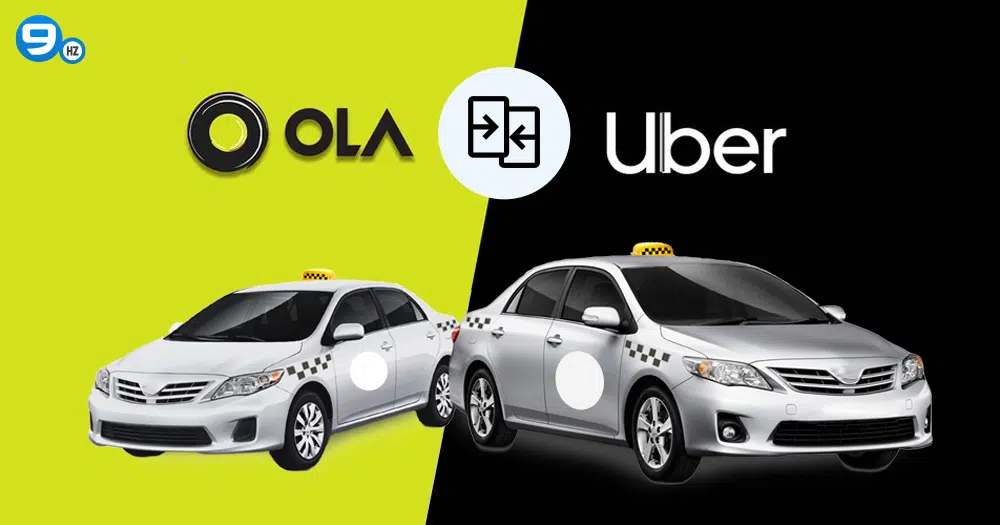 Uber and Ola's apps provide hassle-free rides to travelers in just a few clicks. With both of the apps, cutting-edge features finding the best amongst the two is very difficult.
The popularity of any app depends on the features it possesses, specifications, user choice, and much more.
Further, you will find the feature-based comparison between uber and ola. You can go through my other guide on top taxi booking app features.
With this comparison, you will get a clear overview of how ola and uber successfully flourished in the taxi business market.
1. Ola Vs Uber: Pickup Point Specification
When the pickup point is considered in the apps, ola explicitly shows the pickup point, whereas uber does not.
Ola lets you enter an address and also shows the nearby pickup address, whereas you can navigate on the uber app.
2. Ola Vs Uber Cabs Availability
There are different facilities to choose from when opting for a cab, there are several different options available on both ola and uber India.
In the uber app, you can enter the drop point in advance, whereas in the ola app you get to know about the types of cabs available with an approximate time to reach the user on the home page itself.
Both the apps offer mini, large, and share cab options for the users to choose from as per their needs.
3. Difference Between Ola and Uber Cost
It is hard to compare the cost of both platforms as the fee depends on the profit margin of the platform.
When both platforms are compared, uber shows different price ranges at the same for the various cabs available nearby.
Ola provides price comparisons from micro to shareable vehicles.
Both of the apps show their price range according to the destination and ride they offer.
4. Feature to show the color of the car
One of the distinctive features that create a difference between both the taxi dispatch software platforms is the car's color.
Ola app shows the color of the car along with it, which makes it easier for the passenger to identify the vehicle when it arrives at the location.
Uber, on the other hand, does not have any such feature.
The customer checks the number mentioned in the app and finds the car itself when it reaches the location.
5. Trip History
The main feature of the taxi app solutions for both drivers and raiders is the display of search history.
Ola Vs uber, get everything covered in that field. This feature helps users go for invoices, rate the driver, support the issue, etc.
It differs in both because when a user clicks away from the history, they can choose support or help. Ola lets you select the support, and there are options for what problem you are facing.
In both the apps, trip history enables the user to analyze the start and endpoints, and driver rating gives the admin more information about you and the driver service.
Ola Vs Uber India: Comparision Table
| FEATURE | OLA | UBER |
| --- | --- | --- |
| Service Availability | Approximately 60 countries | Approximately 70 countries |
| Car Types | Sedans, SUV, Luxury Sedans | Sedans, SUV, Accessible Vehicles, Premium Cars |
| Payment Method | Cash Credit Card, Debit Card, Mobile Wallets | Cash Credit Card, Debit Card, Mobile Wallets |
| GPS Facility | For both Rider and Driver | For both Rider and Driver |
| Review and Feedback Submission | Only available for Riders | Available for both Rider and Driver |
| Sign Up Discounts | $15 Referral Available | No Sign up offers available |
Benefits of Taxi Booking Apps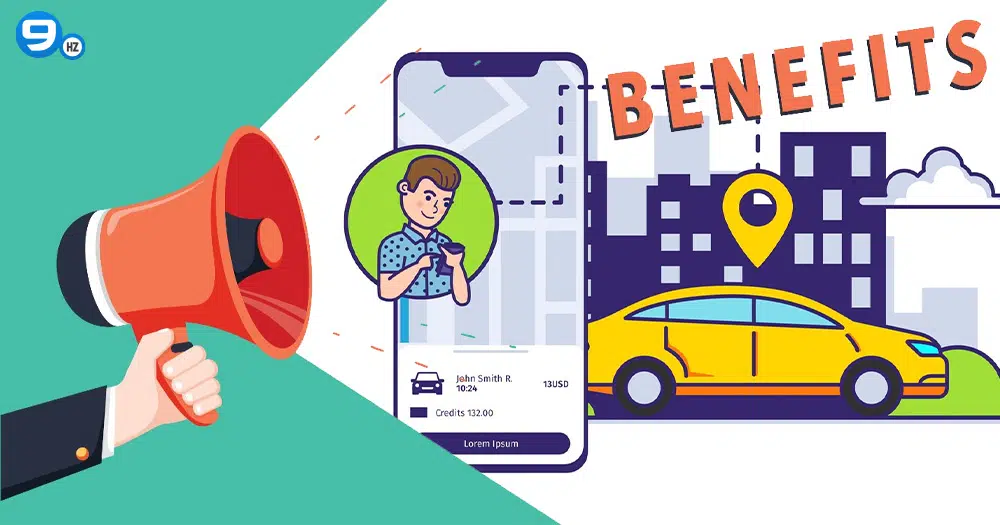 Here I go through the benefits of ola vs uber India. The taxi booking applications are a solution to several problems like reducing the waiting time on the road, looking out for cabs under the sun, and many other problems. There are several benefits one can draw from these applications. Apart from the passengers, there are several advantages for the drivers as well.
Below mentioned are the benefits of the taxi booking app for drivers and passengers.
Taxi Booking Apps Benefits for Passengers
The exact details of the locati bon of the cab and the time it will take to reach them are shared by the app with the passengers. hence, this enables them to utilize that time for something else
Passengers can book their rides without having to step out of their homes, as passengers can book their rides remotely in the comfort of their homes.
There are several available payment options for the passengers, they do not have to carry cash around them. Online payments can be made via their debit or credit cards, or just link their digital wallets with the app.
There is more transparency with the help of the app, as the passengers can also review and rate the cab drivers.
A lot of time and energy can be saved with such apps as the passenger do not have to wait out on the roads asking for cabs or lift.
Taxi Booking Apps Benefits for Drivers
Drivers do not have to roam around the city wasting their time and gas in search of riders. They can wait for a booking to arrive and then leave from the place they halted at.
The payments can be made through online banking or mobile wallets, which removes the need to carry large amounts of cash or change with the drivers.
Drivers also have the authority to provide reviews and ratings to each passenger. hence, if there is any mischievous rider, they can give him a rating accordingly and help other drivers for review.
With rides being GPS enabled drivers can easily reach different locations without any hassle of wandering to places or asking other people for assistance
There is no waste of time as drivers can reach exact locations with the help of GPS and only need to move when they have a booking.
Ola Vs Uber – Fare Comparison
| FEES | OLA | UBER |
| --- | --- | --- |
| Base Fare | $2.50 | $2.50 |
| Minimum Fare | $9 | $9 |
| Charge Per Minute | $0.40 | $0.40 |
| Charge Per Kilometer | $1.45 | $1.45 |
| Cancellation Fee | $10 | $1 |
Development Cost of Taxi Booking Apps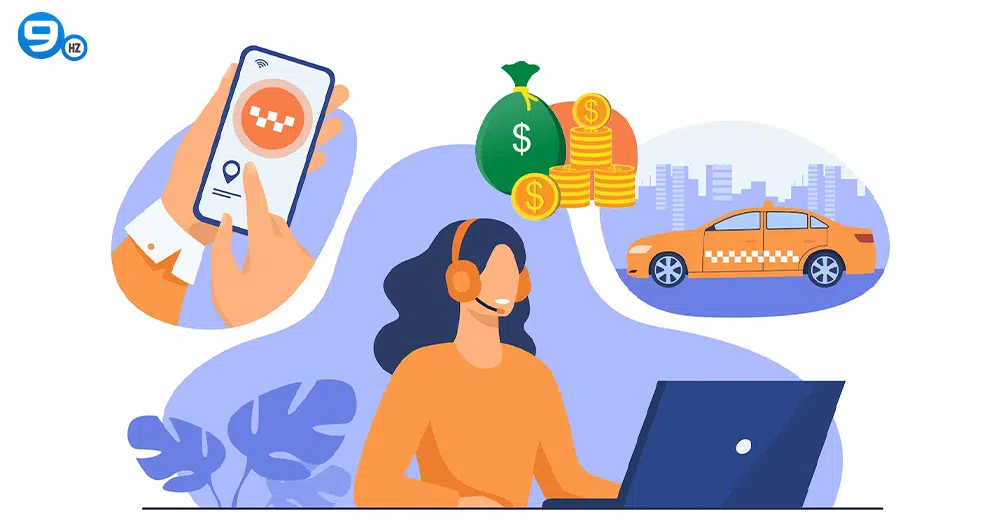 If you are interested in developing your own taxi booking app you will need to understand all the basic costs of the development of taxi booking apps. Here I wrote a detailed guide on taxi booking app development costs.
Depending upon your estimates and the time required for each step of software development we can calculate the approximate cost of Android and iOs apps. The average hourly rate for outsourced development is $30.
| DEVELOPMENT FEATURE | iOS | Android |
| --- | --- | --- |
| Native Development | $13,500 | $15,000 |
| UX/UI Design | $5,400 | $6,000 |
| Backend Development | $6,000 | $6,000 |
| Web Development (an admin panel) | $5,100 | $5,100 |
| Testing and Quality Assurance | $8,900 | $9,800 |
| Project Management (10%-15% of the total budget) | $3,890 | $4,190 |
| Total | $46,980 | $49,980 |
These costs are roughly an estimation. The cost of developing a taxi booking app may vary as per features and demand.
Exclusive Features in the Taxi Booking Apps
There is tough competition in this arena of the taxi business. The inclusion of unique and advanced features can help the company stay ahead of its competitors and increase its user base. Following is the list of advanced features that must be included in taxi booking apps to make them reach the top of the industry.
1. Authorization of Driver/User
This feature will enable the drivers to get authorization of driving the car under the application. They will get permission to take bookings and associate with the mobile application.
2. Software for Auto Dispatch
This software will help the drivers to manage their bookings. They would not have to go to and fro, but keep a tab on all of them together in one place. This software will also help them in getting proper instructions about the place they have received the booking form.
3. Driver Queue Algorithm
This one will work best in assisting the taxi service owners to get to know the number of drivers and taxis available in one place which can be sent to users to book from. This process will be very quick as selection can be made within 2-5 minutes. The users have to be intimidated by the taxis in proximity.
4. Pricing Surge
In case of high taxi demand, the taxi owners can surge the price and earn more profits on that day.
5. Pricing as per Location
Every location in the city has its laws, roads, and timings. Therefore, the pricing per location can vary. This feature will help taxi owners to make money accordingly.
6. Heat Map View
With this feature, the owners of the application can know about the cars providing services to the users during the busiest time of the day. As per the view, more drivers and more cars can be allotted accordingly.
7. Masking Phone Number
If the user does not want to share their contact details with the driver, or vice-versa the app can provide a feature to keep it confidential. With the help of an in-app call feature, one can keep his number from being revealed.
8. Loyalty Programs
To give an extra nudge to both drivers and passengers by offering them loyalty programs like offers, discounts, coupons, etc. features like these will always lure more users, making them use the app even more.
9. Real-Time Analytics
This feature will help the app owners in knowing the number of taxis that are in service and the zonal positions of the same. Analytics will help the users to know the performance and how many people are using it at a point in time as they got to know about the user who is making a booking through it.
10. Multi-Lingual Support
The best feature is that allows people from other countries as well to book taxis without any hassle of communicating with the people and asking someone to book them a taxi. This feature is best for tourists.
11. Automatic Driver Payment
With this integration, one can link their bank account or digital wallet directly to the app and let all deductions happen automatically from their accounts. This will save passengers from carrying cash and wallets.
12. Different Payment options
Taxi booking applications have adopted advanced methods of making payments. Now payments can be made through multiple sources like cards, online banking, and mobile wallets, among others. This has made use of such apps handy.
13. Push Notifications
Users will always be notified with push notifications once the booking is made. These notifications can also be used with sending notifications to inform users about new offers or discounts being launched by the app.
14. Social Login/Sign-Up
All users have to register before proceeding with the services. Also, each user needs to have a distinct account. login/sign up through social media accounts can help the users save their favorite locations and add payment methods. This will help users save a lot of their time.
15. Fare Calculation
This feature will allow the users to calculate the amount they will have to spend on a single ride. One can get to know the amount they would have to spend on the ride before availing of it.
16. Bill Splitting
It is easy for passengers to travel together if they can split the bill according to their ride. This feature enables users to pay separately keeping things transparent.
17. Multiple Bookings
Gone are the days when only one booking could be made with one account. The new features in the application enable a user to make multiple bookings.
18. Book Cab for a Friend
Under this feature, users can book a ride for their friends from a different location. All user has to do is enter pick-up and drop details.
19. In-App Call
A user in haste does not have time to make regular calls to the driver. The in-built call feature allows them to just tab on the icon to get connected to the driver
20. Emergency Call
The application allows users to save emergency contact so that they can call them in case of any mishap.
A user is in a haste and doesn't have the time to make a regular call to the driver. The in-built call feature allows them to just tap on the icon to get connected to the driver.
Statistics in the Ola and Uber App
With the increasing growth of ola and uber apps, budding entrepreneurs are analyzing the market for the successful start of the taxi business.
Below mentioned are recent statistics that can draw a comparison line between ola Vs uber India.
As per reports uber has generated approx $11.1 billion in 2020, and the number is staggering
The revenue model of uber generated a revenue of $6.7 billion
In 2020, uber completed an average of 18.7 million trips per day, making it a popular cab-hailing platform worldwide
Ola has an outstanding on-demand solution that is expected to grow at a CAGR of 6.3% between 2022-2024
Ola generated revenue of $340 million last year.
Conclusion: Ola Vs Uber
Ola and Uber are both in high competition with each other. Both the applications offer a like-for-like pricing structure. Cost aside, the winner title can be given to uber. Uber is more established, it offers more ride types, is more widely available, and goes beyond rideshare to offer a food delivery service as well.
Here's a list that will help you understand the winning points of both apps.
Uber
Available in more cities
Offers a wider range of vehicles
Offers food delivery service uber eats
Ola
Competitive with uber on price
Offers discounts and offers
Special offers for first-time riders
In the end, it can be said that both Ola and Uber are leading names in the taxi business and both are giving each other cutting-edge competition.
But, with the rise in new companies, you never know any company may supersede ola and uber soon.
FAQ's
1. Is Ola better than Uber?
Almost everyone has an opinion on the matter and it's a hotly contested topic. It seems like Ola and Uber differ in a variety of areas, including pricing, user interface and experience, availability depending on the city or region, and even customer service. While opinions are naturally divided, some people might even argue that the two services have different pros and cons that make them complementary to one another rather than directly competing with each other. Ultimately, it comes down to personal preference as to which one someone believes is better.
2. How is Ola different from Uber?
Ola is more popular in India, while Uber has more of a global reach. One of the biggest distinctions is that Ola offers a wider variety of choices when it comes to vehicles and prices, allowing riders to pick whatever best suits their needs or budget. There are also certain discounts available through Ola that may make it more economical than Uber.
3. How is Ola different from Uber?
Is Ola owned by Uber? It is an interesting question that many people are asking. While the two companies are competitors, there are no clear indications that either company has managed to purchase the other.