Be
Ahead

and

Stay Connected

to the

World

of

Innovation

Giving "WOW" experience to your life by pairing with the new technologies. The attractive wearable devices which cover a wide range of smartwatches, smart glasses, etc are gaining popularity among the millennial. We develop applications for Apple and Android wearable devices.

Our experts have the zeal to explore new technologies and innovate applications which gives the seamless performance and takes user experience to a next level.
Best

Apps for

Best

Devices

We develop smart applications for smart and intelligent devices accompanying with high-quality of functionalities and user interface. Our applications are best suited for advanced wearable gadgets such as Android wear, Apple Watch, etc.
Google Glass App

Android Wear

Apple Watch
Series 2

Samsung Gear

GPS Watch

Augmented Reality

FitBit
Empower

Your

Business

with

Wearable

App Services

Wearable apps are quite a buzz around. Not only are they fascinating, but also make the trendsetters of this time. The core benefit is the availability of a vast number of Android and iOS wearable devices, which suggests a huge pool of opportunities.
Helth & Fitness

Travel

Retail

Finance

Business
Why
The NineHertz

for

Wearable

App Development

We at The NineHertz are proud to say that over the 9+ years we have developed 1000+ Smartphone applications for many big ventures. Our company offers robust and uncluttered services to our clients. We deploy a pool of zealous and proactive personnel, who believe in diligence over luck and provide robust wearable app development solutions.

The NineHertz offers the top-notch quality of services to fulfill your requirements and enhancing your brand revenue, brand awareness, and customer engagement rate. We provide services for wide range of domains covering medical, lifestyle, fitness, utilities and gaming. From head to toe, you will be equipped with hi-tech wearable devices which will make your work easy and fun-loving.

As one of the Top Mobile App and Web Development Company recognized globally, we are extending our help to our clients in order to identify their scope and extend their reach worldwide.
The Perks Wearable Apps Offers
Seamless User Interaction
Fast Data Collection
Quick Response
Enhanced Productivity
Easy and Effective to Use
Strong Strategy and Planning
Boosted Memory and Recognition
Our Expertise
IOT-based Wearable Apps
Health and Fitness Tracking Apps
Augmented Reality Apps for Wearables
Wearable Apps for iOS and Android
Utility Apps
Gaming and Entertainment Wearable Apps
Frequently Asked Questions
What is Wearable technology? How is it used in app development?
Wearable technology is some form of communication capability that allows access to real time information. Some data needs to be inputted for functioning. There are lots of wearable devices available such as the ring, bracelet, glasses, smart clothes, watches and hearing aid etc. These devices optimized wearable technology. Wearable devices are specifically used to bring the modern hue in every common device which we use. These are based on the most innovative methodologies which bring in the scope of further advancement.
The demand of application development arises by the time due to increasing use of wearable gadgets. Wearable devices are taking the wholesome control of the marketplace. Wearable device application development services help in keeping a pace with the current market scenarios.
Which are the most in demand wearable devices?
Amongst all, Smart watches are most sought after wearable devices which keep everything in place. Some of the examples are Apple Watch and Moto 360, which have been successful in catering to the needs of the users.
Do you have experience in developing apps for wearable devices?
Yes, we have an experienced team of developers who are proving their expertise in wearable app development from last 4 years in our company with the latest trends and features. Moreover, they are personally having experience more than 5 years in wearable app technology.
What would be the cost of Wearable app development?
The cost can never be determined like this. You have to share your requirements after that we will discuss all your requirements with our technical team to get back to you. The things will be discussed further in detail like project scope, deadline and other aspects of development. After analyzing everything about the project, we can estimate the cost.
And if you want to get a ballpark figure, you can quote us and state your ideas clearly so that we can estimate the cost for you.
Which platform is best for wearable application development – Android or iOS?
There are no certain points to decide which platform is best. Both are good as per different perspectives. It depends on your budget, demographics and kind of app.
Analyze what kind of audience you have, for example, if Android users are more than iOS, you can go for Android. You can perform the survey or ask directly in a campaign to know about their choice.
We
reap

our several years of

past experience

and implant it into the nouveau

technology

and world-class

gadgets

Proven track record in building robust wearable apps for 1000 of mobile app clients

Choosing Nine Hertz to develop my project was the right choice and working with them is Pleasure.
Their team did great work and i'm Carefree.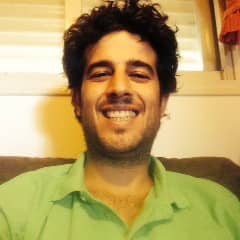 Nitay
I have been working in the tech industry for 3.5 years now, and during the time I have had many different developers for different solutions. Never finding the right mix was tough, until I met NineHertz. In all honesty I could not be happier, from attention to detail, to time efficiency I have never been more satisfied. Would I recommend them? Of course!

Mario Aguayo
Nine Hertz is a great company that is very competent. I worked hand and hand for several months with my Nine Hertz project manager and was very impressed by his knowledge and hard work. Nine Hertz is a great option for those looking for top-tier developers at an affordable price.

Mani Masshafi
Nine Hertz was extremely responsive in all aspects of our communication and planning. Professional and knowledgeable! Will work with them in the future and highly recommend!

Mike Johnson
I endorse Nine Hertz and their team of highly qualified professionals as one of the few great web development company overseas today and thank every one of the team members of Nine Hertz that worked on our application-build to make it a success.They were able to take our plans and ideas and bring them to life. I hope to work with this high caliber team in the future.

Negi Boaka
View More Reviews