Healthcare has taken a u-turn in the last decade. Such technology advancement has made a smooth and interactive way amongst patients and doctors. We all know that innovation already has its effect on medicines and surgical levels. It is on its way to administering the wellbeing and patient care as well. Technology also plays a crucial role in healthcare app advancement.
In modern days, people are looking to have technology in their own hands. A similar situation is in healthcare as well.  Hence, satisfying those requirements is essential. The industry has introduced two of its most great innovations.  They are Virtual Reality and Wearables. These innovations have quite a significant impact on healthcare. Their presence is making life easier for patients and specialists. Due to its flawlessness, they can safely rely on these gadgets.
Healthcare services mobile applications are becoming vital in a patient's life. They are now combining with transformative advancements like VR and Wearables. In this way, the entire scenario of healthcare will change entirely with advanced innovation.
Let us know go ahead and look into the two advances that are trending currently. The medical app developers to gear up and use these innovations in the mHealth Applications.
The impact of Virtual Reality in Healthcare services:
Virtual Reality in healthcare services offers large open doors for various organizations. The advancement of such technology is not limited only to computer games only. They are playing quite a role in the healthcare sector as well.
VR is used to plan treatments, diagnostics, preparing of specialists and so forth. Most importantly, doctors are using them for restoring severe conditions. They are like fears, sorrow, a mental imbalance, PTSD, and addictions. Virtual Reality app development is going to reach limit breaking heights in technological advancement.
Let us understand how the business is utilizing such an innovation: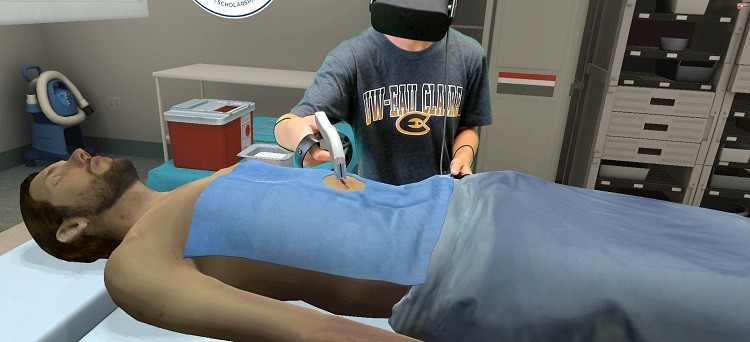 VR Healthcare
Virtual Reality can bring tremendous improvement in Healthcare services. Now doctors practice therapeutic procedures externally. They will not require operating a patient internally. There were times when specialists and attendants performed surgeries using anesthesia.
VR is changing the process of medical surgeries.  There are quite a few medical applications like Touch Medical procedure. With the help of these apps, specialists currently perform the procedures virtually. It allows surgeons to know that state of the body from inside while performing surgery. Such kinds of process likewise assist with expanding the accuracy. It also helps in lessening the entanglements and injury.
Anxiety Relief Administrations:
VR has come as an innovation for individuals who experience the ill effects of tension. VR has been an aid in bringing down feelings of anxiety of patients. There are various Anti-Anxiety Apps in both Android and Apple stores. They are like Loosen up VR, Zen Zone, and Ruler VR. These medical apps act as a relief to the giver to several patients. They help particularly those who are experiencing the ill effects of different types of disorders.
Pain Administration:
The utility of VR apps is tremendous regarding relieving pains. Various applications take the patients into an alleviating situation. It is when they are experiencing a painful therapeutic procedure.
With these VR applications, you do not need painkillers any longer. These apps are helping in enhancing the general wellbeing. They are bringing down the wellbeing dangers causing due to taking the heavy medical dosage.
Related Article: Healthcare Apps Impact on Patients and Healthcare Industry
Wearable is another component that holds the possibility to bring revolutionary changes to healthcare. Let's discuss how and where wearables will have its impact on the medical industry.
The impact of Wearable on Human Wellbeing and care:
Wearables are not just fitness equipment. They are not only utilized to know how much weight you have lost in a day. In today's world, wearable has a significant impact on clients' well-being.
Companies are currently putting resources into the wearable business. They feel that wearables can give them insights about patients. Such technology will be a substantial aid to the millions who are seeking healthcare. There will be a time when these innovations will be inseparable from people.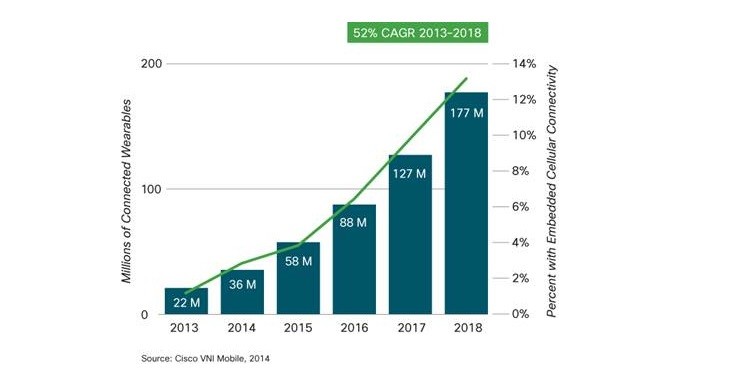 Source: Cisco VNI Mobile Forecast, 2013-2018
Advancement organizations want to expand the quantity of sensors display in the wearables. They are ready to spend millions to do so. The expansion of wearables will be from now few to hundreds in the coming time. It will enable them to track and after that make a responsive move. Such moves will be contingent upon the client's status.
Applicability of Wearables in the healthcare domain:
As we have already discussed, Wearables will be an inseparable part of healthcare systems.  They will apply to different sectors of the medical industry. Let's look at a few of those:
Wellbeing Checking:
Wearables are turning into a constructive approach to track a patient's wellbeing. There are currently various therapeutic wearable gadgets available in the market. They assist in monitoring as well as a treat and restore ailments.
Healing after surgery:
One of the most significant segments of wearable devices is the body sensors. Generally, doctors place them inside or on the body. They can help track various conditions like circulatory strain, functions of the heart, gastric issues, etc.
It may be inside the body or outside; wearables are robust tools for specialists. With its help, they can keep a track on and check their patients, when required. Integration of mobile application with wearables is quite useful for patients. Patients themselves can now monitor their body temperature, pulse, and even feeling of anxiety.
In this way, Wearables are going to affect the wellbeing industry. The essential of wearable's mass reception is including wearable app development healthcare organizations in the cycle.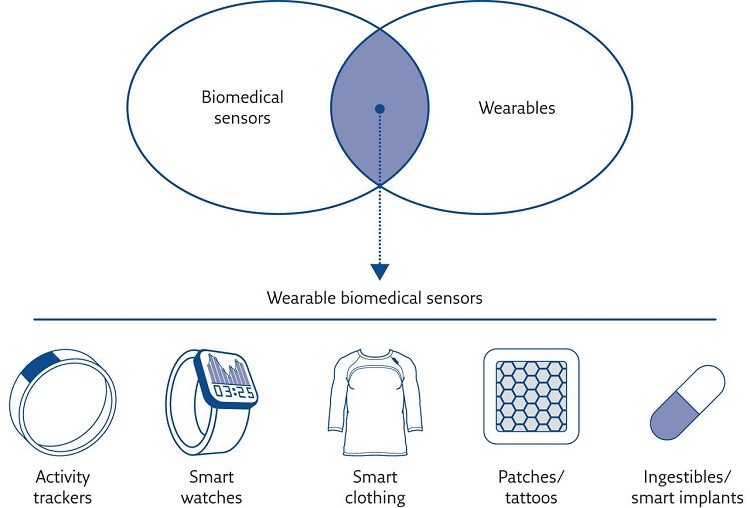 So now you have gathered different sets of information from all your wearable gadgets. The next question that arises is what to do next? Let's try and find an answer to it.
The subsequent stage involves bringing Information analysis to the forefront.
Information Examination in Wearable healthcare services:
Checking critical measurements displayed by patients' wearable isn't sufficient. Specialists will require a stage where they can store and examine all the gathered information. Blended with AI, this information can help in giving more specific following approaches for the patients.
People build mobile applications to bring the solidified information of all the wearable gadgets. It is because a client wants all data's in a single place, for thorough checking.
Conclusion:
The extensive spreading use of these two advances is only the start. There is a regularly developing need for convenient, customized, early, and financially savvy restorative practices. The industry will undoubtedly see the launching of an ever increasing number of innovations. There is the need for innovation to satisfy the user's request.
Are you are looking to be part of such a new era of technology? Remember that they are entirely going to change the outlook of the medical industry. Do not wait or hesitate to join such a revolution. Contact our expert healthcare app developers and get the ball rolling.
---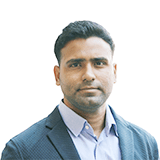 My name is Hemendra Singh. I am a Director and Co-founder of The NineHertz, IT Consulting Company. I am having a keen interest in the latest trends and technologies that are emerging in different domains. Being an entrepreneur in the field of the IT sector, it becomes my responsibility to aid my audience with the knowledge of the latest trends in the market.