Are you in need of a trustworthy on demand app development company? Your search ends here! We proudly present a meticulously curated list of exceptional on demand app development companies, renowned for their expertise in crafting tailored applications that perfectly align with your business requirements.
Mobile apps have become an irreplaceable entity for any business, whether real estate, agriculture, or healthcare. In today's era, going digital is the only way out if a business wants to put its best foot forward and cater to maximum opportunities for future growth.
Additionally, developing a dedicated app for your business will give you a plethora of rewards such as better customer loyalty, increased brand recognition, effective communication, and many more. Reports suggest that by 2025, the market value of these mobile apps is expected to reach $335 billion. The apps market is projected to experience a significant annual growth rate (CAGR 2022-2027) of 8.58%, leading to an estimated market volume of US$755.50 billion by 2027.
If you're still confused, let us provide you with some mind-blowing stats to show you the significance of on demand app development:
According to recent research, consumers are expected to spend over $1 trillion on on demand apps by 2023.
Almost 85% of the world's population are active smartphone users
The global revenue from in-app purchases and mobile app downloads is expected to hit $613 billion by 2025.
According to one of the latest surveys, over 42% of Americans have used at least one on demand app device and the number is still growing.
There will be 7690 billion smartphone users by the end of 2026.
This is just the start! Stay tuned to get all the valuable information in terms of on-demand apps, their benefits, and the much-awaited list of the top on demand app development companies working globally.
Hire On Demand App Developers
Get Free Consultation
Top 20 On Demand App Development Companies
Below is the list of top 20 on demand app development companies.
| Company Name | Founded Year | No. of Employees | Hourly Rate | Location/Offices |
| --- | --- | --- | --- | --- |
| 1.  The NineHertz | 2008 | 201-500 | <$25/hr | India, USA, UK, UAE, Australia |
| 2.  LinkUp Studio | 2013 | 50-99 | $60/ hr | US, Estonia, Ukraine |
| 3.  Brocoders | 2013 | 50-99 | $40/ hr | Estonia, Ukraine |
| 4.   Netguru | 2008 | 250-999 | $50-$99/ hr | Canada, India, UK, US |
| 5.   Konstant Infosolutions | 2003 | 50-249 | <$25/ hr | India, US, UK |
| 6.   Peerbits | 2011 | 51-200 | $25 – $49 / hr | India, UAE |
| 7.   Dev Technosys | 2010 | 50-249 | $25 – $49 / hr | India, US, UK |
| 8.   Blue Label Labs | 2009 | 50-249 | $100-$149/ hr | NewYork, Seattle, San Francisco |
| 9.   Dotlogics Inc | 2007 | 11-50 | $100-$149/ hr | US |
| 10.  Interexy | 2017 | 100-249 | $50-$99/ hr | US, UAE, Poland, UK |
| 11.  Openxcell | 2009 | 500-750 | $50 – $100/hr | India, US, Canada, Uk |
| 12.  MindInventory | 2011 | 200-500 | $50 – $150/hr | India |
| 13.  JumpGrowth | 2018 | 50-200 | $100 – $150/hr | US |
| 14.  Apptunix | 2013 | 200-500 | $100 – $245/hr | India, USA, and UAE |
| 15.  MindSea | 2007 | 11-50 | $100 – $250/hr | Canada |
| 16.  Itansition | 1998 | 1k+ | $75 – $150/hr | USA, UK |
| 17.  Fueled | 2007 | 50-249 | $150 – $199 / hr | New York, US |
| 18.  Dotlogics Inc. | 2003 | 10-49 | $100 – $149 / hr | US |
| 19.  OrangeSoft | 2011 | 50-249 | $25-$49 | US, Poland |
| 20.  IDAP | 2012 | 100-250 | $100– $200/hr | Kyiv, Ukraine |
Best On Demand App Developers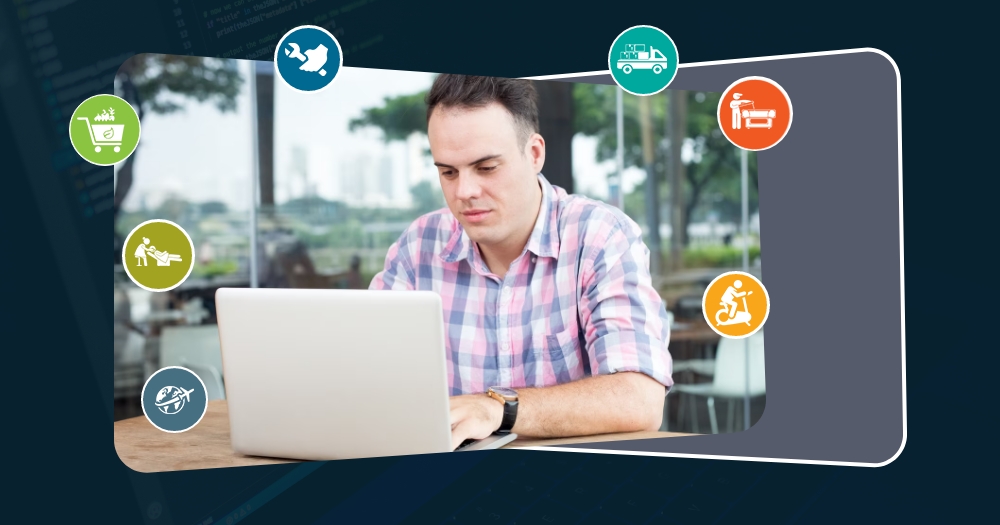 Let's delve into the details of these leading on demand app developers.
1. The NineHertz: Best On Demand App Development Company
The NineHertz is a top-notch on demand app Development Company working with an aim to provide premium quality digital solutions and products. Founded in 2008, this Company has served more than 1000 clients in more than 35 countries. The NineHertz offers a full range of cross-platform application development services for mobile devices, tablets, wearables, and TVs. With a team of highly skilled and experienced developers, engineers, and testers, The NineHertz is dominating the IT sector globally.
2. LinkUp Studio
LinkUp Studio is a famous on demand app development company that specializes in both Android and iOS app development. Within a short span of time of 10 years, the company has expanded extensively with customers from all the major parts of the world. The on-demand mobile application solution of the agency can boost your business while staying on budget and on time.
Need Help with App Development?
Hire Best App Developers
3. Brocoders
The next big name on the list of the top 20 on demand app development companies is Brocoders which is a well-known name in the IT sector. Since its inception, the company is serving its clients globally with its top-notch on-demand app solutions with more than 95% customer satisfaction. The company has almost ten years of work experience and has helped many businesses in boosting their sales.
4. Netguru
Netguru is a pioneer web and mobile app development company. It analyzes your problem and frames a strategy to build a top-notch on-demand mobile app that caters to all your business needs. The company is capable enough to deliver high-quality solutions in various critical industries like Healthcare, real estate, education, and entertainment.
5. Konstant Infosolutions
Konstant Infosolutions is one of the most competent on demand app developers in the USA. With headquarters situated in India, the company has also spread its wings in parts like the US and UK. The company has experience working in multiple sectors including education, real estate, social networking, banking and finance, and more. Their team is filled with highly competent and skilled IT professionals who are well-versed in their craft.
6. Peerbits
When talking about on demand app development companies, how can we not include Peerbits! Peerbits is a team of competent on demand app developers who are well-versed in creating the best quality applications to uplift businesses. So if you want to build an app that runs seamlessly on multiple devices, then go with Peerbits and kick-start your project. You can ask them to customize your app as per your requirements to reach your target audience more effectively.
7. Dev Technosys
Incorporated in 2010, Dev Technosys is one of the leading players when it comes to providing on demand app development services. They have an experienced team of developers who are capable enough to create custom hybrid mobile apps for businesses across various industries. Services like iOS and Android app development, on demand app development, web development, and many more are provided here you can contact their sales team to get a quote for your next dream project.
8. Blue Label Labs
As a reliable on demand app Development Company, Blue Label Labs offers customized app development services across multiple sectors. Founded in 2009, Blue Label Labs have come this far with a lot of patience, persistence, and perseverance. Their team is loaded with proficient engineers and IT professionals who know how to get a job done in minimum time and budget. This app development agency has produced more than 250 products since its inception and partnered with some of the most renowned companies and business units.
9. Dotlogics Inc
Yet another brilliant on demand app Development Company that works with the sole purpose of customer satisfaction with its quality-oriented tech solutions. Their developers, technology experts, and strategists work collectively to give you exactly what you need to grow your brand. Although they have a small team their competence can never be challenged especially with such a satisfactory record.
10. Interexy
The Interexy group offers custom on-demand mobile app development services to startups and big-sized businesses. Their specialization relies on creating seamless Native and cross-platform mobile apps for both the major operating systems – iOS and Android. Talking about the team, they are loaded with some of the finest industry talents. Their developers, designers, and product managers work collectively as a single unit to produce high-end tech solutions across all sectors.
11. Openxcell
Openxcell is best of on demand app development companies that offers a range of services including custom software development, web development, and digital marketing. This India-based company has offices in countries like USA, UK, and Canada. They have a team of experienced designers, testers, coders, and project managers who use agile methodologies for delivering high-quality products to clients all over the globe.
12. MindInventory
MindInventory is a well-known Indian on demand app Development Company that offers various services such as native mobile app development, game development, and web development. Established in 2011, MindInventory has worked with some of the top brands in the industry. Within a short period, it has partnered with businesses of all shapes and sizes. MindInventory has offices located in India, the USA, and Australia.
13. JumpGrowth
The next name on this list is JumpGrowth which is a renowned on demand app development company providing on demand app development services globally. They offer app development services for both Android and iOS platforms. They specialize in crafting top-notch mobile app solutions for various industries including education, real estate, healthcare, finance, and many more.
14. Apptunix
Apptunix consists of a team of experienced developers using the latest technologies to create innovative and user-friendly apps for clients worldwide. They offer end-to-end services to businesses, and tech startups worldwide. The company is well-versed in creating custom mobile solutions for Android and iOS platforms, using cutting-edge technologies like Blockchain and AI. With a track record of more than 500 projects successfully delivered, Apptunix is known for its quality, competence, and innovation.
15. MindSea
MindSea is a Canada based on demand mobile app development company that offers a chain of development services to startups and other businesses. The company builds custom iOS and Android applications for business units. With more than a decade of experience, they offer end-to-end development services including strategy formulation, designing, development, testing, and deployment.
16. Itansition
It is one of the top iPhone app development companies that provide services including custom software development, IT consulting, and outsourcing. Their team consists of experienced IT professionals who can produce top-notch mobile apps for both the major operating systems – Android and iOS. Their cross-platform app solutions have created wonders for businesses belonging to sectors like e-commerce, healthcare, real estate, education, and many more.
17. Fueled
This award-winning app development agency was established in 2007 with a vision to work in the area of providing high-end solutions to businesses at affordable prices. The apps created and delivered are responsive, easy to install and use. Fuelled has always shown its unwavering passion for developing top-notch apps, whether for startups or big enterprises.
18. Dotlogics Inc.
Dotlogics is yet another pioneer web and mobile app development company based in America. The best part of the company is that it has no sales team and believes in connecting directly with its clients. Founded in 2003, the company has achieved several benchmarks and awards during this time. The primary focus with which the company works is to give its customers a rich user experience with its impressive design and development strategies.
19. OrangeSoft
Over the last 12 years, OrangeSoft has managed to build a reputation as one of the top android app developers. The mobile application development team of the company is capable enough of delivering high-performance, reliable, and eye-catching iOS and Android mobile applications on demand. These apps work flawlessly across devices, whether it is a mobile app, an IoT solution, or a wearable app.
20. IDAP
Last but not least is IDAP – an on demand mobile app development company providing end-to-end solutions for businesses and startups. So if a business looking to build a custom mobile app can contact IDAP to get the job done in minimum time. The company has expertise in iOS, Android, and cross-platform development. They offer 'n' number of services such as UI/UX designing, backend development, and quality assurance. Since its inception in 2012, the company has successfully delivered more than 200 projects to different clients living in different parts of the world.
Hire Certified App Developers
Convert Your App idea into Reality
What is an On Demand App Development Company?
A trusted on demand app development company can do wonders by bringing your app idea to life. An on demand app is like a bridge that connects businesses with end consumers and any company that does this job of creating such apps for businesses and individuals shall be called as an on demand app development company.
The market is filled with such companies and agencies but choosing the right one is quite challenging as the pool is insanely large. A good company will guide you throughout the app development process regarding things like what features your customers would like to see in the app's beta version, etc.
Therefore, you must put the greatest emphasis on choosing a trustworthy app development agency that provides degrees of ongoing support from development to post-launch maintenance. Partnering with a one of top mobile app developing companies will give you enormous benefits in terms of designing and developing an app loaded with trending features and functionalities at minimum costs.
For your convenience, we have curated a list of some of the best on demand app development companies and you can partner with any one of them to kick-start your dream project, so let's get started.
How to Choose On Demand App Development Companies?
The first step while hiring an on demand app developer is to check out their portfolio. Prior experience in the concerned domain is always beneficial while developing an app. First, it will be cost-effective, and second, the development time will get reduced to a great extent.
This is because the challenges tackled and resolved by an app developer in making prior apps will prove to be a game changer as the process will teach him the nitty-gritty of the specific industry.
Having said that, recommendations and reviews are also valuable resources. Hence if you know a business that operates in a sector similar to yours, try to find out their app developer and whether or not it works seamlessly. Plus, do not forget to read the reviews for it in the Google Store/App Store.
These were some suggestions that you must keep in mind while picking your app developer. The reason why this decision is so critical is that not only your money is invested but also your brand's status and reputation is at stake. So choose wisely and attentively.
Solutions Provide by an On Demand App Development Company
We are presenting you with a list of some of the most popular solutions provide by on demand app development companies. You can choose the right one depending on your requirements to make a million or billion-dollar business.
1. Food Delivery Apps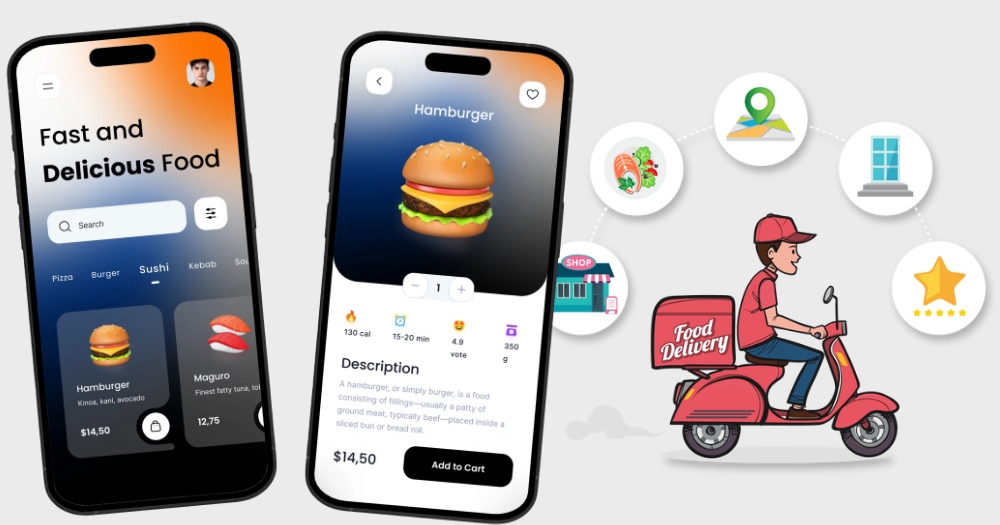 Online food delivery is one of the most lucrative sectors and the pandemic has forced people to order food online much more frequently. Just like Zomato and Swiggy, you can also make a mark in this booming sector as each day thousands of new restaurants and cafes are opening. A food delivery app development company can help small and medium-sized restaurants in launching their dedicated apps and grow their business.
2. Grocery Delivery Apps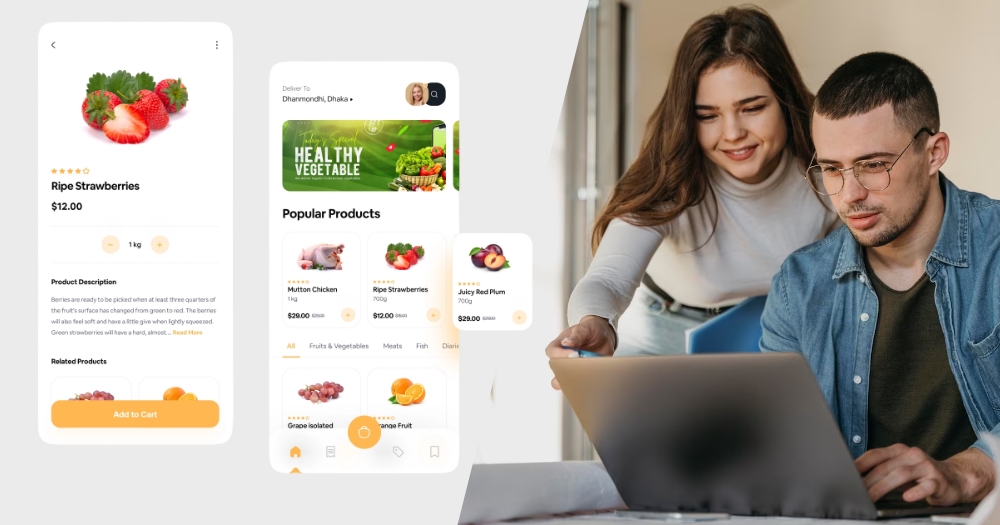 Groceries are something that can never be off demand. Grocery store owners can capitalize on this opportunity to a great extent by launching their application that delivers groceries directly to consumers at their doorstep. Therefore, a company offering on demand grocery delivery app development services can help grocery owners in building a grocery delivery app that brings convenience to new and existing customers.
3. Taxi Booking Apps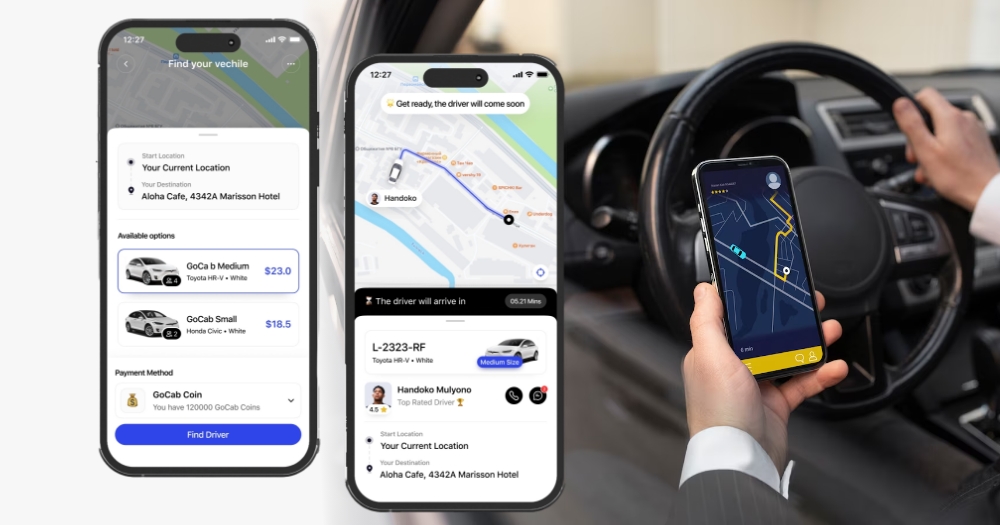 None of us would have thought that today Uber would become such a big brand that its value would reach billions of dollars. No surprise that it has become one of the top giants with business operations in almost all the major parts of the world. Just like Uber, other players like Ola and Lyft have also entered the market and made huge amounts of money. Companies offering Taxi app development services can help build such apps.
4. Logistic Apps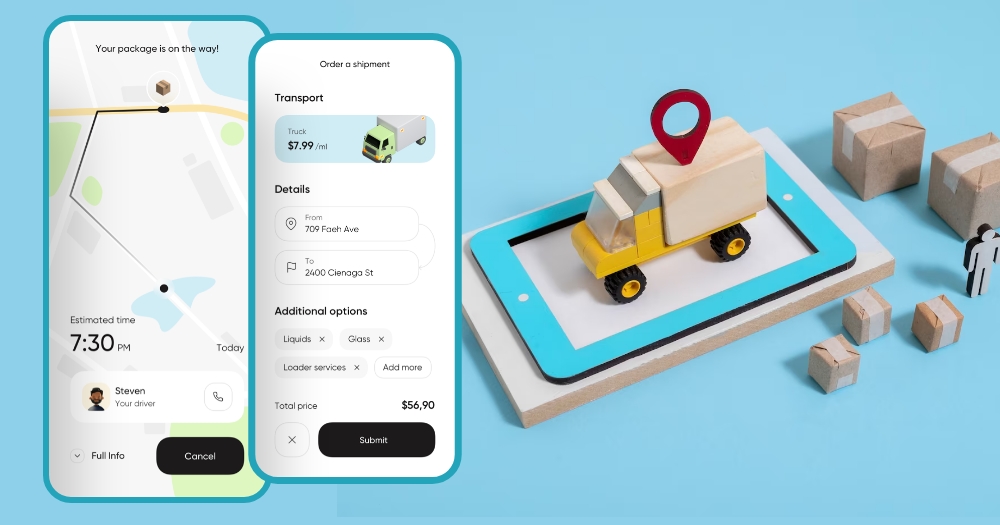 The logistics and transportation industry is so crucial that it connects all other sectors. A logistics and transportation app is beneficial if you have experience in the transportation industry or won a fleet. On demand app development companies offering Logistic solutions can help you build an on demand transport service app which will enable you to offer interstate or intrastate trucking services. Here is an ultimate guide on on demand delivery app development.
5. Medicine Delivery Apps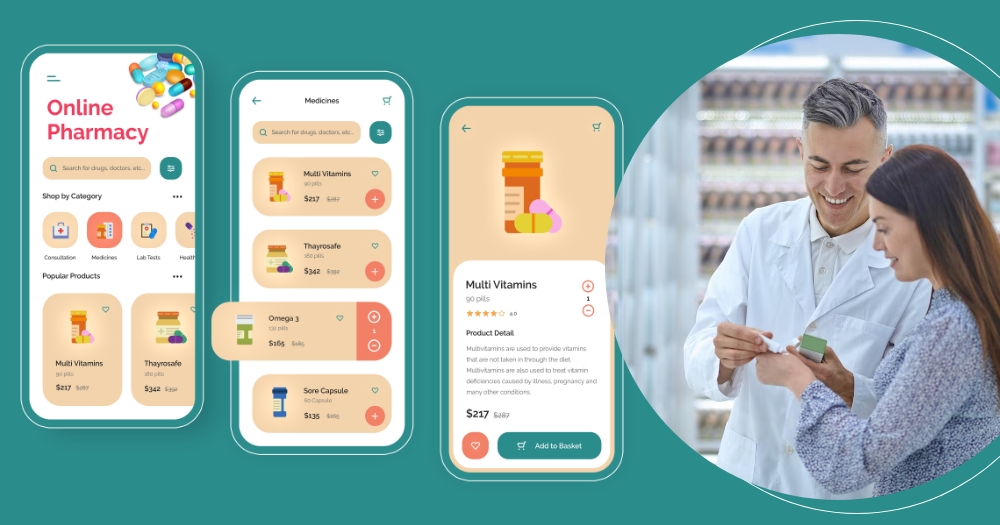 Just like food and groceries, the medical products delivery market is gradually increasing. People who need medicines, testing kits, asthma pumps, and other medical products can leverage the benefits the medical delivery app offers. Under this model, one can reap the benefits to a great extent by getting a good return on investment. You might be interested to know how to develop a medicine delivery app like 1mg.
6. Handyman Apps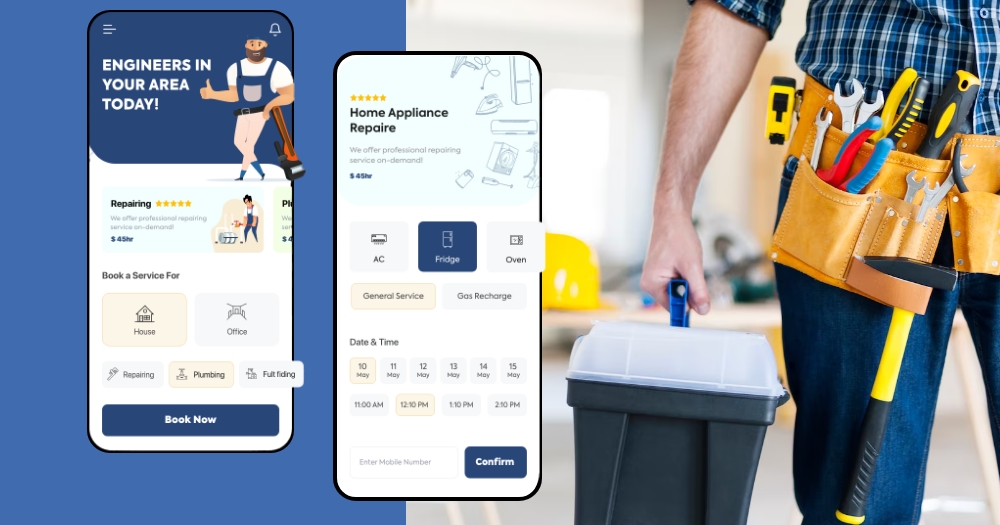 Nowadays many tasks require the assistance of a specialist. Things like fixing the washing machine, cleaning the house, washing the car, maintaining the appliances, and so on can be done via a Handyman App. Electrician, carpenter, and plumber – you can bring all these people together in a home care service delivery app. You can avail of handyman app development services from an experienced company in the concerned domain.
How Do On Demand App Development Companies Work?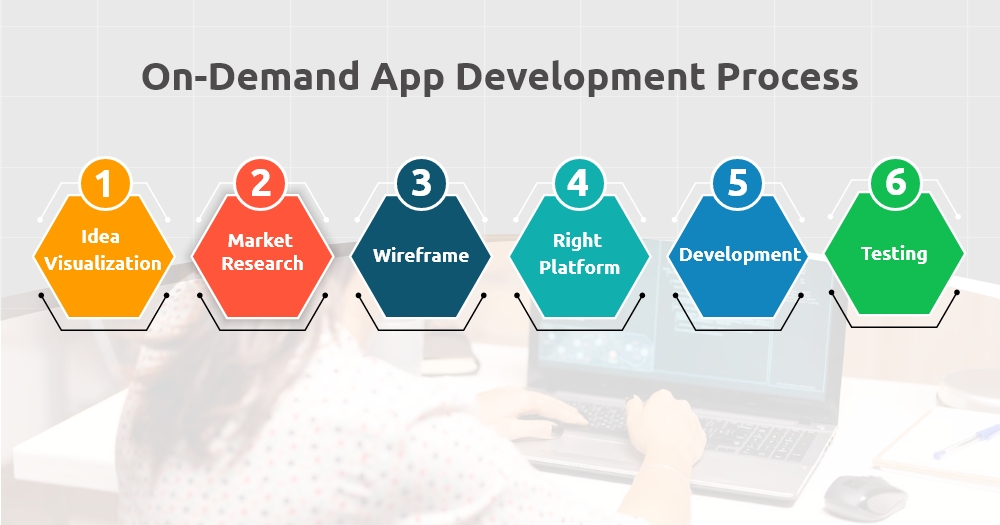 Mobile app development is a tedious process but a clear plan will help you put your best foot forward. The development process has several steps that we have mentioned here and will help you in your journey.
You must follow these steps to make sure that your application is seamless, user-friendly, and resourceful when it comes to meeting your business goals. Here are the 8 crucial steps that you need to follow in order to develop a seamless application.
Step 1 – Idea Visualization
Under this step, you need to understand the problem your app will solve, identify your target audience, and determine the unique value proposition of your app.
Step 2 – Market Research
Before initializing the development part, you must conduct in-depth market research. It will help you in understanding your competitors and their approach, identifying potential challenges, and determining the list of features and functionalities to integrate with your app.
Step 3 – Making a Prototype/Wireframe
A visual representation of the layout and user flow of your app is called a wireframe or a prototype in simple words. It will help you and your development team in understanding the overall functioning of your mobile app.
Step 4 – Choosing the Right Platform
When it comes to app platforms there are two popular choices for deployment – Android and iOS. iOS is the operating system used by iPhone and other Apple devices while Android is an open-source operating system by Google used by a wide range of devices.
Step 5 – Development
Finally comes the stage when your app is ready. During this stage, a team of developers brings your app to life. It involves designing (UI/UX) and coding (front end and back end).
Step 6 – Testing
Testing in layman's terms simply means identifying bugs and glitches to make the app error-free. Also, here you make sure that your app is user-friendly and meets your desired functionalities.
Step 7 – Launching Your App's Beta Version
This step is taken just before the official launch of your app. This includes allowing a selected group of users to test your app and provide feedback before it's officially launched.
Step 8 – Launching Your Application
This is the last step where your app is launched finally for the general public. This involves submitting your application to the appropriate app store, promoting your app, and continuing to make improvements according to user feedback. Here you can find a complete guide on how to build an app from starting.
How Much Do On Demand App Development Services Cost?
The price of an app is directly proportional to its complexity. Also, factors like the type of developer, operating system, and app type (native or hybrid) are very crucial when it comes to determining the cost structure of an app.
Generally, the price starts with an amount of $25,000 and goes up to $300,000 for more complex applications made by top industry experts.
Costs also vary depending on which country you live in. For example, in the United States, the per-hour development cost falls within a range of $60 – $125, whereas in countries like India, the range falls between $10 – $50 an hour.
Here is the cost breakdown in detail:
A) Simple On-Demand Applications
Some applications only consist of a basic set of functionality. Simple apps are generally designed for only one platform and have a primitive user interface. The cost to develop this type of application ranges from around $30,000 to $1,20,000.
B) Medium Complex On-Demand Applications
For developing a medium-level on-demand app, more sophisticated functionality is included. The on-demand app development pricing model for creating this form of mobile app varies between $1,20,000 and can reach around $2,00,000.
C) Complex On-Demand App
The cost of such complex apps is generally very high due to high-level advanced features and well-thought UI. The prime motive of such apps is to make profits as well as optimize regular business processes. Here the development cost varies from $2,00,000 to $3,00,000 and more.
Conclusion: Best On Demand App Development Company
At last, let's conclude by accepting the simple fact that in this technologically driven environment where everything is changing so rapidly, demand for on-demand mobile applications is a rising trend. Anything that provides ease and offers a solution for an existing problem is always welcomed.
Who thought 20 years ago that one can book movie tickets without standing in long queues, schedule a doctor's appointment, or book a ride using an on-demand ride-sharing apps like Uber. But now, all this is possible. All you need to have is a smartphone and internet connectivity.
On-demand apps have made fortunes for a lot of investors and entrepreneurs and being an entrepreneur, if you are also looking to develop an on-demand app, look no further. As per your requirement, choose a mobile app development agency from the list mentioned above and kick-start your dream project in no time.
FAQ's: Top On Demand App Developers
1. Which is the Best On Demand App Development Company?
The NineHertz is the best on demand app development company, provides so many solutions for taxi booking, grocery delivery food delivery and more.
2. What is an On-Demand App?
As the name itself suggests, on-demand apps are web or mobile solutions that help users to instantly leverage or schedule services as well as immediately buy a product. On-demand app can be providing different services which includes retail products, cleaning services, automotive services, delivery services, and much more.
3. How Do I Create an On-Demand Service App?
For developing an on-demand service app, you need to hire an app development company. Developing the vision, ensuring the proper planning, and deciding upon technologies, features, and functionalities of the app are core stages of the app development process.
4. How Do I Find the Best On Demand App Development Companies?
Here are some of the measuring factors that will help you select the best on demand app development companies in the market-
Experience of the developer
Client retention rate
Quotation offered
Reviews and ratings
Project Portfolio
Client Portfolio
After deployment support
5. How Much Does it Cost to Develop an On-Demand App?
The cost of developing an on-demand app depends on a number of factors. Any changes or alterations in these factors significantly affect the price of app development. The factors are-
Complexity of project
Time taken to complete the project
Location of development team
Third-party integrations
Opting for post-maintenance support