Node.Js Development Services
Building scalable mobile and web applications with Node.js development services
The team of enthusiastic engineers, deploying low latency Node.js scalable solutions
Customized Node.js Website development
The NineHertz leading company in India serves you the top-notch services as a Node.js development service provider firm. We are the remarkable Node.js development company with the team of 20+ Node.js professionals for developing attractive web applications according to your requirement. We are known as the premium Node.js development service provider within given time period and budget.
Thus, If you are looking to develop real-time Node.js based web applications with frequent data changes and live chat options, Nine Hertz is the suitable option for you. You can hire our dedicated Node.js developers on an hourly, weekly and monthly basis.
We guarantee you to implement excellent Node.js web applications that assist you to achieve your enterprise goals
Recognize the potential of Node.js development with The NineHertz

Node.js Server Side
Development

Real Time Chat
Applications

Interactive Application
Development

Plug-ins
Development

Content Management
Tool

Application & system monitoring
with supreme dashboard

Content management tool &
plug-in development

Maintenance And Support
For Node.js Apps
A wide range of Node.js applications that include both the mobile app and web solutions
Pioneer Node.js development with reliable and scalable solutions. Node.js is an open-source platform to build Real-time, Agile and Scalable applications in a very short span of time. It is a server-side, event-driven JavaScript framework with a broad footprint across multiple platforms to accomplish the needs of modern Web applications. The platform is fabricated on Google's V8 JavaScript engine which provides enhanced speed to Node.js.
We Enhance your performance with spectacular Node.js solutions
Expert Node.JS developers for Your Enterprise

Handy Development Approach
Node.js development uses JavaScript closing the passage between front-end and backend developers. And with it, the development efficiency also increases.

Secure Maintenance
Revising and managing Node.js sites is trouble free. Use of small modules piped collectively makes it more adaptable than the conventional Node.js applications.

Improved Productivity
Node.js powers external and internal APIs while managing real-time apps, thereby increasing the efficiency and productivity of your business.

Myriad Applications
You can use Node.js for sending push notifications, streaming files, and handling APIs. Also convert documents, images, to parsing emails, videos, & audio files.

Quick Developments
Easy applying process for social media, real-time services, e-commerce, and enterprises web & app development with payment processing gateway.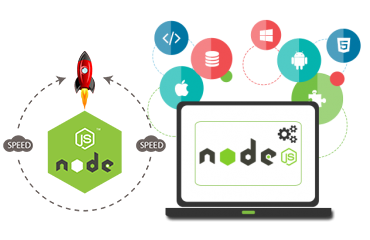 Frequently Asked Questions
What is Node.JS Development?
Nodejs is the PHP framework that provides the JavaScript-based application development platform that provides robust and reliable web applications. Node.js is the script that makes the web page interactive and dynamic. It also provides the CMS like the other PHP frameworks like Drupal, WordPress, and Joomla.
What The NineHertz provide as the top Node.js service provider firm?
We provide real-time chat applications, plugins development, CMS tools, top notch support and maintenance services, application and system monitoring for various web-based applications to providing top-notch Node.js services.
What benefits you guarantee as for the top Node.js Service provider firm?
We guarantee you to deliver a valuable product for all your Node.js web development needs. We sign the strict NDA for all your project details and accessibility issues before starting the project. We include two parties in that nondisclosure agreement i.e Company and Client.
What are your payment models?
We have the separate rates for each development process depending on the client specific needs. Because we are focused on delivering the quality product for the global clients. You can pay us as hourly, part time and full-time basis. For Hourly Cost, you have to hire a proficient developer to work on your project so that can cut your overall development cost.
.
How do I connect with the project development team?
We are having a separate project management system through which you are capable of monitoring the day to day task and responsibilities. Thus, can check the overall germination of your project. Along with this, our project manager communicates with you regularly. You can take updates from him as well.
What is the quality of people you employ?
According to us, The quality of developers is ultimately the quality of our company and your project. Hence, we only hire the premium quality engineers with enough experience. Generally our professional have 4 to 5 years of experience.
Choosing Nine Hertz to develop my project was the right choice and working with them is Pleasure.
Their team did great work and i'm Carefree.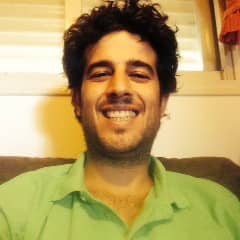 Nitay
I have been working in the tech industry for 3.5 years now, and during the time I have had many different developers for different solutions. Never finding the right mix was tough, until I met NineHertz. In all honesty I could not be happier, from attention to detail, to time efficiency I have never been more satisfied. Would I recommend them? Of course!

Mario Aguayo
Nine Hertz is a great company that is very competent. I worked hand and hand for several months with my Nine Hertz project manager and was very impressed by his knowledge and hard work. Nine Hertz is a great option for those looking for top-tier developers at an affordable price.

Mani Masshafi
Nine Hertz was extremely responsive in all aspects of our communication and planning. Professional and knowledgeable! Will work with them in the future and highly recommend!

Mike Johnson
I endorse Nine Hertz and their team of highly qualified professionals as one of the few great web development company overseas today and thank every one of the team members of Nine Hertz that worked on our application-build to make it a success.They were able to take our plans and ideas and bring them to life. I hope to work with this high caliber team in the future.

Negi Boaka
View More Reviews