Our Robust Suite of Salesforce Development Services
We are one of the best Salesforce development service provider in India that caters adeptly to changing business requirements. The offshore Salesforce development services include everything that your business expects to keep its customers happy everywhere. It enables you to combine your marketing, sales, commerce, service, and IT teams to work as one single unit.
Salesforce Implementation Services
The Salesforce CRM development boosts your productivity by automating and streamlining your business processes. We help you to strategically implement Salesforce across different verticals enhancing workforce profitability and customer retention.
Salesforce Migration Services
Offshore Salesforce development helps you to migrate your business data from any module or CRM platform to the Salesforce CRM platform. Our certified Salesforce developers are skilled in connecting technologies across a range of disciplines to safely move heavy amounts of data.
Salesforce Third-party Integration
We, a top Salesforce development company, help you integrate with third-party providers like payment processors, ratings and reviews, tax processing, and email services. With this development, the aim is to create a more engaged customer and employee experience.
Salesforce Support and Maintenance
Apart from giving access to self-help and technical support of Salesforce, we help manage your CRM instances. Our talented team of Salesforce app development ensures that the business processes are highly reliable, and relevant to evolving business needs.
Salesforce AppExchange App development
The Salesforce AppExchange allows us to develop and customize apps faster than other marketplaces. Our Salesforce AppExchange developers assist you in providing Salesforce application development services with captivating features and rich functionalities.
Salesforce Consulting Services
Being your Salesforce CRM development partners we support your sales, marketing and customer service needs with our expert consultancy services. We help our clients meet their objectives by driving stronger and faster business transformations.
Salesforce Integration services
With 12+ years of experience behind us, we can integrate Salesforce with internal & external databases, software and also with third parties. We strive to enhance productivity within your organization by integrating the system and delivering a consistent customer experience.
Salesforce Lightning
Build responsive applications for all kinds of devices through Salesforce's Lightning Component Framework. Our Salesforce lightning expertise helps us to accelerate app development and app performance.
Hire Salesforce Developers
Being a leading Salesforce development agency, we offer custom Salesforce migration and integration services. We are proficient in providing custom Salesforce development services to improve the efficiency of your business processes and achieve automation faster.
Salesforce Sales Cloud Services
Salesforce Sales cloud development helps to bring in all your sales related processes into an integrated platform. It aids efficiency by monitoring the integrated platform. Businesses can sell smarter and faster by centralizing customer information and automating all the manual tasks.
Salesforce Service Cloud Services
Salesforce Service Cloud development caters to customer service and support. It also aims to develop customized marketing relationships with customers across multiple channels. We help to create and manage your customer solutions, automate workflows, and promote seamless communication.
Salesforce Community Cloud Services
The Salesforce community cloud development helps to reduce the communication gap between all your stakeholders. Our developers utilize community cloud to simplify business processes allowing them to communicate on one single platform.
Salesforce Marketing Cloud Services
With the help of Salesforce Marketing Cloud development, your company can scale marketing efforts drastically. We automate your marketing processes and analytics softwares via a set of tools like email studio, mobile studio, social studio, Pardot, etc.
Salesforce Customization Services
Our salesforce developers extend the functionality of your CRM platform by configuring and customizing your Salesforce solutions to address your business challenges that are otherwise not redressable through normal CRM programs.
Salesforce Industry Solution
The Ninehertz, your reliable Salesforce development company, can help you achieve business goals through Salesforce Industry Solutions. Salesforce CRM development encompasses several cloud solutions custom-tailored to meet the demands of a variety of industries.
Salesforce Application Development
Our top-notch Salesforce app development includes engineering custom apps for businesses and creating and publishing extensions to Salesforce through AppExchange. We help organizations connect with their clients and employees in a different way.
Force.com Development
You can leverage the versatility of powerful, highly secure and robust applications built on Force.com. Experience enhanced cloud transition experience, automated workflows, and easily adapt to the evolving needs of the market.
Salesforce1 Mobile App development
Our experienced Salesforce developers leverage Salesforce1 to make applications available on your mobile devices. The point and click features of Salesforce1 helps to develop instant apps, enabling our clients to possibly do anything on your mobile device
Cost to Hire Salesforce Development Company in India (Developers & Consultants)
Concerning one of the major elements responsible for any Salesforce development project, The NineHertz created best suitable packages to hire salesforce developers. Businesses can choose an ideal option keeping their project complexity and budget in their mind. They can be assured of their ideas and plans' confidentiality as we do sign NDA with all of our clients.
Hourly
$40 We'll provide a fully signed NDA for you Project's confidentiality
Monthly
$6400 5+ Years of Exp. salesforce Developer 160 hours per month
Monthly (5 Developers)
$30000 Build a Dedicated Team of 5 Salesforce Developers
Endless Benefits of Salesforce Development
With the right team managing your Salesforce Application Development platform, there are a plethora of benefits that your company will see across all departments. This robust and ubiquitous platform can help you scale your business relationships in several ways.
Data Validation
Workflow field updates, default values, and validation rules of Salesforce app development allows our developers to efficiently store accurate and non-duplicated data on your salesforce apps.
Secured System Integrations
Through Salesforce integration, you can manage different departments and teams through a single software. The security and efficiency of the software allows you to work on any device and from anywhere.
Customizable and Configurable Solutions
Offshore Salesforce development teams ensure that the clients get tailor-made solutions as per their needs. We create as well as modify your Salesforce solutions with default tools using Lightning Platform.
User-friendly Platform
The Salesforce is intended for a wide spectrum of businesses and companies. The ease of use of the software makes it easy to use for everyone in the company, even for those with no technical background.
1,789+

Successful Projects Delivered

12+

Industry Experience

450+

Happy Customers

85%

Returning Clients Across Industries
Ready to Partner with a Leading Salesforce Development Company in India?
We are a seasoned Salesforce development company in India with an established reputation for delivering the finest quality Salesforce application development solutions. Our experienced and successful team of Salesforce developers build sturdy business applications that boost your business growth and improve sales.
Join hands with us to integrate Salesforce custom development into your business and manage all your company's relationships and interactions with customers in a quick turnaround time.
Salesforce App Development Certified Professionals
The NineHertz is a trusted Salesforce partner that prouds to possess a talent pool of professionals certified in distinct yet most demanded modules of Salesforce app development. Grab the opportunity of utilising their skills and experience in various Salesforce app development services beneficial for your business.
Our other Salesforce Consulting services
Why Choose The NineHertz as Your Salesforce Development Company in India?
Salesforce, being a cloud-based customer relationship management platform, brings all of your customer data into one system. Working with top Salesforce development companies in India, can facilitate you make quick decisions and bring your customers closer to you. We understand the project needs and the budget to perform on it accordingly. We aim to empower your processes and service agents to deliver best-in-class customer service.
Outsource Salesforce development services from India to facilitate quick, swift, and seamless business transformation.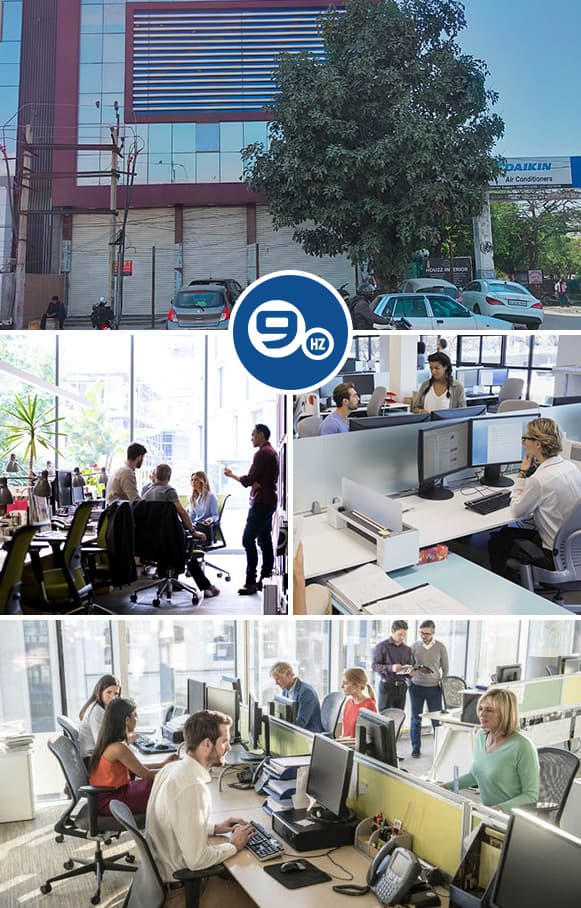 Certified Salesforce Developers

Our dedicated Salesforce developers study every aspect of new technology before practicing it and thrive on building custom solutions for your business.

12+ years of experience

We have spent 12+ years developing unique software solutions for our clients. With our experienced team we deliver robust and satisfactory Salesforce application development services.

Hassle-free Salesforce Project Management

We have a pool of expert Salesforce professionals who work together cohesively to provide you hassle-free app development.

Guaranteed Transparency

We respect your company values and ideas and our team strictly follows the Non-Disclosure agreements. Your project plans are 100% safe with us.

Uncompromised Quality

We have a zero-tolerance policy on quality and Salesforce company ensures envisioned quality and consistency throughout the project.

Flexible Engagement Models

Outsource Salesforce app development services as per your needs and requirements on a monthly, hourly, or fixed-time basis with us.
So what's next?
Let's create your future today.
Industry Wide Use of Salesforce Application Development
As a leading Salesforce application development company, we have connected incredible organizations with outstanding Salesforce developers. We have a proven track record of completing high-quality projects under expert supervision and within budget. Join hands with the best Salesforce CRM development company online for different industry verticals.
We have an expansive reach and serve the below list of exclusive industries:
Healthcare
Logistics
Education
Retail
Finance
Wellness
Oil & Gas
Transportation
Travel
Social Network
Event
Productivity
Our Salesforce Development Partners
Our global clientele speaks for our Salesforce development services and the company we are. Hiring a Salesforce developer for designing and deploying software solutions is easy as well as fast. Collaborate with us to get end-to-end Salesforce development services.
Awards and Recognition in Salesforce Custom Development
We are proud of our customer-centric approach which makes us a leading company for Salesforce custom development. The accomplishments of The NineHertz in the IT industry are a proof of our excellent services and innovative solutions.
Got Questions? We're Here for You!
We understand that you might have questions while getting started with salesforce development. Don't worry, we've answered them here.
What is an app cloud Salesforce?
App Cloud is used to bring together various platforms for Salesforce development company. It's a form of the integrated architecture which brings together Heroku developer platform and Salesforce lightning framework. App cloud is specifically made for enterprise crowd. Many components such as Force.com and Heroku provide the upgraded tools at the end of the month. Force App Cloud.com which is a Platform as a Service enables developers to create software applications which are single instances running on a server but serves multiple occupants at a time. These applications are incorporated into Salesforce.com application.
How is Salesforce Usable?
Salesforce being a renowned CRM application which has been made on the platform of Force.com. It takes care of every type of customer relationship, sales, support, and marketing. Furthermore, Salesforce primary objective is to offer companies to build an interface for their case and task management. It also improves the ability to target the right audience and to create modified services and products. Thus, Salesforce is useful in various tasks which include better learn-ability, error management, satisfaction, and efficiency.
Why Should I get the Salesforce Software?
Salesforce cloud is quite on-demand CRM (Customer Relationship Management) suite which offers solutions for midsize and small organizations. In addition to CRM services, Salesforce customer oriented doorway provide the customer an approach to track their own cases and offers the customer to join the conversation about their companies on social networking sites through social networking plug-in. Apart from above uses, it takes care of the support and sales functionalities. It has various enterprise level benefits which include enhanced informational organization, CRM for better communication, self-preceding for daily tasks and improved data and reporting.
Salesforce CRM (Customer Relationship Management) is a smart composition of Service Cloud, Sales Cloud, Commerce Cloud and much other paraphernalia which help in a healthy boost of your website. Undoubtedly, Salesforce is boon for the companies as it provides:
Higher Lead Generation: The software is cloud based which adds to the benefit of restricting unmanageable data entry. The sales team can remain focused on enhancing and closing leads.
Client Satisfaction: It allows the businesses to take an analytical glance at the sales and client data. Salesforce CRM takes the complete care of aligning the data process.
Service and Support Facilities: Salesforce CRM is quite capable of creating support requests from different channels which helps you in recalling the best solutions. Various customers' related problems are addressed with the help of important support system.
Lessened CRM Facility: Salesforce does not lack in creating the business procedures. It is more like teaming up the customer behavior and technology, so that desired results can be achieved.
Salesforce is a leading solution for the processes like application offering, cloud computing and many other things such as ERP, CRM, marketing automation and mobile application. CRM offered by Salesforce is segregated into several categories which include Service Cloud, Sales Cloud, Marketing Cloud, Data Cloud and Community Cloud and serves more than 100,000 customers around.