Congenial and Meritorious
AngularJS

Development Services

Driving quality and rich functionality to your business application by implementing a full stack of AngularJS technologies. The NineHertz being among the top web development company, uses core knowledge of development and coding skills to develop customized web apps for our clients. Our experts in AngularJS framework brings excellence with high readability and extensive quality to generate a seamless experience of your application.

Being a renowned name in developing the website based on AngularJS framework, We offer end-to-end web development services to our global clients Growing technology trends in the web designing attract businesses to update their applications to a more scalable approach, thus enhancing their ROI.
AngularJS

Features that

Benefits

your Business
Dynamic and Agile Solutions
Reusable Component
Quick and Easy Development
Powerful MVC Design to Boost App Development
Simple Testing and Easy Model and DOM Synchronization
Customized Widgets Development
e2e Testing Environment
AngularJS

Solutions
Versatile Web App Development
AngularJS Cross-Platform Development
AngularJS Upgrade and Maintenance
Custom-Made Widget Development
AngularJS App Design and Development
Support and Consulting
User Interactive Development Module
The
Meticulous

Approach to

Deliver

Astonishing

AngularJS

Applications
01

Business Analysis

Unveiling the scope of your project in the market and analyzing the gap between the clients and business.

02

Project Management

Understanding the client's requirements by holding a frequent meeting with the clients.

03

Designing

Systematic designing the looks and feel of the applications.

04

Development

Creating complete development cycle that aims to justify project objective.

05

Testing & Debugging

Removing bugs and testing the compatibility of the applications.

06

Project Delivery

the Timely delivering project to the clients to ensure smooth launching of the application.

07

Post-Delivery Support

We ensure complete support and maintenance to our client for maintaining a long-term relationship.
Design

and

Develop

Result-Oriented and

Highly

Interactive

AngularJS

Web Development
Choose Us for Better Development Experience
Customer-Oriented Engagement Model
High-Quality UI/UX
Transparency in Development Model
Active Support and Maintenance
Experienced Professionals
Rich in Resources
Fast and Secure Development
Why is AngularJS a Better Choice for Your Company?
Simple Development Architecture
Component Reusability
Excellent Development Efficiency
Agile Engagement Model
Less Coding
REST Friendly application Framework
Two-Way Data Binding
Frequently Asked Questions
What is AngularJs?
Angularjs is the open source PHP framework that came into existence in 2009. It is now maintained by Google and most commonly used for dynamic web pages. AngularJS is a powerful JavaScript-based development framework to create RICH Internet Application(RIA). It provides multiple options to write client side application by using JavaScript in a clean model view controller way.
What you provide as the top Angularjs service provider firm?
We provide the excellent coding environment to escalate coding experience. We mainly focus on dynamic and agile friendly solutions. Our services include interactive dashboards, content management tools, E-commerce stores and marketplace, plugin development tools, Theme generators and Text editors, gaming portals etc.
What are the advantages of developing websites and mobile apps in AngularJs?
Angularjs follows MVC pattern and allows us to create single page application. The predefined form validations give boost to Angular JS development. It supports animation as well. Furthermore, it is an open source framework which supports cross-browser compatibility and two-way data binding. Along with these, the code is unit testable in AngularJs. Along with this, developers can bypass HTML/CSS markup while writing the design code of the application. Also, they can add markup without interrupting the flow of the application.
What are the names of IDE's, The NineHertz used for AngularJs development?
The NineHertz uses Visual Studio, Eclipse, WebStorm, and TextMate for the overall AngularJS development. Also, The NineHertz most widely use Aptana studio for Angular JS development. This IDE is based on eclipse. Along with these IDEs, NetBeans supports AngularJs. We sometimes use NetBeans as well.
What is the strength of Angularjs developers at The NineHertz?
The NineHertz has a team of highly proficient 20+ Angularjs developers who are ready to assist you 24×7. We are developing Angular based web application since 2008. We have served almost 1000+ projects to 450+ clients worldwide.
Choosing Nine Hertz to develop my project was the right choice and working with them is Pleasure.
Their team did great work and i'm Carefree.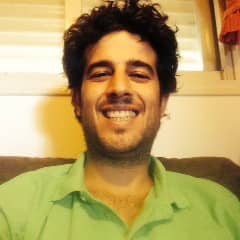 Nitay
I have been working in the tech industry for 3.5 years now, and during the time I have had many different developers for different solutions. Never finding the right mix was tough, until I met NineHertz. In all honesty I could not be happier, from attention to detail, to time efficiency I have never been more satisfied. Would I recommend them? Of course!

Mario Aguayo
Nine Hertz is a great company that is very competent. I worked hand and hand for several months with my Nine Hertz project manager and was very impressed by his knowledge and hard work. Nine Hertz is a great option for those looking for top-tier developers at an affordable price.

Mani Masshafi
Nine Hertz was extremely responsive in all aspects of our communication and planning. Professional and knowledgeable! Will work with them in the future and highly recommend!

Mike Johnson
I endorse Nine Hertz and their team of highly qualified professionals as one of the few great web development company overseas today and thank every one of the team members of Nine Hertz that worked on our application-build to make it a success.They were able to take our plans and ideas and bring them to life. I hope to work with this high caliber team in the future.

Negi Boaka
View More Reviews