Hire Django Developers for Cutting Edge Services
Python offers a broad spectrum of services for business users. It enables them to build high-performance software products catering to diverse business needs. You avail methodical solutions and services when you hire Python developers from us.
Custom Python Development
A python developer for hire can transform your business vision into reality by customising your needs into tailor made solutions. Hire dedicated python developers who are expert in custom apps development, integration, portals and programming services for scalable apps.
Django Framework Development
Django is a high-level open-source Python web framework that helps to build secure and maintainable websites rapidly. Hire django developers to experience superior-quality Django-based web development in the Python framework.
Python Enterprise Solutions
Python is a fast, scalable, and productive language which makes it perfect for developing feature-rich enterprise applications. Hire a team of Python developers to get enterprise grade software solutions using standard Django, Flask, Web2py, and many more frameworks.
Python Migration and Integration Services
Migrations and integrations are a convenient way for businesses to stay up-to-date and organise data in a structured manner. By outsourcing top Indian Python developers online, you subscribe to integrate, upgrade, and migrate your existing platforms with Python platforms very easily.
Python Support & Maintenance
Hire django developers who are available 24*7 for your website maintenance and upgradation. You get improved performance, speed, and maintenance support and also excellent assistance on bug removal, version updates, etc.
AI and Machine Learning Apps
Python offers concise and readable code to build real-world Artificial Intelligence applications. Our skilled offshore Python developers convert complex algorithms and versatile workflows and create robust solutions for Machine Learning and AI-based projects.
Cost to Hire
Python Programmer
The costs to outsource a Python developer for hire vary depending upon your project requirements, team size, and the complexities involved. Hire a Python Programmer from us for tailor-made solutions at affordable prices.
Hourly
$25
We'll provide a fully signed NDA for you Project's confidentiality
Monthly
$2950
5+ Years of Exp. Senior React Developer 160 hours per month
Monthly (5 Developers)
$15500
Build a SCRUM team of 5 Developers
Frameworks

Used by Our Python Developers

Be it a Python-based simple or complex multi-protocol network application project, our programmers can build & deploy the same as per your expectations within the given timeline. Hire Python developers who are experts in building enterprise-grade web apps.
Laravel

Symfony

CodeIgniter

Zend

Yii Framework

CakePHP

Slim

Phalcon

FuelPHP

Fat-Free Framework
Benefits to
Hire Python Coder
Python is widely used and is one of the top programming languages that improves work for everyone. It is widely popular for rapid development and the clean, pragmatic design of its websites and applications. Our skilled offshore Python developers can land you with a plethora of benefits and liberate your organization from the burden of custom software development.
Swift coding
Timely Deliverables
Multi platform support
Hassle free integration
Save upto 70%
Easy database management
Enhanced user experience
High security
Customized solutions
High end scalability
Why Choose The NineHertz To
Hire a Python Developer in India

?

The Ninehertz is an award-winning company that has helped numerous companies scale their business with their expert pool of Python developers. Python is a great choice whether you require custom web app development or want to build enterprise-class ERP solutions. With us, you can trust your project with our Python Programmers for hire.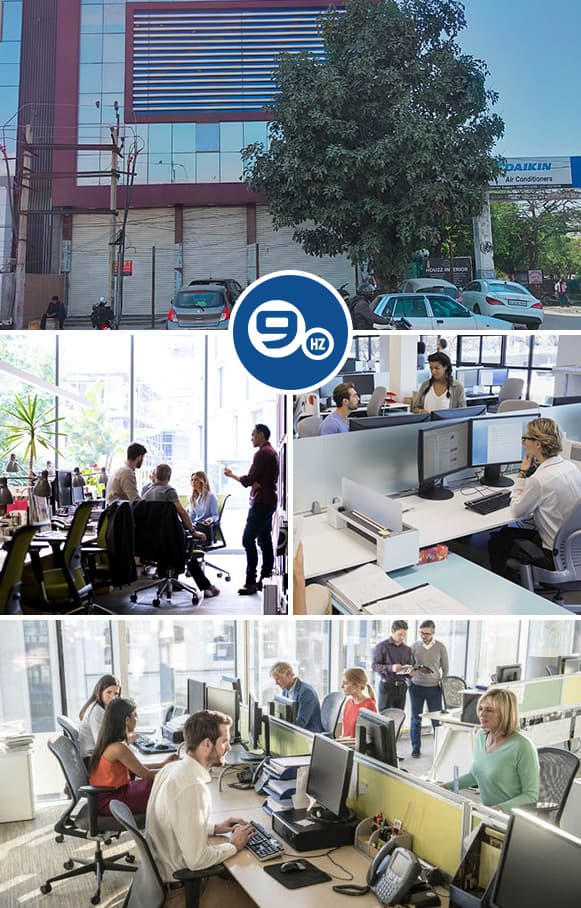 Certified Python Developers

We handpick certified Python Web Developers who are experienced and have working knowledge of new technologies required for building Python projects.

Unparalleled Quality

Hiring a Python developer from us guarantees envisioned outcome and consistency throughout the project.

Hassle-free Customization

We have a pool of offshore Python developers and programmers who work together cohesively to provide you hassle-free custom solutions.

Transparent Procedures

We respect your company values and ideas and our developers strictly follow the Non-Disclosure agreements. Your project plans are 100% safe with us.

Flexible Engagement Models

Hire Python programmers in India as per your business needs and requirements on a monthly, hourly, or fixed-time basis with us.

12+ years of experience

We have spent 12+ years developing unique software solutions for our clients. With our experienced python developers we deliver robust and satisfactory web and app services.
1800+

Projects Launched

14+

Industry Experience

575+

Dedicated Developers

92%

Client Retention
Ready to Hire Python Developers Online?
The Ninehertz has a handpicked pool of dedicated and certified python architects who are skilled in building robust, secure & scalable web applications utilizing the best Python development strategies. Our certified Python developers fast-track your software development lifecycle, reduce time-to-market, and bring significant cost savings to give a competitive edge to your organization
Hire a python coder to experience enhanced performance and stability in all domains of your business.
Outsource Python Developers in
Different Technology Stack
Our offshore Python developers devise high performance websites and software, automate business processes and perform data analysis and data visualization swiftly. We use state-of-art technology and the latest tools to facilitate growth-centric web and app development.
CMS

Drupal
E-Commerce
Joomla
OpenCart
Prestashop

Frontend

Database

MySQL
MongoDB
MariaDB
PostgreSQL

Integrations

Box
Dropbox
Elasticsearch
RabbitMQ

Server

OS

Centos
Ubuntu
Dockers
Kubernetes
Hire Dedicated Python Developers in all
Industry Verticals
With 12+ years of experience behind us, we have connected incredible organizations with outstanding Python developers. We have a proven track record of completing high-quality projects under expert supervision and within budget. Join hands with us and hire a Python coder for different industry verticals.
We have an expansive reach and serve the below list of exclusive industries:
Healthcare
Logistics
Education
Retail
Finance
Wellness
Oil & Gas
Transportation
Travel
Social Network
Event
Productivity
Can't Find A Developer You Are Looking For?
We are a hub of experienced and competent developers who can take your innovative project idea and turn it into a best-in-class solution at an affordable cost.
Explore All Services
Portfolio of Our Remote
Python Developer
With our dedicated Python developers we have successfully created websites and software that reinforce your business growth and generate more sales. Checkout our portfolio of Python development featured projects.
Our
5 Step Process

to Hire Dedicated Python Programmers

Being one of the top IT solutions companies in India, The NineHertz has an extensive pool of dedicated Python programmers for hire. Hire an offsource Python programmer from us in 5 easy steps now!
Book a free consultation session
Start with booking a free consultation with our management team over your preferred medium of communication. You just need to fill the form.
Team selection
We discuss in detail your specific Python experts hiring requirements and present you with our pool of expert candidates along with a quote.
Choose Hiring Model
After screening and selecting the top Indian Python developers online, choose a convenient hiring model according to your requirements.
Team Onboarding
Start the project by onboarding the team and assigning tasks. The seasoned Python developers share reports and improvements in your project at every stage.
Project Delivery
Communicate with the team of Python developers over Zoom/Skype calls, receive regular updates, and the final project within the deadline.
Python Developer for
Hire Engagement Models
We are your go-to IT solutions company that helps turn your business transformation visions into reality. We have devised 3 types of robust engagement models to make your remote python developers hiring swift and easy, keeping your flexibility, convenience, and budget in mind.
Dedicated Team
If your project scope is large, clearly defined, and needs constant attention, hire a Python developer online in this fully committed team model. The model caters to all your custom app requirements.
Dedicated hours of service
Review KPIs
Monthly reviews and payouts
Fixed-Price Agile
Hire Python developers through a Flexi model that respects your budget and leaves enough room for evolving future requirements with the development team.
Co-functioning with agile teams
Focus on micro-events and results
Budget control
Time and Resources
Your ongoing project requirements with wavering timelines can be catered to with a flexible model. The Remote Python Developers work for flexible time schedules under this module.
Hourly model
Yearly model
Contract-based model
Awards and Recognition Achieved by
The NineHertz
We are proud to showcase our awards and accolades in the IT industry. Our accomplishments are proof of our excellent services and innovative solutions.
World-Class
Brands

Trust Us

We're the proud Python development partner of leading companies across the globe.
What does a Python full-stack developer mean?
The terms "full-stack" and "Full Stack Python" are ambiguous but both the terms can be defined for a web stack either to mean. From machine code to browser, these are written in Python language. In simple words, the code of Python interacts with the code written in other languages to complete the web stack. These languages can be C and JavaScript.
Which are top Python software development with dedicated Python developers?
Youtube
Google
Instagram
Reddit
DropBox
Quora
Which skills do you have to become a Python developer?
Youtube
Basic understanding of front-end technologies (HTML, CSS3, JavaScript)
AI and Machine Learning
Familiarity with ORM libraries
Version control
We have a range of dedicated developers starting from $20/hour. Rest the cost depends on the requirements and experience of the developer you are hiring for your project. It varies according to complexity of the project, time, market needs and geographically.
Good understanding of frameworks
Basic understanding of front-end technologies (HTML, CSS3, JavaScript)
AI and Machine Learning
Familiarity with ORM libraries
Version control
Good communication
For a simple code base module, it takes 50 working days to complete the Python code. The duration of Python web development depends on the features and other technologies used in the project.
Developers will be available according to your time zone.
We provide 24X7 after sales assistance.
Can communicate directly with the team via any medium.
Clients can visit the office and see the development process of their project.
Latest
Blogs

and

News

Stay updated with the latest development insights, technologies, trends.
Latest
Blogs

and

News

Stay updated with the latest development insights, technologies, trends.