Python programming language is the reservoir key to top-notch advanced digital products that can entirely transfigure your business process and performance. At the same time, a Python Development Company is the key to that reservoir that helps you leverage all those benefits of Python. However, finding the right team of best Python developers might not be that easy in this overflooded market of Python development companies. So, The NineHertz is here to help you with the 20 best Python development companies so you can invest your time and money on right development partner.
According to Emergenresearch, Python's market size in 2021 was valued at USD 3.6 million. The market is expected to showcase a CAGR of 44.8% from 2022-2030 to achieve a valuation of USD 100.6 million by the end of 2030. So, let's have a deep dive into the Python technology market and talk about some partners which will help you leverage its benefits.
Hire Certified Python Developers
Get Free Consulting
What is a Python Development Company?
Python is basically an object-oriented, interpreted, high-level and one of the most used programming language that comes with dynamic semantics. There are several benefits of using Python in software development which include ease off read, learning, and writing, improved productivity, dynamically typed, interpreted language, free and open source, portability, vast library support, and much more. A team of Python developers which provide different solutions like website, application, or any kind of software, is called Python development company. Here you can find the list of best Python web frameworks.
Top 10 Python Development Companies
Find a list of top 10 python development companies all around the world.
| Company Name | Foundation year | Per hour cost | Key Clients |
| --- | --- | --- | --- |
| The NineHertz | 2008 | < $25 | JMRC, Casio, Samsung, Reliance, Jio, Air Asia |
| BoTree Technology | 2013 | $25 – $49 | AMASS, The Fifth Collection, Dynamic Creative, Swadesh, dealxpert, InspectDate, Butlr, West Hills Vision Care |
| Apriorit | 2002 | $100 – $149 | SaasS solution providers, ERP, Fortune 500 security solution vendors |
| Profil Software | 2008 | $50 – $99 | Gulp.de, HolmSecurity.com, CommunityBrands.com, Quantfolio.io |
| Planeks | 2019 | $25 – $49 | Guinness, WeWork, Picard Angst, MusicTeam, L.L. Blue Engineering |
| ClearSummit | 2014 | $100 – $149 | Belkin, USAutoParts, City of Richmond, IPC Corp, Musea, Realkey, Roundtrip |
| Parthenon Software Group | 2006 | $100 – $149 | Intel, Nike, Comcast, Janrain, Kaplan |
| UVIK Software | 2015 | $50 – $99 | Fitdog, Drakontas, VantagePoint, Marketplace, CommunityConnet Labs |
| SoftKraft |  2015 | $25 – $49 | Atastic, Neutopia, Fils, Dzone, CFEngine, ZenMate, TMC America Group |
| Light IT Global | 2006 | $25 – $49 | Gaming Engage, Tapway, CarLend Deals |
20 Best Python Developers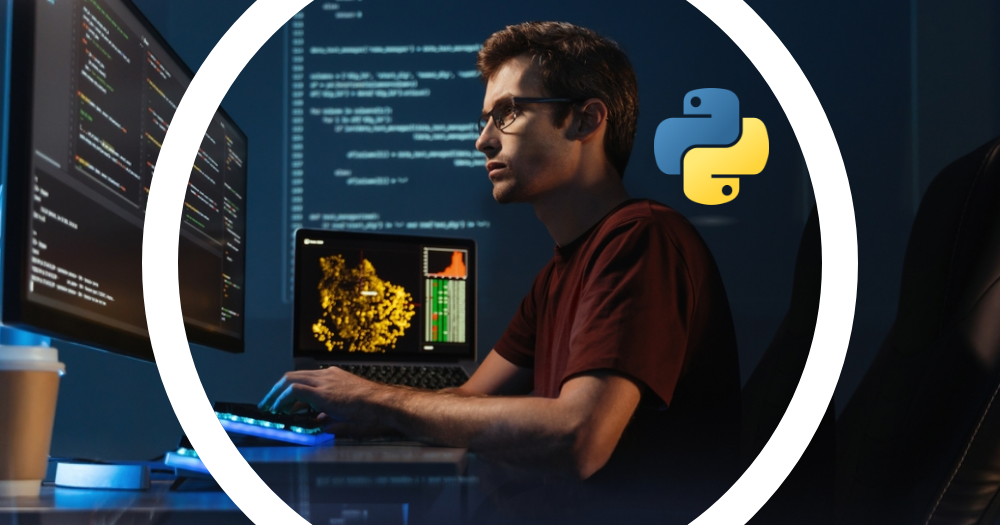 Explore top python web development companies in detail which deliver the worth of client's investment and time.
1. The NineHertz: Best Python Development Company
With over 14 years of experience with the technology, The NineHertz stands as one of the best and most popular Python development companies. This is a team of experienced and skilled developers that instills all the capabilities of Python in your project to carry out the best possible outcome. Not only just the programming language but they are also experts at utilizing different frameworks that make the solution even more capable of functioning. The frameworks are but not limited to Flask, Django, Pyramid, Zope, Web2spy, Tornado, etc.
Moreover, while working with The NineHertz, you need to look no further for any kind of Python services. Be it mobile app development, web development, GUI Programming, Enterprise Application Services, custom development services, CMS development, Python Hybrid programming, upgradation, migration services, or AI/ML solutions, they get everything covered for you in one place.
Key Highlights
2. BoTree Technology
BoTree Technology is also a known Python development company with over a decade of experience. The company serves a client base from more than 10 countries. Talking about their service portfolio, they have the offerings like machine learning, AI solutions, game development, custom application, RPA services, chatbot application, mobile apps, web development, CMS app development, app migration, and Django web development.
Key highlights
Expertise in multiple technologies
Broad service offerings
Extensive industry exposure
Strong client base
3. Apriorit
Helping its client base leverage the range of benefits with Python technology, Apriorit has emerged as one of the most known Python development companies. Be it prototype development, custom software development, third-party integrations solutions, authorization and authentication, legacy code maintenance, or anything else, Apriorit gets everything covered for you. The firm has worked on several fintech, cybersecurity, automotive, and media analysis projects with Python.
Key Highlights
Experience of 20+ years
650+ completed projects
98% client retention rate
Wide industry exposure
4. Profil Software
This is a Poland-based company that carry extensive expertise in Python development services. The firm can help you develop almost every digital product with the support of this technology, be it app development or web development. Profil Software has more than 20 talented Python dedicated developers that bring out the utmost quality in every project. The firm has been recognized by Clutch in several categories, making it a reliable option for Python projects.
Key Highlights
160+ successful projects
80+ in-house developers
15+ years of experience
Strong client base
Hire Top Python Developers
Get Free Consulting
5. Planeks
Planeks is also counted among top Python development companies that work on several types of projects in this technology. They have a dedicated in-house Python team that works extensively on this particular programming language and provides top-notch solutions to their client base. Under their customer software solution service, they tailor digital products matching the needs of a particular business in a particular industry with a defined target audience.
Key Highlights
Completed 150+ projects
Client base of over 100
Broad service offerings
Dedicated Python development team
6. ClearSummit
This is a Canada-based python web development company, having served the firms like AvePoint, belkin, RichMond, Lockneed Martin, Carparts.com, University of Virginia, ZS Associates, AirBus, roundtrip, and much more. The firm is also known for its environmental consciousness and sustainability during the development and operational process. The firm provides various python development services services lille product liftoff, user experience, design, and product, mobile & web engineering, ongoing support and maintenance, etc.
Key Highlights
Strong client portfolio
Exposure to various industries
Recognition from different entities
Wide service offerings
7. Parthenon Software Group
Carrying an experience of more than 15 years building world-class software, Parthenon Software Group is also a known Python development company. The firm carries keens knowledge of the technology and familiarity with frameworks technologies like Django. Similarly, they have also worked with the Flask micro-framework. Over and all, the firm can help you leverage the capabilities of Python in your project.
Key Highlights
15+ years of experience
Multiple technologies
Reliable project portfolio
Agile implementation
8. UVIK Software
This is an Estonia-based staff augmentation company carrying expertise in backend and front-end development with different technologies. You hire a dedicated team of Python developers for your project by sending your requirement, signing NDA, taking the interview, and finalizing the developers. UVIK software has already been engaged in various Python projects. Taking a data protection platform to market from MVP to Early-stage beta is one of them.
Key Highlights
Expertise in various Python frameworks
Project flexibility
Cost efficient
Dedicated developers on your project
9. SoftKraft
SoftKraft is also a Poland-based Python development company that provides full-fledged custom software development services to its clients. From turning data into valuable insight using Python to developing a top-notch website and application, you can leverage any service with SoftKraft. While working with SoftKraft, they foster high-level security in your digital product making it more reliable for the target audience.
Key Highlights
High-level security assurance
Strong client base
Wide range of Python services
Dedicated Python development team
10. Light IT Global
Toptal is a well-known name in the IT landscape having headquarters in Ukraine. Having received recognition from several entities like BusinessofApps, Clutch, Ukraine- The Manifest, Upwork, and DOU, Light IT Global has managed to place itself among top Python development companies. The services portfolio of Python consists of web development, mobile development, IT consulting, Business analysis, quality assurance, design solutions, and much more.
Key Highlights
200+ experts
15+ years in the market
400+ projects delivered
100+ happy clients
11. Childish.ai
Delivering a range of services like Data and Analytics, AI and Machine Learning, Software Development, Product Development, strategies, and consulting, Childish.ai is a Python development firm based in Bulgaria. At the same time, the firm has also wide industry exposure including healthcare & pharma, manufacturing, education, banking & FinTech, etc.
Key Highlights
Wide service portfolio
Recognition from Clutch, Forbes, DAHK
Broad industry exposure
Extensive project portfolio
12. S-Pro
This is a Switzerland-based software development company that specializes in front-end, back-end, mobile development, blockchain, AI/ML, Cloud, CI/CD, and much more. The firm has received several industry awards from Clutch, GoodFirms, Top Developers, and IAOP for their contribution to the IT sector.
Key Highlights
Multiple offerings
Recognition in the industry
Multiple niche expertise
Strong project portfolio
13. Imaginary Cloud
Trusted by several brands like Nokia, Sage, Reimax, Eurofound, ThermoFisher, etc. Imaginary Cloud is also a Python development company that provides mobile development, data science, and UI/UX design services to its clients. The headquarter of the firm is based in London, United Kingdom.
Key Highlights
13+ years of experience
300+ delivered projects
100+ developers on board
Multiple locations
14. Torchbox
Operating in several locations across the globe including Oxfordshire, Bristol, and Manila, Torchbox is one of the best Python development companies that provides full-fledged services to its clients. The delighted client base of the firm includes the names like Nasa, Mozilla, Penn, Oxfam, RNIB, Wharton Interactive, M+, Kings College London, and much more.
Key Highlights
Recognition to make the firm reliable
Strong client portfolio
Strong relation with employees
15. TechMagic
Willdom is a Python development agency based in Florida. To carry out the best outcome of the project, the company uses the agile methodology to achieve the best quality of every project stage. The firm has served various clients like Myagi, Book4time, Media Monks, Auction Mobility, Allegiant, LiberCloud, Consumer Acquisition, Pluto, and many more.
Key Highlights
120+ clients
Agile methodology
Multiple locations
Numerous engagement models
16. Fively
Fively has explored a wide industry base including Edtech, HealthTech, FinTech, Cyber Security, eCommerce, Real Estate, and much more. Python development services that Fively offers to its clients are web application development, mobile application development, cloud application development, browser extension development, business process automation, UI/UX design, and IT Staff augmentation.
Key Highlights
5+ years in business
100+ software developers
50+ successful projects
85% senior engineers
17. Radixweb
Radixweb is known for its extensive Python development services with the most versatile, flexible, and advanced software development. This is also one of the companies that relies on Agile project methodology to manage the quality and operations of the whole project and ensure the best quality. You can also leverage the unparalleled Python development outsourcing services provided by Radixweb.
Key Highlights
22+ years in business
4200+ completed projects
650+ full-time specialistsv
98% projects delivered on time
18. CSSC Hopper
This is a dedicated Python development company that provides multiple services under its Python portfolio. Be it custom Python web development, backend development, enterprise-grade web apps, CMS development, Python upgradation, or support and maintenance, CSSC Hopper gets everything covered for you. For their extensive work in the industries, they have received recognition from Clutch, TopDevelopers, YourStory, The Manifest, iTRate, GoodFirms, and many other entities.
Key Highlights
9000+ projects delivered
200+ team members
7500+ Satisfied clients
97% Client Retention Rate
19. Innowise Group
Tasks like Python backend development, data engineering, big data analytics, machine learning, data science, artificial intelligence, automation, and data analysis are included in the Python portfolio of Innowise Group. Python developers at this company are experts in different frameworks to enhance the capabilities and usability of the digital product.
Key Highlights
1500+ developers
Recognition from Clutch, Forbes, Inc, 5000, IAOP
16+ years of experience
850+ successful projects
20. Ralabs
Not only Python, but Ralabs is one of the known IT companies that provide services in various technology. No matter what industry you belong to and what kind of solution you are planning to develop, Ralabs get everything covered for you under one roof. Headquarters of the firm is established in Estonia serving their huge client base.
Key highlights
Employer of the year in 2022
Recognized by Clutch as top B2B company in 2022
Dedicated teams for every technology
8+ years of experience
How to Choose Python Development companies?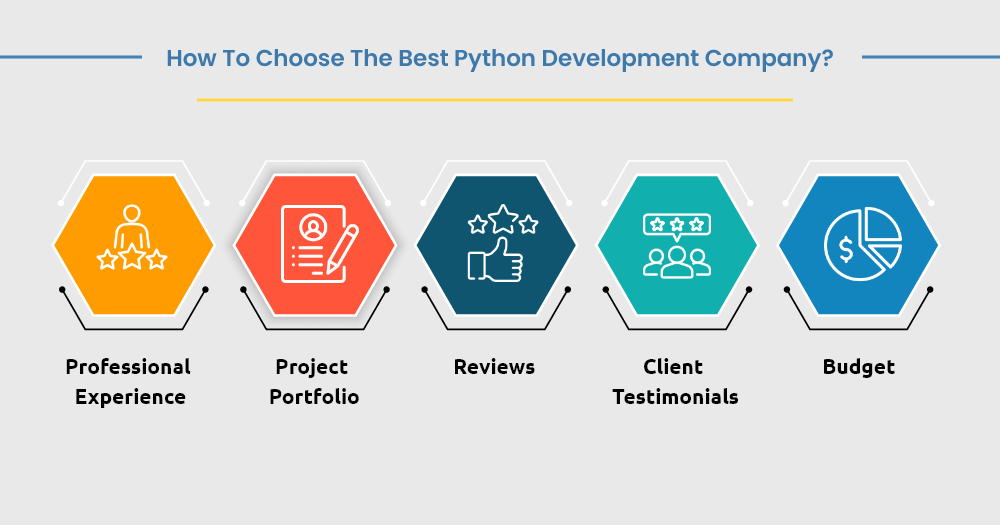 While you might not always have access to a list of top developers or development companies for different technologies and projects, there are some factors that will surely help you pick the best one according to your requirement. Let's go through these factors and understand the concept of choosing development partners-
Professional experience
The foremost thing to consider is the professional experience of the Python development company. You must remember that development teams carrying long experience might cost you a lot more than these newcomers. So, the decision is going to be yours. Choose the development company by comparing its experience with your project requirements.
Project portfolio
Project portfolio also plays an important role in selecting the right development company. Go through the projects they have completed and the performance of their developed digital solutions. If the company has already worked on projects having similar requirements to yours, it can be a green flag for you to for that development entity for your project.
Reviews and rating
Ratings of a development firm can be a good method to check the proficiency of Python development companies. There are a number of platforms where you can access the ratings and reviews of IT agencies. If the firm has received positive ratings from its stakeholders, you might consider working with the firm. The same is the case with vice-versa.
Client testimonials
This is one of the best methods to get real insight into any company. Talking to the people or businesses who have already worked with the potential development company can be a great idea to know all the pros and cons of the process. You can minutely know about their way of working along with the precautions that you must take in the process.
Budget
While you can add some dollars to your budget for hiring a better python development company, compromising highly with your decided budget might not be a good idea. So, make a budget for your project and find out the development partner that provides the expected services in that frame.
How Much Do Python Development Services Cost?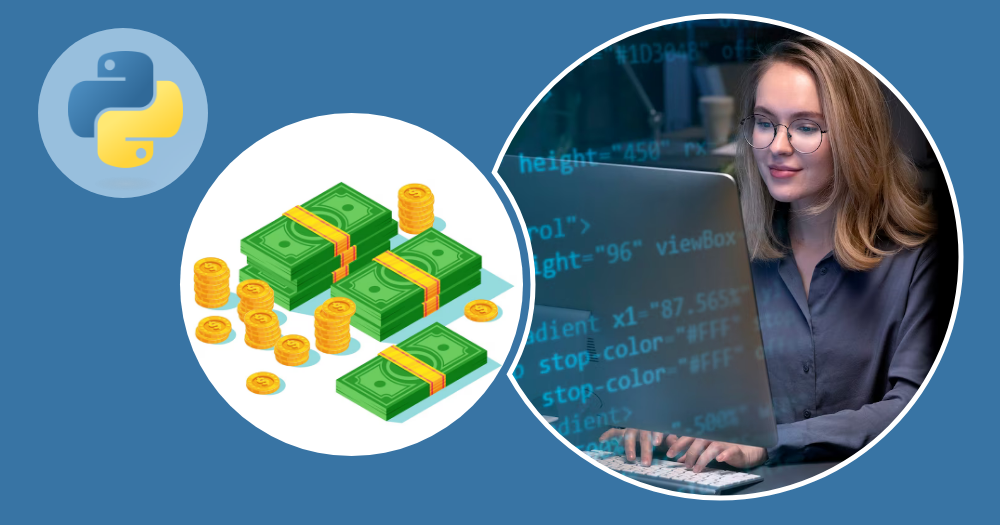 There are a number of factors that defines the price of Python custom software development. Different types of software will bill differently. So, let's understand the factors that cause difference in Python development cost-
| | |
| --- | --- |
| Factors | Description |
| Features and Functionalities | Directly proportional to the Python software development cost, feature, and functionalities determines the cost to a significant extent. If the number of features is more or the features you want to instill are more complex and advanced, it will cost you more dollars. |
| UI/UX design | A simple user interface will cost you a lot less than a user interface with unique designs, different buttons, and expensive themes. Choosing the UI also makes a difference in your software development cost. |
| Location of the agency | Whether you are hiring Python developers from countries like the USA, UK, or Australia or Asian countries like India, it makes a big difference. A Python development company from Asian countries cost less than half of what you will pay for developers from Western countries. |
| Product scalability | If you want to develop a basic app with a limited target audience, it will be cheaper to develop as compared to an app that will target a worldwide audience. |
| Post-maintenance support | If you want team support even after deployment for efficient maintenance of your software, it will also add dollars to your bill. |
| Experience of developer | A more experienced development team will cost you more than a newcomer in the market. However, you must remember that you are paying for your skills, knowledge, and perfection. |
How Do Python Web Development Companies Work?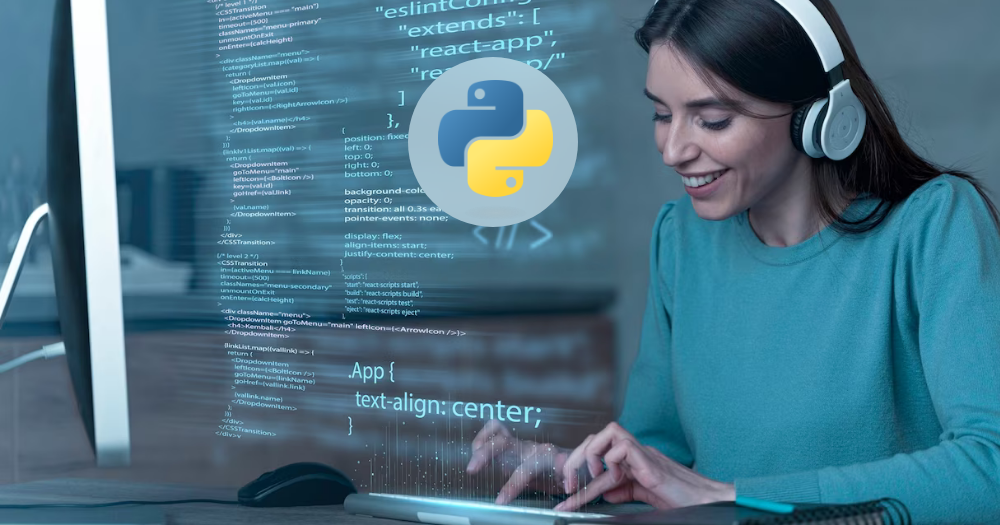 Here is an overview of the Python Development Process-
1. Mapping out Prerequisites and market research
Before starting the project, there are certain things that you must be clear about in your mind. It is important to be aware of the vision and goals of software development so that it can provide the overview of the features and functionalities. At the same time, it is also important to know about the market you planning to step into. Whatever kind of application or digital product you want to develop with Python, know about the existing competitors, their core competencies, and their response among the target audience. Then only make the big decisions.
2. Wireframing and prototyping
You will have to share your vision of the project with the devleopment team. Talk about all the requirements, features, functionalities, etc. that you want to see in your software. Once the communication has been completed, a prototype of your software will be delivered to you by your Python development company. Your responsibility is to analyze this prototype efficiently and seek changes, give feedback, or make any kind of alterations.
3. Coding with Python
Use of Python and coding work starts at this phase where the Python developers will be working on backend code to integrate the features and instill functionalities into your software. Basically, your software is given its shape in this stage where the major tasks like API integration, third-party integrations are added to the digital product.
4. Choose your Python Framework
You will be choosing the Python framework for the app. For the same, you can discuss it with your development partner as they can provide some really good suggestions. The framework you choose will determine whether you want to develop an Android application, iOS application, or cross-platform solution. This is a vital phase as a developer will test the code and proceed with deployment accordingly.
5. Testing
At this step, the quality analysis team will pass the software under several tests. It will include performance testing to ensure the best performance, speed testing to record the running speed of software, feature testing to ensure that all features are working properly, debug tests to remove all the possible bugs from the software, and much more.
6. Deployment
Once all the test has been conducted to ensure that the digital product is providing the expected results and outcome, it is deployed to the respective platform. For example, a mobile app is deployed at the Google Play Store or Apple App Store. Similarly, suppose you develop an in-house software for your business. In that case, it will be deployed to your system.
7. Post maintenance
After deploying the software, the app development team will remove the bugs as recognized, add the new feature, and provide the new updates so as to keep the software competitive in the market. You might be interested to read a detailed guide on python mobile app development.
Benefits Of Python Development Company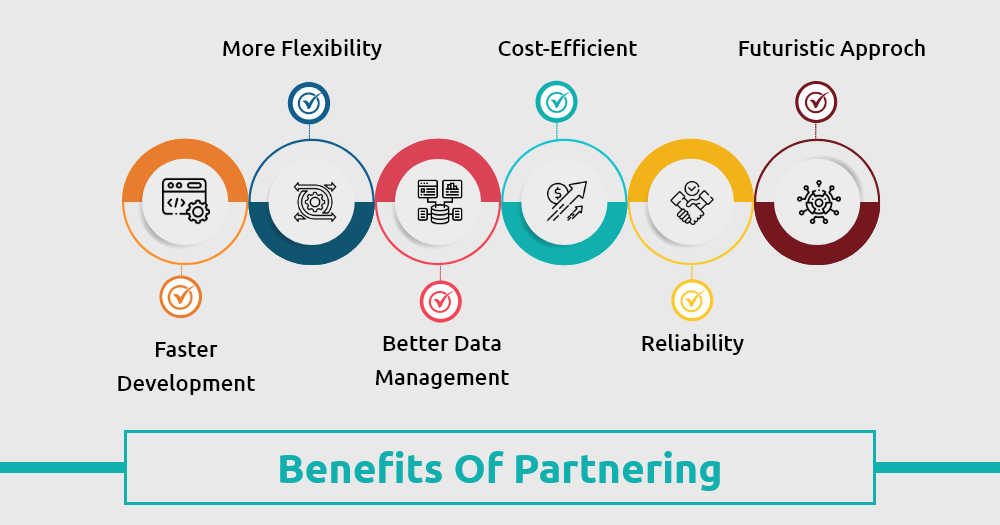 While you might opt for a freelance or another engagement model for your Python development project, there are some benefits that you can leverage only by hiring a full-fledged Python development company. Let's have a glance over these benefits-
1. Faster app development
The foremost benefit that you leverage while partnering with top Python development companies is faster app development. Having ample experience with technology and code writing allows them to write the code quicker. At the same time, Python has highly readable codes which makes it easier for the developers to understand the program as well as quickly debug it. Thus, an application can be developed much faster.
2. More flexibility
The best thing about Python developers is that they are adaptable and can handle the numerous tasks at once easily. So, you can hire a single development team to develop the software for various platforms like macOS, Windows, and other devices. The practice instills flexibility in the development process.
3. Better data management
While opting for custom software development, there are a lot of computing complexities and data that have to be managed well. By hiring a proficient Python development company, you can ensure this task easily. Most of the development entities have experts to handle data complications of whatever amount. So, an effective digital solution can be developed to handle the heavy traffic.
4. More cost-efficient
While hiring a freelancer might save you a few dollars at the beginning, it might result in increased costs at later stages. Bringing different talents to one team for different project development tasks might eat up a huge amount of money. Similarly, you will have to additionally signup for post maintenance. On the other hand, when hiring a Python development company, you get everything under one roof which saves a lot of cost.
5. More reliability
These companies are the registered brands of the market that get clients because of their reputation. They can not afford to compromise with the quality of service as it might affect their brand image. So, these well-established companies are anytime more reliable entities for your project development.
6. Futuristic development
You can expect your Python development company to add trending features and functionalities into the software as they have in-depth knowledge about the technology. For example, using the popular platforms like Raspberry P to integrate IoT capabilities into the software can only be done by a proficient team of Python developers. Here you can know advantages of python in detail.
How to Hire Best Python Developers?
Thanks to technology, there are numerous offline and online mediums that you can prefer to hire proficient Python developers.
Listing websites
As we talked about before, the listing website has information and profile of thousands of IT companies that provides a range of services. So, turning to these listing websites can be a good idea to find the perfect Python development company for your project. Here you can find the numerous information such as per-hour cost, years of experience, services provided, client portfolio, and much more. Examples of such listing websites are Clutch, G2, GoodFirms, etc.
Freelancing and bidding websites
These are the online platforms where freelancers, as well as established custom software development companies, make a bid for the projects. You can submit your projects on these websites and receive bids from different development partners. You can pick the one with the right quotation and eligibility for your project.
Traditional method
Traditional and one of the most reliable methods is a real-life reference. If anyone you know in your friends' group or relation has worked with any development company providing Python services, you can take reference from them. They will be able to give true feedback to the company.
Social media platforms
Not only with your family and friends, but you can also connect to software development companies in USA via social media platforms. Most of the companies have their presence on popular social media platforms like Facebook, Twitter, LinkedIn, and Instagram. You can directly connect with t hem from their social media handle as well.
Conclusion: Best Python Development Company
Thanks to core competencies of Python technology like ease of learn and write, it has become one of the most preferred languages for developers around the world. However, the markett is flooded with the python deveopment companies making it harder for you to select the reliable and proficient one. So, we have enlisted 20 best companies that you can prefer for your project.
FAQs: Top Python Developers
1. Which is the Top Python Development Company?
The NineHertz is the top python development company. With their experience of more than a decade in the technology, the firm has the specialized experts to integrate cutting-edge capabilities in the digital solutions. The NineHertz assists its clients to significantly transfigure the operations with technological platforms.
2. How Much Does Python Development Cost?
The development cost of Python based software is not constant as it is defined by the number of factors. The determining factors are but not limited to-
Number and type of features you want to development
Location of developer you hire from
Time take to complete the project
Complexity of the project
Engagement model
API and third party integrations
Design of application
3. What are Python Development Services?
When a Python developer uses this programming language to develop, integrate, or upgrade the software products, it is called python development services. Some popular services falling under this segment are mobile app development, web development, GUI Programming, Enterprise Application Services, custom software development, CMS development, Python Hybrid programming, upgradation, migration services, and AI/ML solutions.
4. Is Python developer in high demand?
Python's market is showcasing a CAGR of 44.8% till year 2030. Due to ease of learn and coding, this is one of the most preferred programming languages by the developers. Thus, a high demand of python developers can also be experienced in the market.