Real Estate – Property Buy, Sell & Rent
A mobile app to simplify property associated queries like buying, selling and renting property on your terms. Finding a dream home does not remain a tedious task now. This real estate mobile app is a platform that automates the dialogue between clients and property owners. Thanks to incorporated features like hassle-free signup, find the property, contact real estate agents, property gallery, list view or map view, etc. Also, its availability on iOS and Android platform increases its market space to a wider range of audience.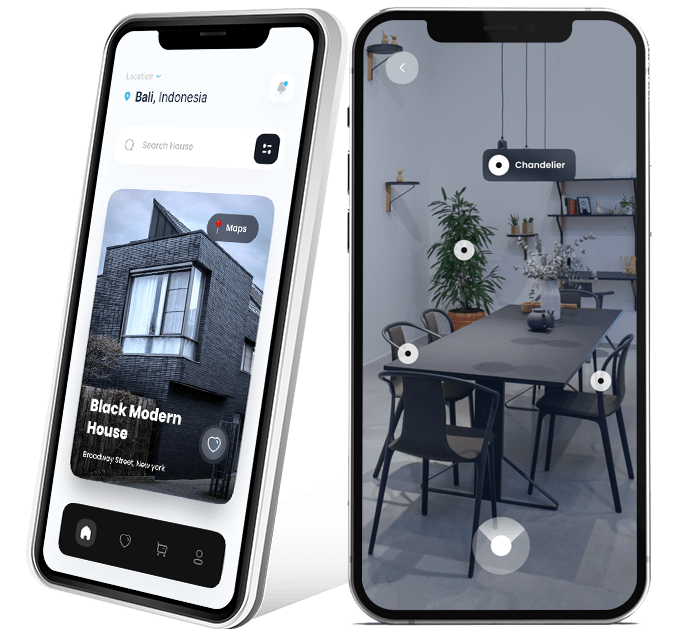 Team
BA (2)
Project Manager (1)
Designers (1)
Developers (3)
Content writer (2)
QA (1)
TechStack
GeoFencing API
AI Intregrations
ML algorithm
HTML
Javascript
JbGoodwin Realtors
BUDGET
Project Completion
Let's Discuss Your Project
Get free consultation and let us know your project idea to trun it into an amazing digital product.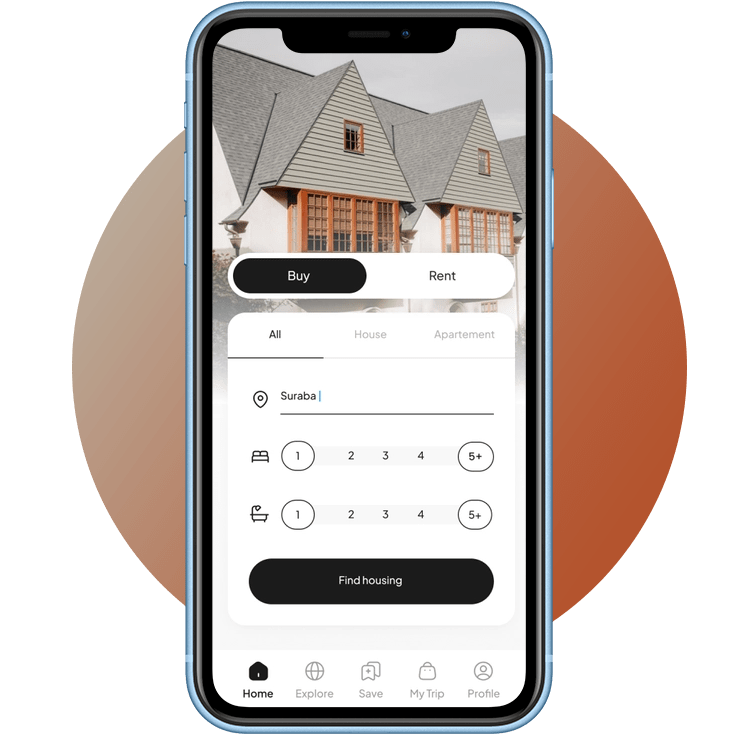 Challenges We Encounter While App Development
Managing Huge Amount Of Data
The first and major challenge our mobile app developers face while developing real estate mobile apps is the management of a whole lot of data.
As these applications facilitate users the convenience of buying, selling or renting properties and handling data related to properties with numerous attributes like property type, contained entities, rates, location, status, client's data and others is a hell of a task.
Any error or hindrance can negatively impact the app performance and display irrelevant data against the user's search query.
Providing Relevant Recommendations
Another obstacle that is worth focusing on for our app programmers while developing such an online platform is availing users with relevant recommendations according to their searches.
Solutions We Achieved Successfully
Our expert team of mobile app developers has overcome the challenge of managing huge amounts of data by segregating data geologically using GeoFencing API. GeoFencing not only rectifies the issue of data management efficiently but also improves app performance by encouraging fast searching.
To provide relevant recommendations for the recurring users, our experienced mobile app developers come up with a solution- Personalized Recommender System. A personalized recommender system is a well-developed AI/ML algorithm that evaluates a user's behaviour from its previous searches and pushes a bunch of suitable recommendations to it.
App Features
The NineHertz fabricated this real estate app with a host of amazing features that simplifies buying, selling and renting properties for real estate agents and clients.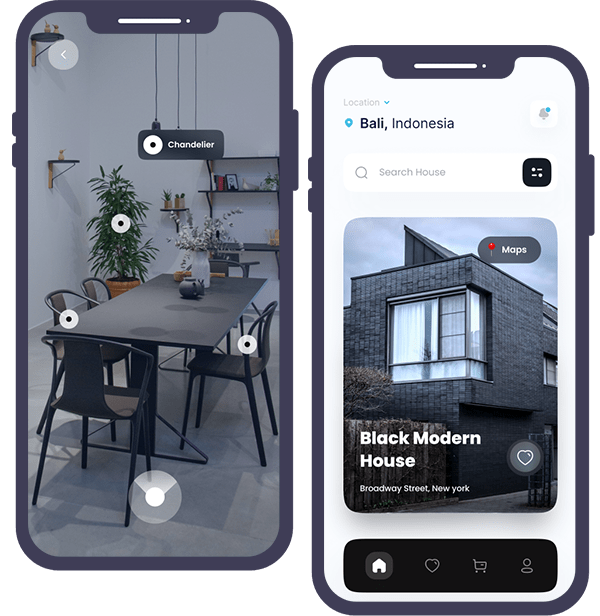 User App Features
Sign Up/ Sign In
Find property
Property gallery
List view or map view
Subscribe for the property listed
Social Media Platforms
Browse the latest project
View leads
User Profile
Filter and sort property
Details about the selected property
Add property for sell or rent
Push notifications
Call/message
Recent activity
Contact real estate agents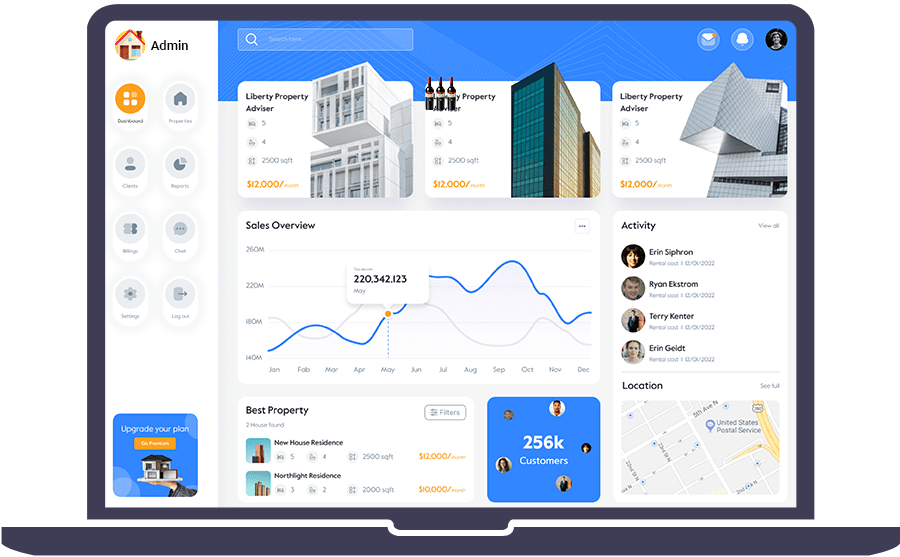 Admin Panel Features
Property management
Revenue management
Manage users
Add offers and discounts
Add/edit/removal of subscription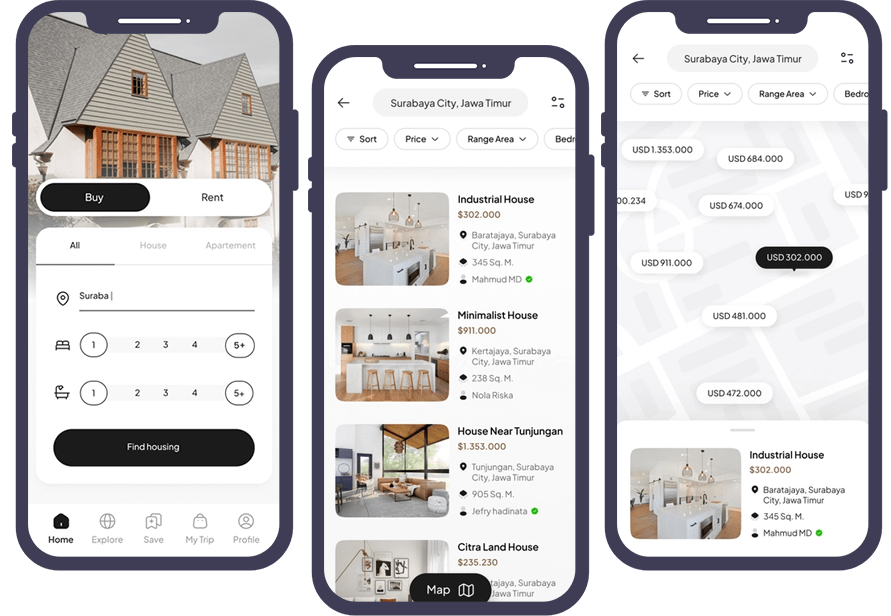 Advanced Features
Geolocation tracking
In-app chat
Direct marketing
Enhanced customer engagement
Better coordination between developers and agents
Let's Discuss Your Project
Get free consultation and let us know your project idea to trun it into an amazing digital product.
Project Milestones We Achieved
01

Requirement Gathering

First we sign the NDA with the client and after that we start gathering the relevant information for the app.

Team Members

Business Analyst and QA

02

App Designing

Our designers now start designing different app screens and wireframes to give seamless user experiences with a flawless look.

Team Members

UI & UX Designers, BA

03

App Development

By using the latest technologies and tools, our expert app developers develop interactive prototypes that attract user's attention.

Team Members

Expert Developers, Designers, BA

04

App Testing

In the final step, our QA team performs various analyses and validations to make sure that the app runs flawlessly.

Team Members

QA, Developers, BA, Project Manager
Work Gets More Appreciation Than Words
Let's talk more about your plan. Get a free consultancy and no-binding quotation for your project.