Comprehensive
Zoho

Creator Mobile App Development

Services

Zoho creator app development offers a broad spectrum of services for business users enabling them to build high-performance apps catering to diverse business needs. It is an ideal choice for custom application development as most organizations expect swift and rapid development of their offerings to stay competitive.

Get to know about all custom Zoho creator app development services you will receive from our best Zoho creator developers.
Zoho CRM
Zoho Creator has a fully-featured free edition of its CRM software. It is one of the best options for CRM offering robust features for sales and marketing, powerful integrations, and secure cloud storage.
Multiplatform Environment
Zoho creator uses a diverse ecosystem of intuitive visual builders, code editors, and pre-built templates to create multi platform apps. The apps range from simple call logs to high-end ERPs integrating with your organization's existing processes.
Workflow Automation
With Zoho creator we automate your business processes with minimum steps and complexities. Our experts help you automate all your business applications be it workforce apps or sales performance dashboards.
Zoho AppDeck
Zoho offers a suite of 65+ prebuilt cloud-based business apps to kick-start your business goals. Apart from being fully-functional and readily-consumable on a single-click, these apps can also be customised.
Custom Zoho Solutions
The Zoho creator app development leverages the microservice architecture to customize business applications as per your evolving requirements. The Zoho creator apps are independently deployable and allow for more team autonomy.
Zoho creator support
As your certified Zoho creator Partner, we ensure the quickest and best possible response to your questions from the support team. It is a one-stop place to get your queries answered and connect with the Zoho team.
Best-in-class Zoho Creator
App Development
With 12+ years of experience behind us, we have served the top companies with our custom Zoho Creator app development services. Our customer-centric approach and best-in-class services makes your go-to company for app development in quick turnaround time. Check out some top brands who are using Zoho creator low code platform.
ebay

Accenture

Adobe

BBC Worldwide

Blogger
Benefits

of Zoho Creator Application Development

Zoho creator is a great online platform that makes easy to build, simple but stunning mobile applications. Apart from eliminating the data complexities, it offers a plethora of benefits to create custom applications in minutes.

Collaborate with us to leverage the advantages of the Zoho Creator platform.
Accelerated Development
The Zoho creator low-code development ensures the fast development of business processes by using visual, model-driven, and AI-powered technology. The latest tools enable our experts to build robust apps in minimal time.
Integrated CRM
We aim to improve your Sales, Marketing, and Support management features. With Zoho creator CRM integration in your ERP, marketing automation platform, and accounting software, it becomes easy for you to build excellent customer relationships.
Single-click Collaboration
With Zoho Creator, you can share your database with anyone by either sharing it individually or publishing it online for anyone to see. It's your discretion to provide them access to the entire application, or specific sections, forms, and reports.
Online Data Collection
Zoho Creator makes it easy for you to store data. You can create applications and store data within your premises through Zoho creator on-premise. It creates an online repository of your data from your existing spreadsheet or MDB files into your Zoho Creator application.
Automated Manual Tasks
Unlike other platforms, you can ensure your team is always updated on the latest tasks through Zoho Creator. It facilitates automated alerts, notifications, and reminders which help you stay connected with your data in real-time.
Insightful Business Decisions
The Zoho creator low-code platform helps you gain valuable insights from comprehensive reports. Data visualization is easy by creating interactive dashboards, building intuitive pages with graphs and charts to share the information your collaborators need.
Multi-Device Applications
The experts have comprehensive knowledge of low-code application development that enables them to design responsive apps and improve the apps maintenance, boost performance, and enhance security.
Enterprise-Grade Security
From inception to development, highly experienced Zoho creator developers take advantage of the built-in third-party enterprise-class security-scanning and authentication solutions to deliver secure applications.
1,789+

Successful Projects Delivered

12+

Industry Experience

450+

Happy Customers

85%

Returning Clients Across Industries
Top-notch Zoho Mobile App Development
As registered Zoho Creator partners, we facilitate quick, swift, and seamless digital transformation. It fast-tracks the software development lifecycle, reduces time-to-market, and brings significant cost savings to give a competitive edge to your organization.
Partner with The NineHertz, as your one-stop destination for extensive Zoho Creator app development services.
Certified Zoho Creator Developers in India
The NineHertz is a seasoned Zoho app development company with a penchant for emerging technologies. We have established a reputation for delivering the finest quality Zoho Creator app development services within your budget. Hiring Zoho creator developers from us in a quick turnaround time helps extend your business' functionality.
Skilled Team
Save on Mobile App Development Cost
Guaranteed Innovation
Dev-Ops Enablement
Result-Driven Approach
Quality & Security
Build Customer Loyalty
Increase ROI
Non-Disclosure Agreement
Co-Development Teams
In-Depth Domain Knowledge
Integrity Transparency
Quick and easy communication
Agile methodology
Easy Hiring process
60% Less Expenses
100% Genuine Reviews
500+ Professionals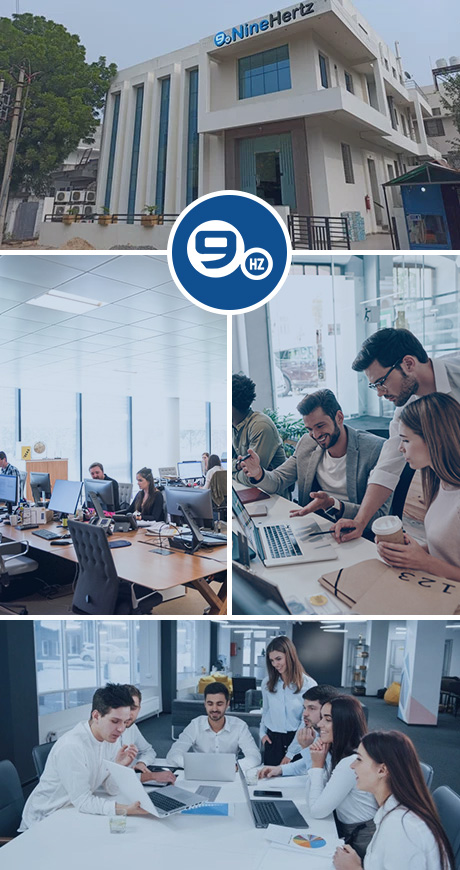 Our Zoho Creator Support for
Industry Verticals
As software development is the lifeline of all industries, our skilfull developers are bound to work in an engaging environment across different industries. We provide the best Zoho mobile app development services to the exclusive list of industries that we serve:
Healthcare
Logistics
Education
Retail
Finance
Wellness
Oil & Gas
Transportation
Travel
Social Network
Event
Productivity
Looking for Other
Services

?

Explore our over the top services to discover how we help enterprises to accelerate their time-to-value and reimagine business!!

Explore All Services
Zoho Creator
Low-code

Development Projects

The NineHertz is an award-winning company that offers complete end-to-end Zoho creator low code services. Our main intent is to deliver the best and unique solutions for our clients. Check out our portfolio of projects that we have completed and hire dedicated Zoho creator low code developers for all your business requirements.
Reach Out to Zoho Creator
Consultant
Being one of the top software development companies in India, we have a team of experienced Zoho creator developers. For your app development, hire a dedicated Zoho developer in 5 easy steps.
Drop an Inquiry
Start with dropping an inquiry by filling the form. Our team books a free consultation session with you over your preferred medium of communication.
Select Team
We discuss in detail your specific project requirements over the consultation session and present you with our pool of expert candidates along with a quote.
Choose Hiring Model
After interviewing and selecting the Zoho creator developers, choose a convenient hiring model according to your requirements.
Team Onboarding
Start the project by onboarding the team and assigning tasks. The developers work on an agile model and report continuous improvements in your project at every stage.
Project Delivery
Communicate with the team over Zoom/Skype calls, receive regular updates, and the final project within the deadline.
Zoho Creator Certified Developer
Model
With a multitude of successful projects, we are your go-to Zoho creator consultant turning your visions into reality in quick turnaround time. Keeping your flexibility, convenience, and budget in mind we have devised 3 types of robust engagement models to make your Zoho creator app development swift and easy.
Dedicated Team
If your project scope is large, clearly defined, and needs constant attention, hire a Zoho creator developer in this fully committed team model. The model caters to all your custom app requirements.
Dedicated hours of service
Review KPIs
Monthly reviews and payouts
Fixed-Price Agile
Hire skilled Zoho creator developers through a flexible model that respects your budget and leaves enough room for evolving future requirements with the development team.
Co-functioning with agile teams
Focus on micro-events and results
Budget control
Time and Resources
Your ongoing project requirements with wavering timelines can be catered to with a flexible model. The Zoho creator developers work for flexible time schedules under this module.
Hourly model
Yearly model
Contract-based model
Top Brands using Zoho Creator
application

Development

Simplify your daily operations and liberate your organization with our Zoho creator consulting services for application development. Our global clientele speaks for our app development services that make your business better.
Awards

and Recognition

We are proud of our customer-centric approach which makes us a leading company for rapid application development and delivery. With our successful accomplishments, we are second to none in the IT industry.
Latest
Blogs

and

News

Stay updated with the latest development insights, technologies, trends.
Latest
Blogs

and

News

Stay updated with the latest development insights, technologies, trends.