Endless Runner Games (Web & App)
Endless runner games are adventure platform games wherein a character runs through cities, forests, mountains and skies endlessly. Simultaneously, gamers can run right or left, jump over, slide, and dodge to avoid forthcoming obstacles or hurdles. The gamer can collect coins, enjoy action-packed levels, and come across tricky hurdles that can be easily tackled with the right movement of the phone such as by swipe up, left, down, right or tilt. There is never an endpoint to these endless runner games.
Let's Discuss Your Project
Get free consultation and let us know your project idea to trun it into an amazing digital product.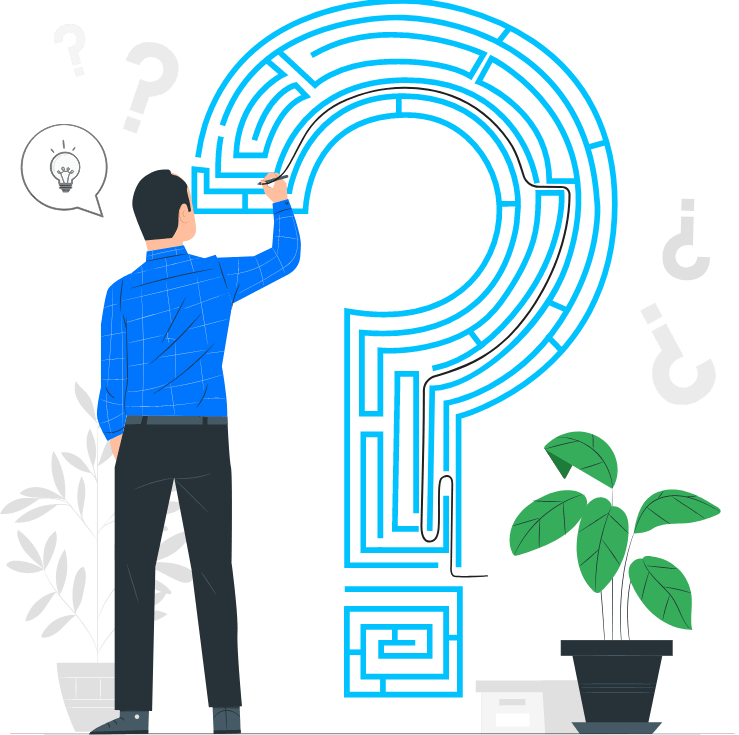 Challenges Occurred While Developing Endless Runner Games
Creating Eye-Catchy Graphics
One of the major challenges with the development of endless runner games is the creation of visually appealing graphics keeping the game theme in mind. There could be different sorts of landscapes, pits, water streams and other elements supporting the creation of an imaginary world close to reality.
Level Designing
Well, such infinite runner games have no stages or level of completion. But to end these limitless games, interruptions and obstacles are placed along the way. Developers have to work on constantly placing variations of both interruptions and obstacles. This is the level design for such endless runner games.
Optimizing Performance
Optimizing performance is one of the key challenges that occur while developing any sort of mobile game since the game contains a wide range of high-quality graphics and 3D character models to create the game theme. Sometimes, the inclusion of that many elements make the game heavier and performance gets hampered on different devices.
Engaging Experience
To retain players with your game, creating an engaging, fun experience is a must. It is one of the obstacles developers face while playing any endless runner game. They have to brainstorm to find out what factors can connect the player with the game character.
Proposed Solutions For Endless Runner Game Development
It was quite easy to overcome the obstacle of creating eye-catchy, beautiful graphics. Thanks to our team of game developers, which consists of creative, skilled and innovative game designers, developers, character artists and game writers. Utilizing their years of experience, they have crafted unique, engaging endless runner games in less possible time.
For level designing or can say progressively increasing game difficulty, our developers write a set of instructions that infuses interruptions and obstacles along the way appropriately as the game progresses. Hardcore testing and constant updates/changes are the keys our developers came up with to check and optimize the game performance across the different devices and platforms.
Creating a fun and engaging experience in the endless runner games became feasible with the joint efforts of our game writers, designers, character artists and developers. A solid backstory, a unique AI agent (followed by several thousands rules encoded for social norms and behaviours of real life), and obstacles/interruptions ignite curiosity within the players. These elements aid players resonating with the character to complete game missions.
Key Features Of Endless Runner Games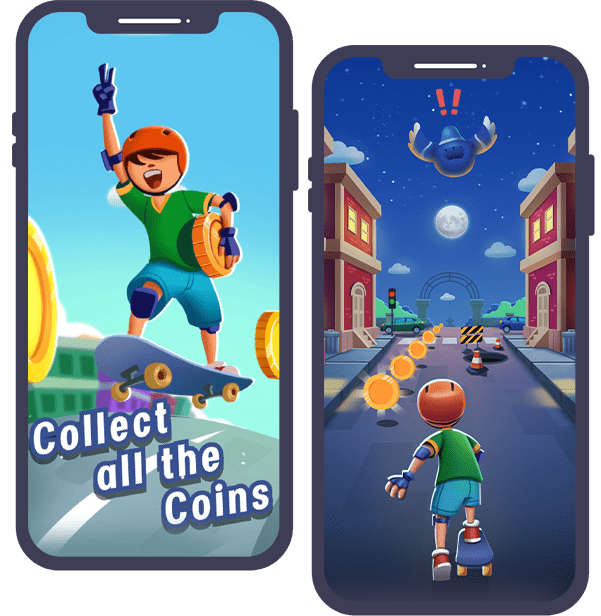 General Features
Protection Shield to safeguard life.
Run for your life in the forest, temple, etc.
Mysterious approaches to run.
Tilt your device to avoid obstacles.
Run, slide or jump in dangerous traps.
Polyphonic sound.
Upgrade the props to get more scores and jewels.
Unique Players to run.
Complete the missions to get day by day remunerated.
Jump and move fast to find new environments.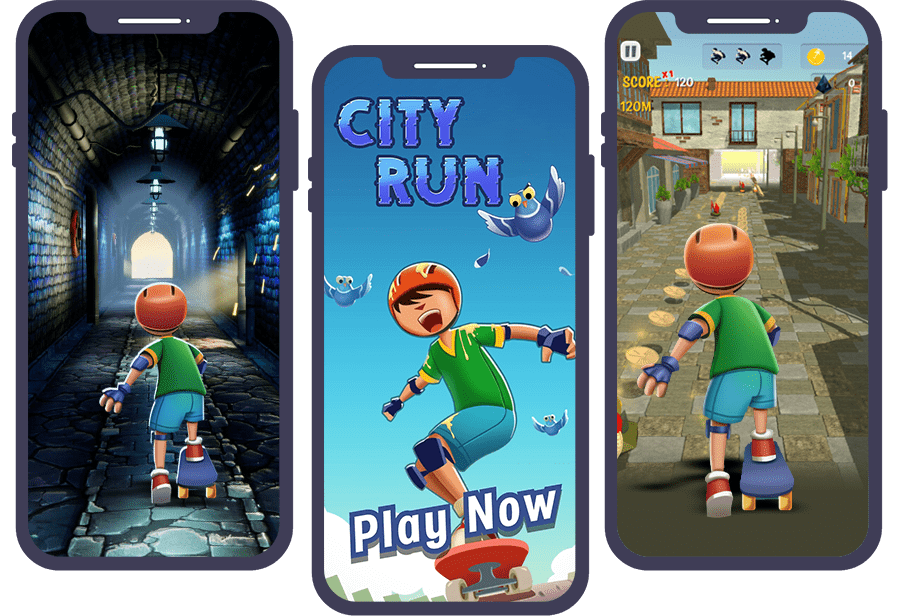 Advance Features
In-app purchase It facilitates players to purchase lives, coins, coin multipliers, special offers and some extra rewards as well. Most of which are paid and need to spend money.
Ads manager This feature enables game owners to showcase ads of different products and services on their platforms to generate revenue.
Let's Discuss Your Project
Get free consultation and let us know your project idea to trun it into an amazing digital product.
Project Milestones We Achieved
01

Requirement Gathering

First we sign the NDA with the client and after that we start gathering the relevant information for the app.

Team Members

Business Analyst and QA

02

App Designing

Our designers now start designing different app screens and wireframes to give seamless user experiences with a flawless look.

Team Members

UI & UX Designers, BA

03

App Development

By using the latest technologies and tools, our expert app developers develop interactive prototypes that attract user's attention.

Team Members

Expert Developers, Designers, BA

04

App Testing

In the final step, our QA team performs various analyses and validations to make sure that the app runs flawlessly.

Team Members

QA, Developers, BA, Project Manager
Work Gets More Appreciation Than Words
Let's talk more about your plan. Get a free consultancy and no-binding quotation for your project.