Pizza Maker VR Game (Training Simulation)
VR-based training simulation solution for the Pizza chain operates numerous stores within a city. Using this solution, shift leaders can train new employees with the Pizza making process. Not only it helps in eliminating several unwelcome consequences of the process but also saves supervisors valuable time during the store's operational hours. This training simulation solution came up as a saviour for the Pizza making chains globally.
Team
5 Members
BA (2)
Project Manager (1)
Team Lead (1)
Developers (3)
Designers (2)
QA Testers (2)
Timeline
5-6 Months
Of unstoppable work
TechStack
Unity Virtual Reality Engine
Unreal Engine For Extended Reality (XR)
Blender 3D Software
OpenVR SDK
Autodesk Maya 3D
Cara VR™ Virtual Reality
Budget
Budget for completing the project
Let's Discuss Your Project
Get free consultation and let us know your project idea to trun it into an amazing digital product.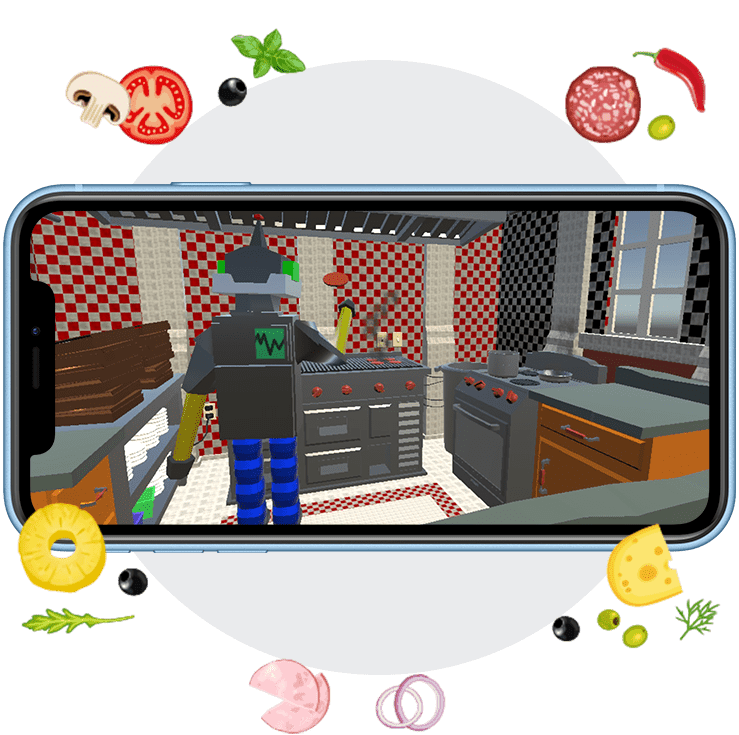 Challenges Encountered While Developing VR Training Simulation Solution-Pizza Maker
Bring Things Close To Reality:
One of the major challenges that came across while developing a VR based training simulation solution like Pizza Maker is bringing things close to reality. Since creating scenarios more like reality is the biggest challenge with VR based solutions.
Content Creation:
Content is the backbone of any VR based game or training simulation solution. The more elements will be involved in a plot, the more difficult it will be to create content accordingly. Therefore, before creating an outline virtually, always be double sure about the concerned elements.
Hardware Dependency:
Hardware dependency always remains a major challenge while developing such VR based games or training simulation solutions. Because the testing of the created content is the must to proceed further, and that's not possible without the concerned hardware.
Time Consuming:
Another challenge with the development of a VR training simulation solution is that it's time-consuming. The more complex/sophisticated the storyline, the more time it will take to bring things into reality.
Proposed Solutions By Our Experts Developers Team
According to the stats, the max quality that can be achieved in virtual reality is 70% of the real-life scenarios that too after using best-in-class hardware and years of experience or expertise. Our team of experts try their level best to reach these figures to a greater extent, thanks to their expertise and experience.
Once an outline is created our team of creative designers start building 3D elements of the virtual scenarios that's close to reality. To do so, certified professionals use different tools including 3D Modulator, Animator, 2D-Designer and others.
The involved hardware dependency to create a virtual environment is eliminated gathering concerned hardware that's mandatory. Not only these hardware are used to develop 3D elements and virtual plots to explain the scenario but also used to test the outcomes to check the platform's performance in terms of reality. These resources consist of HTC Vive, OCULUS Rift and others among VR handset consoles.
QA and testing is the key to form a perfect, up to mark virtual environment. Altogether it enables optimization to the next level in order to offer users hassle-free performance. Therefore, our team don't get hesitate in functioning a hardcore testing. Since we deliver what we promise, a quality rich product.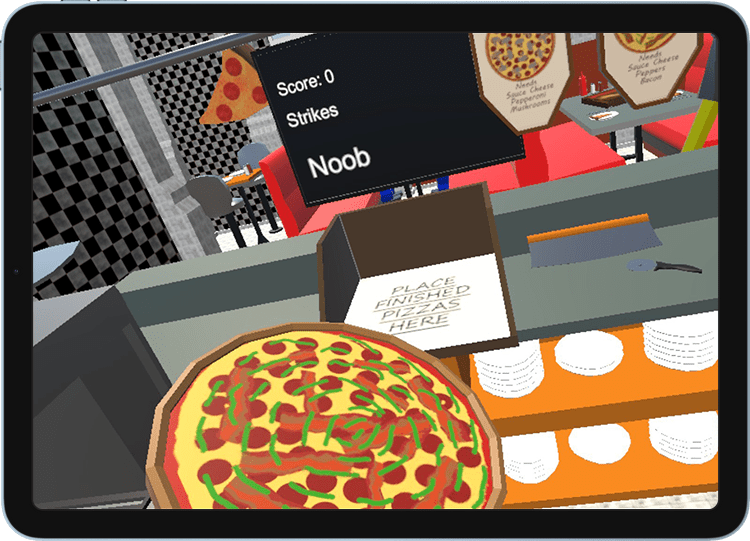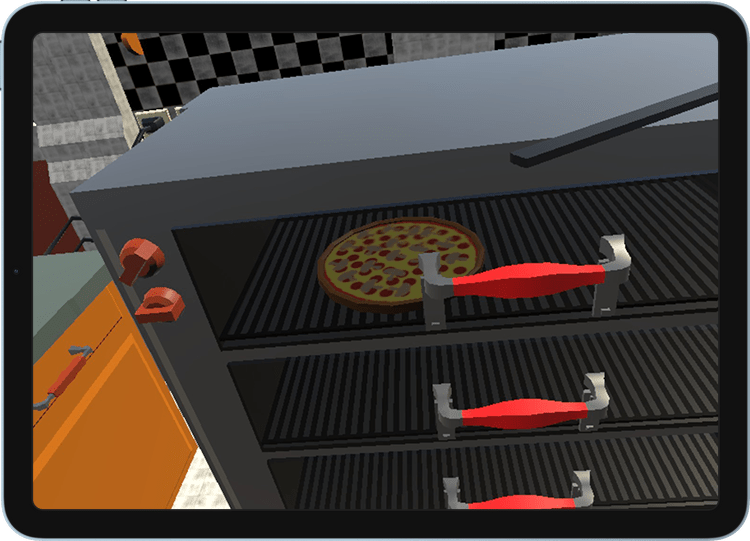 Key Highlights Of Training Simulation VR Game Pizza Maker
The NineHertz incorporated Pizza Maker Training Simulation VR Game with the following features that enables trainees to simply learn the pizza making process without wasting raw material.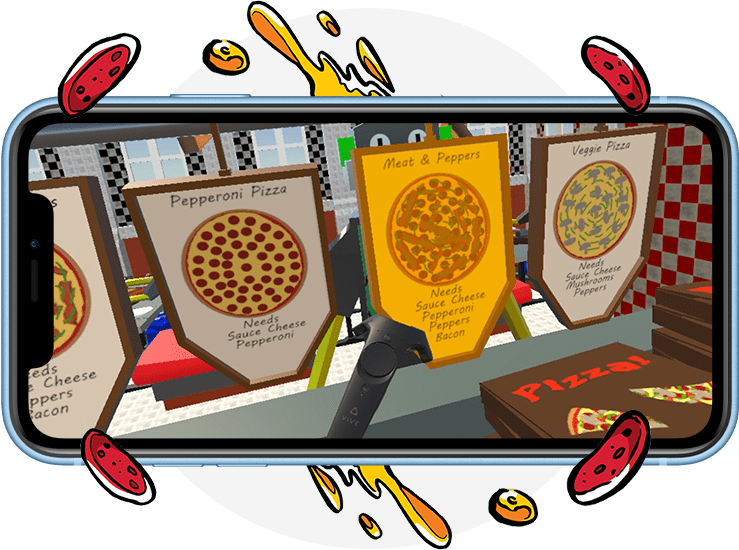 General Features
Access over trendy food recipes in food simulator cashier games
Mind-blowing 3d graphics and stunning visual effects
Extremely well-equipped Kitchen where you can become the world's top chef
Can prepare a variety of dishes, pizzas, fast food, and much more
Pick the most trendy and advanced appliances like sauce mixer, dough maker, electric cutter, rolling pin, oven, cook tray, and many more
Tons of fresh ingredients are available like Mushrooms, Olives, Chicken, Green Herbs, Bell Peppers, Onions, Tomatoes, Cheese and an endless list
Improve your time management games skill and learn new techniques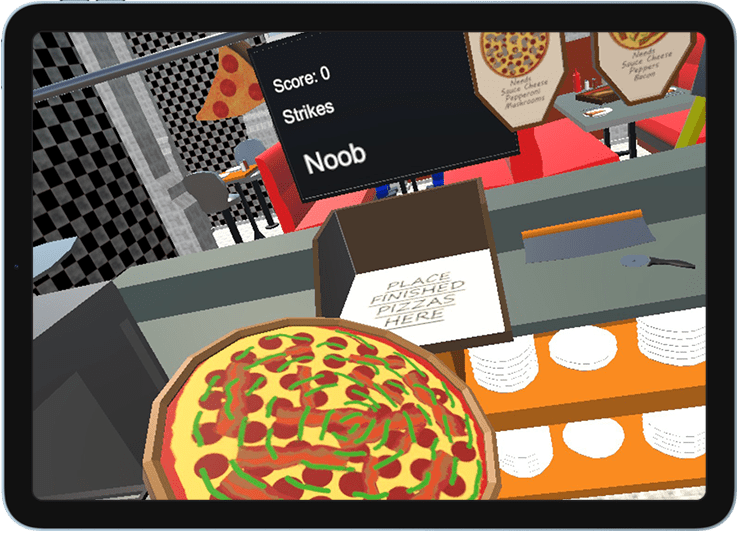 Advanced Features
360 Videos: This feature facilitates trainees with a complete overview of typical store formats, kitchen stations and customer interactions as well. To know more about what will be live scenarios while preparing orders concerning customers' specific demands.
3DOF: DOF refers to the Degrees of Freedom. This feature is must and best for the foundational education with limited tactile requirements. The 3DOF immerses trainees in a 3-D environment where they can look around and interact with the virtual items through a handheld controller to execute the process of pizza making.
Let's Discuss Your Project
Get free consultation and let us know your project idea to trun it into an amazing digital product.
Project Milestones We Achieved
01

Requirement Gathering

First we sign the NDA with the client and after that we start gathering the relevant information for the app.

Duration

15 to 20 days

Team Members

Business Analyst and QA

02

App Designing

Our designers now start designing different app screens and wireframes to give seamless user experiences with a flawless look.

Duration

20 to 30 days

Team Members

UI & UX Designers, BA

03

App Development

By using the latest technologies and tools, our expert app developers develop interactive prototypes that attract user's attention.

Duration

40 to 50 days

Team Members

Expert Developers, Designers, BA

04

App Testing

In the final step, our QA team performs various analyses and validations to make sure that the app runs flawlessly.

Duration

15 to 20 days

Team Members

QA, Developers, BA, Project Manager
Work Gets More Appreciation Than Words
Let's talk more about your plan. Get a free consultancy and no-binding quotation for your project.