The global mobile app development platform is seeking growth due to several factors likewise the increased number of commercial mobile devices and the advent of cloud-based technology. The increased use of smartphones has fueled up the demand for various mobile applications. it turns out to be an opportunity to grow for any app development company in uk. Also, the demand to hire dedicated developers is increased proportionally.
Mobile apps aka software that runs on smartphones, tablets, and other devices like Internet TV and home automation devices. Developers develop these mobile apps mostly for platforms like iOS and Android. But with the growth of the IoT market, we expect a hike in demand for mobile applications in the coming years as it helps in captivating more information utilized for optimization and enriched app features for end-users.
Other than the growing IoT market, the factors which are encouraging demand for mobile apps are extended use of smartphones and mobile apps, especially for social networking, games, media, e-commerce. However, the factors which can come forward as restraints for mobile app development platform growth is the lack of technical expertise and high-cost involvement for app development. Rising security concerns considering the future can also be a factor responsible for hampering the growth of the mobile app development platform market.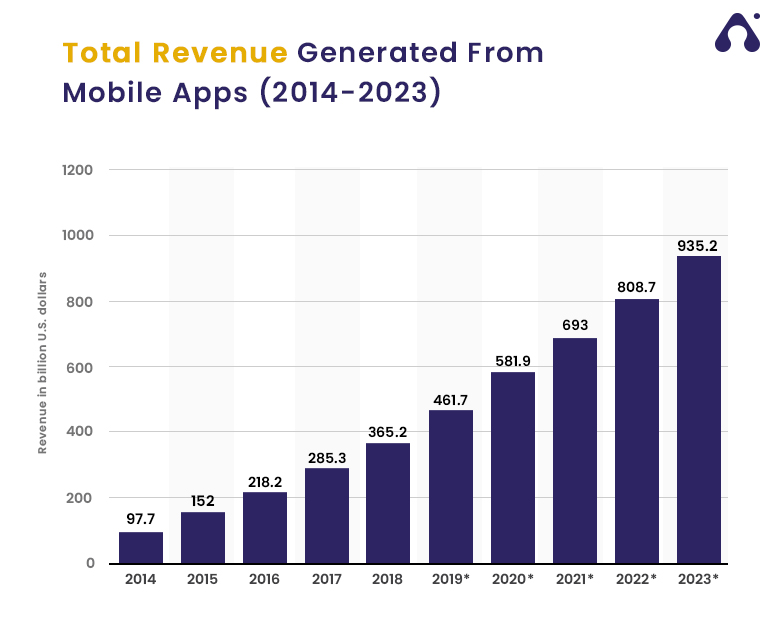 Source:Appventurez
It is being expected that the mobile app development platform market can witness a growth rate of more than 14% globally from 2016 to 2022.
List of Key Players for Global Mobile App Development Market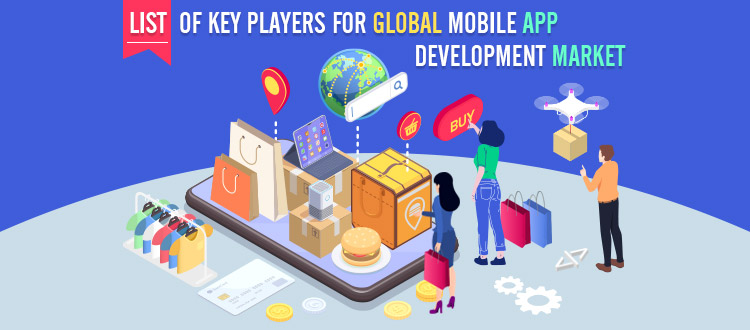 The list of major players in the global mobile app development market consists of Google, Inc., Facebook, Inc. Microsoft Corporation, Apple, Inc., IBM Corporation, Amazon, Inc., Verivo software, Inc., Kony, Inc., OutSystems, Inc., Adobe Systems, Inc., MicroStrategy Inc., Salesforce.Com, Appcelerator, Inc., SAP SE, Backbase, Intellectsoft LLC, Oracle Corporation, Red Hat, Inc., Hewlett Packard Enterprise Company, Sourcebits, Infosys, Ltd., Wipro Corporation, among others.
Classification of Mobile App Development Market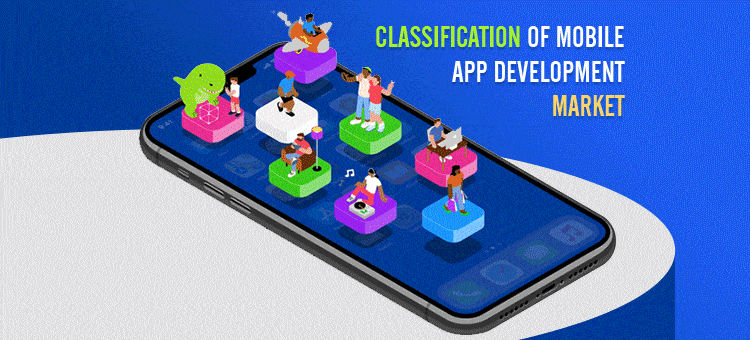 The global mobile app development market is classified based on the following aspects
Segmentation based on platforms: iOS and Android
Segmentation based on Application: Social networking, Media, Gaming (guide on game app development ), education, e-commerce, banking, retail, airlines, government agencies, etc.)
Study of Mobile App Development Market is a Source for Retrieving Reliable Data on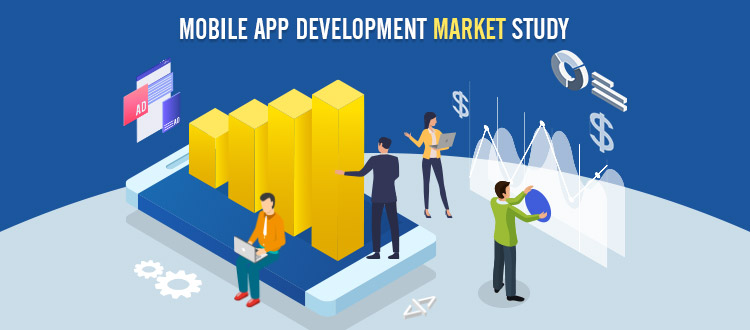 Market size
Market segments and sub-segments
Market trends and dynamics
Supply and demand
Technological breakthroughs
Value chain and stakeholder analysis
Current trends/opportunities/challenges
Competitive landscapes
Target Audience
Small and large enterprises
Government agencies
Education industry
Entertainment industry
Mobile application providers
Research and consulting firms
Regional Analysis of Mobile App Development Covers
North America (U.S. and Canada)
Latin America (Peru, Chile, Mexico, Brazil and others)
Western Europe (Italy, France, Spain, Germany, U.K., Netherlands, Luxembourg, Belgium and Nordic countries)
Eastern Europe (Russia and Poland)
Asia Pacific (India, China, Japan, ASEAN, Australia and New Zealand)
Middle East and Africa (GCC, Southern Africa and North Africa)
The report is constructed after performing extensive primary research (through interviews, surveys and considering seasoned analysts) and secondary research (including trade journals, highly regarded paid sources and databases from industry bodies). The report provides a qualitative and quantitative assessment on key points of the industry value chain. Thanks to the data collected from industry analysts and market participants.
Other than this, the study for the global mobile app development market also includes a separate analysis of prevailing trends in the parent market, macro-and micro-indicators, and regulations as well as mandates. Cumulatively, the report demonstrates each major segment for the forecast period.
Highlights of the Mobile App Development Market Report
A complete backdrop analysis including an objective assessment of the parent market
Key variations in market dynamics
Classification of the market up to next levels (second or third level)
Market size based on both value and volume (historical, current and the projected market size)
Evaluation and reports on the latest industry developments
Strategies and market shares of the industry key players
Information about emerging niche segments and regional markets
A dedicated assessment of the market trajectory
Recommendations to companies for their reinforcement in the market
We have tried our level best to maintain the highest levels of accuracy in the provided report for mobile app development platform market 2020-analysis and forecast. There are chances that it could take longer to reflect recent changes specific to market/vendors in the analysis.
The study of the report here encompasses the framework of the dynamics of the market. Majorly, it includes assessment on consumers' or customers' journeys, established and emerging pathways, and strategic frameworks that help CXOs in taking effective decisions.
Thanks to the 4-Quadrant Framework EIRS, it became easier to focus on key elements responsible for the assessment of the mobile app development platform market.
Customer Experience Maps
Insights and Tools based on data-driven research
Actionable Results to accomplish business requirements
Strategic Frameworks to encourage the growth journey
The study here is focused on evaluating current and future growth prospects, untapped pathways, aspects responsible for generating revenue potential, demand and supply patterns in the global market from the region-wise assessment.
These are the following regions we included here for a comprehensive study of the mobile app development market
North America
Latin America
Europe
Asia Pacific
The Middle East and Africa
Using the EIRS quadrant framework for the study of the report, it became easier for CXOs to make better decisions based on data-driven research and advisory. Businesses can grow higher and stay as market leaders among others.
Now we are going to shed light on the 4-quadrants of EIRS Framework. Let's start with
1. Customer Experience Maps
This quadrant of the EIRS framework helps in providing an in-depth analysis of customers' journeys related to the market and its segments. Businesses receive customers' reactions about the product and service use. With the analysis, it became easier to address customers' pain points and fears across different touchpoints. The consultation and business intelligence solutions based on customer behavior analysis help stakeholders including CXOs to make better decisions and grow customer engagement with their brands.
2. Insights and Tools
The study comprises various insights based on different cycles involved in primary and secondary research. During the research, the analysts remain engaged with those cycles. To get to the results, the analysts and expert advisors choose for industry-wide, quantitative customer insights tools, and methodologies which proves them reliable.
In addition to this, the analysts and expert advisors get an uncluttered evaluation of estimations and projections churned out from the study based on the market dynamics. These insights are the outcome of a combination of data-driven research frameworks and qualitative consultation, which helps business owners, CXOs, investors, and policymakers. Other than this, customers also use these insights to overcome their fears.
3. Actionable Results
The results which are showcased in this study are important for complying with all business requirements including the most critical ones. Using these results, business stakeholders and industry entities get benefited to a great extent which increases their performances. In addition to this, a sort of change is made to the results in the order they can easily fit the individual strategic framework. Apart from this, several recent case studies are also provided in this study which showcases how companies managed to solve various problems that occurred in their consolidation journey.
4. Strategic Frameworks
In this study, several businesses and anyone interested in the market are included to frame broad strategic frameworks. Preparing for strategic frameworks have become more important than ever considering uncertainty due to the COVID-19. The study forces us to focus on consultations so that various past disruptions can be ignored and new ones can be explored considering increased performance. With the help of frameworks, it became easier for businesses to align their strategies for recovery from disruptive trends. Further, analysts help in breaking down the complex scenarios and make the process resilient in uncertain times.
The report consists of various aspects and answers for questions related to the mobile app development platform market.

Conclusion
With the above-mentioned aspects, it has been clear that the mobile app development platform market will grow globally in the coming years. Therefore, the demand for mobile apps will automatically rise and the mobile app development companies will generate huge revenue. Also, the future is bright for freelance developers as well as it would be obvious to see growth in hire dedicated developers by established enterprises and start-ups for their business applications.