The words like "OK Google, Hey Siri, Hey Alexa" can be heard more often than ever. Dedicated to our Artificial intelligence pal, these commands help the users to perform a lot of tasks to make life more convenient. However, the cost to develop an AI app or assistant is the major concern that stops most of the entities from thinking about it. However, Alexa, Siri, and Google Assistant are just an example of how these voice assistants are redefining the way we consume information and perform tasks. Integrating AI capabilities into a business has undoubtedly provided favorable results to businesses around the world.
According to Forbes, the global artificial intelligence market size was valued at $136.5 billion in 2022 which is expected to hit the milestone of $1,811.8 billion by the end of 2030 with a CAGR of 37.3%. The statistics witness the growth of AI development in a very efficient way. So, let's talk about how artificial intelligence can benefit your business, how much investment is required to make this concept a part of your business, and much more.
Want to Launch Your Own App?
Convert Your App idea into Reality
What is an Artificial Intelligence (AI) App?
Artificial Intelligence is a burgeoning technological concept focused on streamlining operations and providing better outcomes with simpler commands. By automating a lot of tasks and ensuring 24*7 availability, the AI technology enhances the user experience to a significant extent. AI development Services can be integrated into various devices for healthcare, manufacturing, educational, mechanical, and retail industries.
The working principle of AI apps basically relies on the large amount of data that helps them develop a certain algorithm and provide the response according to those algorithms. A simple example of using AI in the retail industry is using the previous year's data to predict the sales of the next year and thus manage the inventory accordingly.
Benefits of Developing an Artificial Intelligence App?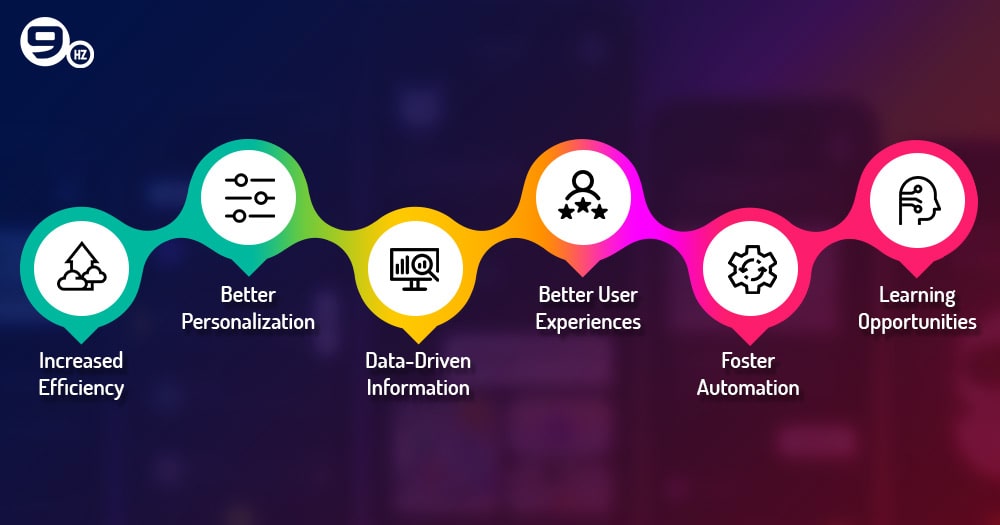 Whether it is the offline or online presence of your business, Artificial Intelligence carries a broad use case that helps the brand in all scenarios. From automating your everyday tasks to strengthening the relationship of your customers to your business, artificial intelligence apps are doing wonders. Here are some of the benefits that businesses around the world leverage with artificial intelligence applications-
1. Increased Efficiency
AI apps have emerged as a great solution to increase efficiency in businesses by understanding user preferences, automating routine tasks, and anticipating the needs of customers. With machine learning algorithms, the AI solution learn on a daily basis to improve the outcome every single time.
2. Better Personalization
In this competitive landscape, personalization is the key to business success where every user must feel connected to the brand. Artificial intelligence apps help to study user behavior and then suggest content and products according to their personalized preferences. The recommendation systems installed in Amazon and Netflix are great examples of this benefit. You might be interested to know how to create an app like netflix.
3. Data-Driven Information
Using the data and then making informed decisions accordingly is a great approach that a brand can follow in order to achieve competitive advantages. By identifying the patterns in different operations, artificial intelligence extracts valuable information that helps businesses to make informed decisions.
4. Better User Experiences
Providing a personalized experience and suggestions is not the only way AI enhances the user experience. The AI intelligence voice assistants and chatbots are also the core functionalities of this new technology that boost the user experience to a significant level. These chatbots and voice assistants under AI development ensure round-the-clock customer support to customers, solving their queries and taking their feedback.
5. Foster Automation
Using a human workforce and paying them a hefty amount to perform the same tasks every day is no longer a good idea. Artificial intelligence applications and software with their machine learning capabilities can perform repetitive tasks. At the same time, the chances of errors and mistakes are lower in automated tasks when performed with AI apps.
6. Learning Opportunities
AI apps are a great source of learning for the employees in the organization. Such software works according to the latest trends in the market which can keep the the employees updated about the current needs of customers and their preferences.
Want to Launch Your Own App?
Convert Your App idea into Reality
Factors that Determine the Cost of AI App Development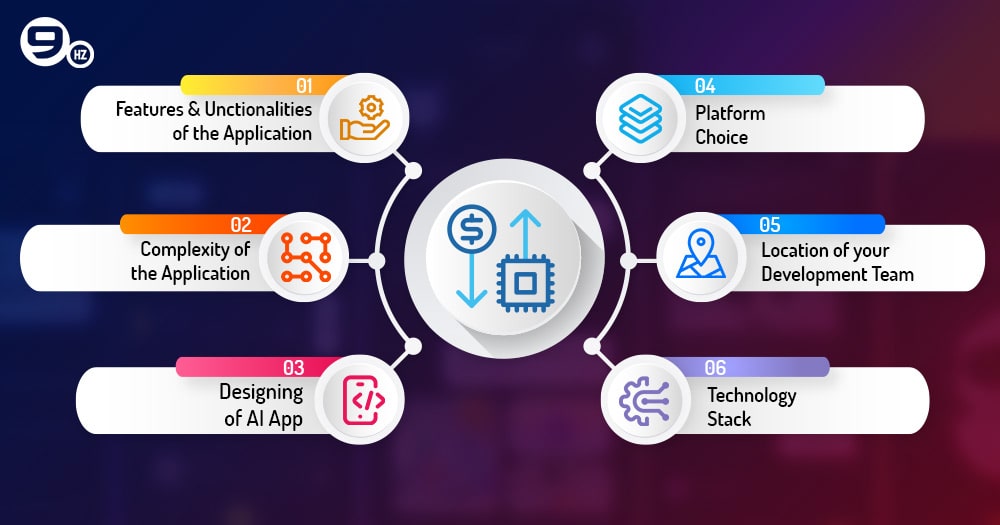 Just like any software development, the cost of AI development app can never be tied to a certain number. Depending on a range of factors, the AI app development cost varies to a great extent. So, before jumping to the game of numbers, it is important to know about the factors that determine the cost of AI app development–
1. Features and Functionalities of the Application
As we interpreted in the above section, AI-based apps deliver different types of purposes to the target audiences. So, features and functionalities are the biggest determining factors for the cost of AI development. If you are tight on budget, you might have to compromise with the type and number of features.
2. Complexity of the Application
The complexity of the application is also a big factor that influences the cost to develop an AI app. If it requires lots of third-party integrations with complicated or advanced features, the app will require more time, capital, and resources to develop.
3. Designing of AI App
Having an intuitive app design to attract users and navigate them to different functionalities is very important. However, the animation, graphics, and intuitive user interface require dollars to integrate into the application. Still, you should never compromise the user interface of an application in order to retain the users.
4. Platform Choice
Choosing the platform to reach your target audience is also one of the decisions that define your AI app development cost. One can cover a big portion of worldwide smartphone users by relying on the Apple App Store and Google Play Store. Selecting one of these platforms or choosing both of them also makes a lot of change in your AI app development cost.
5. Location of your Development Team
Choosing the right demographics for your app development team can help you save a lot of dollars. For example, choosing a development company from the USA, UK, Australia, or Europe will cost more than twice as much as a country like India.
6. Technology Stack
The AI-operated apps and systems require a range of technologies like programming languages, libraries, frameworks, and much more. Imparting these technologies in the system requires the investment of both human and technology resources. For example, using open-source tools like TensorFlow, Dialogflow, and Python can be the best option for you while developing an artificial intelligence application. So, the tech stack of your project is also going to play a significant role in cost determination.
Industrywise Cost Breakdown for AI App Development Cost
Every industry has its own operations and type of day-to-day tasks. So, the features of the AI app also change accordingly. Depending on the various requirements of multiple industries along with their nature of work, here is an industriwise AI app development cost estimation-
| Industry  | Estimated Cost  |
| --- | --- |
| Banking & Finance | $80,000+ |
| Healthcare | $45,000+ |
| Real Estate | $18,000+ |
| Manufacturing | $45,000+ |
| Supply Chain | $25,000+ |
| Insurance | $35,000+ |
Application Category-Wise Cost Breakdown for AI App Development Cost
There are multiple faces of artificial intelligence applications according to their defined purposes. The cost of developing an application is strongly associated with the application category and the functionalities you want. Here is a brief presentation of estimated AI software development cost for different types of applications-
| Application Type  | Estimated development cost  |
| --- | --- |
| Machine learning AI software | $40,000-$55,000 |
| AI Chatbot | $20,000-$35,000 |
| Speech Recognition AI software | $25,000-$40,000 |
| RPA AI software | $15,000-$30,000 |
| Money Management App | $30,000-$40,000 |
| Telemedicine AI software | $40,000-$60,000 |
Development Phase Cost Breakdown for AI App Building Cost
There are multiple phases that a development team covers in order to build an AI app. The total cost of the project is divided into these phases according to the requirements of different resources.
| Development stage | Description | Estimated Cost Range |
| --- | --- | --- |
| Planning and Ideation | Idea refinement of project, initial project scoping | $1,000-$5000 |
| UI/UX Designing | Designing user interface and experience | $4,000-$15,000 |
| Front-end Development | Layouts, interactions, user interface | $10,000-$30,000 |
| Back-end development | Database, server, APIs, app logic | $15,000-$35,000 |
| AI model development | Imparting AI/ML capabilities | $20,000-$50,000 |
| Integration and testing | Integrating the AI capabilities into app and quality testing | $10,000-$25,000 |
| Deployment and launch | Launch preparations for app deployment | $5,000-$20,000 |
| Post-launch support | Updates, user feedback, bug fixes | $5,000-$20,000 |
Top Artificial Intelligence Personal Assistants in the Market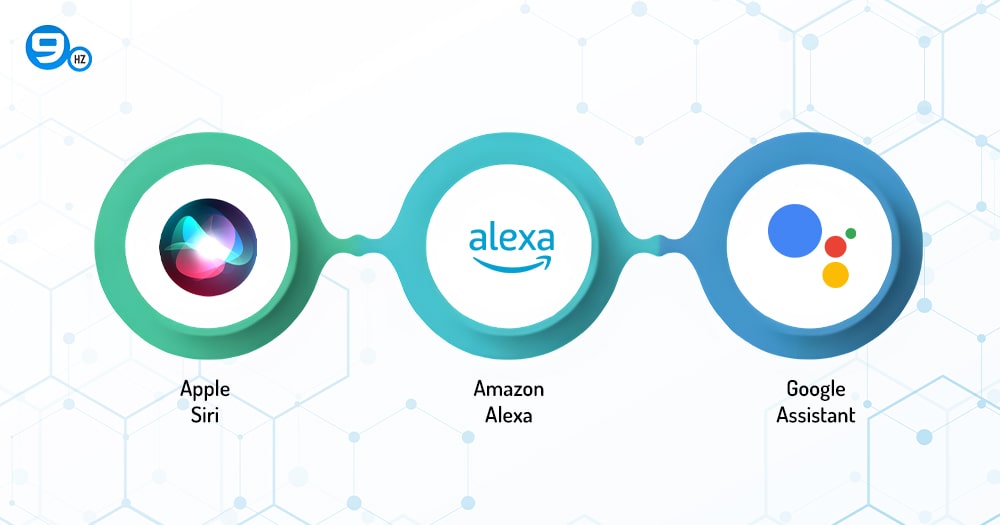 There are different types of artificial intelligence available in the market which have acquired the user base of millions of people in very short time with their respective usability. Google, Apple, and Microsoft are the names that are currently ruling the market of AI solutions. Here are the top 3 AI-powered personal assistants introduced by the tech giant.
1. Apple Siri
The AI assistant incepted by the technology giant company Apple is one of the first smart assistants available in the market for iOS users. One can interact with their various Apple devices like iPhone, Apple Watch, Mac, and iPod with the help of this AI assistant. Siri is capable of taking more than 600 commands from the users and performing the tasks accordingly.
Number of users- 500M+
App rating- 4.5/5
2. Amazon Alexa
Amazon Alexa is one of the most used AI assistance applications by iOS, Android, Windows, and Amazon device users around the world. From playing the music, setting reminders, and getting daily news, to making calls and sending messages, Alexa can perform various tasks seamlessly. The Alexa-enabled smart home devices are used worldwide to control the smart appliances at home.
Number of Users- 100M+
App rating- 4.⅘
3. Google Assistant
Powered by Google, this is also among the most used AI assistant products that help users to perform daily tasks with ease. Getting the information, making calls and messages, and much more can be completed with just a command. At the same time, Google Assistant also navigates you to nearby services like hospitals, hotels, ATMs, banks, restaurants, and much more.
Number of Users- 1B+
App ratings- 4.5/5
Complete Process of Developing an AI-Powered Application Development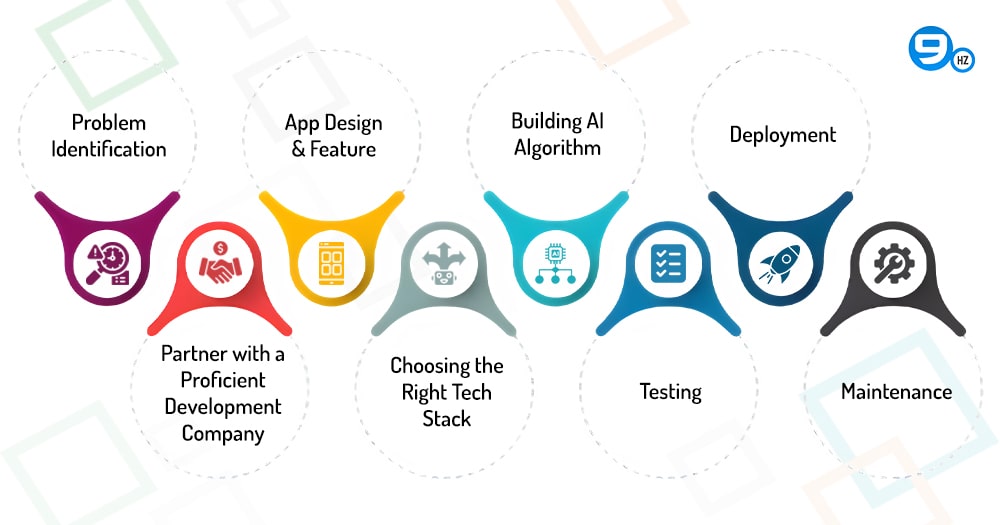 AI app development requires the complete process of building a solution that delivers the purpose that was anticipated in the beginning. Following are the major steps that AI app developers ensure when working on a similar project-
1. Problem Identification
AI solutions are meant to solve a particular problem and thus, before jumping to the development stage, it is important to identify the problem. For the same, you should analyze the market, identify competitors, and determine your unique selling proposition.
2. Partner with a Proficient Development Company
To develop an AI-based mobile app, it is important to partner with an experienced AI app development team that has developed several AI software in their journey. It will help you mitigate the various challenges during the project. Here is my another guide on how to use artificial intelligence ai in mobile apps
3. App Design and Feature
This is the first stage of core development where the prototype of the application is delivered. This wireframe gives a rough idea about the designs and features of the functionalities to help collect suggestions and insight into areas of improvement.
4. Choosing the Right Tech Stack
Now the development team chose the right technology stack that powers the different features to be integrated into the application. The technology stack is basically the framework of the whole application.
5. Building AI Algorithm
Imparting machine learning, algorithm training, integrating data, deciding commands, etc are the main tasks of this phase which brings the AI capabilities into the application.
6. Testing
This is the phase the developed app is tested to check the efficiency and performance. The tests like speed testing, feature testing, and performance testing make the application error-free.
7. Deployment
This is the final stage of the development process where the app is deployed to the respective system. It can be the Google Play Store, Apple App Store, any app market, or the local system of any organization.
8. Maintenance
The AI-based software and applications require maintenance for the rest of the time to make sure that users don't face any technical issues. It also helps to provide timely updates to the application.
Wrapping Up: Cost to Develop an AI App
The AI mobile applications can take your business to places by fostering automation, and efficiency in operations. This type of software helps to perform several repetitive tasks as well as help the business owner to make data-driven decisions. However, the cost of developing AI apps always concerns people. So, the artificial intelligence cost can be determined by considering the several factors.
The NineHertz is an experienced AI app development company, that invites you to share your idea and take a step forward to transform it into a real-life product.
FAQs: Cost of AI Development App
Q.1 How Much Does it Cost to Make an AI App?
The AI app development cost depends on a range of factors like the location of the developer, types and the number of features, third-party integrations, and much more. Generally, the basic AI app development cost falls anywhere between $40,000-$100,000.
Q.2 How to Create AI Software?
To develop an artificial intelligence application, you must have an idea that solves the existing problems of the people. Then, partnering with the right development company is the next approach that you can take to develop the application.
Q.3 What are the Factors that Influence the Cost of AI App Development?
The following are the factors that determine the cost of AI app development-
Location of the development team
Number and types of features you want to see in the software
Complexity of the project
Third-party integration
Maintenance and support
Designing and user interface
Q.4 What are the Benefits of Developing an AI App for a Business?
The business can leverage automation, increased productivity, streamlined repetitive tasks, better customer support, and efficient user experience with the help of artificial intelligence-based software.