World's top mobile app development company for top-notch mobile solutions
Highly customized mobile app development services for various platforms to deliver best industry experience

5000+ Smartphone apps delivered

4500+ Global Clients

110+ Employees

Seamless Support

Professional designs

Exclusive Solutions
Unique mobile app development solutions for various needs
We are one of the leading application development company. We provide a wide range of mobile app development services across the world to cater organizational needs.

We develop result-oriented apps with best-in-class user-interface.
The Nine Hertz is an India- based renowned IT firm, handed successful mobility solutions to every industry since 2008. Our team of experienced developers is always wired to deliver creative and functional apps. We develop modern applications for Android, iOS, cross-platform tools. We have maintained a strong reputation in IT development. We are not limited to app development only but also provide web development, business solutions, consulting services and much more for your enterprise needs.
The team of The Nine Hertz is skilled and always fixed for mobile app development solutions. Our highbrow app developers handle the latest technology needs like wearable technology, augmented reality, Java, Salesforce, IoT and Ruby on Rails development. We have an excellent team of project managers which is responsible for handling project modules and maintain the flow of work.
We provide operational support to your pre-built development models. No matter if we have delivered it or you have developed it outside, we can make it up and deliver you leading-edge solutions. We also work for website upgradation, application integration and 'hire a developer' services.
App Prototyping
Wearable App Development
Food Delivery App Development
Cloud Solutions
Hybrid App Development
Restaurant App Development
Enterprise App Development
Support & Maintenance Services
Expect long-term business utilities with us
Benefits of Professional service



100% Client Satisfaction




On-Time Delivery




Cost-Effective Solutions




Mobile SEO




Agile Methodology
Wearable, IoT, Augmented Reality and HTML5 applications
Advanced app solutions with latest tools and technology



Native Apps
91% of the total adult optimized their Smartphone apps for their daily tasks. App industry is taking new heights every day. We understand the increasing demands of apps and develop high-tech applications to meet future business needs. Just give us a quote and get long-term business collaboration
Scalable, Secured and reliable apps
Every industry has its own development need and we know how to deliver the perfect solution to them. We keep our targets high and make complete efforts to achieve them with our cogent team.
Talk with experts and get prime solutions for your business growth. We appreciate our client's initiation
Come up with your needs. We are 24/7 available to listen to you
Frequently Asked Questions
What is the difference between cross platform and native mobile app?
Native applications are real applications that are developed particularly for one platform or device. Majority of apps are native apps in mobile app development. These apps are written in the platform specific languages, for example, Java for Android native apps and Swift or objective C for native iOS apps.
The idea of cross platform apps development is different from native app development. These apps are developed on cross platform software like Xamarin, Titanium etc to function similarly on different platforms. These apps can be used on multiple mobile platforms.
How would you secure the app data?
These types of questions may arise at the time of creating applications. We are efficient in providing security whether it's a matter of development, idea or post delivery processes. The software code is the business logic and no one wants to reveal it.
We secure the app data by providing authentication token at the time of data transmission so that there is no chance of hacking. We strictly encrypt the sensitive data so that users can store data in a safe manner.
What would be the most effective app monetization strategy?
Monetization strategy is something that provides the way of making money by your app. Only 4.5 % of total mobile apps generate better revenues. Rest of the apps fail due to improper monetization strategy. We provide sustainable and best-suited models of monetization to our clients.
Normally, people offer premium, or built-in app purchase functions in their app. It depends on you, what you prefer. Rest of the things can be determined after discussing the app idea.
What should I choose –Android or iOS?
This can be realized after looking to demographics, budget, and speed. You have planned to develop the app, so you must have an idea about the people who are going to use your app. In developing nations like in maximum of Asian countries, Android has majorly opted whereas in developed nations like America, UAE, and European countries, iOS is leading the race.
You can better estimate what your audience is looking for, what OSs they are using. Also, you can have the cross platform app to reach the maximum possible audience.
How long will it take to develop a mobile app?
It will take 3-4 weeks to get a mobile app completely developed by our side. As soon as you share the idea, we will try to get work on that. Based on your idea, we discussed the development process with our team. Project managers, developers, technical support executives and business analysts are involved.
We appreciate our
client's

initiation, we

love

to hear their

feedbacks

Come up with your needs. We are 24x7 available to listen to you.

Choosing Nine Hertz to develop my project was the right choice and working with them is Pleasure.
Their team did great work and i'm Carefree.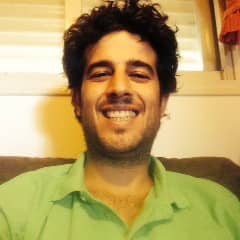 Nitay
I have been working in the tech industry for 3.5 years now, and during the time I have had many different developers for different solutions. Never finding the right mix was tough, until I met NineHertz. In all honesty I could not be happier, from attention to detail, to time efficiency I have never been more satisfied. Would I recommend them? Of course!

Mario Aguayo
Nine Hertz is a great company that is very competent. I worked hand and hand for several months with my Nine Hertz project manager and was very impressed by his knowledge and hard work. Nine Hertz is a great option for those looking for top-tier developers at an affordable price.

Mani Masshafi
Nine Hertz was extremely responsive in all aspects of our communication and planning. Professional and knowledgeable! Will work with them in the future and highly recommend!

Mike Johnson
I endorse Nine Hertz and their team of highly qualified professionals as one of the few great web development company overseas today and thank every one of the team members of Nine Hertz that worked on our application-build to make it a success.They were able to take our plans and ideas and bring them to life. I hope to work with this high caliber team in the future.

Negi Boaka
View More Reviews