Technology has grown exponentially and completely revolutionized the way people purchase and sell books. Amazon is the sole giant that has mostly capitalized on this. In today's scenario, a person living in any part of the world can read his favorite book, printed and published in different parts of the country. The world contains a large chunk of readers who love to read and one must have a dedicated online book store mobile application to fulfill the thrust of readers.
Due to the pandemic, the physical stores are no more crowded. Hence, there is an ample amount of opportunity for the techies to invest in online book store application development to cater to the diverse book requirements of readers all around the world.
If you are the one who is seeking to build an online book store mobile app and want to know all the details including online book store app development cost then you have come to the right place.
This article will throw light on all the details that will give you a good app idea regarding how to bring your physical bookstore to the online portal and maximize its reach to a large audience. So let's deep dive into the topic and start with learning about the market share and statistics of the online book reading app development market.
Market Stats of Online Bookselling Market
Last year, the e-bookstore's market share has grown significantly. Bookstore mobile applications have nurtured huge chunks of revenue and one of the primary reasons for this trend was the pandemic.
The pandemic led people to get inclined to read and as a result, they started reading a lot of their favourite books sitting at home.
As per a survey, in 2019, the global online book services market size was estimated at 17.7 billion USD and there is an anticipation that the numbers will still grow at a CAGR of 5.8% from 2020 to 2027.
By the end of 2027, the online book store app development market is expected to earn 27.8 billion USD in terms of revenue. Also, there is a stat that each day more than 12000 people go online for book shopping.
There is a huge scope to encash the opportunity and with that being said you can make your book store app as when you create your own book store mobile app, you can not only generate business but also your brand gets great exposure by connecting with your potential customers.
Why Online Book Store Apps are Succeeding?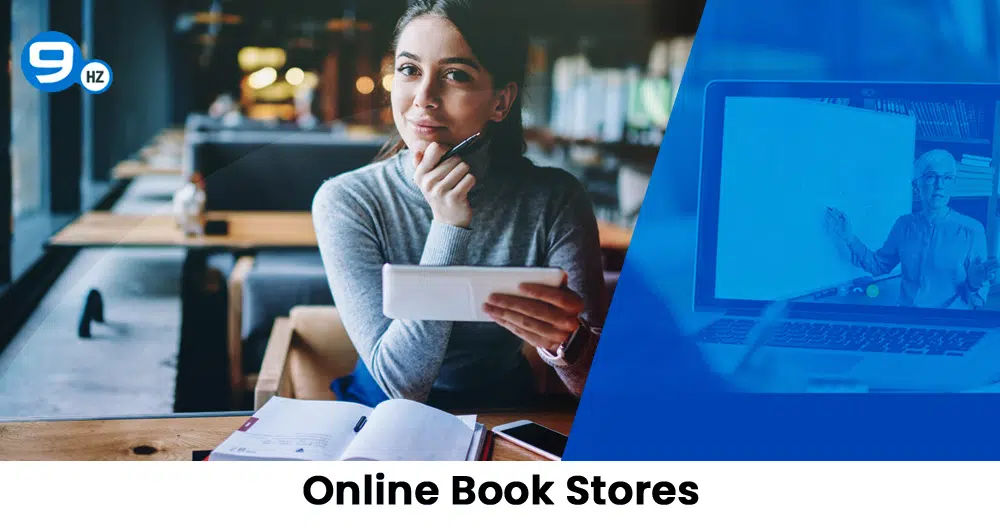 We all must have seen the tremendous rate at which e-bookstore is growing. That's the reason every day we see some new app popping up. Undoubtedly, there is an ample amount of opportunity for the newbies to enter and capitalize on the market. Here are the reasons that contribute to the success of these online book stores:
The covid-19 has forced the global audience to buy everything from their remote locations rather than stepping out for the same. Therefore, people around the world, especially students who have been attending online lectures are prefer to buy books through an online medium such as online stores.
There are people in society who prefer to stay home rather going to a physical book store to purchase a book. e-bookstore target these people. Also, there are times when you are simply unable to find a book anywhere and here online bookstores come into the picture. Now users can simply lookup up any book while sitting at home.
The third advantage is that the user can draw a comparison of the same book's price at various platforms/bookstores. This way the user can get the best deal.
These online stores provide their users from time to time with various sorts of offers, discounts, and etc. users can wait for the offers to be revealed and then purchase the books of their choice.
The online bookstore provides you with an option where you can search by applying various filters that makes your search easy. The users can simply enter the author's name and get the recommendations in the search bar down below.
Hire Online Book Store Developers
Request A Free Quote
1200+ Projects Delivered 12+ Industry Experience 450+ Clients Worldwide 200+ Certified & Expert Programmers
Benefits of Creating Online Books Applications and Website
It has become extremely convenient to read books via online book reading apps and websites. Users can easily read their favorite books while sitting at home. This way you can eliminate a lot of clutter and shelf space to keep a physical book store.
Meanwhile, you can rent books as you want in your playlist without the burden to carry weight. Business units offering book reading apps must take customer reviews in order to be informed concerning the features that benefit the users most so they become more loyal to your app.
There must be easy access to buy books using individual bookstores apps. Here are the top advantages of developing such apps:
Books at Pocket-friendly Prices
Online books are way cheaper than the actual physical book or a hard copy version. This way you can purchase as many books as you want. Sometimes you can buy 3 or even 4 books for the price of one physical book. Hence, this will allow you to save a lot of money.
Free Books
Online book reading apps and websites have a huge collection of free e-books apart from paid books. So in case, you lack the habit of reading books online you can start off with reading the free books first and then, later on, consider purchasing the paid ones.
Unlimited Storage
This is one of the best advantages of online book reading applications. These applications offer cloud storage so now you don't need to discard your entire electronic library due to lack of speed. Cloud storage allows you to keep as many books as you want in the app and still have plenty of room for more.
Buy Books Anytime
You can easily buy books using an online book store anytime you want as the process is extremely simple. You can even enhance your reading experience by exploring multiple basic features. You can perform customization as per your requirements, for example, you can change the font size, adjust the screen brightness and many more.
Get all Time Access
With an online bookstore mobile apps, you get all-time access to your favourite books. With the book reading app and website, you can access your library from any of your devices. You just need to download and install that on that particular device and you are good to go. So now you can read books on your laptop, tablet, and mobile device without any hindrance.
Top Features of Online Book Reading Apps Like Kindle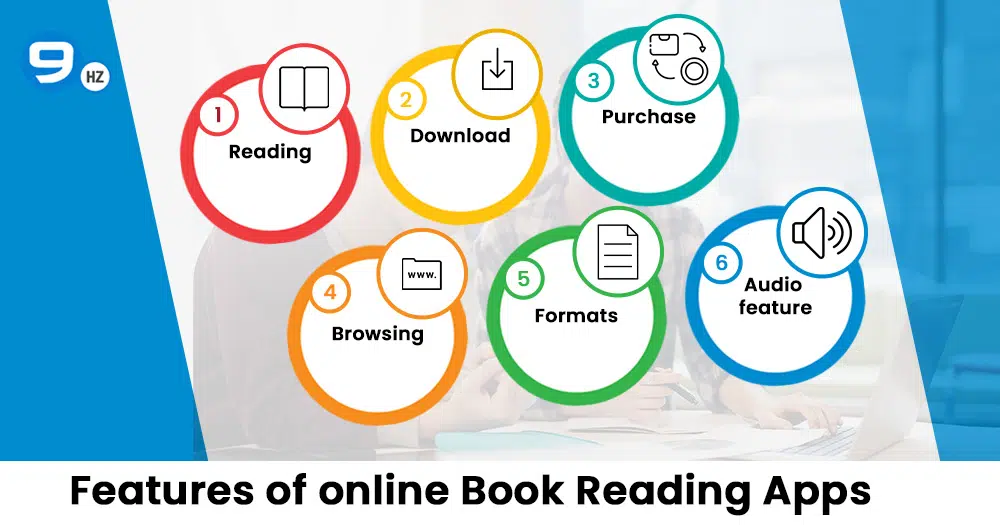 Here are the more advanced features that book reading apps like Kindle offer to their customers:
Reading
Reading should be the main feature of your book reading app/website. Users need to be able to easily access their books and read them comfortably. Switching pages, finding bookmarks and the overall experience must be seamless if you want your app to be successful in the long run.
Download/Purchase
An online bookstore application should allow its users to purchase books through the app or download books they have purchased online. This way they can quickly get access to their reading material via the application.
Browsing
Your app must allow its users to browse a wide variety of books. For example, it can display the most recent releases, popular picks, recommended selections, and even allow searches by genre. The searching should be easy and uncomplicated.
Formats
Reading material and digital books often come in various formats. Many apps have the feature to display multiple formats. As a result, users can easily read popular formats such as PDFs.
Audio feature
In some applications, you get a feature to listen to your favorite book. This concept is often termed an audiobook. This way the app becomes extremely accessible. So now whether you are on a road trip or doing cooking, you can simply open the app and play your favorite book while doing work.
Online Book Store Mobile App Development – Features
Log in – this feature enables the clients to sign up and make an account on the application by using their mail ids or they can sign up through their social media platforms.
Genre – This particular feature will help readers to search their favourite books sorted according to the genre. This will help in simplifying the overall process of book searching.
Font and Font Sizes – This feature will allow the readers to read their favourite books according to the fonts and sizes that suit them the best.
Book Formats – Vary Depending upon the devices, this feature allows the readers to read their favourite book in various formats that are compatible with the device.
Bookmarks – The bookmark feature is very useful as the reader can remember the last page he has read whenever he opens the book.
Book Cover – By using this feature the readers can select the preferred version of the book, hardcover, paperback, eBook, etc.
Last Locations – The users can use this feature and can resume from the last reading location in the eBook.
There are some other customer panel advance features that you can consider integrating for a seamless experience while planning to make your mobile apps:
Go to page slider
Progress status bar
Different views
Zoom in/out
Switch books feature
Reading mode
Chapter view
Search function
Themes and backgrounds
Chatbot support
Publisher Panel
Log in/Sign up – Publishers need to have their accounts where readers are able to reach them whenever they feel like it.
Cover – Cover acts as a catalyst in grabbing the attention of the users if is attractive and visually appealing. It induces them to come abroad.
Book description – Under the book description panel, publishers are able to put a description about their book mentioning all the necessary details including pages, publisher's name, book synopsis, etc.
Feedback – A feedback section is very important so that the users/ readers can post their experiences. It will help in enhancing the overall user experience.
Links – Links help the readers to offer more valuable content through the backlinks.
Admin Panel
Real-time analytics – The app owners through CRM integration are able to get real-time data of their users. This will help in simplification of the decision making in terms of marketing, selling, and services, etc.
CRM integration – a strong relationship between app owners and customers can be built with the help of CRM integration. Hence, the clients can be served accordingly.
Dashboard – A robust dashboard is very helpful in providing a comprehensive view of the entire sales and service operations to the admin on a single window.
Advance Features For Online Book Store App Development
While making your own website and app, you can also use email marketing integration into your online book store app and website that will help in elevating the performance of your online bookstore app and website are as follow:
Push Notification – Admin can send their readers instant notification regarding any recent release of any product or any offers, discounts, or cashbacks.
CMS integration – Integrating a robust content management system with your platform will help you manage the content of your website in an organized manner.
User Behaviour – A user behavior tracking feature can be integrated. It will allow you to track your user's habits individually. The user behavior acts as a parameter in recommending the books and discounts for improving interaction.
Voice Assistance – Integrating voice assistance while you create your own book store is a mind-blowing option. This way, it will enable users to perform voice searches of their favorite books by giving voice commands.
Here are some additional security features that you can give a thought to integrating into your app and website:
Add a suitable CRM – Customer Relationship Management program.
Promotional tools can be integrated to promote a book on the app.
SEO tools are very important to help you rank on the top results.
Consider integrating E-Mail marketing integration for good SEO.
Try integrating multiple payment options like credit/debit card, E-wallet, COD, etc.
The platform should be multilingual.
Integrate real-time analytics feature while you develop an online book store app
Integrate a role-based dashboard for every user.
Focus on the security concerns of the application.
Integrate shipment tracking feature
Loyalty programs, seasonal discounts, offers, etc.
Integrate review and feedback feature for enhancing customer experience.
Want to Create Your Own Online Book Store App?
Request A Free Quote
1200+ Projects Delivered 12+ Industry Experience 450+ Clients Worldwide 200+ Certified & Expert Programmers
Tech Stack for an Online Book Store Website Development
Android Tech Stack
Java and Kotlin as the programming languages
Android SDK
Required tech stack toolkit – emulators, debugging tools, graphical UI builder
iOS Tech Stack
Swift and Objective C as the programming languages
Required toolkit – Xcode and IntelliJAppCode
iOS SDK
Hybrid App Tech Stack
Team Structure
Project Manager
Back-end developers
Front end developers
Android app developers
UX/UI developers
Testers
iOS developers
Types of Online Book Store Apps or Websites
Now, with the help of technology, buying and selling books is way simpler than ever. There are various online stores available in the market and below we have discussed them so that you get to see a clearer picture:
Book Stores by the Publishing Industry
The authors themselves are the real owners of these bookstores. They had written multiple books and put up their book sales on their website or an app. This process is quite simple and one can start an e-commerce bookstore just by putting up their own craft on their portal. The potential users can go to the website or the application and look for favourite books in case they are interested in purchasing. The platform will dedicatedly serve the author alone and will not contain any sort of information related to other authors.
Publishing house bookstores
This platform is dedicated to multiple authors who can display their books on their platform just by paying a certain amount to the app owners including a certain amount of commission on every conversion. The users can apply filters in terms of genre, author, and price while searching. Most of the international and bestseller authors have done this and made fortunes for themselves. This platform in simple words helps in bringing together the author and readers.
The Target Audience
The first and the foremost question that comes across every investor, or businessperson before investing in the app development is the type of audience or book readers that he wants to target. Here are the potential target audiences of online bookstore websites and applications:
Educational Institutions and Students
Schools and educational institutes are the first on this list as students would be needing books during their course. The syllabus books of each school may be different whereas the majority of the central boards tend to maintain uniformity in terms of books and authors. The online bookstore mobile application have made it easy for the students by maintaining a robust online bookstore management system to fulfil the book requirements. These online bookstores tie up with the schools and educational institutions to provide them with all the study materials and books required. You might be interested to learn about e-learning management system development.
Corporate Personnel
Corporates need information related to businesses and networking which is served by books and journals. These books not only help in circulation knowledge concerning a business segment but also serve several other purposes. Corporates also need to stay updated in terms of the latest laws and regulations by the government bodies. In doing so, they look for books in the online space to get the maximum benefit.
Businessmen
You must have thought at least once in your life, how businesses manage their legal work after so much expansion and diversification. Well, it is done by professionals who are hired exclusively for taking care of the proceedings of the business and know all the technicalities of its overall performance. As it is said, "Rome wasn't built in a day ", businesses too aren't built overnight but a lot of hard work had been put in daily to make the business flourish. A lot of credit goes to the books which these businessmen have read to acquire the knowledge to win this battle of business.
Youth & Book Lovers
We all like to read books. Social media is the main catalyst that is responsible for encouraging people to buy more books and novels of their favourite authors. Not only that, people love to post their favorite books on their social media handles. The youth is always keen to find some good read. There are tons of reviews on the internet so that it becomes easy for a reader to select the book which he wants to read. Hence, youth is one of the major target audiences of these online book store marketplace.
Government Officials
Each year, any new amendment or law is an existing bill is added to the law books of a country. These books containing these amendments are of extreme importance for government officials. e- bookstore can target this audience and make a lot of money.
Couples
Couples are always keen to know their equation in terms of compatibility. Especially those who are about to get married want to know whether they are compatible or not, and for that, they gather information which they get from books that are dedicated to this field.
To be Mothers
While pregnancy, every woman wants to get as much information as she can relate to pregnancy or taking care of the baby. There are books available in the online market with illustrations that show how you can cradle your babies and how to feed them. Books act as a great source to provide information to expectant mothers.
Sports Personnel
There are books available in the online marketplaces that teach you the nitty-gritty of each game with techniques. These books are often purchased by sports enthusiasts, both men and women.
Medical Personnel
People belonging to the health and medical field like doctors, physicians and nurses require books on medical science. If they come across any hurdle they go through the books to solve it. Books provide them with a lot of valuable information in terms of medical science and biology.
Tourists
A tourist is always interested to learn concerning the culture, tradition, climate, religions and mode of transportation of a country they are going to visit in the coming time. There is an ample number of books available that contain information regarding each city, state, and the nation as a whole.
Competitors
In order to be the best in the industry, you need to be highly focused and determined. There is a lot of scuffle and reading that goes into it. The top players of the publishing industry will always have the study materials that will guide them in the process throughout.
Best Free Book Reading Apps or Website in India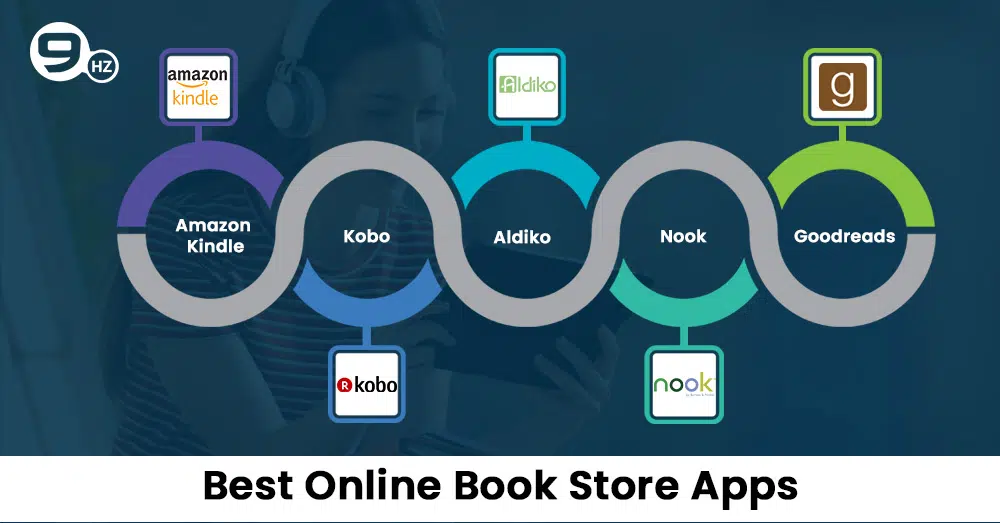 Today, the current situation is all readers want a digital way to access the books and all readable content. Users want to have storage space for all their readable content. Undoubtedly, online book store marketplace application development has brought a revolutionary change in the digital reading community. Here we have mentioned the top 5 online bookstore apps for you to get a better picture:
Amazon Kindle
The Amazon Kindle app provides you with great features like there you can read kindle books, customize font size, add page rotation animation and add or remove bookmarks. There is a very special feature that the app offers called Whispersync. Whispersync helps in establishing synchronization between the app and the reader. You can resume reading from exactly where you left it on your android phone.
Kobo – Reading E-books
This functional application is dedicated to Google Android Devices where a reader can use it for reading electronic books. The text looks clear and readable. The objective of Kobo is to deliver any book on any device that is doing better until is it close to achieving that goal. No, you can use Kobo on multiple devices like iPad, iPhone, Sony Reader Google Android Devices and more.
Aldiko – E-Books App
The third in the electronic book reader application list is Aldiko which is compatible with both Android and iOS operating systems. The application features a shelf-like user interface that helps the users in browsing the available books. Also, the users get a customizable user experience with the background color, fonts, margin size, screen brightness, page switching mode, and more. Further, it comes with a feature where a user can import his own books to read while traveling.
Nook – Online Book Store
Nook online book reading application allows the users to coordinate with the online store: Barnes and Noble. Now, wherever you are, you can access the library with just a tap on your phone. The application is led with the latest technologies to assist the readers in expanding their horizons. The user gets a customized experience in terms of reading on the application.
Goodreads – Social Space for Book Lovers
Goodreads is a famous online book reading platform dedicated to literature lovers and bookworms. The goal of this platform is to allow its members to explore the world of books, have discussions about literature, contact the authors and even share their own piece of work with the other community members.
Hire Online Book Store App Developers
Request A Free Quote
1200+ Projects Delivered 12+ Industry Experience 450+ Clients Worldwide 200+ Certified & Expert Programmers
How to Create Online Book Store App and Website?
Here are the necessary steps describing how you can build a robust online book reading app solution for your business:
6 Steps to Develop Online Book Store
Do some research and come to the point where you exactly know the perfect place for setting up your business. Choosing the right place is very important f you want to grow your business and get ahead of your competitors.
Do some research and come to the point where you exactly know the perfect place for setting up your business. Choosing the right place is very important f you want to grow your business and get ahead of your competitors.
Get all the necessary permits and licenses in your band before commencing the business. This is to ensure that your business is hassle-free and it will also help in avoiding any sort of glitches.
Make a list of the type of books you want to integrate into your collection.
Make contact with the app development agencies and companies who have some sort of experience and skills in terms of developing these types of applications.
Make a roadmap or blueprint of how you want to go further in your mobile app development and point down the features you want to integrate into your app.
The last stage is very crucial testing. Under this stage, your app undergoes various tests to ensure that it runs seamlessly on multiple devices without any glitches. As soon as the testing phase is done, you need to launch the app on the app store.
Online Book Store App Development Cost Factors?
It is not that easy to estimate the exact figure of the cost you have to invest in developing a bookstore app. This is because each application and its features vary from each other. Hence, if you want to calculate the exact bookstore app development cost, it is next to impossible. However, some factors can be considered while computing the app development cost. Below, we have highlighted the various aspects in terms of cost estimation:
Number of Features
The app development cost will eventually increase with more amount of features. If the features are advanced, it will directly affect the cost. Unlike an MVP which is limited when it comes to features, an app loaded with advanced features and functionalities will cost more.
Time Taken
Several factors contribute to the development cycle of any application. The time is taken to develop the application also plays an important role in determining the overall budget. More time taken means more money you need to spend to develop your app and vice-versa.
Complexity
The more complex the application is, the higher the app development cost will be.
Hiring Process
The type of team structure handling your project will highly impact the overall cost of your budget. Majorly you have two options – hire freelancers or set up an in-house team. Hiring freelancers will cost less as compared to an in-house team hired dedicatedly to develop the app.
Design and Outlook
The overall design and layout of your bookstore application also contribute to the development cost.
How Much Does it Cost to Create Online Book Store App & Website?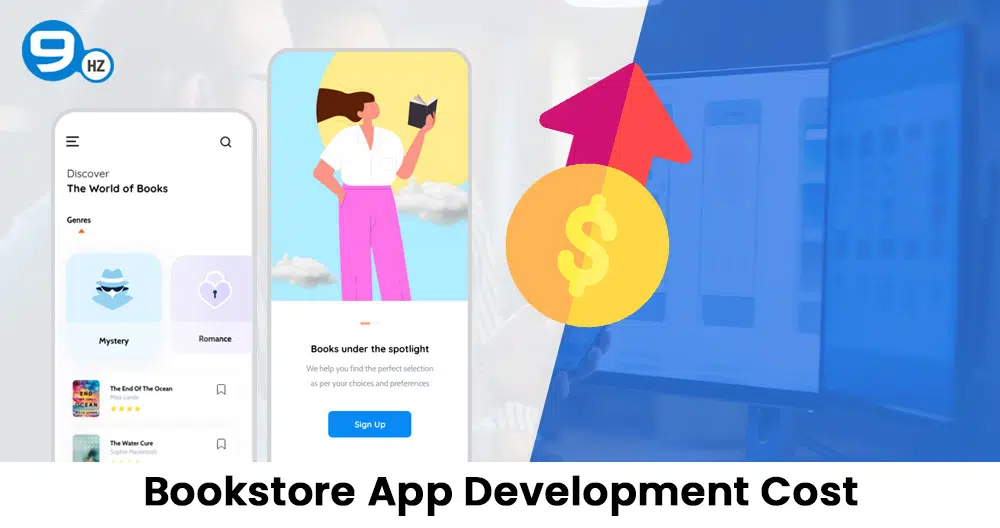 Bookstore mobile app and website mainly has three panels – publisher, customer and admin. Bookstore mobile app are backed by some SEO tools and E-Mail marketing functionalities that help promote your bookstore website and application in order to maximize your reach to your targeted audience.
The final cost highly relies upon multiple aspects namely operating system, location, team size, features, duration and other functionalities mandatory to structure an advanced level of application & website.
Generally, to develop a bookstore app, the estimated development cost amounted to $40000 for the single platform and $60000 for the cross-platform. The cost of development also depends upon the location of the company.
This implies that the development cost in Asian countries starts from $20 to $50 per hour and in Europe, it is chargeable between $50 to $140 per hour.
Therefore, you need to compare the development cost of multiple companies. This can be done by checking various parameters that are mentioned in this article and then making an informed decision. This process will help you in understanding the whole scenario so that ultimately you can integrate advanced features to make a high-level application & website.
Final Words
In the end, we can say that if you have read the article till now, you must have got a unique web app idea regarding the overall development process concerning bookstores. Today is the era of technology and everything is getting digitalized. Therefore, if you are thinking to develop your own bookstore app, this is the correct time as people around the world are mostly browsing through these apps for books and novels.
The most crucial thing is to hire suitable people who are experienced and well versed in their craft. We, at The NineHertz, are committed to adding value to our clients by giving them top-notch quality products at affordable prices. We aim at establishing a lost lasting relationship with our clients as we tend to offer after-sales services and assist them in the later updates and additions. Contact us, and kick start your project. Must read my other guides on online furniture store app development, stock trading app development, tutor app development and fitness app development.