The online era has redefined the concept of teaching and learning. It is no less than a Netflix for individuals who can access as many courses in different ranges of fields irrespective of their age and profession and for teachers to comfortably conduct classes. In the game of a few buttons and tabs, both get what they want. If the plan to build an on-demand tutor booking app is banging your head lately then this guide has come to life only for you.
Any tutor booking app has to keep in pace with the ever-evolving market of e-learning app development. The online learning industry has been burgeoning at a CAGR of around 4.9% from 2014 to 2019. The e-learning market of the K-12 section had been valued at around 600 million in 2019 and this number is expected to jump higher at a whopping CAGR of 12% from 2019 to 2023. With stats like this, we only get one impression that now is the fabulous time for any on-demand tutor booking app development company to gear up on their plan of tutor app development.
There is not a single-handedly stitched answer to how to develop an online tutor app and website. You will have to come across a host of parameters factoring in your plan. Let's unravel this section on demand education app development.
On Demand Tutor Booking Apps Importance
On demand Tutor apps have contributed tremendously in the education industry, be it in the cap of a student or a teacher, which has paved a way for immensely competitive air out there among the tutoring apps.
Below mentioned are the reasons how tutoring apps are important in the learning curve today-
1. Simpler Administrative Tasks
Online tutor apps automate the way the administrative tasks are issued in the case of both
teachers as well as academic institutions. Tutors give their time to grading exams, evaluating tasks, and then providing feedback and remarks to their students.
However, this whole process is simplified when technology comes into the picture as it gives a hand in automating the organizing tasks that are there in multiple tests. This results in the scenario where teachers can have more time to dedicate to their students instead of giving it away to long hours in grading them.
2. Personalised Learning
In tutoring apps, you will have an easy time finding what you are looking for, thanks to the technology where you are served with the most suitable options recommended by the app, just like how you find to-listen recommendations on Spotify. The difference here between traditional and modern teaching systems is that the latter leaves scope of learning for everyone. You might be interested to know the difference between Game-Based E-learning and Traditional E-learning.
The curriculum is devised in a way that it accommodates the biggest count of students who wish to achieve the set target. developing an on-demand tutor app is a practice that has certainly made sure that the students get the best learning to rock their assignments and final exams.
3. Global Learning
AI is there in almost every online business practice and it has made things way easier than ever. So easier that education is not bound to borders anymore. Technology puts forth dramatic transitions, providing learning in any course from any corner of the world and at any hour of the day. Besides that online learning app has also introduced equipment for students in the face of basic IT skills.
With more expansion of edu-tech apps, there will surely be a bigger range of courses to be available online and using the presence of AI, students will be able to grasp learning from wherever they are.
On-demand Tutor Booking App Features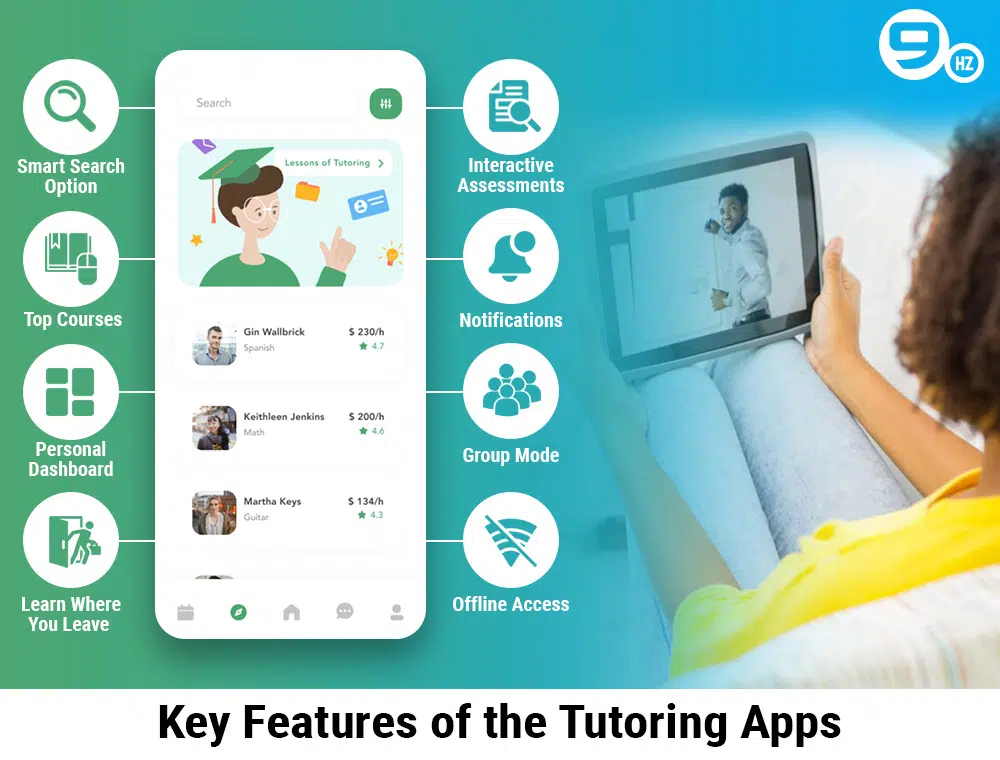 As you can witness, there is a fleet-footed growth in the count of websites that offer online tutoring options and this makes entrepreneurs wonder what it is that they can do in order to make their business a trailblazer of all. Acknowledging the right set of tutor app features and understanding their role in a teacher and student's practices, you will not only help students reach their academic goals but also turn the on-demand tutoring app development into success.
There are many pointers to an on-demand tutor booking app development that predict the future of its course. From basic to advanced of all, you have a pretty good list of features of an on-demand tutor platform to keep in mind during the whole development process. Here, we have gathered some important features that need to be there in an online tutor booking app development for entrepreneurs in order to make a suitable choice for their business.
Want to Create Online Tutoring App?
Request A Free Quote
1200+ Projects Delivered 12+ Industry Experience 450+ Clients Worldwide 200+ Certified & Expert Programmers
You have to walk parallel to the different set of features that have a significant say in a tutor mobile app when it comes to making it interactive, effective, and feasible for tutors, students and not to mention- administration.
Let us now take notes for each one by one.
Also Read: Augmented Reality for Education
1. Features of Tutor App for student Panel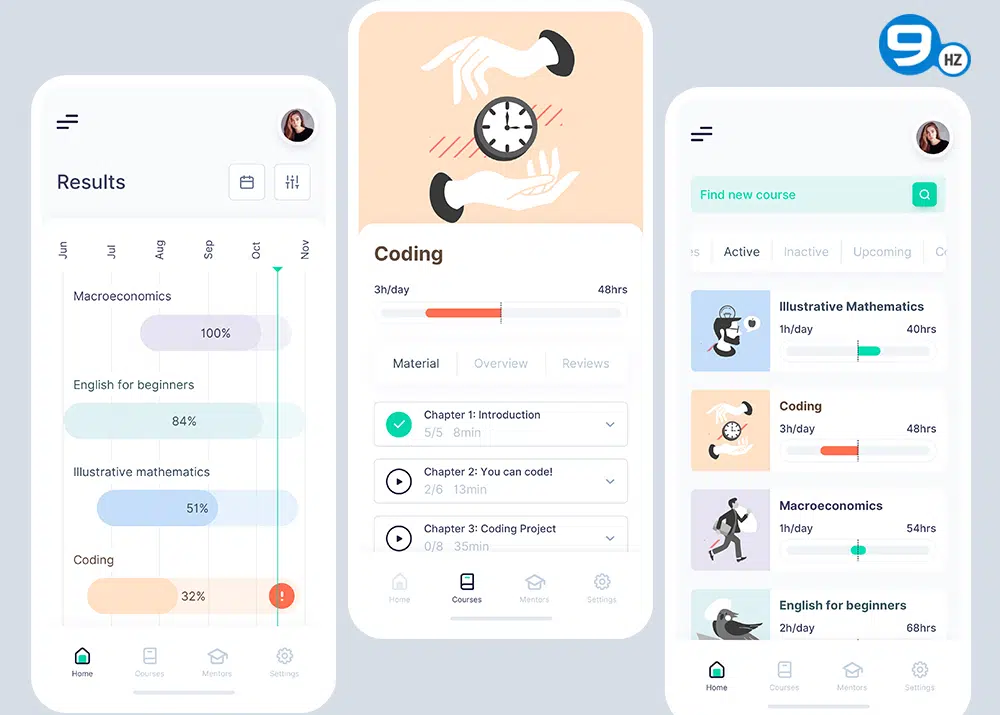 Social Media/ Direct Login: This feature will let your users log into an already existing account. Alternatively, they will be able to sign up using their email or any social media account.
Browse Tutor: This section will allow your users to search the tutors they are looking for a specific subject or any course with the specifications that meet their learning requirements.
Check Tutor Details & Reviews: The users will be able to go through the relevant information about the users like course specifications, tutor's specialization, years of experience, and more.
Post Requirement: Users will be able to post their requirements in order to identify the relevant tutor, as per their grades, courses, suitable timings, and the subjects that they wish to learn.
Book a Tutor: After navigating the reviews on the tutor, users can simply book one and get started with the subjects or courses as chosen.
Chat with Chosen Tutor: The users can interact with the tutor on various other aspects including timings, tuition fees, and many other details to make the learning experience more effective and comfortable.
Ratings & Reviews: Users can pour in reviews and ratings as per their experience of the quality of services provided to them. According to the teaching skills of tutors, time adherence and also the behavioral aspect, users can pen down reviews about their tutor.
2. Features of Tutor App for Teachers Panel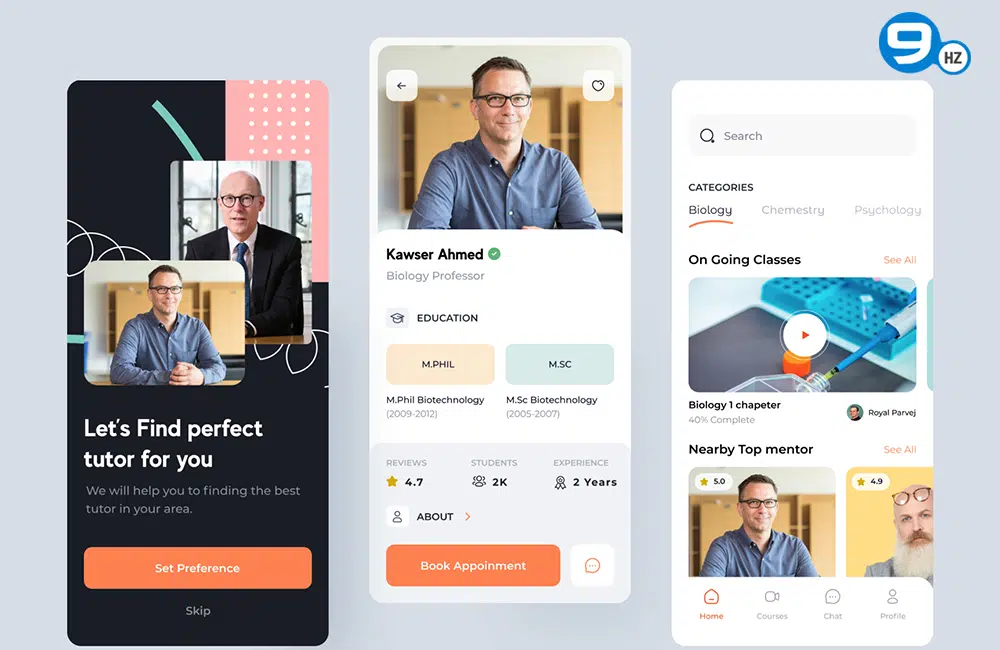 Profile Setup: Using this feature, tutors will be able to set their profile and easily log in with their social media account or their email account credentials.
Edit Availability Timings: This feature gives tutors a room to change the timings or alter them as per the number of classes that are cued, suiting their convenience.
Accept or Reject Requests: As per the time schedules as well as the classes lined up, tutors can accept or reject the request of the users.
View or Edit Bookings: With this section, tutors will be able to view and check their booking plans and they can also edit the same. All the ongoing tuition, as well as the completed ones, can be updated by them.
Check Weekly & Monthly Earning: According to the count of active tuitions, tutors will be able to keep tabs on their earnings on both weekly as well as monthly basis. They will also be able to keep a note of all the tuition sessions for which the charges have been incurred.
Communication with Students: This feature is helpful in letting tutors communicate with their students in order to answer their queries and keep them updated with the alteration in schedules.
3. Features of Admin Panel for on-demand tutor app
The backend of any on-demand tutor app has to be steered by a skilled hand. It is crucial that your tutor mobile app development team leaves room for you to access whatever happens in the backend and how everything would turn out to be as a whole.
Here are the noteworthy admin panel features in a tutor app that you have to ensure during the process:
Efficient Analysis: Both users and tutors that are registered with the app and are enjoying the services are analysed as well as stored in order to maintain a track record.
Statistics: The facts and figures in regard to the services availed, preferred locations, and all the payment activities are stored and maintained.
Managing Tutors & Services: The tutors that are signed up with the app and the services, their experience and course specialisation are tracked under this feature.
Listing & Management: College and school grades, the marks for courses and the specialisation that are offered have to be maintained and monitored by the Admin.
Reports & Earnings: Monthly or weekly track of all the tutors and their earnings are checked as per the terms applicable to have an effective learning ecosystem.
Student Manager: Any information concerning the students with their course as well as fee structure are maintained by the Admin in this feature.
Jobs Assignment & Manager: All the tuition requests are taken care of by the Admin.
Tutor Finding Mobile App Development: Must-Know Advance Features
We have come so far that without extensive study and research, it won't make any sense in accelerating the tutor app development process. It is a predominant step to map the ideas and read the competition well in order to prevent loopholes.
Let's take a look at the advanced features of the tutor app that are too important to miss out on-
Push Notifications: Your accentuation of push notification technology will only work towards the expansion of your user base. It is an incredible way to keep your users as well as the tutors engaged. Messages and updates associated with special offers or events and news or any other promotional purposes are sent to the users under this feature. It allows development of user loyalty and it also keeps users in ties with you for a long run.
Payment: It is a must-have advance feature for any tutor app. Know that digital payment options are good for the tutor applications for many reasons. Multiple payment solutions such as net banking, credit/debit cards, or eWallet can be incorporated in order to allow the users to commence the payments in your app. This gets the e-learning procedure to act more conveniently for both the students as well as the teachers.
Cloud Management: This technology is the one that augments the workings of your app. It breathes a whole new level into the functionality and operational infrastructure of your tutor app. Cloud technology keeps your data on the cloud servers and then it streamlines the user experience, given that it renders the data at a very fast pace and simultaneously maintains the app safely. Thus, you can store all the payment details, tutor and users information with details services in a hassle-free manner and also access them whenever you need. The demand to maintain the large hardware devices is no more a tension when you have cloud technology.
In-App Conference Calls: When there are built-in messages in the app, it allows both the students and tutors to have communicated with each other in a transparent manner. Students can talk over all the queries with tutors in regard to any topic that might come during the revisions events. Thanks to this feature, it allows other students to be part of this communication as well. Thus, discussions on any specific topic go up which adds both to the student's skills and encourages the group learning.
Heat Map View: This feature is one of the most beneficial features of tutur app as it displays all the important details such as the popular locations/ categories/classes/ courses/ subjects, which allows the users to take a call constructively. Users can simply go through all the details related to the tutors as well as the services which they are keen to know. Heat Map View is definitely the best feature of an for a tutor app as it comes with all the relevant details that users require.
Tracking: Using this feature, admin and users can track the location of a tutor in real-time. GPS or Global Positioning System can be incorporated by users to identify the location of tutors. This way it becomes convenient to see if the tutor has taken a long route to reach the destination. On the basis of that, users can suggest a better route to them which will help in cutting down the extra time taken while commuting.
How to Make On-demand Tutor Booking App? [Step-by-Step Guide]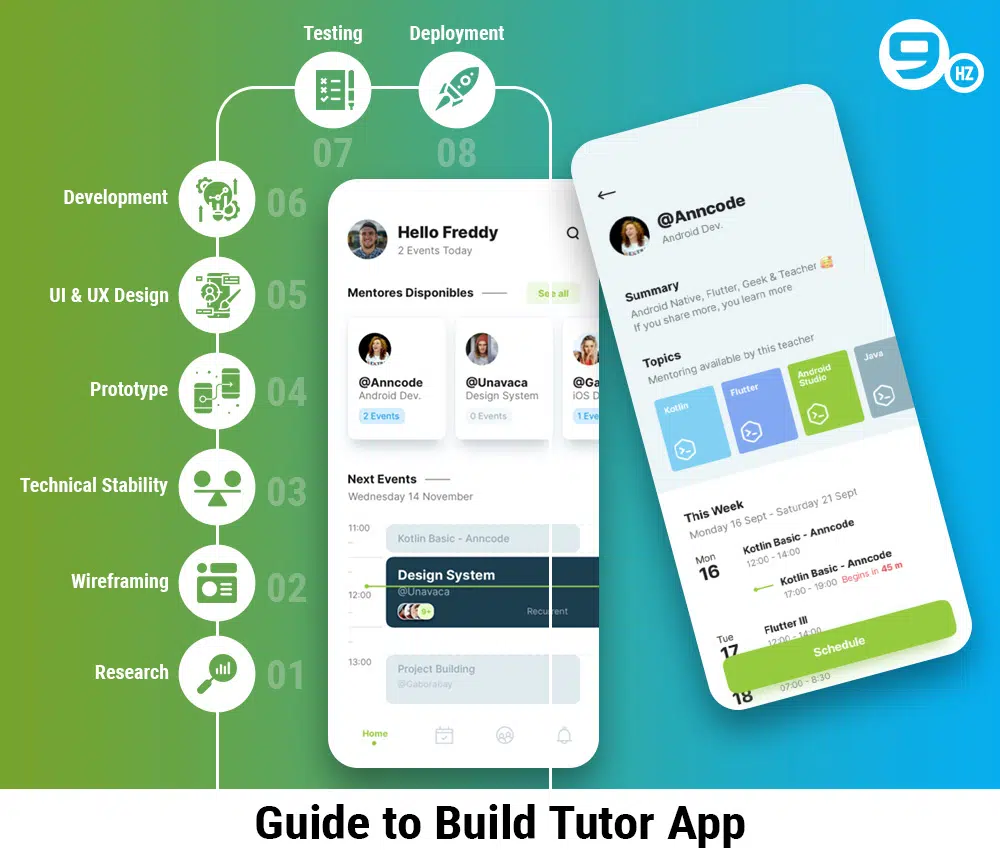 Based on the features and attributes of an ideal and stellar online tutoring platform, here are the steps that are best taken in order to come up with the most competitive tutoring website development out there-
1. Find Where You Stand Out
What's so unalike in the offerings that your competitors are treating their customer base to? It'd be great if you know it already and the first step for you to pave a way for the star-performer tutor app development is to find out your specialization. It is already a strenuous job to compete with the giants of online tutor booking apps and you don't want to make it worse by simply serving the chopped tomatoes. Do you?
While you start a new business you must choose to gear it up with a vertical marketplace, for starters. You can move forward once you have cemented your standing in the market and then expand horizontally by bringing in more categories. For instance, you can bring features that are dedicated to helping the underserved in the market and also find specialists for them.
Hire Certified E-Learning App Developers
Request A Free Quote
1200+ Projects Delivered 12+ Industry Experience 450+ Clients Worldwide 200+ Certified & Expert Programmers
2. Choose and Understand Features
In the course of a tutor website development, it is natural to want to fetch everything in one shot but any complex website would demand a plentiful amount of time as well as endeavors to manifest. The cost to build a tutoring app with complicated standing can be roof-hitting high. As a startup facet, your foremost to-do is to find if your idea of an online tutoring platform is viable at all before investing you hard-earned money and valuable time into its development.
We recommend that you get it started with an MVP, the minimum viable project. You have to select the most crucial features that project the skeleton of your tutor app project in order to create an MVP. You must keep in mind to display the competitive benefit of your project in regard to the existing ones. Know that in the shield of MVP, you will be able to get your startup a good amount of time and money saved while the development is in progress.
Also Read: Creative Website Ideas for Students
3. Focus on Design
Modernity in the app development industry has got users to pay special attention to the good-looking and easy-headed look and feel of an app and website. Additionally, we have come way far to the time when websites are ranked based on the design- one of the important determinants of success. If you are wondering how to create a tutoring app, you can already consider new Google SEO algorithms that weigh usability. We totally suggest that you hire a designer as well as a UX specialist who has an eye for stunning graphics along with animation, and usability. One thing to keep in mind here is that design precedes coding, given that developers have to link ready UI components to the backend.
4. Development Stage
Now is the time of development of the tutor app and if you have spotted the needs and requirements for your project, then it is best to start looking for a development team. You may want to construct the website all by yourself with one of the sensational website building solutions out there but you must be aware of the fact that this kind of method is only a sound option in the case of simple platforms that do not ask for unique features, further extension, or any third-party software integration. We advise that you focus on creating your own team of dedicated tutor app developers to ensure impeccability.
5. Launch and Reviews
In case you are beginning with an MVP, it will enable you to unveil the first part of the platform and you will start getting feedback from your users. Therefore, you will be able to fathom a better understanding of how you can extend your tutor app development project. This will be of good use for you to add new features and also, modify the previous ones in the future. You must read another article on how to build LMS from scratch?
Best Tutor Booking Apps and Websites in 2022
Need some tutor app development inspo to rock your project shinier? Here is the list of the most popular and the best tutor apps and best online course platforms that have established their mark in the market by unravelling a legion of must-have service and courses:
1. Byju's Students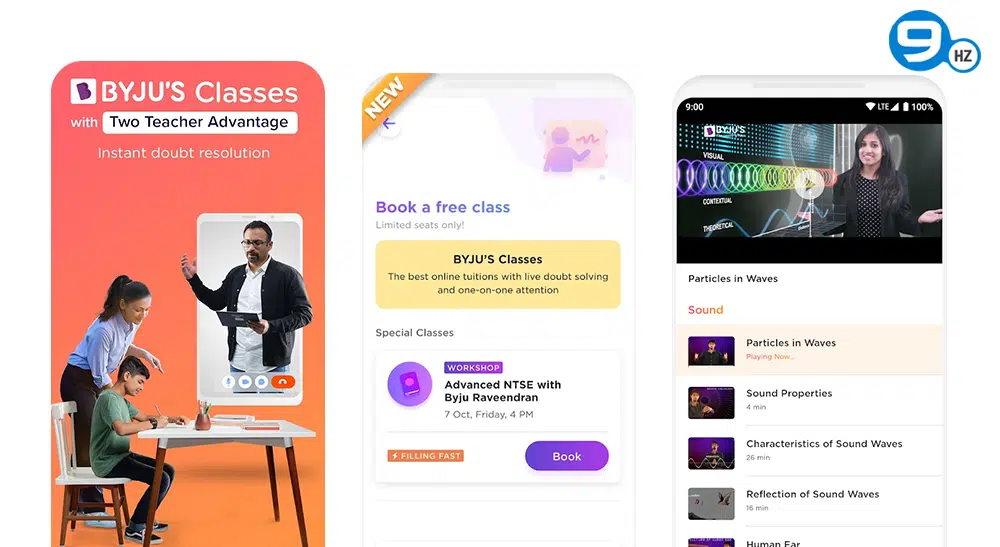 Byju's is one of the most feature-rich tutor applications out there. It is a hybrid home e-learning station for the students. This app has gained immense popularity because it has successfully introduced a blend of the best private tutoring and technology-backed learning for a number of courses such as CBSE, ICSE, and national & international along with state boards and whatnot.
Noteworthy features of Byju's learning app-
One of the most preferred e-learning platforms.
Offers online and offline tuition options.
Provides classes on a myriad of courses.
2. Chegg Tutors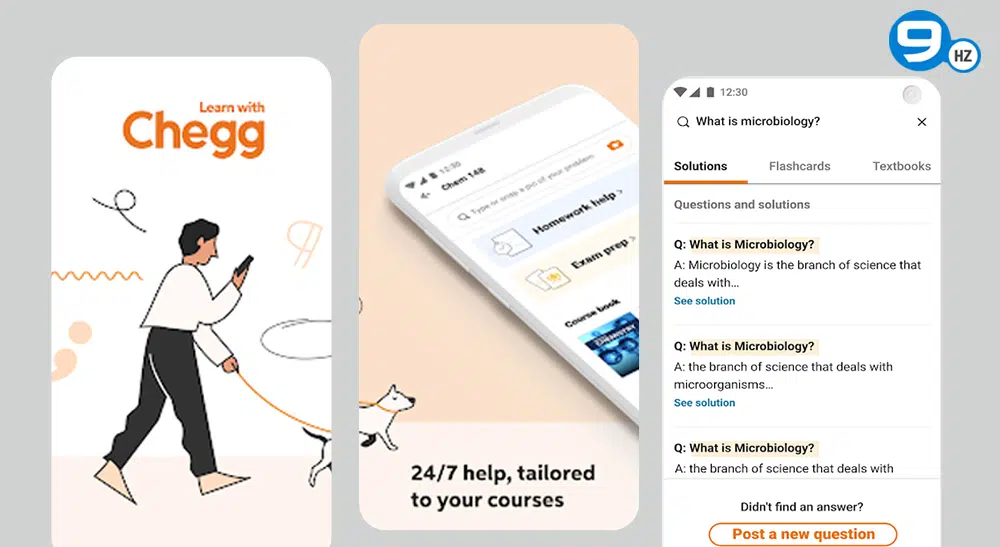 Chegg is one of the most popular online tutoring platforms that is chosen by users majorly in order to get homework help immediately and set up cost-friendly online tutoring sessions with tutors from the top colleges. You will find a tutoring solution in this app available 24/7 via video, whiteboard as well as chat option. Students are provided assistance either through in-demand or after scheduling a lesson content. Chegg also allows students to have the freedom of reading through the tutor reviews and see which tutor is most suitable to their personality.
Here are the important features of Chegg tutors:
It is available for students 24/7.
Offers video sessions, whiteboard and chat options to tuition.
Best for homework help.
Allows students to read reviews and feedback about the concerned tutor.
3. Flipclass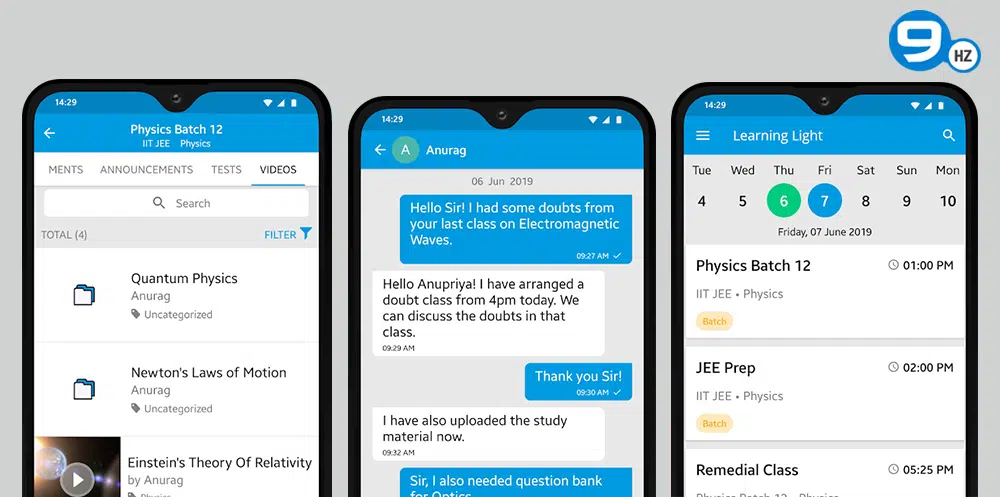 When it comes to the list of the best tutor apps, Flipclass has to be there. This platform is one of the major home tutoring service providers that comes with the solution of high-quality teachers at the doorstep. It allows students to enjoy personalized tutoring at attractive service plans. Flip class features a stringent tutor filtering practice that makes sure that students only get the best tutors. On top of everything, it features a Whatsapp-like interface which increases its usability.
Some notably amazing features of Flipclass are:
Affordable tutoring services.
An interface that resembles WhatsApp, making conversation more convenient and faster.
Effective and personalised experience.
4. Tutree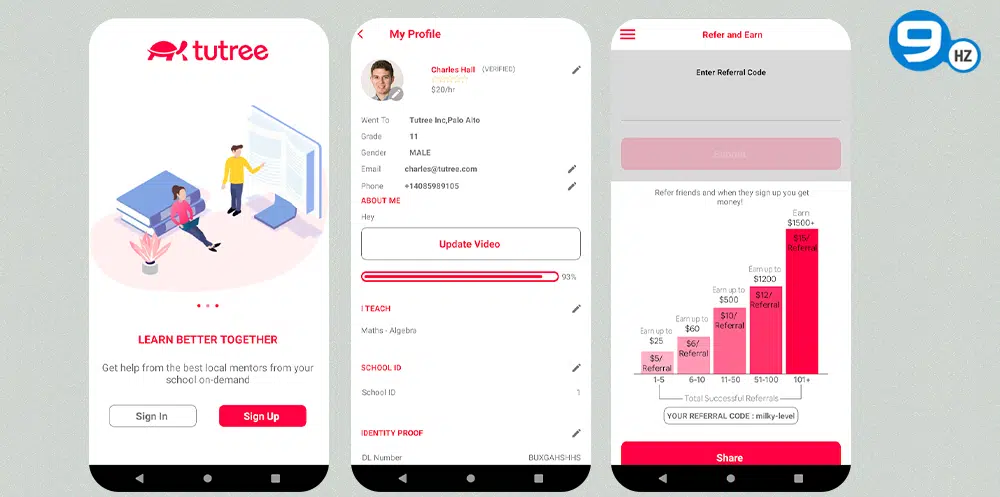 This on-demand tutoring platform is counted among the best tutor apps for all the good reasons. It helps individuals meet peer tutors within minutes in person. It comes with a world of skill sets such as computer, geometry, Spanish, English speaking sessions and SATs to overseas students. It also ensures a parent's peace of mind by bringing in only tutors after their diverse background check and screening through the National Sex Offender Registry across other resources.
Here are the good-to-know features of this app-
It offers a vast world of language and other courses.
It allows you to find a tutor within a few minutes.
Tutors are background-checked as well as screened via the National Sex Offender Registry.
5. Genext Students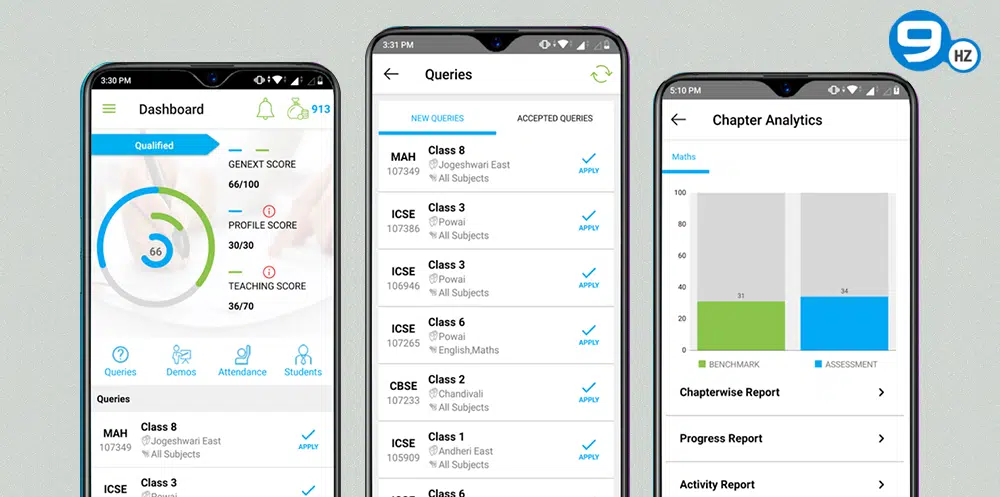 Another incredible tutor app on the list. This one-on-one online tutor option effortlessly connects tutors via a tech-enabled platform. It is like an uber of services that embed both websites as well as an app in order to provide an in-person, high-quality, and on-demand service. What makes Genext even better is that it brings tutors from a diverse range of backgrounds that open the doors for certified teachers, industry professionals along undergraduates and graduate students with experience in teaching.
Here are the features of Genext Students to make a note of-
It unfolds a variety of teaching services and courses.
It introduces teachers from different corners of the world, making teaching experience more feasible and effective.
Comes with on-demand and in-person services.
| Top Tutor Apps | Founded | Revenue |
| --- | --- | --- |
| Byju's | 2011 | $390 million |
| Chegg | 2005 | $171.9 million |
| Flipclass | 2013 | $9.6 million |
| Tutree | 2014 | $1.13 million |
| Genext Students | 2013 | $2 million |
Popular Tech Stack for Tutor App Development
When it comes to developing a tutor app, you must identify the most suitable tech stack in order to keep up with the ranging user demands and also to get yourself a seat before your existing competitors. An app that is technically sound can undoubtedly win the charts and render an incredible user experience. Therefore, it is best that your app is covered with the technical aspects mentioned below and you rest assured that users will keep this app on their mobile for a long time:
Push Notifications: Twilio, Push.io
Voice, SMS and Phone Verification: Twilio, Nexmo
Payments: Stripe, EWallets, Braintree & PayPal
Real Time Analytics: Cisco, IBM, Hadoop, Spark, BigData, Apache Flink
Database: Cassandra, MailChimp Integration, MongoDB, Hbase, Postgres
Cloud Environment: Google, Azure, AWS
Also Read: Mobile App Ideas for College Students
Tips to Make an Outstanding Tutor Application Development
How can you make your tutoring website stand out? You don't really have to do anything pompom and glittery to attract students to the app. Here are the tips on online tutoring app development that will definitely help you to find success.
1. Find Your Niche and Focus on Your Target Audience
What are the niches that appear to be the most promising fields in order for you to create an on-demand tutoring platform or a small tutoring business?
Let us have a gist about it by understanding that there are different types of students who need to be cocooned in learning in a different fashion. There are students who lack the motivation to learn and who procrastinate. Then students with special conditions, the ones who are not able to attend school.
There is a world of pre-college or school graduates/ adults who want to prepare for tests, examinations, and job interviews and then, there are also the ones who struggle walking by the disciplines of STEM. Once you expand your research and get to the bottom of its understanding, you will be able to find your light and the ways in which you can design and dedicate your app to a certain group of students and teachers.
2. Focus on Trends
If you really want to make your online tutor app development endeavors flourish into something remarkable then you need to bring the party of the latest tutoring trends that are spicing things up. One of the major online tutoring app trends is the prominence of online test preparations that is anticipated to take over in the next few years.
And when counting the biggest online teaching trends, you cannot help but acknowledge how asynchronous tutoring is rolling fantastically in a dominating behavior. Know that most online courses are of asynchronous nature. The idea behind this discussion is that you should not miss out on these trends that deck more ease up for students.
3. Be of Service to Underserved Groups of Individuals
One of the powerful forces of impression from any business is directed by how it gestures on the social stance and what guise of offerings and support it brings to the people out there. Online tutorial platforms are not only dedicated to the ones with the conventional tag of 'student'. Nowadays, even businessmen and professionals seek coaches and mentors to accommodate themselves with the required skills and add more. In order to be the better version of an online tutoring platform, your app needs to feature something that brings an offer to different groups, irrespective of age and qualification.
Hire Dedicated Educational App Developers
Request A Free Quote
1200+ Projects Delivered 12+ Industry Experience 450+ Clients Worldwide 200+ Certified & Expert Programmers
4. Add Special Features
There are possibly myriads of niches that may jewel an online tutor website or app with certain special features. This is what increases the chances of it becoming a name in the industry. When you know and understand the peculiarities of a particular subject, it becomes plain-sailing for you to mold an enhanced definition of a learning atmosphere for students as well as teachers. If you are able to get to the best of it, there's no way you won't reserve your seat as the tough competition to your fellow tutor business projects out there.
How Much Does it Cost to Build a Tutor Booking App?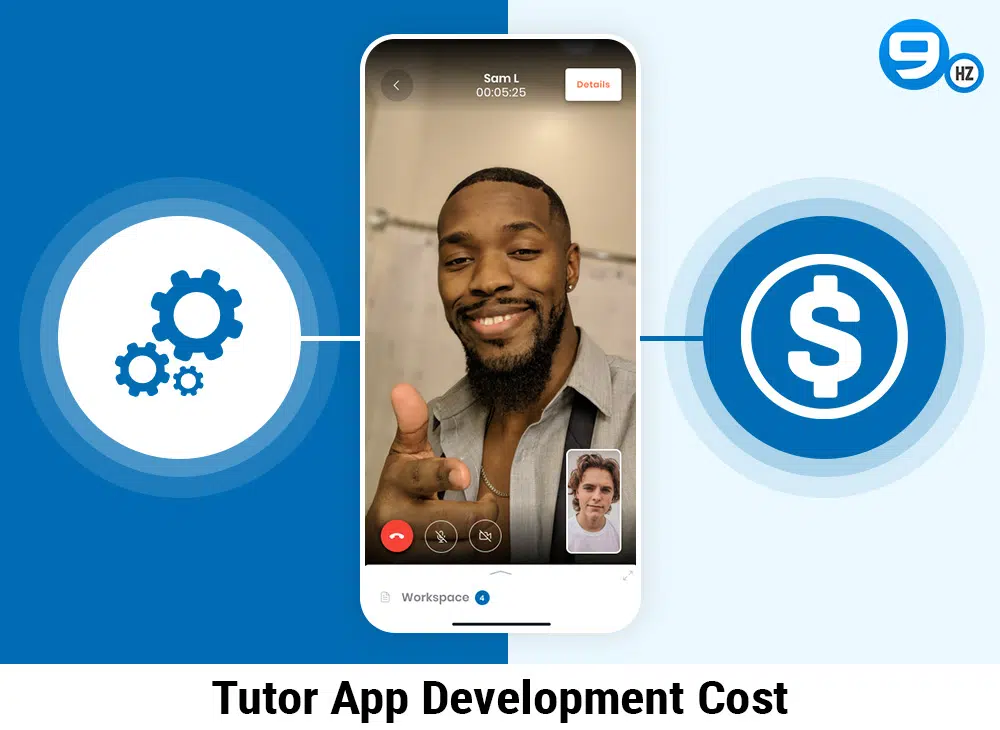 The tutoring app development cost or the cost of any app development is decided by a group of different factors. The cost of tutoring app development majorly varies from region to region. It is always advantageous to hire the right app developer, in the right region. Thus, if you come up with an estimated calculation of all expenses incurred by app development, it'd fall around the average cost varying from $ 7,000 to $30,000 for a single platform (either iOS or Android).
Finding and selecting a multiplatform app or adding more features to it can put a raise on the cost of the app development for up to $45,000. However, splurging around $70,000 vouches for your entry into the strong competition that is happening out there.
Tutor App Development Price in USA
The average tutor application development cost in the USA is $160 to $250 per hour.
Tutor App Cost in India
When it comes to the online education app development Price in India, the cost falls between $20 to $40 per hour.
Tutor Application Development Cost in UK
The cost of tutor app development in the UK comes to about $90 to $175 per hour.
Tutor Application Development Cost in Australia
Hiring a tutor app developer in Australia will cost you around $100 to $150 per hour.
Tutor App building Cost in UAE
The tutor app making cost in UAE falls between $40 to $90 per hour.
eLearning App Monetization Model
When you are building an e-learning app, you must be expecting a handsome profit out of it. Even if it's not about profit, you most certainly hope to cover the costs incurred by the development of an educational app. In order to monetize as well as maximize these monetary gains of learning app solutions, here are the best things that you can take on:
1. Pay per Course
If your app offers learning solutions for different courses, then it is best to opt for the pay-per-course option for monetizing your app. This monetization model will prove to be practical when your app features a limited set of higher education courses. You can use it as an introductory monetization structure, and then you can also move to subscription-based monetization or many other options for monetization after you have an expansive repository of courses.
2. Subscriptions
The subscription model enables your users to download your learning app for free. However, they only can access its features for a limited period of time. Then, they need to buy the plan if they are interested in using the features of the app. They can buy premium versions periodically and enjoy using the bundle of your services.
3. In-App Ads
You can run general and targeted ads on your learning apps in order to monetize your education app. You can do this by charging advertisers a certain premium for getting a space on your app.
4. Freemium
The Freemium model brings your customers the option to use the basic features of your app for free. If they wish to enjoy all the premium features, they will be required to go for in-app purchases or say- a subscription structure. So if you offer 3 courses free every day, you can charge your users for the 4th course with the freemium model.
Also Read: Web App Ideas for Students Project
eLearning App Development- Final Thought
The tutoring business is hailing like anything and there are countless students out there who need help with their assignments every day. While they can simply hire a tutor to visit their home to teach them or seek post-school centers, online tutoring sites beat this idea on the scale of convenience and many other ways. By accentuating your online tutoring app development, you will welcome students to take lessons from a tutor at any hour of the day which makes this concept quite innovative and helpful. Must read my other guides on online book store app development, stock trading app development, furniture app development and fitness app development.
FAQs on Creating Tutoring App
Individuals coming from the following categories can sign up on tutor app:
Students
Teachers
Subject professionals
Hiring an individual team of developers can incurm higher expenses and take a long time. You can opt to create your tutor app by outsourcing it to an app development company that meets all your requirements and has resources available.
There are ample benefits you can get by leveraging a tutor app development:
You can create an online institution brand of your own among your students.
You can come up with new features that seem advantageous for students and easier for communication with them.
You can have attractive revenue.