Spotify is a music streaming app that lets you listen to your favorite songs on demand. You can create playlists, share music with your friends, and more. Spotify also offers a premium subscription that gives you access to exclusive content, ad-free listening, and more. According to Forbes, Spotify is one of the most popular streaming services with over 50 million active users. The company has also been one of the fastest-growing startups in recent years in the sound streaming market, raising over $1 billion in funding. With its user-friendly interface and vast library of music, it's easy to see why Spotify has become such a popular choice for music lovers around the world.
You have a unique opportunity to fit into a rapidly growing market with a plethora of untapped niches, and there may never be another, so if you're considering creating an OTT app, now is the time to act! The market is even more appealing than usual due to the pandemic. According to a recent survey, subscription revenue is expected to increase by 70% in 2021.
Spotify too reported a 16% increase in revenue from 2020 to 2021 alone. Furthermore, the steady progression of music streaming platforms and the increased content drive market growth. The global revenue is expected to be $769 billion by 2027.
This guide is for you if you want to create an app like Spotify. We'll go over music streaming market statistics, clone app development features, and how to make an app like Spotify in the sections below. But before diving, let's first know what the Spotify streaming app is.
Read on!
What is Spotify App?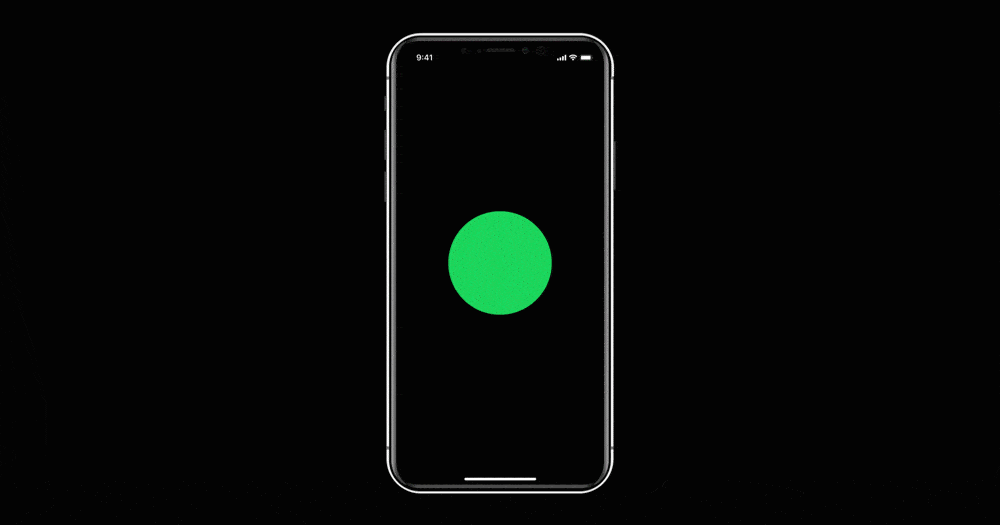 Spotify is a music streaming app in the USA that lets users search for any song, artist, album, or genre. Users can share their favorite tracks, add them to playlists, and even collaborate on compilations with their friends.
Spotify was first released in October of 2008 in the USA. The idea behind it belongs to two friends, Daniel Ek and Martin Lorentzon, that came up with it while sitting in a nearly empty apartment in Stockholm, Sweden. Now it is accessible to all of the world's music, anywhere and anytime. Here you can find list of top OTT app developers.
Why Should You Create an app like Spotify?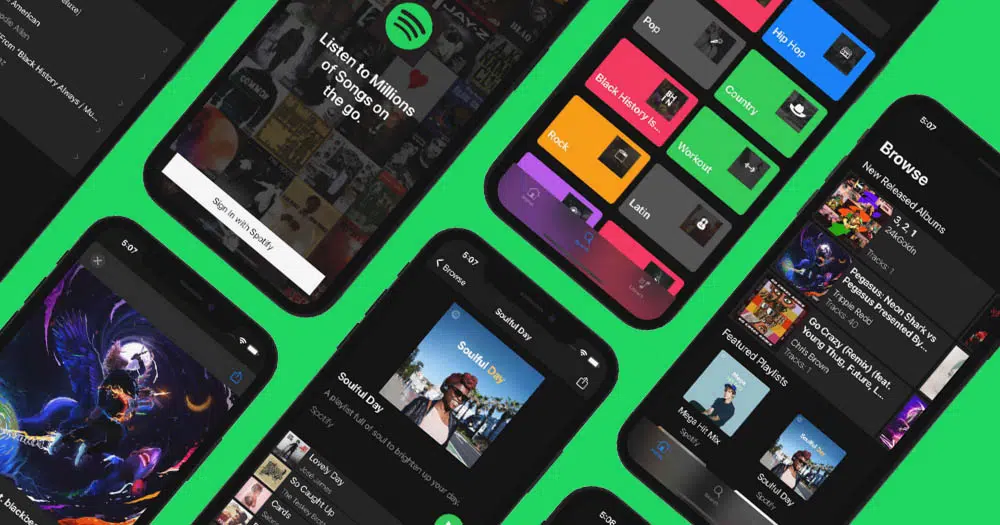 Before getting to know how to start a music streaming app, let's see why you should do it in the first place.
Music is one of the fastest-growing and steadily developing industries in the entertainment department, with a bright future ahead. According to research, more than 14% of the population uses music streaming apps several times a day, and the market is only about to grow, with a CAGR of 17.8% from 2020 to 2027. Therefore, developing a music streaming app entails a constantly growing market. That means more revenue and a larger audience for you!
Another reason is the potential opportunities. Advanced technologies such as 5G streaming, VR, AR, AI, and others are integrated into market players' apps. MelodyVR, for example, offers a variety of live shows that can be viewed in VR headsets to enhance the user experience. If you have a revolutionary idea, this is the place to put it into action!
Everyone can relate to music, and with the market evolving and changing at such a rapid pace, there are always niches to fill. That's why business-minded people decide to create a music streaming app and hire app developers to help them achieve their objectives.
Want to Launch Your Own App?
Convert Your App idea into Reality
Spotify App Features
The app's key features are largely determined by the target audience's needs and desires. Knowing what they want before you build your music streaming app is extremely valuable because satisfying their needs means more audience for you. Here you can check the top features of the Indian music app Gaana.
What are the essential features of successful music streaming app? We think the following features are the most important in a music app:
General Features of Music Streaming Mobile Apps
Music Library & Playlist
Offline Access To Audio Tracks
Recommendation For Music To Listen
Social Sharing
Uploading Media
User Panel for Music Streaming Subscribers
Register with Social Media or eMail
Create a User profile
Search & filter music style, album, artist, track name
Search covers, music artists, albums & songs
Listen radio streaming
Add tracks to the personalized playlist
Counter plays tracks
Connect with smart speakers
Background remote control
Download audio tracks and listen offline
Like & Share, track and share on social media networks
Create Private and public playlists
Background music play
Lockscreen info (artist, track, cover)
in-app purchases(remove ad), add a playlist, access to offline music
Want to Launch Your Own Music App?
Request A Free Quote
1200+ Projects Delivered 12+ Industry Experience 450+ Clients Worldwide 200+ Certified & Expert Programmers
Admin Panel For Music App Owners
Secure login to the admin dashboard
Manage and Upload tracks (mass upload)
Create playlists based on artists, category, etc.
Prelisten track
Manage Users, music artists
Publication of the track in one click
Manage/Edit/Add track, album, style, artist
Run advertising/promotions/discounts/offers
Manage subscriptions & memberships
Advance Features for Spotify Clone Development
Social Media Signup/Login: Users can easily log in or signup for the app without filling in their personal information each time they open the app to listen to music.
User Profile: After registration, users must have a profile to manage and update their playlists. Simultaneously, the functionality would allow them to share tracks and upload their own.
Share Music & Audio Playlists: Users of the app could follow other musicians, bands, and users, allowing them to share tracks with a like-minded audience.
Push Notifications: This feature is beneficial to the app because it allows users to be notified about new song releases, app updates, etc. This is a good way to keep everyone informed about what's going on in the app.
The Cost to Make an App Like Spotify?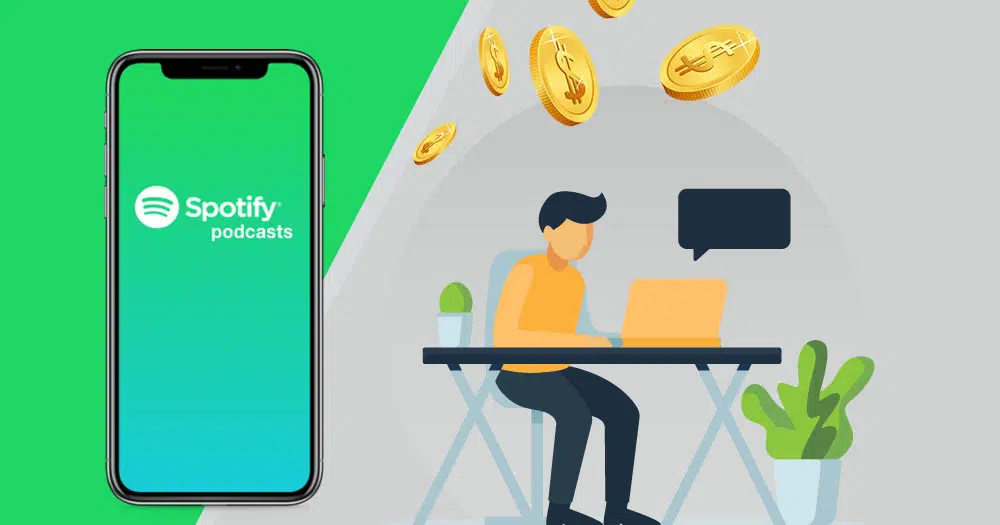 The Average Music App Development Cost is between $60,000 and $150,000 whereas the average cost of developing complex app music streaming app is $300,000. Basically, this varies on the potential features and flexibility available through audio streaming software.
Some of the other factors that contribute to cost of music app development similar to Spotify are:
The platform for developing a mobile app is also effective on other devices.
The size and location of the organization are both important considerations.
Market new pricing estimators are made possible by app development technologies.
Timetable for creating a unique, feature-rich app.
Furthermore, we have highlighted the Spotify clone app development cost based on platform type for your ease!
| Country | Pricing of Developing an App Like Spotify |
| --- | --- |
| USA | $100-150 per hour |
| UK | $100-190 per hour |
| Australia | $75-$100 per hour |
| India | $25-50 per hour |
| UAE | $25-75 per hour |
App Development Cost in the USA: The basic application rate of the Spotify app development charge will be $100-150 per hour for MVP.
App Development Cost in India: The basic application rate of the Spotify clone app development charge will be $100-190 per hour for MVP.
App Development Cost in the UK: The basic application rate of the Spotify app development charge will be $75-$100 per hour for MVP.
App Development Cost in Australia: The basic application rate of the Spotify clone development charge will be $25-50 per hour for MVP.
App Development Cost in UAE: The basic application rate of the Spotify app development charge will be $25-75 per hour for MVP.
How to Make an App Like Spotify? Development Process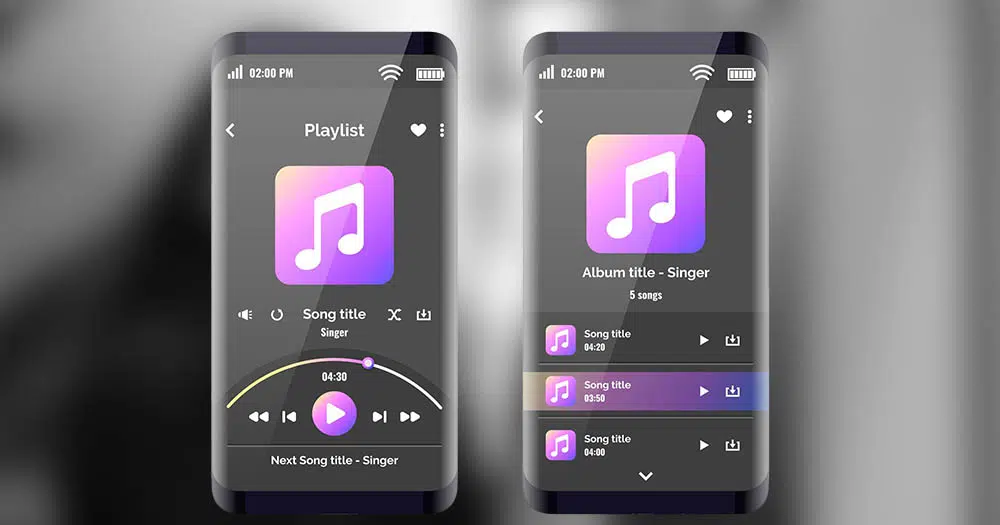 There's no denying what Spotify brings to you because it has millions of songs in its unique collection. The streaming service offers many music audio mixes where there is no cost for a certain limit of their delivered services. So, if you want to join the race to make your music application both powerful and capable, here are the essential steps to take while creating an engaging app to reap the benefits!!
Step 1. Strategy for Spotify Clone App Development
Identify the market requirements: You have a fantastic app idea, but where do you begin? You must first prepare a planned concept for the project before you begin developing a music app. It entails researching the target audience, understanding the music app market, and determining the type of future app you will create. Analyzing your target audience will also help you decide which platforms or devices your app should run on.
Choose the right platform: After you've completed your market research, you'll need to choose a platform to launch your app. This would necessitate a deeper investigation of your user demographics. For example, while some users of different ages and regions may prefer Android, others may prefer iOS. There may be instances where both platforms receive equal attention. Depending on this, you can choose to develop the mobile app by pursuing. 1. iOS 2. Android 3. Cross-platform
Follow the compliances if needed: It is necessary to have the authorization to stream legit content with licenses of two types: sound recording and music composition licensing agreements.
Step 2. Design the social network App's workflow
Sketching: The best way to ensure the success of your music streaming app is to sketch it out first. While creating an MVP for your music app, the following information will assist you in determining which features to consider, the approximate time frame, and more.
Wireframing: Wireframing is the process of creating a black-and-white app sketch to demonstrate the app's overall design concept.
Prototyping: Prototyping is the process of creating an interactive app model that allows you to tap, swipe, drag, and do other actions to see how the app works.
Design App Skins: The team creates colorful but static app screens. Icon design, button shapes, and spaces are examples of design apps.
Launch Your Own Spotify Clone App
Request A Free Quote
1200+ Projects Delivered 12+ Industry Experience 450+ Clients Worldwide 200+ Certified & Expert Programmers
Step 3. Development & Quality Assurance for Music App
Front end development: Spotify's desktop application uses micro-frontends, and the developers use iframes to bring the different parts of the same view altogether.
Back-end development: The developer team uses C++ for Mac/Windows clients, Java for Android, and Objective-C for iOS apps. The main principle behind Spotify's backend is feature partitioning. A team of developers is assigned to each app feature. To create an app like Spotify, you'll need to link the JS and backend with the so-called 'access point'.
Quality check and testing: Quality check and testing will let you check before the official launch of your mobile app on app marketplaces. If you discover bugs or system errors, we conduct a bug-fixing process to ensure that all defects have been addressed. After this, officially release your mobile app so users can download it from app marketplaces.
Top 5 Famous Spotify Alternatives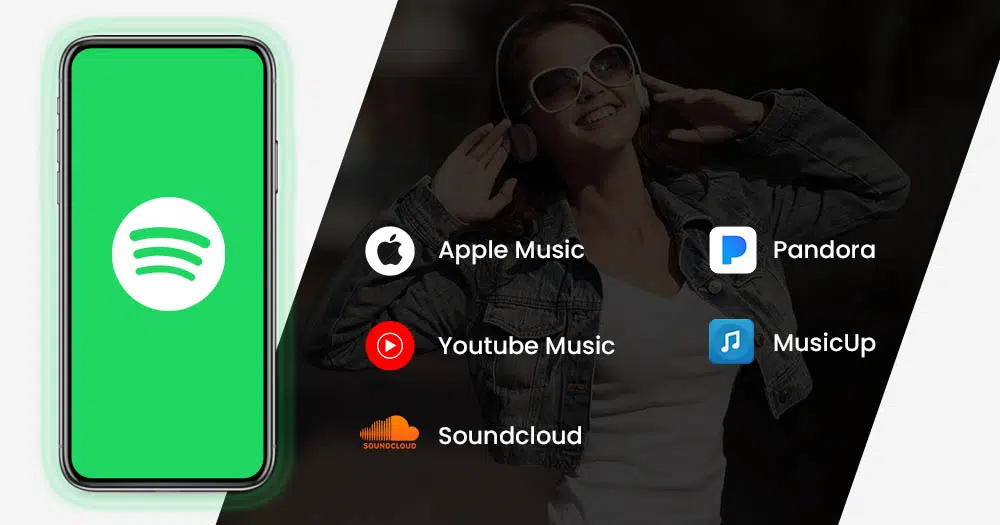 Since Spotify isn't the only on-demand streaming service, we can't help mentioning some of its competitors. Here is a list of other popular music streaming services and their short descriptions.
| App Alternatives | Founded Year | Revenue |
| --- | --- | --- |
| Apple Music | 2015 | $4.1 billion |
| Pandora | 2000 | $1.7 billion |
| Youtube Music | 2015 | $28.84 billion |
| MusicUp | 2015 | $1 billion |
| Soundcloud | 2007 | $218 million |
1. Apple Music
Apple Music is yet another well-known name in the world of music streaming. Siri and connected devices can access its extensive music library. In June 2021, it launched one of its most popular services, allowing users to listen to music in a lossless format. As of June 2021, this music streaming app had nearly 78 million subscribers worldwide, up from 6 million in 2020.
Features of Apple Music
Play over 90 million songs. and 30,000 playlists.
Listen across your devices.
2. Pandora
While it began as popular music streaming app, right after the advent of popular music apps such as Spotify, there was a decline in its subscribers. However, it continues to climb the rank on popular music apps. It was also the first music streaming app to offer premium personalization. Pandora has over 60 million active users and over 6 million paying subscribers, equipped with AI-based recommendations.
Features of Pandora
Editor teams make awesome playlists
Awesome interface
3. YouTube Music
This music app is subscription-based and incorporates Google's massive database. It's a fantastic streaming music service with various features that improve the overall listening experience. This app allows users to search for songs using snippets of lyrics and easily switch from audio to video with a single tap. This app provides a great listening experience for users looking for a high-quality audio experience. Whether the user prefers recorded or live performances, the Explore section allows them to discover new releases and learn about current music trends. The monthly fee for this service is $9.99.
Features of Youtube Music
Listen to ad-free music
Enjoy background play
Ability to download and listen offline
4. MusicUp
MusicUp is one of the simplest Spotify alternatives available, and it's extremely simple to use. It's a web-based service that features genre-style radio "stations," which are essentially just playlists of varying lengths. However, it has a karaoke version, so it belongs on this list regardless of your thoughts.
One of the best things is playlists, divided into different activities such as "open road," "work out," "chill out and relax," and so on. You can even collaborate with other users and vote on the next song on the playlist!
Features of MusicUp
Karaoke version
Activity-tailored stations
5. Soundcloud
On one of the web's oldest platforms, you can find, stream, and share music for free. Soundcloud is ideal for musicians, audiophiles, and collaborators. It's long been regarded as the best place to find new and emerging artists, and it's also a fantastic place to record yourself and get your name out there. If you want to create a SoundCloud clone app you can read my other guide on The NineHertz Blog.
Soundcloud also has a large collection of songs to listen to. Because it is heavily reliant on its community, the home page will constantly feed you new music that the community is currently enjoying. It's a refreshing change from the more mainstream Spotify alternatives we've previously recommended.
Features of Soundcloud
Highly active community
Great place to discover new artists
Hire Certified Music App Developers
Request A Free Quote
1200+ Projects Delivered 12+ Industry Experience 450+ Clients Worldwide 200+ Certified & Expert Programmers
Spotify App Development Tech Stack
The tech stack will be determined by the platforms/devices you're aiming for, typically Android, iOS, and a web version. If you're on a tight budget, you can create an app for one platform based on your target audience and then move on to another. You can also build a cross-platform app with a single codebase that runs on multiple platforms using Flutter or React Native technologies.
The following is a list of programming languages and technologies that can be used to create a music app:
| Feature | Technology |
| --- | --- |
| Frontend | Java, Kotlin for Android; Swift, Objective-C for iOS |
| Web app development | Bootstrap, HTML5 |
| Backend and server-side | PHP, Java, Python, Laravel, ROR |
| Frameworks | Hadoop, Apache Storm, Hub Framework |
| Server | Nginx |
A. Front-End Technologies
For Mobile Apps: To create frontend Android apps, Java and Kotlin are the two most popular programming languages used. Kotlin has become the most popular app development language in recent years because of its code conciseness and compatibility. For iOS apps, Swift and Objective-C are the most commonly used frontend programming languages. Swift has many useful features, such as clean syntax, faster code compilation, security, and so on.
For Web Apps: HTML and CSS can be used to create the front of a web application. HTML stands for Hypertext Markup Language, a markup language for organizing and placing information on a web page. CSS stands for Cascading Style Sheets that improve the look and feel of a web application.
B. Back-End Technologies
PHP is the most popular server-side scripting language. Even though the music streaming app's server receives millions of user requests at once, many people prefer Node.js over PHP for a better user experience. Furthermore, the following features demonstrate why Node.js is the best choice for building the backend of a music streaming app such as Spotify:
Scalability
Modularity
Security
Speed
C. Database Server
The database server is used to provide audio streaming services to users. Wowza Streaming Engine is the best media server for audio and video streaming due to its compatibility with standard streaming protocols. The wowza media server can stream to multiple playback devices simultaneously, from Adobe Flash Player to Apple's QuickTime player.
Note: The final tech stack will always be determined by your music app project's technical needs and requirements and should be chosen after consulting with your development team.
How Music App Like Spotify Make Money?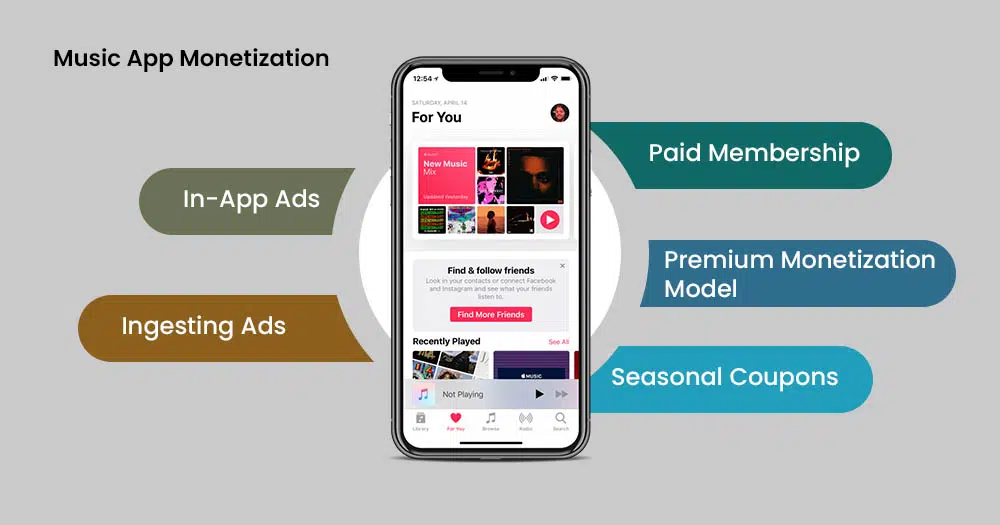 To monetize your music streaming app, there are 5+ revenue models. Below are the types to choose the best suitable for your music streaming app.
1. In-App Ads
Run unlimited advertisements in the form of images or videos in between the streaming tracks using an audio streaming server to increase your revenue based on the number of users converted through potential ads.
2. Paid Membership
You can plan your subscription-based tracks and stream them to your audience on periodic occasions such as Monthly, Quarterly, or Annually to ensure recurring profits and repeated customers.
3. Premium Monetization Model
By applying a premium VOD subscription, which allows users to access certain music only through a subscription package, you can earn money for every blockbuster music track or specific content.
4. Ingesting Ads In Playback Streams
Get the most out of your in-stream ads by displaying utility-based content to your users and benefit from high user engagement in no time between your music playlists, podcasts, and other media.
5. Seasonal Coupons And Promotions
Take advantage of special events where you can get a lot of money for your content by using coupon codes and promotional discounts. This will help you get better results with your branding strategy.
Challenges in Creating a Music Streaming app Like Spotify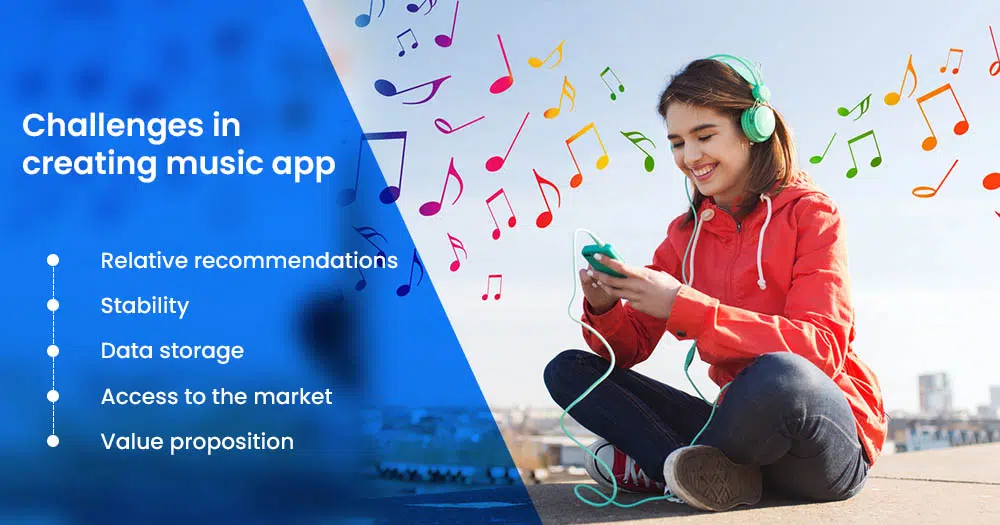 There are pitfalls in every development process. Music streaming app development is no exception. We'd like you to go over five points with us.
1. Relative recommendations
If you want to compete with the market leaders, this is an important factor. Customers' music tastes are analyzed by AI algorithms, which then provide fantastic recommendations. It would be beneficial if you could incorporate it into your application.
2. Stability
The app's and users' loyalty will benefit from making the streaming process simple. It means you'll have to use multiple servers in various parts of the world. Because users can be anywhere, it will ensure stable streaming.
3. Data storage
Use strong storage tools capable of handling massive amounts of data. The software can hold thousands of songs, and you must purchase secure server solutions. For example, AWS or Google Cloud Storage.
4. Access to the market
It is critical to consider recruiting the first clients and engaging them in working with the application. To address the challenge, you must devise a brilliant strategy.
5. Value proposition
Spotify's value proposition is the massive number of individual playlists generated based on previous user experience.
Certified App Developers [Hire in 1 Hr]
Request A Free Quote
1200+ Projects Delivered 12+ Industry Experience 450+ Clients Worldwide 200+ Certified & Expert Programmers
FAQ's on Music App Development
Q.1 How Secure is creating the Music Streaming App Solution?
A volatile hotbed for content providers and broadcasters has emerged with the rise of streaming solutions. As a result, in the face of data security and theft, many OTT platform providers implement obfuscating encryption and give piracy layers such as Multi-DRM systems, Geo-based limitations, Integrated paywall, Password Protection Unauthorized Access, and much more.
Q.2 What Are The Essential Features Needed for Music App Development?
Before establishing an acoustic music streaming app, end-to-end platform development with on-demand or live streaming capabilities is required. Customized frontend and backend connectors, on-premises/cloud infrastructure, unique monetization business models, safe digital encryption, powerful content management system, etc.
Q.3 How Do Music Streaming Apps Make Money?
In general, music streaming applications like Spotify generate most of their revenue from adverts and grow their monthly active users through premium subscriptions. When creating a music streaming app or website, these two are considered most helpful in gaining a lucrative profit share in the long term.
Q.4 How Long Will It Take To Develop A Music Streaming Website Like Spotify?
You can now quickly establish a music streaming website with complete customization in less than a month and effectively scale your business. Get customized features, variable monetization models, and extra benefits customized to your company's needs.