The music streaming app development and audio streaming app solutions industry is growing exponentially, especially after the pandemic when everything became digital. Nevertheless, the industry has been well-adjusted to the digital world. It won't be wrong to say that they have come a long way. From waiting for movies to be aired on TV after their theatrical releases to watching them at any hour on digital platforms, the audience has come a long way as well. In this guide, we will explore how to create a music app.
If the film and television industry has made progress, so has the music industry. Remember the time when all of us were downloading the latest songs from the internet and sharing them over Bluetooth? It definitely needed some serious time and effort. However, today you no longer need to download them to be able to hear them. Today, with just a few taps, you are able to listen to any music you want via music streaming app or website. Let's discuss some facts and the music app development market overview.
What is a Music Streaming App?- Market Overview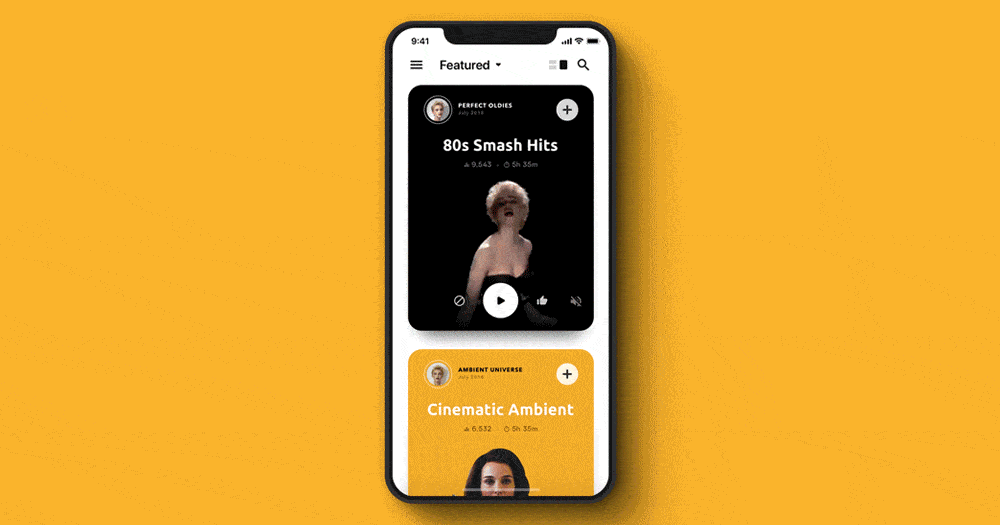 The days of walkmans, radio stations, recording players, MP3, and music players have ended despite rapid evolution. As in all development of OTT apps enable people to easily listen to audio. From 2020 to 2027, the global music streaming market is expected to increase at a CAGR of 7.4%, reaching $46.9 billion in 2027. This makes music app development an excellent choice for start-up projects.
Want to Launch Your Own App?
Convert Your App idea into Reality
Music streaming mobile app, in simple words, is an online platform. It allows you to listen to a variety of music without having to download them. Music streaming service and music streaming website is a convenient way to listen to your favorite music without spending a lot of time searching for them, given their special features. They are available in various formats and provide endless listening options to their users. Furthermore, they also offer a lot of options for syncing.
Top Music Streaming Apps in Market
In fact, even the video-sharing social media giant YouTube launched its own music streaming service, Youtube music streaming app. However, the Youtube music streaming app was more like a replacement for Google Play Music App. There are several other ios and android apps for music besides youtube music. Some popular music streaming services are Amazon Music, Shazam, Spotify, Wynk Music App, and Apple Music.
| Music Streaming Services | Founded Year | Supported OS | Number of Downloads (As of 2021) |
| --- | --- | --- | --- |
| YouTube Music | 2015 | Android, iOS, Web | Over 5 billion |
| Amazon Music | 2007 | Android, iOS, Web, PC, Mac | Over 100 million |
| Shazam | 1999 | Android, iOS, Web | Over 1 billion |
| Spotify | 2006 | Android, iOS, Web, PC, Mac, Linux | Over 500 million |
| Wynk Music App | 2014 | Android, iOS | Over 100 million |
| Apple Music | 2015 | Android, iOS, Web, PC, Mac | Over 60 million |
The number of people using these streaming applications is increasing with every passing day. This has attracted a great deal of attention to the music streaming industry. As a result, a number of companies are looking to enter the music-streaming industry by creating their own. Let's discuss the music streaming app development process.
Music Streaming App Development Process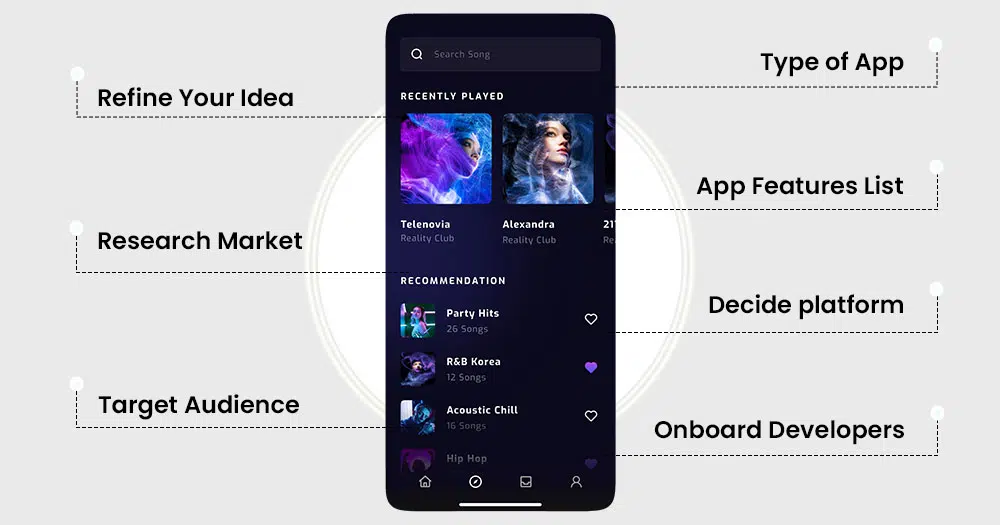 Below is a general overview of the step-by-step process to make a music streaming app like Spotify:
1. Refine Your Idea
The first step towards creating anything starts with ideation. Start by developing the app idea. For this, you can take inspiration (not copy) from another streaming app like Spotify or Pandora. If you wish to create an ios music streaming app, you should study the Apple audio streaming app and its app development process. Here is a list of top OTT platform development companies.
2. Research The Music Streaming Market
If you want to beat your competitor or compete in the same league, you must first understand it well. Research your competitors and the market well. List down each one of their pros and cons. Learn why music lovers prefer a streaming app, streaming service, or music streaming platform over the other.
An in-depth study will help you locate loopholes in your competitor's app and help you avoid them in your own music app. Furthermore, this research will also come in handy when you are refining your music apps' USP. Your USP will help you stand out from the rest. It will also be a major point of attraction. You might be interested to know how to build an app.
3. Define Your Target Audience
The next step after researching your competitors is to define your target audience. Since they are the ones who will be using your music app or your audio streaming app, it is important to define them in detail.
Chart out the age bracket, their probable interests, gender, location, and more. Using these details, you can incorporate features that will appeal to them. For instance, an app like Spotify appeals to almost all age groups. Thus any user on the app can listen to the latest track, as well as, tracks from the early 50s or 60s. Furthermore, it offers music on a wide spectrum, from devotional music to indie music streaming. Since it caters to a wide audience, you can stream music in 62 different languages. No wonder why it has a remarkable share in the music streaming market.
Hire Top Music App Developers
Request A Free Quote
1200+ Projects Delivered 12+ Industry Experience 450+ Clients Worldwide 200+ Certified & Expert Programmers
4. Decide the Type of App You Want to create
The three most common types of music streaming services are:
Music Library: A music library is a server-based library that offers its customers either free or paid access to music tracks. For instance, Spotify and Apple music.
Cloud based music streaming: A cloud based streaming app allows users to store their music tracks and listen to them anytime, anywhere. For instance, Groove music.
Radio stations: A radio station app allows users to listen to a variety of radio stations arranged in a specific order. You can stream it to other devices like PC or mobile phones. For instance, Shoutcast.
5. List down App Features
After you decide the type of app you want, it's time to decide on the features for music app development. This is where the data from your research will come into play. Features are of two kinds – MVP and Advanced. MVP stands for must-have features. They are non-negotiable and unskippable basic features of a music streaming application.
Advanced features, in contrast, are not binding. You can introduce advanced features at a later stage, even after publicly releasing your music streaming application. Some of the MVP features are sign up, settings, search, music player, and my library.
6. Decide the platform
A mobile music streaming app can be designed for iOS, as well as, android. Similarly, there are some streaming services that are available on all platforms and are compatible with all operating systems. Hence you must decide on what platforms you want to offer your music streaming services. Depending on the choice of the platform for your music streaming service, you will need music app developers.
7. Onboard Music Streaming App Development Team
Music streaming app development is no joke. Once you finalize your features and platforms, it's time to onboard professionals for music app development. For this, you will require a number of music app developers and other professionals like:
project managers
business analysts
android app developers
iOS app developers
web developers
UI/UX designers
back-end developers
QA engineers
Andoird and iOS require different programming languages.
Additionally, you will also need a scalable tech stack and database. Furthermore, you must also figure out how you will store the data. You must have a back-end server that supports streaming. For instance, AWS.
As an owner, you will have to give your team a significant amount of time for music streaming mobile app development. It approximately takes 155 hours for back-end song streaming app development for an MVP version. Similarly, it takes nearly 359 hours for iOS or Android music app development for an MVP version.
You will also need to give your web developers time to develop the admin panel. They will require nearly 431 hours to develop an admin panel for all apps. Design is an integral part of your app as well. It will determine user satisfaction and ease of use. To develop an intuitive and user-friendly music app design, your designers will require at least 150 hours for a single platform.
Once your app is ready, launch it in the market and study consumer behavior. Depending on the user reports, introduce changes and extra features or improvise on the existing ones to stay ahead in the competition!
Launch Your Music Streaming App in 4 Weeks
Request A Free Quote
1200+ Projects Delivered 12+ Industry Experience 450+ Clients Worldwide 200+ Certified & Expert Programmers
Music App Development Features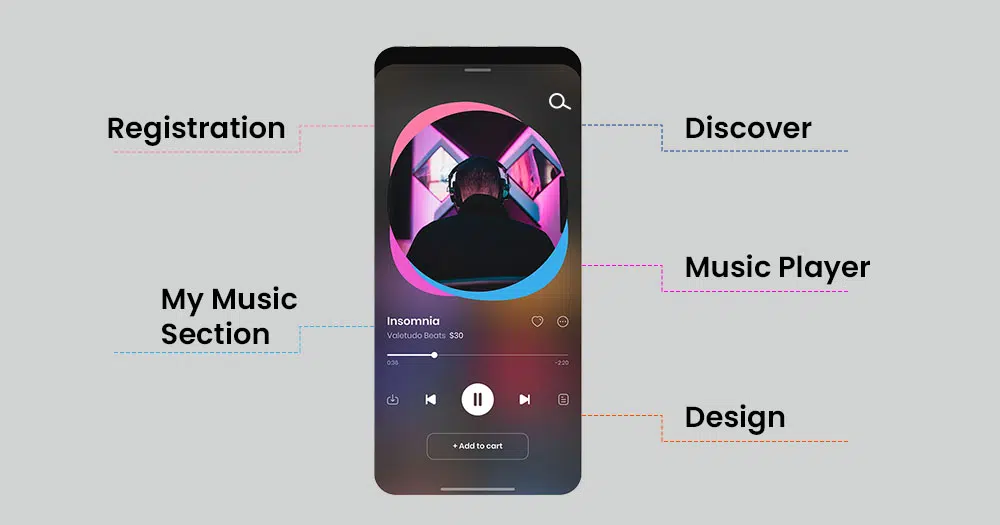 1. Registration
Nobody loves to go through a lengthy registration or a login process. Keep your registration process short if you want the users to manually input important details about themselves like their name, birthday, email, mobile number, and preferences. Similarly, you can enhance your registration process by allowing them to sign up directly via other social media like Facebook or Gmail. This enables users to quickly get to the main part of your music app.
2. Discover
The central theme of any music streaming application is to allow users to discover a great variety of music. For this reason, the search bar or the discover section of your app becomes highly important. To make this simpler, once the user registers on your song streaming app, you can present them with a checklist that asks for their music preferences. You can curate a checklist based on the following criteria:
Language
Favorite music artists
Genre
Moods
Noting down these preferences will help your streaming app make relevant suggestions to the users. Once your music app starts to make these suggestions, it will also become easier for users to create personal playlists and discover more of their favorite music.
3. Dedication Section for My Music
A 'My Music' or 'My Library' section in your music app will make it easier for music lovers to:
Track their favorite songs
Listen to the most played music track
Check their preferred music artists
Create playlists and more
The "My Music" section can have the user's music media libraries. Furthermore, you can allow all the music lovers to have offline access to their favorite songs that they have downloaded via your music app. Thus, increasing the utility of your streaming app.
4. Music Player for Music Stareaming App Development
Your audio streaming apps, even the video streaming apps, must have a music player or a video player. This allows the users to easily skip, repeat, pause and play their favorite tracks. Furthermore, it lets them play the tracks in certain queues like repeating the current song, playing the recommended songs once the queue ends, or repeating the queue itself. You can also add a feature that allows users to shuffle the songs or audios in your audio streaming platform or app.
Ready to Launch Your Own Music App?
Request A Free Quote
1200+ Projects Delivered 12+ Industry Experience 450+ Clients Worldwide 200+ Certified & Expert Programmers
5. Design
Appealable music streaming mobile apps are marked with two essential features: ease of navigation and user-friendly. It is highly recommended the developers have experience with user interface/UI design to ensure mobile music apps are sound and easy to use. If your app is difficult to use, the users will immediately uninstall it. Similarly, if you plan to launch a music streaming app downloadable on android, mac, and iOS with a music streaming website, ensure you maintain consistency.
Prototypers have proven themselves in their field in developing innovative products. In the development of the song Streaming app, prototyping introduces a visual presentation of the app. By using such methods, mobile app developers can conduct Beta Tests and finalize your music apps' product design. You can add the following elements to make your design more user interactive and user friendly:
Recommendations based on previously heard songs or their favorite tracks
Top songs of the week or month
Lyrics
Social sharing
Personalized notifications
Relevant local music recommendations
Music Streaming App Development Cost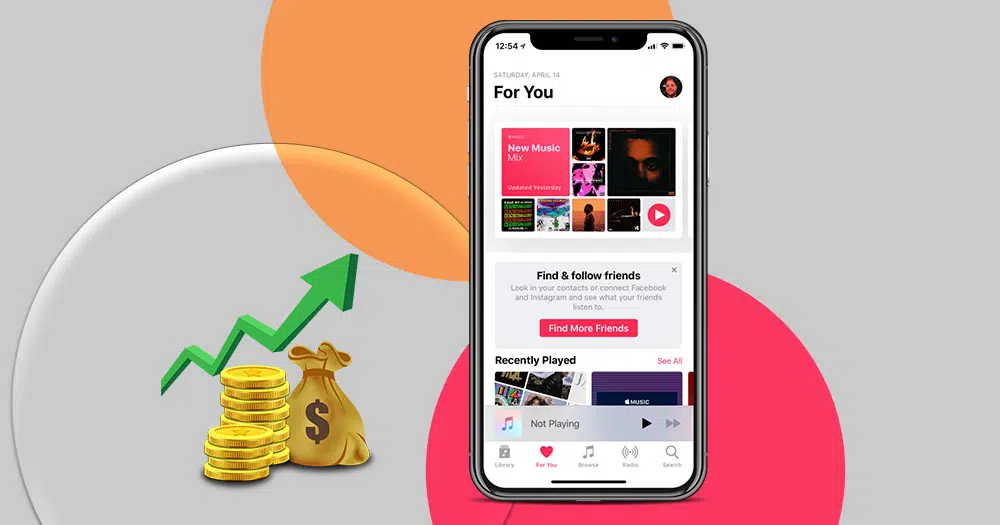 The cost of music streaming app development varies depending on the structure of your music streaming mobile app. Furthermore, the cost to create an audio streaming app also depends upon the time needed to build a music streaming app. It can cost you anywhere between $15,000 to $25,000 to build a music streaming services. However, this is only an estimate for creating an MVP music streaming mobile app.
| Countries | Hourly Rate ($/Hr) |
| --- | --- |
| United States | $140-$240/hr |
| Western Europe | $110-$170/hr |
| Eastern Europe | $120-$200/hr |
| India | $15-$30/hr |
The final cost to build a music streaming app will depend on your location as well as the rates of the professionals working on your project.
Why Should You Invest to Build a Music Streaming App?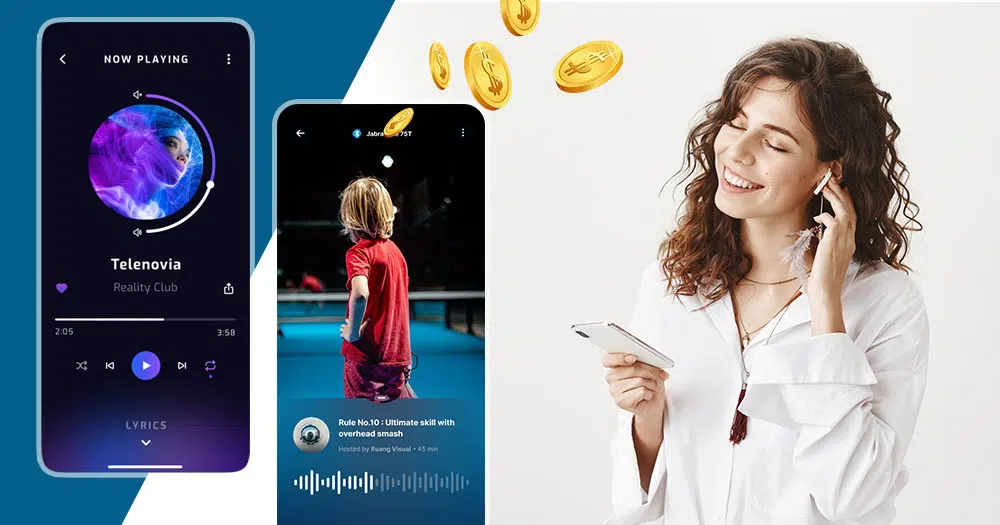 To truly understand why you should build a music streaming app or enter the global music streaming market, it is important to understand the progress it has made. And the best way to do so is by looking at solid data from research and studies. So let's dive straight into it.
As per reports, the revenue of the global music streaming market for 2020 touched $18.9 billion. It was $10.1 billion alone for the US. Furthermore, Spotify is the most used streaming app and platform, closely followed by Apple music. It also has the highest number of music streaming subscribers with 165 million subscribers in 2020. However, in the terms of usage, Youtube beats all of them with 2 billion active users. Spotify only has 381 million. As far as the American internet radio market is concerned, it enjoys a digital share of nearly 13.7% in radio advertising. Furthermore, the American internet radio market enjoys a massive share in the online audio market, with average users spending 16+ hours per week.
Do you see the amount of revenue song streaming apps is generating? The data only reflects one thing – opportunities. The music streaming application market is expanding, and the users are actively using these streaming services. If you can find a way to smartly monetize your music streaming mobile app and market your audio streaming app MVP, the ball is in your court!
Music App Development: License Require
It is the key element in developing a music app to stream songs. Before launching an online music streaming platform, it should always be taken into account that all the legal provisions are in place. Usually, songs are protected by two rights. Firstly is related to the sound recording by record labels. The other copyrights relate to a composition, which entails lyrics and melody. These types of copyrights are held by publishing firms or songwriters.
Although music streaming services allow music lovers to stream for free, as a music or audio streaming app owner, you must have the necessary licenses. These include Public Performance Rights, Sound Recording License, Musical Composition License, and others to create a music streaming app.
You can also sign contracts with huge music labels to stream music whose copyrights belong to these labels. These include labels like Sony music entertainment group, Universal Music Group, Tips Industries Limited, Zee Music Company, and T-Series.
Music Streaming App Development: Monetization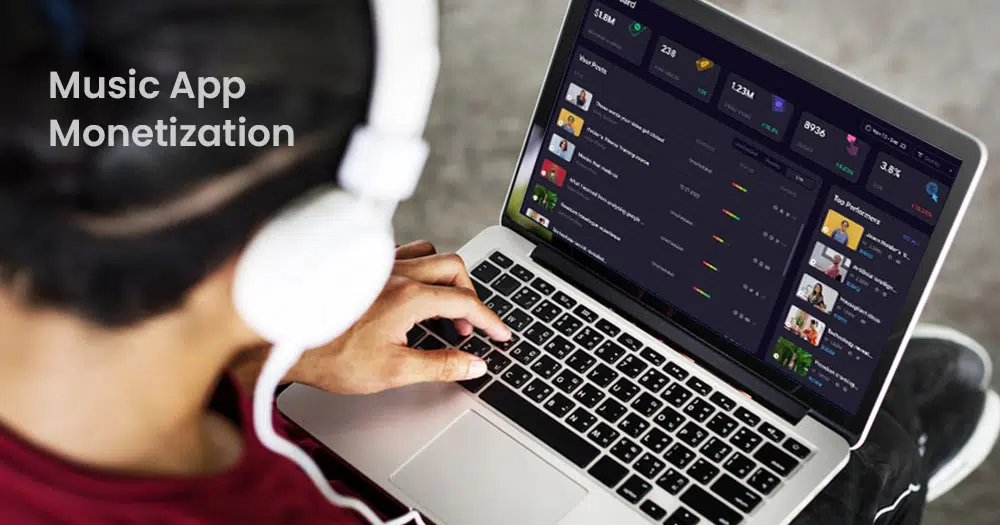 Monetization of apps can take place even if they are free. However, it is mostly two main strategies to monetize music streaming app. An app like Spotify or Pandora offers free & premium apps for its subscribers. A user's listening preferences determine which version suits them most. Subscriptions are a popular way to monetize; since as an app owner, you are also entitled to pay for licenses regularly. Thus, subscriptions bring in revenue on a routine basis.
The Music Streaming Applications are some of the most widely used applications on the AppStore. Therefore, they offer a higher rate of customer retention. And this attracts many advertisers. This brings us to another way to monetize your music streaming applications. Advertisements. You can add ads like Youtube Music or Spotify to ensure that your app brings you stable revenue.
Conclusion: Build Music Streaming App
Music app development requires serious efforts and planning. If you plan to create a Spotify clone or an app like Spotify, you must adhere to the process. The app development process can be overwhelming, but it is not so difficult once you understand it. Having a clearly defined list of features and structure will simplify the process of app development. It will help you hire the right professionals to create efficient music streaming applications.
If you want to make a music streaming application to offer your users their favorite music effortlessly, there is no better streaming app development partner than The NineHertz. They can easily make you an app like Spotify, Gaana, and Saavn at pocket-friendly prices. Their workforce is experts in different kinds of streaming app development like Music sharing app development, Radio app development, Music & Podcast app development, and more.
The field is expanding at a great speed, with newer opportunities every day. The more features you can provide to your users for free or at a minimal cost, the more they are likely to use your services. With the right team by your side, having your own song streaming app will no longer be a dream. It will turn into a reality! For more details you can go through my other similar guides:
FAQ's: Create a Music Streaming App
How much does it cost to create a music streaming app?
It will cost you between $15000 and $25000 to develop a music streaming app with basic features. You will need to increase your budget in order to develop a music application that is compatible with iOS and Android, as well as integrate third-party API services.
How do I make a streaming app like Spotify?
Launching a is simple if you know all the major steps. Below, we have shared the 5 easy steps on how to make a music app like Spotify.
Consider the primary features of a Spotify-like app
Select a license option
Find music app developers
Create a UI/UX design for an audio streaming app
Make an MVP for an audio streaming app
How do I start a streaming platform?
You may watch anything, at any time, on any device, with streaming platforms. We will uncover the insights and valuable tips for building a streaming platform. Let's look at the steps!
Find your area of expertise
Determine the accessibility of the content
Select a monetization model
Examine the requirements for video streaming apps.
Create an MVP for an on-demand streaming service
Gather Review