In this fast-paced digital era, businesses need to continuously evolve and adapt to the increasing digitization needs of the industry. But finding solutions to this end is often more challenging. However, companies in their initial digital transformation phases can use low code development tools to implement more significant changes.
Easy to use and effective in speeding up the development process, low code options are a great alternative to manual coding. They offer an efficient solution for both experienced and less experienced teams.
Here we have compiled the best low code development platforms of 2022 that can help businesses initiate digital changes faster and more efficiently. But before going into that, let us see what is meant by low code development and common code development platforms.
What is Low Code Development?
Low code development can be defined as a software development method that allows developers to build applications in low code more promptly and without deep coding. Through this method, applications can be customized to meet the unique requirements of a business. Low code development can significantly accelerate the digitization process of businesses, especially those constantly facing challenges in incorporating new technologies.
Now, let's take a look at some of the best low-code platforms for small and medium businesses.
10 Best Low Code Development Platforms
There are countless low code application development platforms available in the market. We've compiled a list of some of the leading low-code development platforms to make things easier for you.
Low-code development platform
Platforms           
Business Size
Free Trial
Price
OutSystems
Web-based,

Windows,

Mac,

Linux,

iPhone, &

Android.

Medium and Large
Free plan
Enterprise: Starts at $6250/month.

Universal: Starts at $15000/ month.

ServiceNow
Web-based,

Windows,

Mac,

Linux,

iPhone, &

Android.

Medium and Large
30 day free plan
$30,000/year for the Standard ITSM package for a 200-employee company and $55,000/year for the Professional one for the company with 15,000+ employees.
Zoho Creator
Cloud-based, iOS, Android, and PWA.
Small, Medium. and Large.
Available
Professional: $25/user/month billed annually,

Ultimate: $400/month billed annually.

Appian
Cloud-based,

Windows,

Mac,

Linux,

UNIX,

Solaris etc.

Small, Medium, Large.
Available
$90 per user per month.
Salesforce Lightning
Web-based,

Windows,

Mac.

Small, Medium, Large.
Available
Starter: $25/user/ month.

Plus: $150 /user/ month.

Retool
Chrome & Firefox on MacOS and Windows,

Partial for Safari and IE,

Small to large enterprises.
Available
After the free plan –

Team: $10 pm/user,

Business: $50 pm/user,

Get a quote for Enterprise.

Web.com
Mac, Windows, Android and iOS.
Small and Medium Sized Businesses.
No
Offer Starter Package – $1.95/month, Full price of $10/month after the first month.
Microsoft Power Apps
Cloud-based solution.

Supports iOS & Android devices also.

Small, Medium, Large.
Available
$9 per user per month.
Kissflow
Cloud-based solution.

Supports iOS & Android devices also.

Small, Medium, Large.
Available
$9 per user per month.
Mendix
Web-based,

Windows,

Linux,

Android,

iPhone, &

Windows Phone.

Medium and Large
The community version is free.
Single App: Starts at $1875/month.

Pro: Starts at $5375/month, & Enterprise: Starts at $7825/month.
Let's Explore!
1.OutSystems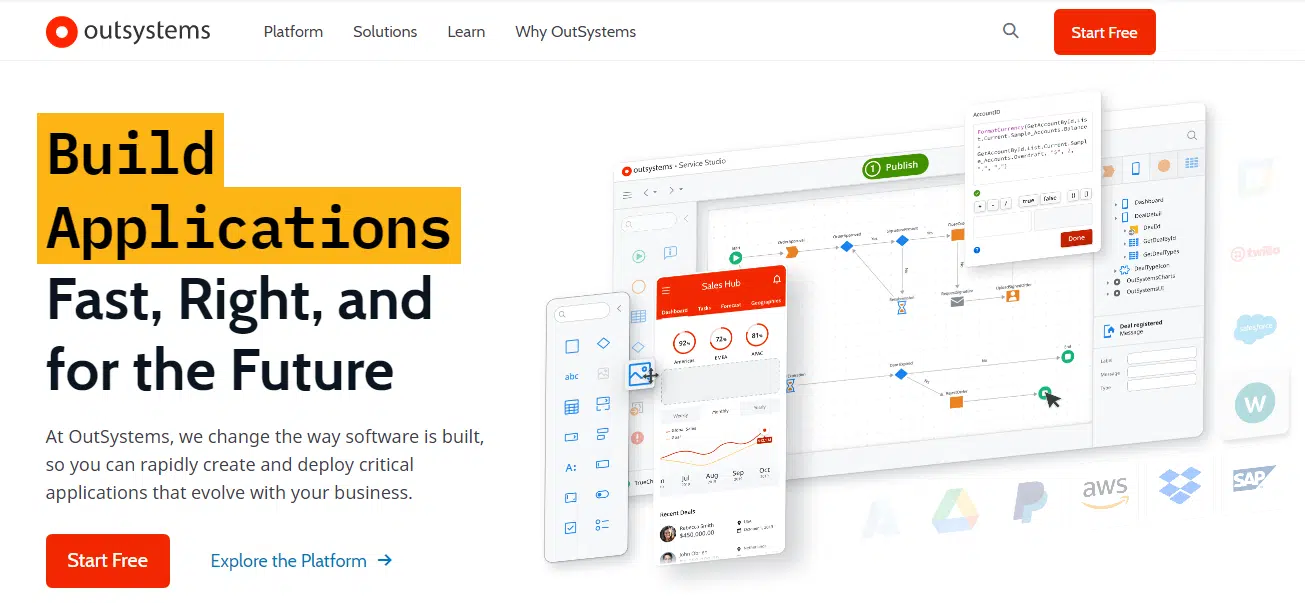 The OutSystems developers are one of the top low code development platforms today. In addition, the platform is well equipped with a wide range of high-quality tools and features designed to help businesses design applications according to their specific business needs.
Hire Certified OutSystems Developers
Request A Free Quote
1200+ Projects Delivered 12+ Industry Experience 450+ Clients Worldwide 200+ Certified & Expert Programmers
With real-time reporting capabilities that provide complete access control and permission management, the OutSystems developers pack in a lot more, including scalable APIs, native support, DevOps automation, monitoring, and quick deployments of mobile applications. It offers a free trial option along with three plans that can be perfect for businesses depending on their scale & size.
Features of OutSystems
Whether in the cloud or on-premises, You will experience error-free deployment for your apps.
Real-time performance dashboards are available.
You'll be able to provide scalable applications.
Provides the most up-to-date security for your apps.
Your applications could be integrated with any system.
2. ServiceNow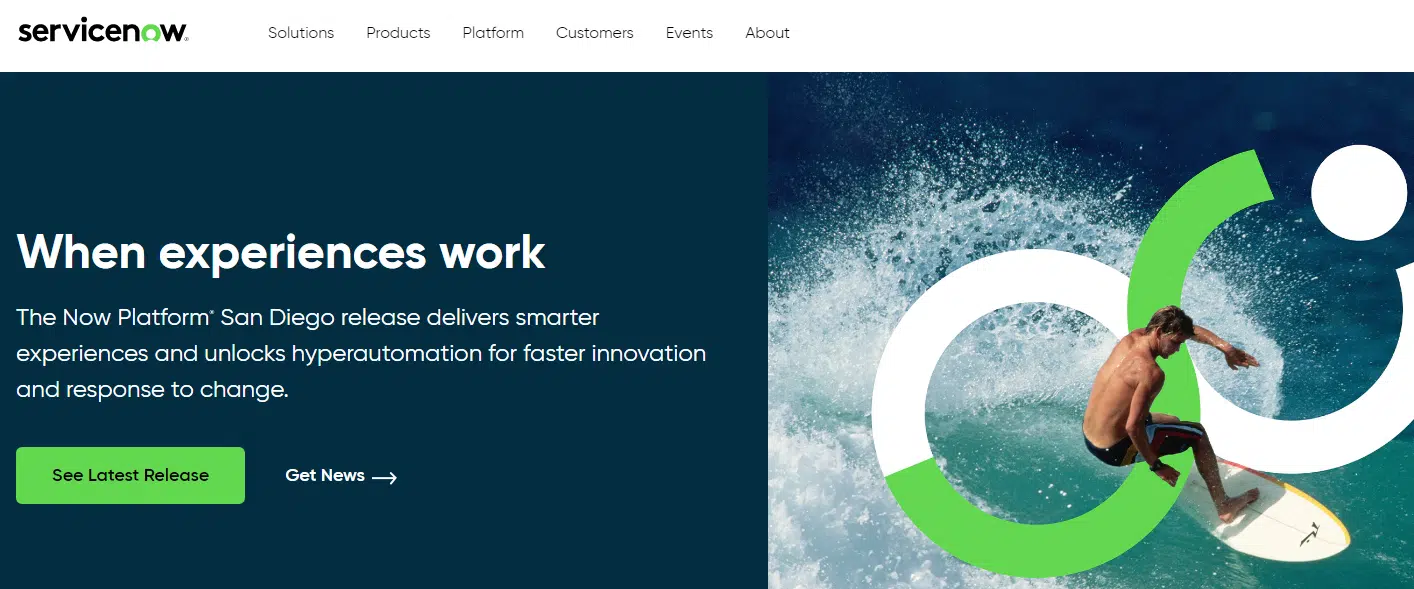 The ServiceNow low code development platform is a market leader known for its intuitive and high-quality solutions. The company was recently named a Leader by the Forrester Wave: Low-Code Development Platforms for Professional Developers, Q2 2021.
The platform equips ServiceNow developers with all the necessary advanced capabilities to create powerful, purpose-built applications in less time. It also accelerates the process to design and implement specialist solutions with the app by leveraging components like knowledge management tools, service portals, etc. Furthermore, the ServiceNow low code development platform comes with an app engine process automation tool that makes it easier & faster to automate workflows, delivering results in no time.
Features of ServiceNow
Provides applications, infrastructure, and platforms with hundreds of spokes or connectivity capabilities that can be used for custom integration with little to no code.
Provides a collaborative environment for developers of diverse skill levels to work on apps across departments without having IT give management and governance of the platform.
3. Zoho Creator


The Zoho Creator is another excellent low code development platform for designing and launching tailored applications within minutes. With the help of Zoho Creator developers can leverage an extensive range of functions, including inventory and order management, reporting, etc. The platform is easy-to-use, developer-friendly, affordable, and equipped with high-security standards.
Hire Certified Zoho Creator Developers
Request A Free Quote
1200+ Projects Delivered 12+ Industry Experience 450+ Clients Worldwide 200+ Certified & Expert Programmers
The Zoho Creators low code platform also offers a free trial alongside its three plan options, the pricing of which is comparatively cheaper than most other low code application development platforms. Thus, it provides a perfect solution for startups with a limited budget while allowing them to create their customized app in a matter of time.
Features of Zoho Creator
With less effort, you can create more applications.
Connect your business data and collaborate across teams.
Create insightful reports.
Get access to mobile apps right away.
Uncompromised security.
4. Appian


Appian offers a powerful low code development platform that enables businesses to build & develop their applications by leveraging APIs, templates, and predefined interfaces. Appian developers can build an app in just three minutes, and it is perfect for those who have minimum technical knowledge.
The Appian low code development platform has easy-to-configure APIs, customizable templates, and predefined interfaces that help design beautiful applications. In addition, this low code platform is packed with top-level security and high-quality case management tools.
Features of Appian
Drag and Drop tools.
It offers native AI services.
It also has no-code integrations with Google Cloud, Amazon AWS, and Microsoft Azure AI/ML platforms.
You will be able to integrate enterprise data, systems, and online services without writing any code.
5. Salesforce Lightning


Salesforce Lightning is considered the easiest and the fastest low code development platform in the present market. The platform promises to equip businesses with all the necessary tools required to create, develop, and launch modern applications that are powerful and completely customized to serve the unique needs of each business.
The Salesforce Lightning platform, designed to empower developers, provides a wide range of benefits, including accelerated deployment, attractive visual interfaces, and easy configurations & modifications.
Features of Salesforce Lightning
It will be simple to create mobile apps with No-Code builders.
From a spreadsheet, you can create an app in seconds.
You can use Lightning Process Builder to create complex workflows.
6. Retool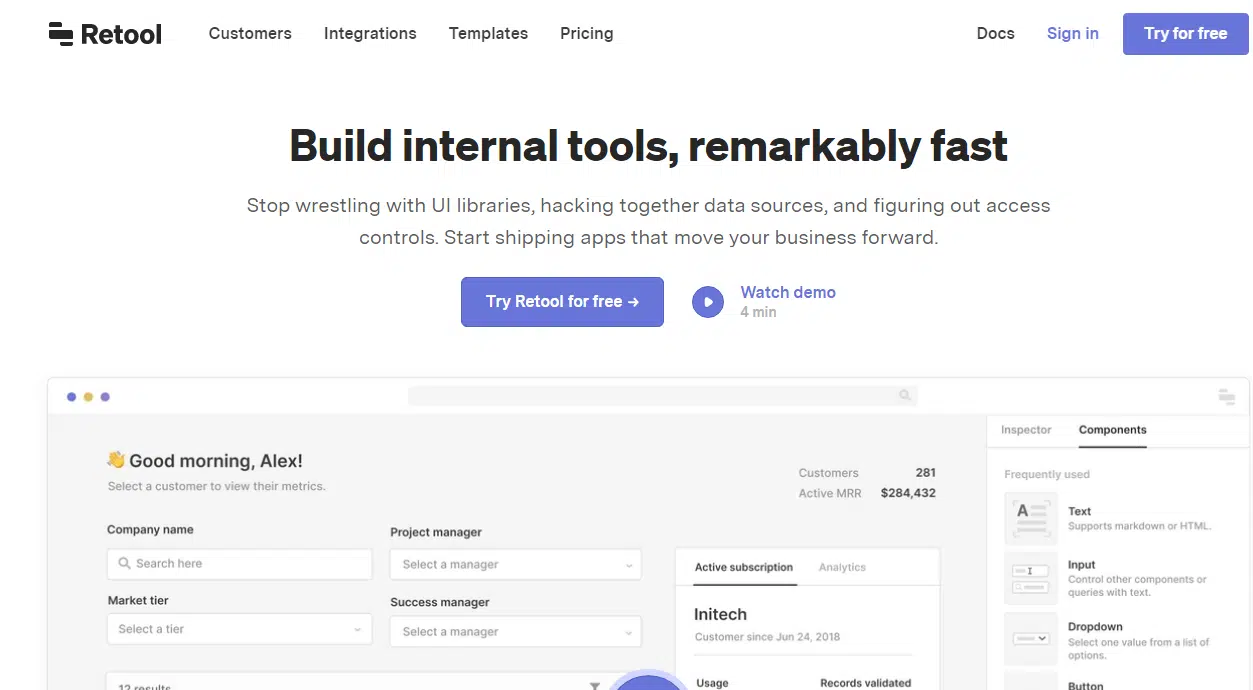 Retool is the fastest way to build internal tools. Visually designed apps that interface with any database or API. Switch to code nearly anywhere to customize how your apps look and work.
With Retool, you can ship more apps and move your business forward – all in less time. Thousands of teams at companies like Amazon, DoorDash, Peloton, and Brex collaborate around custom-built Retool apps to solve internal workflows.
Features of Retool
Cloud and self-hosted options are available.
Build front ends quickly with 50+ drag-and-drop components.
Integration with dozens of popular data sources.
With a REST or GraphQL API, you can connect to anything.
Write JavaScript anywhere for complete customization of your app.
Secure applications with fine-grained access controls and audit logs and SAML SSO and 2FA.
7. Web.com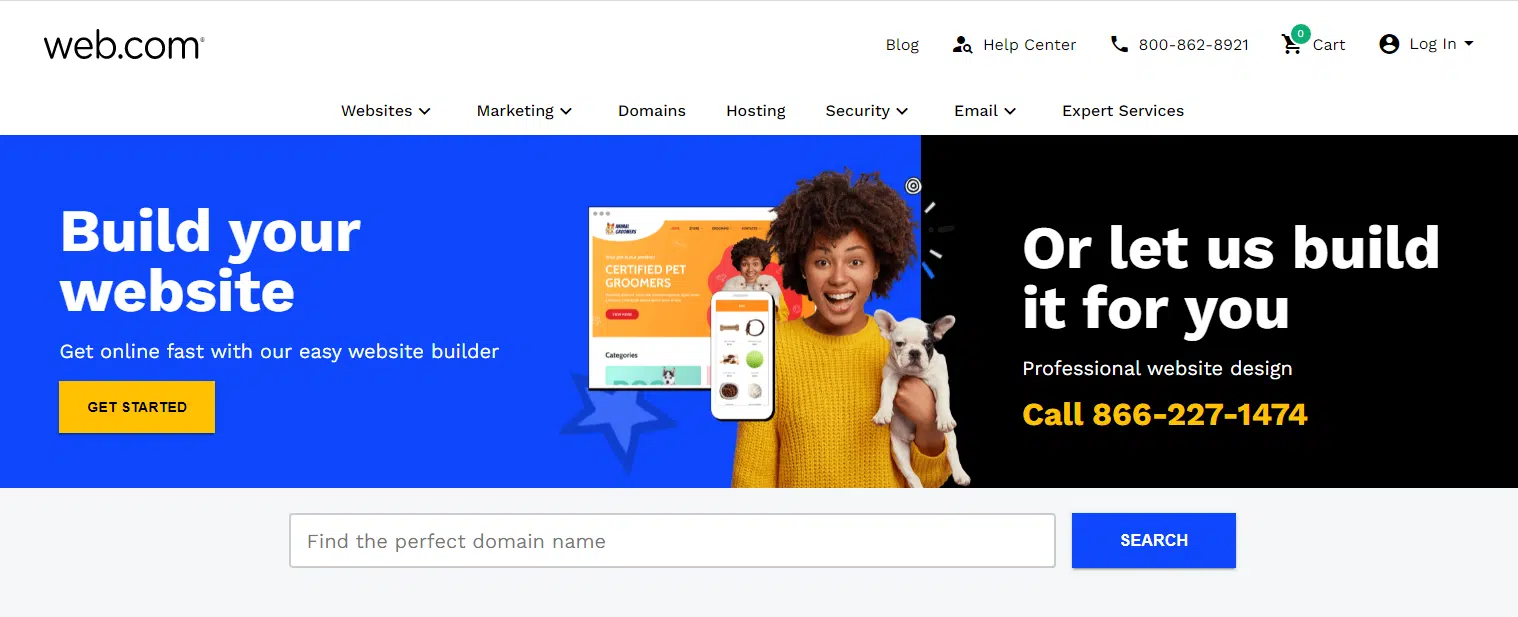 Web.com provides all of the tools you'll need to build a website without knowing how to code. You get 100 templates, all of which are organized by industry and come with a variety of themes and layout design options. You can also add or delete elements from your site with a single click using the drag and drop builder.
Web.com also has automatic backup and site restore capabilities, ensuring that website data is protected without intervention. It also works with the most popular content management systems, such as WordPress. If you still need help creating a website on Web.com, you can immediately contact one of their experts, who will build the site from scratch on your behalf.
Features of Web.com
Drag and Drop Editor
Customized Templates
Online Store Creation and Management.
Free domain with a plan
Automatic site restore functionality.
8. Microsoft Power Apps


Microsoft PowerApps is a solution that allows you to create custom business apps quickly and easily.
The service's functionality is impressive, mainly because it includes pre-built artificial intelligence components.
Extensibility is another compelling aspect, with over 200 interfaces to combine heterogeneous data and systems.
Features of Microsoft Power Apps
App design using a point-and-click approach.
PredefinedPredefined templates.
Easy connection of application to data.
You'll be able to create web-based apps that work on iOS, Android, and Windows phones and tablets.
9. Kissflow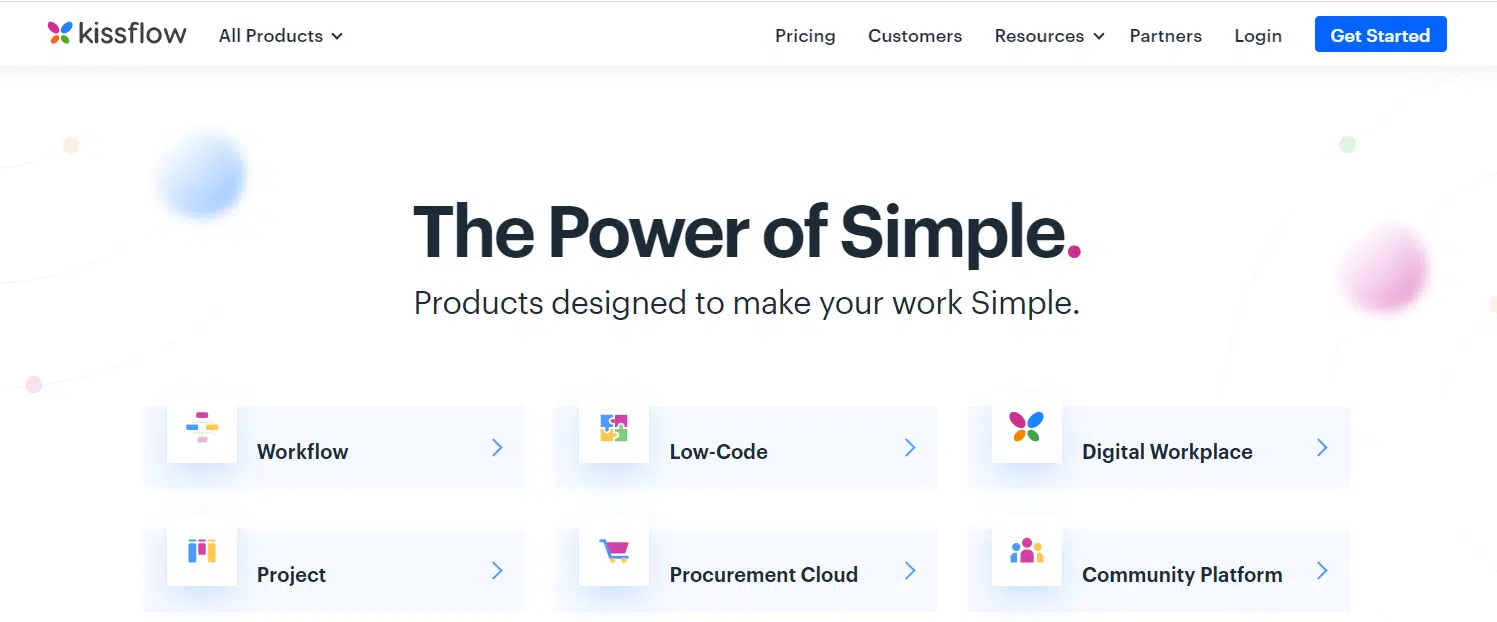 Kissflow calls itself a "unified digital workplace." Its main goal is to help you with workflow and process management.
A rule-based paradigm removes the need for bespoke code and allows you to customize your process by adding circumstances. Kissflow thrives on this, as it is a cornerstone of low-code development.
Features of Kissflow
It eliminates the necessity for coding.
To add and edit fields, drag and drop is available.
The drag-and-drop feature can also be used to create tasks and logic.
In addition, you will be able to digitize your forms and requests with it.
10. Mendix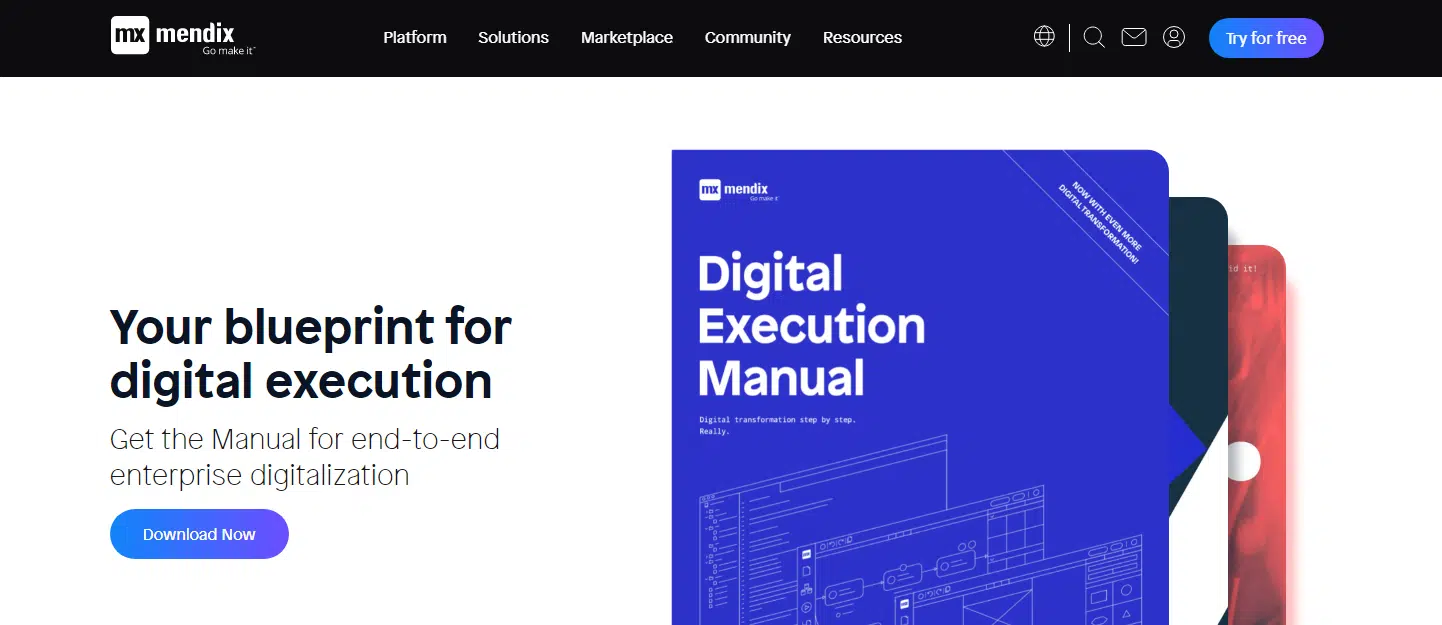 With the help of Mendix, you can create apps that vary from simple tools that save time to enterprise-grade apps that help businesses run efficiently. You can check here difference between Outsystems and Mendix.
It's a low-code platform that anyone can use to boost their business by providing high-quality apps without dealing with complicated coding. This app development platform enables you to create impactful apps that you can deploy and succeed with more quickly.
Features of Mendix
Versatile project management.
Visual modeling tools.
Components can be reused.
Benefits of Low-Code or No-Code Development Platforms
Higher productivity: No-code platforms help you create more apps in less time. You can build apps within a few days because you don't have to write huge lines of code and have many capabilities for automating tasks.
Less Expensive: Pre-designed user interfaces are used in low-code development platforms. Overall, the costs of coding and developing all the fundamentals are less. It also reduces the need for additional developers, resulting in further cost savings.
Business agility: These platforms enable you to design dynamic apps that run on several platforms and devices. No matter where they are or what time, users can access and use data efficiently.
Effective governance: Regulations frequently change, making it difficult for businesses to stay on top. Low-code platforms can assist you in achieving and complying with these rules so that you remain risk-free.
Low Code Platforms Use Cases
Low-code development is beneficial for several reasons. Here are some specific examples of what you can build using low-code and no-code platforms.
1. Mobile Applications
Businesses must recognize the fact that they now operate in a digital-first world. Mobile apps for business-to-consumer (B2C) can improve customer experience and brand exposure.
Developing a smartphone app isn't easy, to be sure. However, Low-code development makes it possible. Using Mendix, a popular low-code platform, insurance provider VGZ Cooperative built a mobile app for its customers.
2. Custom Apps
Most organizations confront the most formidable challenge of not always reaching out to customers but managing blockages within their own company.
When it comes to creating internal workflows, LCDPs can be very useful. For example, Caspio's low-code platform was used by the Tennessee Department of Health to create an IT asset management system.
The department now handles around 20,000 state assets with its custom application built in just two months!
Hire Dedicated App Developers
Request A Free Quote
1200+ Projects Delivered 12+ Industry Experience 450+ Clients Worldwide 200+ Certified & Expert Programmers
3. Microservices
Microservices are gradually displacing monolithic applications. Microservices have a solid case based on principles like loose coupling and service orientation.
In 2017, 62% of companies said they were using or planning to use microservices. But making the transition is hard.
Infact, Low-code platforms can dramatically accelerate this process. Within low-code platforms, you can find enterprise features and high-impact functionalities to re-build the architecture of your application.
4. Data Science
People are less willing to recognize that data is a more significant part of their daily lives than they think. It's the one thing that distinguishes a good hunch from expert business intelligence.
Generic software isn't always versatile enough to accommodate any data-related action your company requires. In such situations, Low-code platforms are helpful.
VisionX is a high-performance low-code tool with data engineering capabilities. The LCDP has been used for various applications, ranging from fleet management for ski area vehicles to quantum computer configuration and asset management.
Parting Thoughts
With so many great options available in the market, it is easy to get confused. While each of the low code development platforms mentioned above is designed to help you build customized apps for your specific business purposes, it is always advisable to check the list of low code development tools, features, and capabilities that your preference provides. Not only that, but pricing plans also form a significant factor to consider.
Choosing a low code development platform that offers you a free trial is advisable to know that it fits your business's unique requirements and delivers as per expectations.
FAQ's on Low Code Development Platforms
Q.1 How to Learn Low Code?
Low code does not necessitate any prior coding skills or experience. Anyone can learn to code and use it to build applications.
Q.2 What is Low Code Automation?
Robotic Process Automation, Business Process Automation, Case Management, and Artificial Intelligence are examples of low-code automation that bring together vital operations and automate an organization's various workflows.
Q.3 When to Use Low Code Platforms?
If you want to improve your digital operations, fill in for the lack of IT skills, or boost efficiency, low code development platforms can help you deal with these. It can be used to develop the most efficient applications customized to the specific requirements at a lesser cost.