Free Fasting Apps | Intermittent fasting is the latest buzz globally and has a massive number of followers for exceptional reasons. Countless people say that intermittent fasting has helped them lose that stubborn weight and lead a healthy lifestyle. The amusing fact about intermittent fasting diet is that it is not directly linked with dieting; instead, it doesn't change what you are eating, but it changes the eating period. There are different types of Free Intermittent Fasting Apps that you can take help of and intermittent fasting diets that you can follow.
16:8 method: In this method, the person needs to fast every day for 16 hours straight, and they can eat in only the rest 8 hours which is known as the eating window.
5:2 method: You can eat in the usual way for five days, and then you have to restrict the number of calories to 500-600 for the remaining two days.
One meal a day: this is the most extreme level of intermittent fasting in which you fast for 23 hours in a day, and then you can eat whatsoever you want in that single meal.
You can choose any of these variations of IF, but at the same time, you should make sure that you include that kind of food in your diet that fulfills the nutrition needs of the body. However, keeping track of the calories you are eating, and the timing of eating food can be a little daunting. But the fantastic thing is that there are plenty of apps available on the internet that can help you do intermittent fasting. If you want to know what is the best intermittent fasting app that are most reliable and free, you should continue reading.
Best Free Intermittent Fasting Apps with No Subscription
| Name of app | No. of downloads | Build Year | Android | iOS |
| --- | --- | --- | --- | --- |
| Zero | 1,000,000+ | 2016 | Yes | Yes |
| Window | 1,000,000+ | 2019 | Yes | Yes |
| Fastic | 5,000,000+ | 2019 | Yes | Yes |
| Fasting | 10,000+ | 2019 | Yes | Yes |
| BodyFast | 10,000,000+ | 2018 | Yes | Yes |
| Vora | | 2017 | No | Yes |
| DoFasting | 500,000+ | 2019 | Yes | Yes |
| FastHabit | 50,000+ | 2019 | Yes | Yes |
| Life intermittent fast tracker | 1,000,000+ | 2018 | Yes | Yes |
| Ate food diary | 100,000+ | 2021 | Yes | Yes |
| Simple | 1,000,000+ | 2019 | Yes | Yes |
| iFasting | 100,000+ | 2019 | Yes | No |
| Clear | 1,000,000+ | 2019 | Yes | Yes |
| Rhythm | | | No | Yes |
| Fasten | 10,000+ | 2019 | Yes | Yes |
1. Zero: Best Fasting App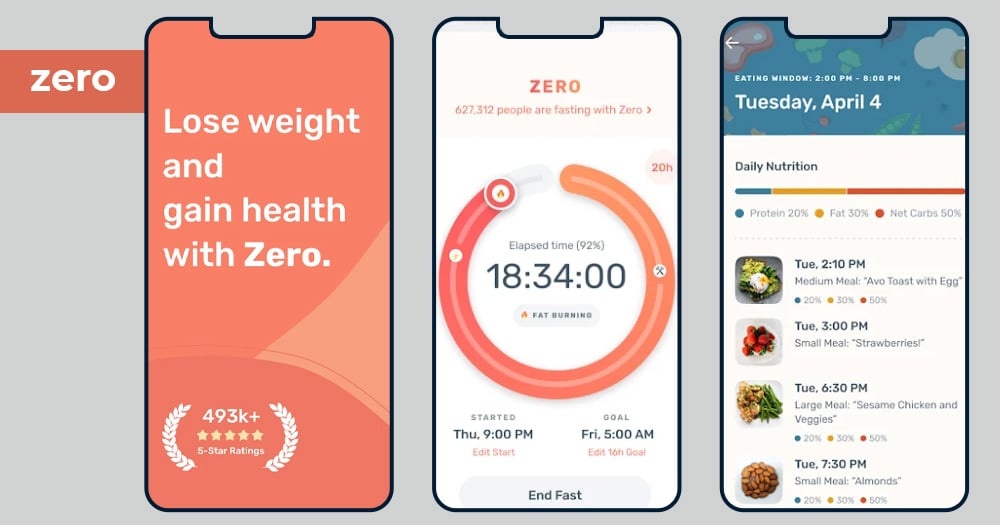 Zero is the best intermittent fasting app, consisting of the timers, tools, and journals essential for getting started with this eating pattern. It also has a lot of helpful articles on fasting, the best beverages for drinking during the fasting window, and things to do for better sleep. The app also provides the feature of a mood graph that you can rate. This application is easy to use and provides unique features completely free of cost. You can also get the premium version of Zero at $69.99 a year, in which you get complete guidance on fasting from a coach.
2. Window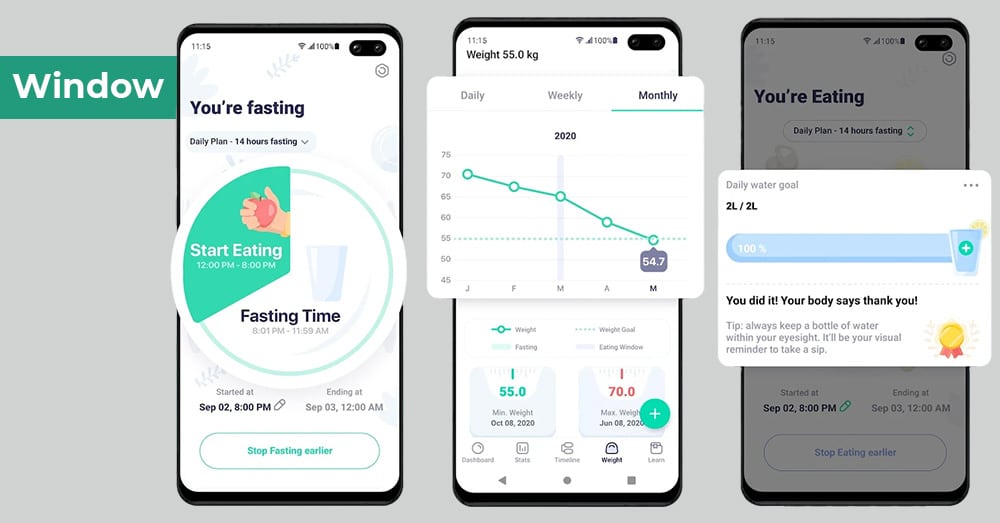 The window is a complete package application in which you get plenty of unique features that make IF straightforward for the users. For example, this app helps the users schedule their eating windows and notifies you when the window starts and closes. Moreover, the Windows app allows the users in syncing the data to their apple health app. It is a free app for Android and iOS with fascinating features, but for the premium version, you have to pay $9.99 monthly, in which you get a lot of fasting plans, daily notes, and pictures for tracking your weight.
3. Fastic: Free Fasting App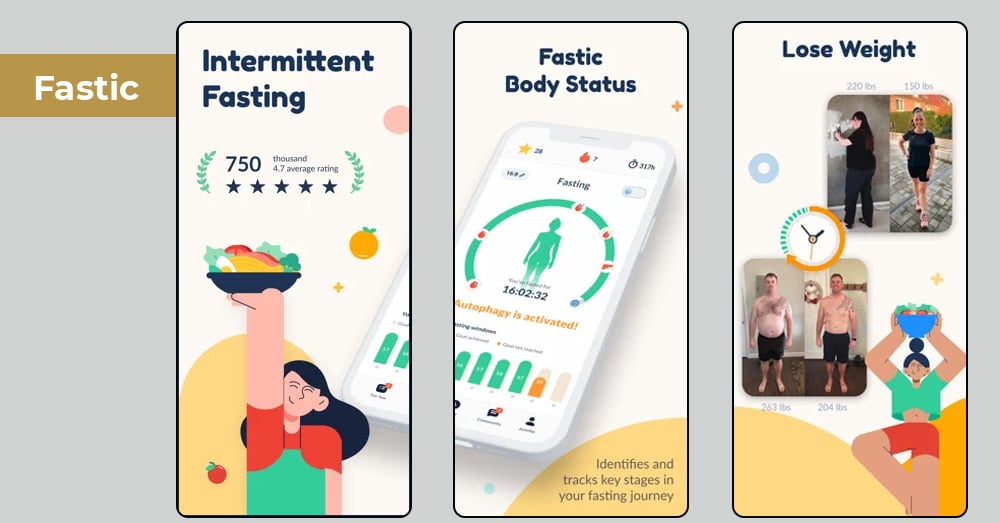 In intermittent fasting, you not only have to do fast, but the more important thing is to load up your body with healthy food. The Fastic app consists of over 400 recipes that feature healthy and filling ingredients that provide you with all the nutrients your body requires. You also get information on how the body works during the fasting window and give you access to other unique features like a step counter. Fastic is a free fasting app that you can install on Android and iOS. However, the prime membership of this app starts at $11.99 for one month, which gives you access to complete recipe books and daily challenges for keeping you motivated.
Create Your Own Fasting App
Request A Free Quote
1200+ Projects Delivered
12+ Industry Experience
450+ Clients Worldwide
200+ Certified & Expert Programmers
4. Fasting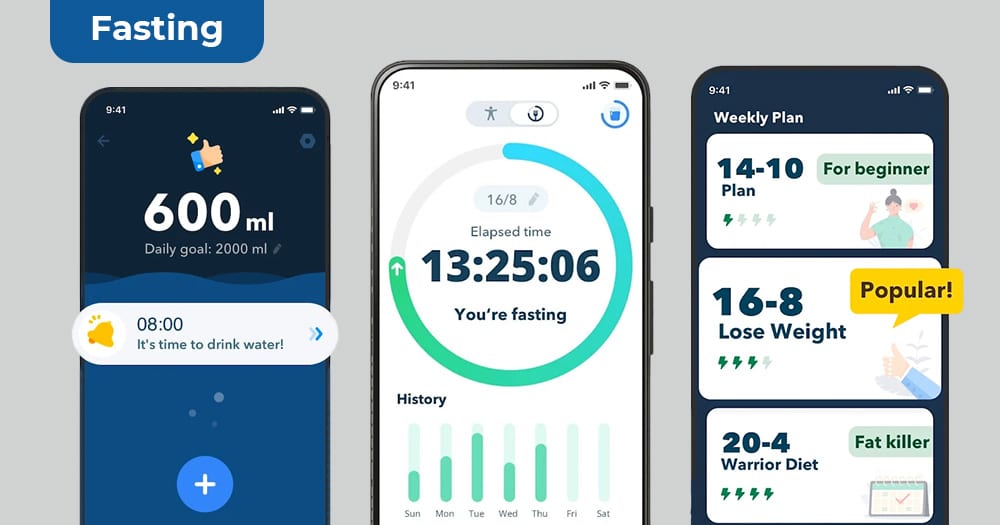 If you are looking for a way to track your fasting window and diet, fasting is the best intermittent fasting app. It allows you to maintain a record of the food you eat. You get plenty of space for your journal, access your information in the app, and view your progress through easy graphs. Tracking is essential when you do intermittent fasting because it keeps you motivated, and this app is best for this use. The basic app is free so you can install it without hindrance. The premium version of fastient costs $4.99 yearly.
5. BodyFast: Best Intermittent Fasting App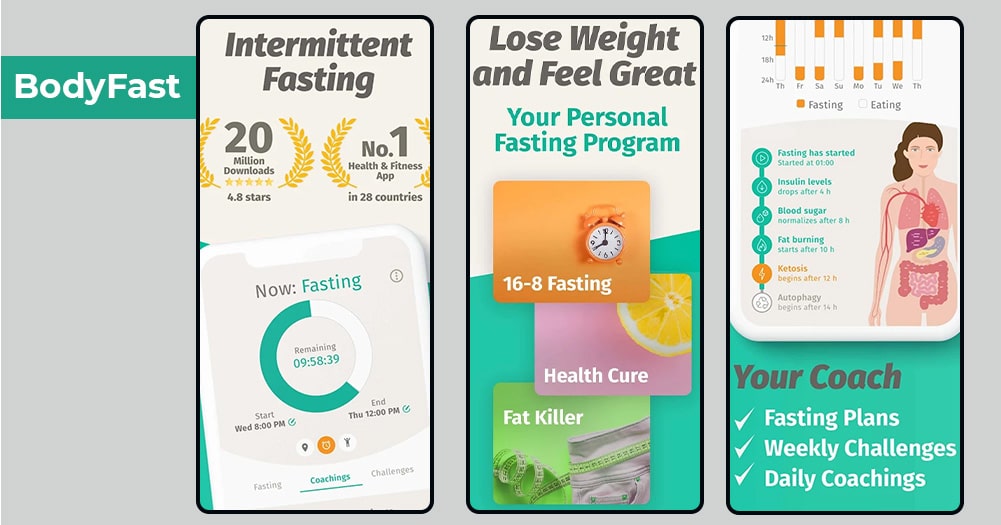 BodyFast is a great IF app that provides you with ten options of fasting plans from which you can choose. It also gives a lot of guidance and tips for meal planning. If you are a person who is dedicated to IF but you are not able to deal with the daily mechanics of it, then this app is capable of troubleshooting all your issues. The fantastic thing is that it is a free intermittent fasting app in which you get everything you need for doing intermittent fasting.
6. Vora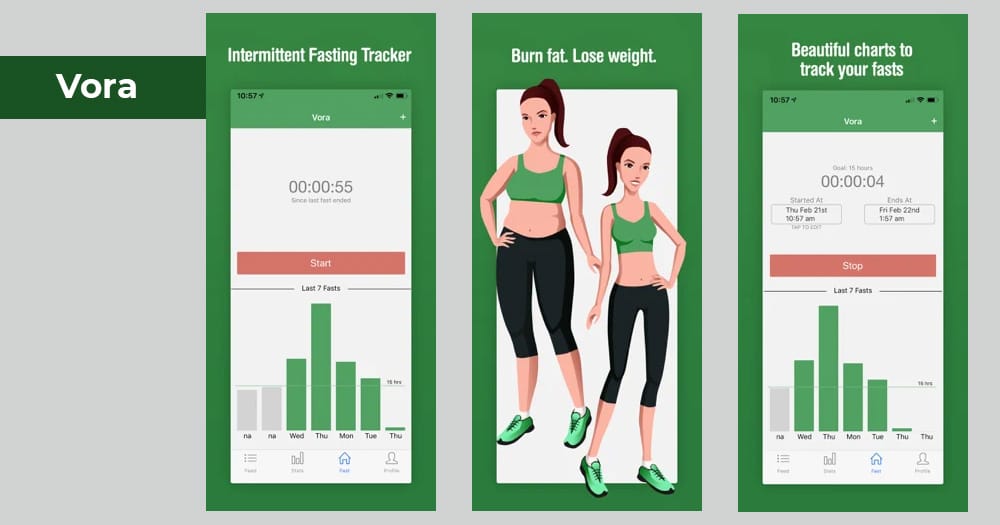 This app is a renowned IF tracking app that provides users with weight loss progress, daily fasting time, and goal timing. But the unique thing about this app that plays a vital role in its success is the community support. Studies suggest that social support can help people in achieving great success. When you engage in a community with people who have similar goals, you feel motivated to stick to your plan. This app is best free fasting app to use on both Android and iOS. By switching to the upgrade version at $4.99, you get added ways of tracking progress and guidance of a coach.
7. DoFasting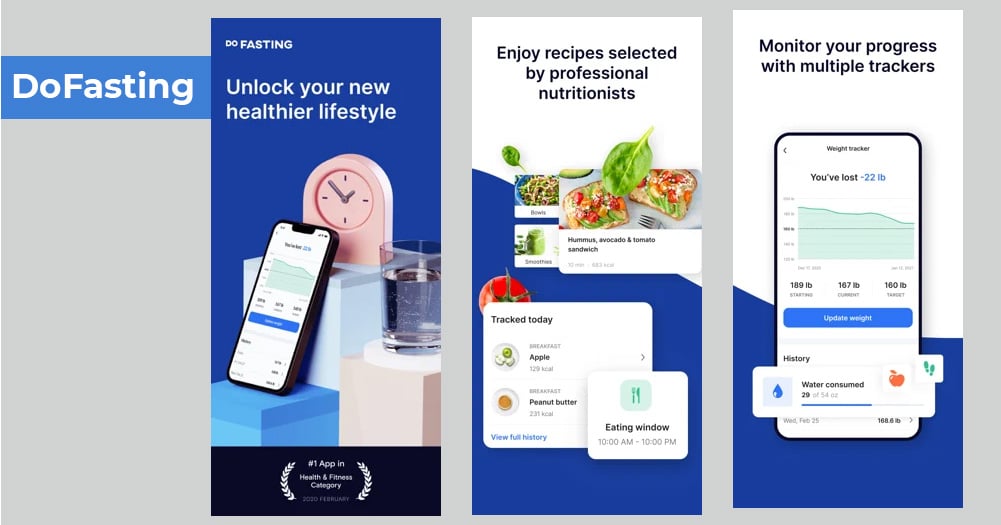 DoFasting provides seven different IF plans to its users, great educational articles, and more than 5000 recipes. You also get the additional benefits of workout videos on this app. So, it is an all-in-one fitness advice app in which you get everything from diets plans to workout sessions. Users can create daily mean plans in the app and see whether it is under their recommended calorie intake. This app can track your weight, steps, and even your water intake. For purchasing a subscription for one month, you need to pay 33 dollars.
Free Intermittent Fasting Apps (Best of 2022)
8. FastHabit: One of Top Best Intermittent Fasting Apps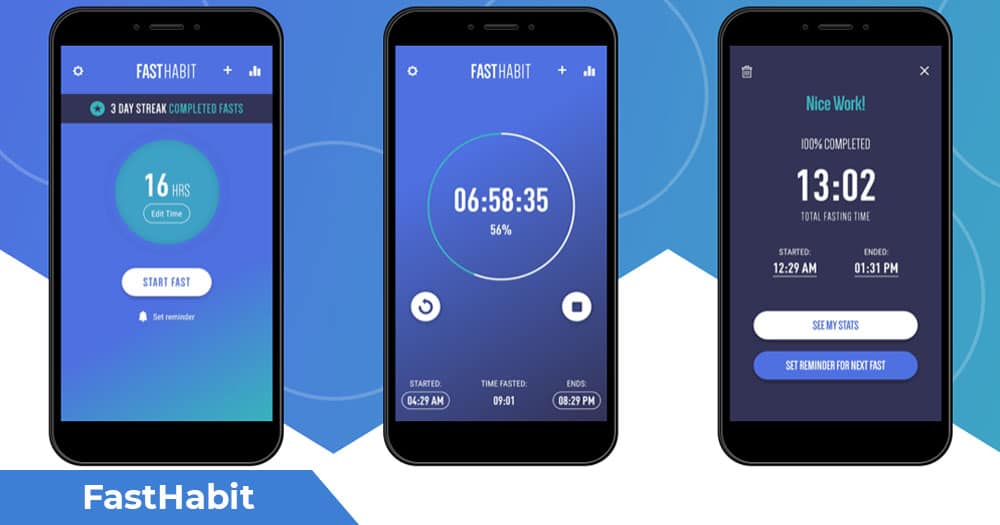 If you want to test different fasting plans, then FastHabit is the ideal option. It is one of the best fasting apps with no subscription by which you can keep up with your intermittent fasting schedule. You have to set up the fasting window that you want in the app and then can start it whenever you want. You can also sync this app to apple watch and apple health for inclusive health management. It is also simple to set reminders, track your stats and is best free intermittent fasting app. But for tracking more than this, you will need a premium membership of $2.99.
9. Life Intermittent fast tracker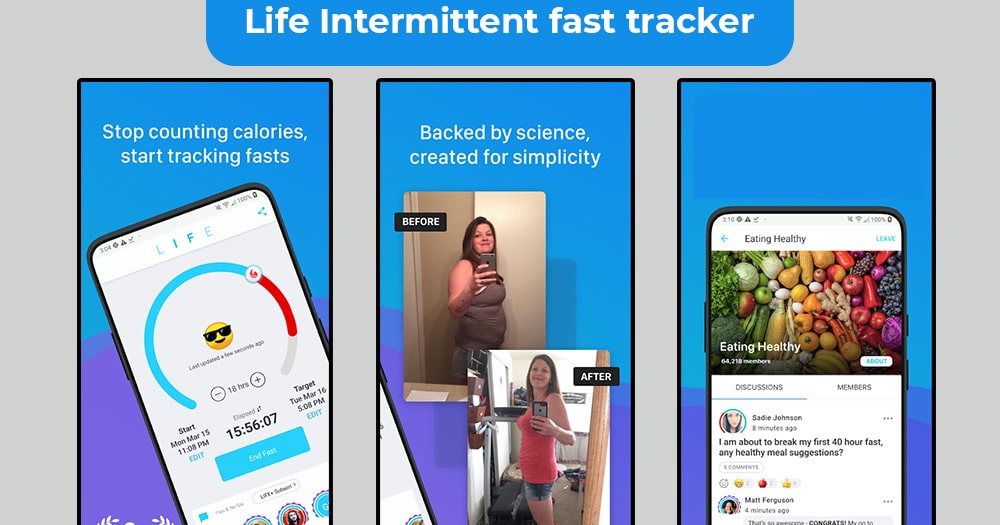 This app works best for tracking IF schedules as it allows the users to set their goals and the length of fasting periods. If you are following the keto diet in an intermittent fasting manner, this app can help you track the time when your body enters ketosis. Moreover, you can connect with your friends who are using the app for fasting together, and it helps in motivating each other. The life fasting tracker app is free, and you can install it at any time. However, you have to pay $2.99 per month for the premium version, which unlocks customized fasting schedules.
Hire Certified App Developers
Request A Free Quote
1200+ Projects Delivered
12+ Industry Experience
450+ Clients Worldwide
200+ Certified & Expert Programmers
10. Ate food diary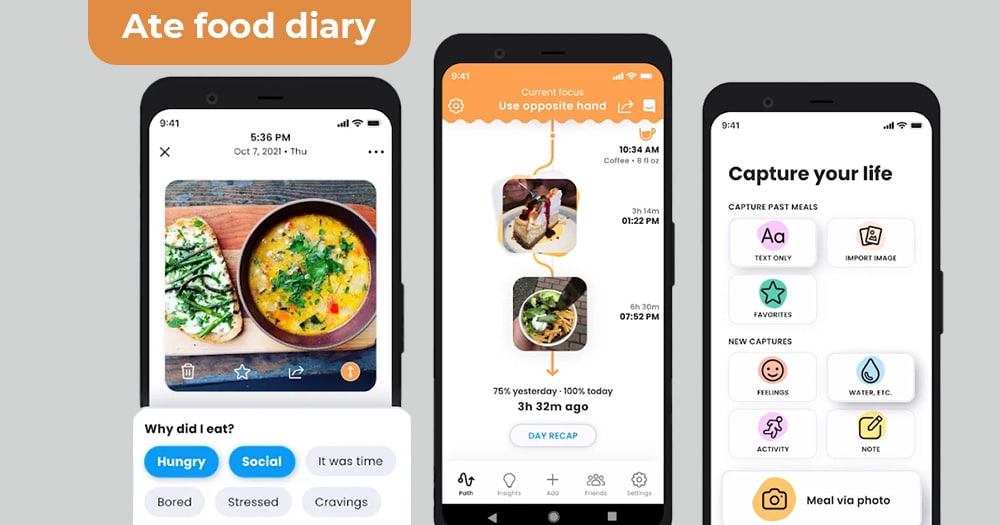 The Ate Food Diary is a fantastic fasting tracker app that helps you keep a visual food diary. This app offers an easy way to look at your food choices and what they make you feel. You can also track the time you take between snacks and meals. If you are a social media influencer, this app allows you to share what you eat on your Instagram profile. All these fantastic services are free of cost. You can also sign up for the premium version at $9.99.
11. Simple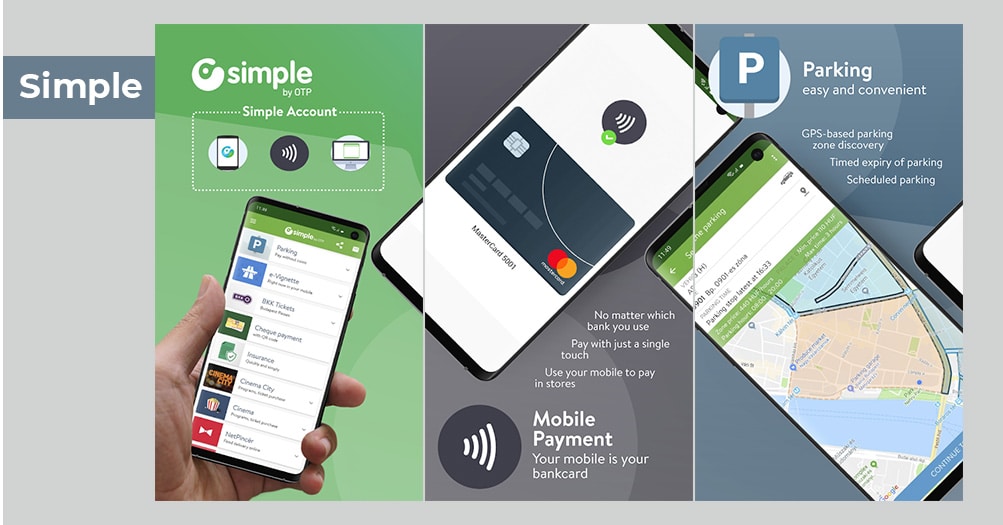 It is a straightforward and all-in-one fasting app that will motivate you in your weight loss journey. The best thing is that it creates a customized intermittent fasting plan for you as per your body goals and requirements. You can also get expert advice and valuable tips to make your IF journey joyful and easy to follow. In addition, this app can connect to your apple health app for weight tracking, sleep cycle, steps, and water intake. Overall, this app is free, but if you want to upgrade it to premium to get personalized insight, motivational articles, and deep tracking of IF plans, you can purchase it for $14.99.
12. iFasting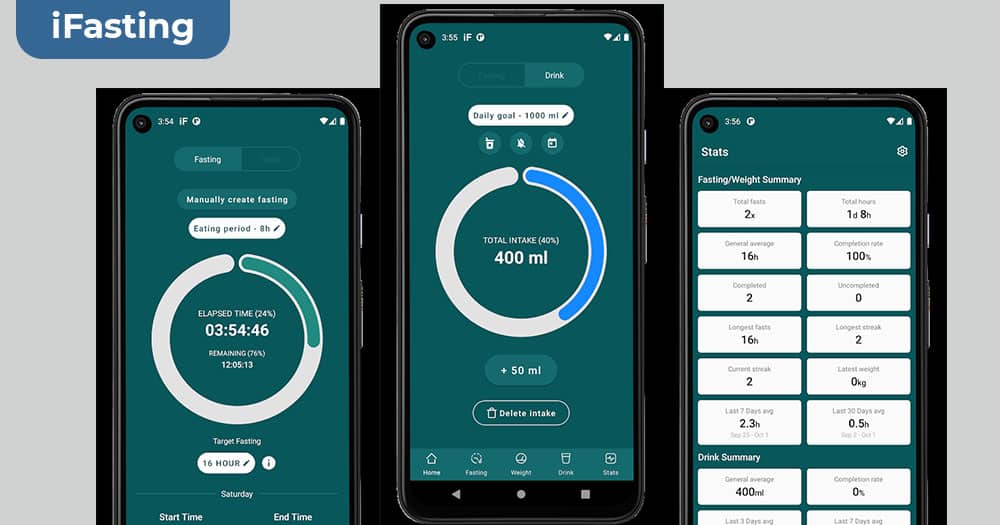 iFasting is a free intermittent fasting tracker app has lots of valuable features for fueling your IF success. It includes a journal in which you can also share your feelings, daily logs for tracking your weight, reminders, and a calendar for recording the transformation of your body. The experts say this app helps the users by keeping them alert and attracted to their transformation journey. By using this app, you can get a helping hand for hitting your goals, and the best thing is that it is free. However, if you like to purchase a premium plan, it costs $9.99 monthly, in which you get personalized plans of fasting and a nutrition guide.
13. Clear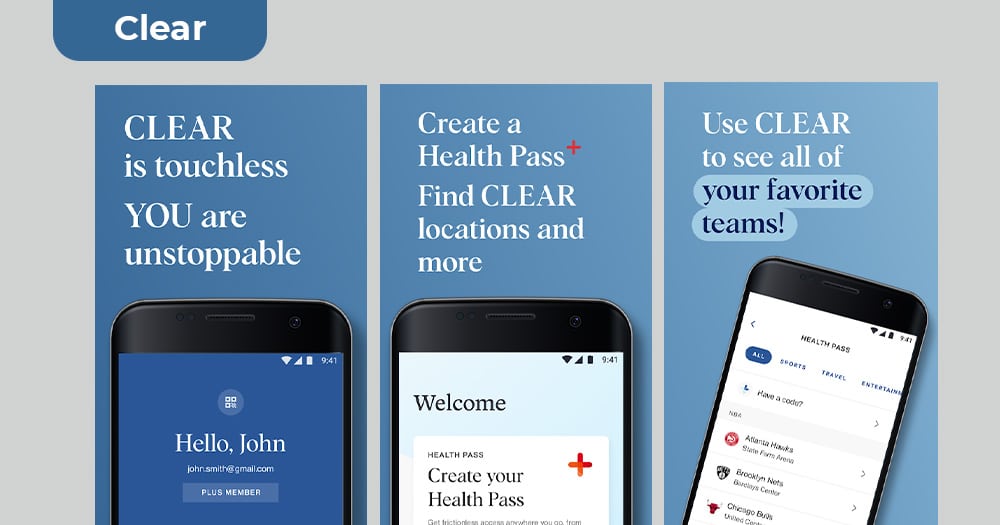 Clear is not just an app that reminds you of your fasting time, but it is much more than that. You can see it as your friendly companion in your intermittent fasting journey. This app provides you inclusive approach to doing intermittent fasting with the most popular and efficient fasting plans. You will get a reminder about the eating window and fasting window. The developers of this app are publishing new plans and programs for the users for added peacefulness and well-being. You get all these services for free, and the premium version starts at $2.99 per month.
14. Rhythm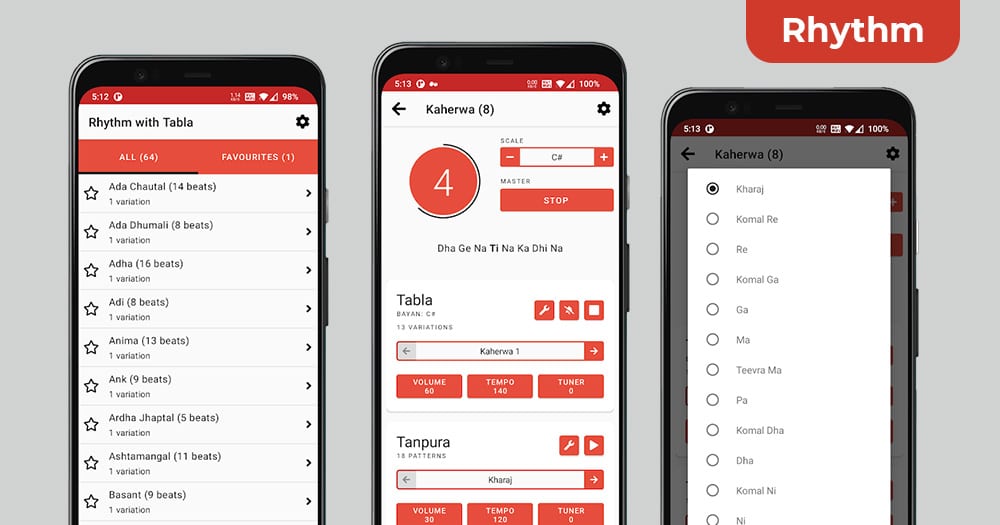 Rhythm is one of the best free intermittent fasting apps that helps maintain your daily routines for IF. It is a fast and straightforward app for tracking your IF schedule and progress. You can choose from the different variants of intermittent fasting available on the app. Setting the daily fasting goals and checking your progress the day you start your weight loss journey is straightforward. The fantastic thing is that this app stops when you achieve your goal so that you don't get bothered by unnecessary notifications.
Hire Intermittent Fasting App Developers
Request A Free Quote
1200+ Projects Delivered
12+ Industry Experience
450+ Clients Worldwide
200+ Certified & Expert Programmers
15. Fasten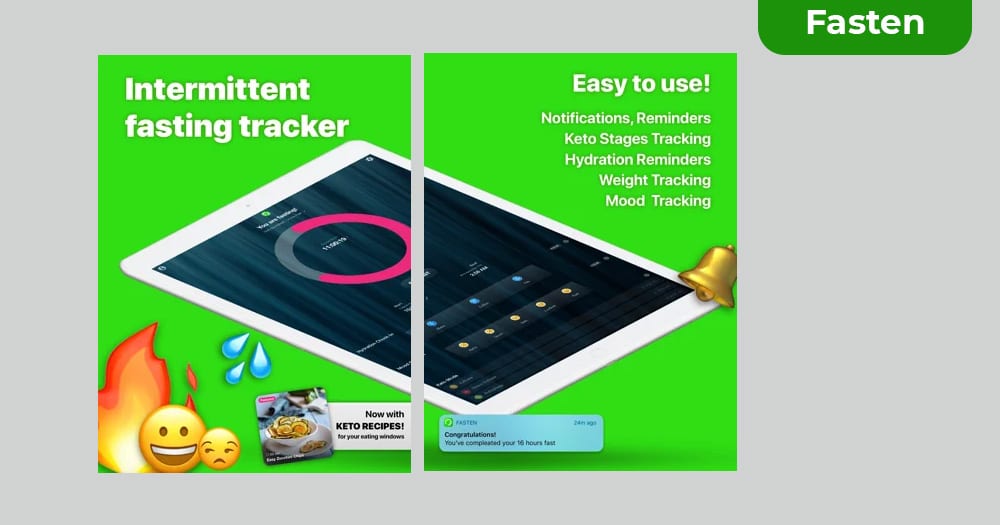 It is among best intermittent fasting apps that promotes the health and wellness of users. You get the features of the meditation app and tracking of water intake while using fasten app. It is becoming the favorite app of fasters because of its high-end and unique features. You get to track your fast by using eight options preset, and you can also use this app for tracking the fasting for the entire week. Moreover, this app can also be customized according to your intermittent fasting cycle. It is a perfect app for people on a keto diet, as they can access more than 200 low-carb recipes. You can easily download the free version of this app. The premium version is available at $29.99.
How much does Fasting App Development Cost?
Intermittent fasting is trending worldwide, and the best way to track your fasting is through the top intermittent fasting apps. These apps are very helpful in tracking the fasts by providing the user's different kinds of IF plans, recipes, trackers, bodyweight trackers, and many more things. Now the question is how much cost is needed for developing apps for intermittent fasting. So, for building as well as launching the basic intermittent fasting tracking app, you will need up to $20000 to $25000. However, this amount is not a fixed cost. Many things matter when it comes to mobile app development, so the cost depends on the project's requirement.
| Region | Price/Hourly Basis |
| --- | --- |
| Ukraine | $30-$65 |
| Brazil | $35-$70 |
| South Africa | $25-$45 |
| India | $20-$45 |
Free Fasting App: Wrap up!
These are the best free intermittent fasting app that is easy to use and offers excellent features to their users, which help them in doing intermittent fasts more efficiently. The fantastic thing is that all these features are easily accessible and available free of cost. You can choose any one of these intermittent fasting apps that are right for your needs.