Apps are available for almost everything in today's digital age. Similarly, medical professionals experience significant challenges. Online medical apps for patients and doctors can help them to make your medical needs more organized. Do you set up reminders for yourself to take your medication?
How can you improve your health by tracking your physical activity? Have you ever consulted a doctor via video consultation to resolve a pressing medical issue? It's possible to do all that with online medical apps.
Reports estimate that by 2025, the mHealth apps market will reach $111.1 billion. (source)
Apps like doctor on demand, Amwell, Heal, and ZocDoc promise to simplify the management of your physical and mental health seem to debut every day. Are app startups able to deliver on their promises?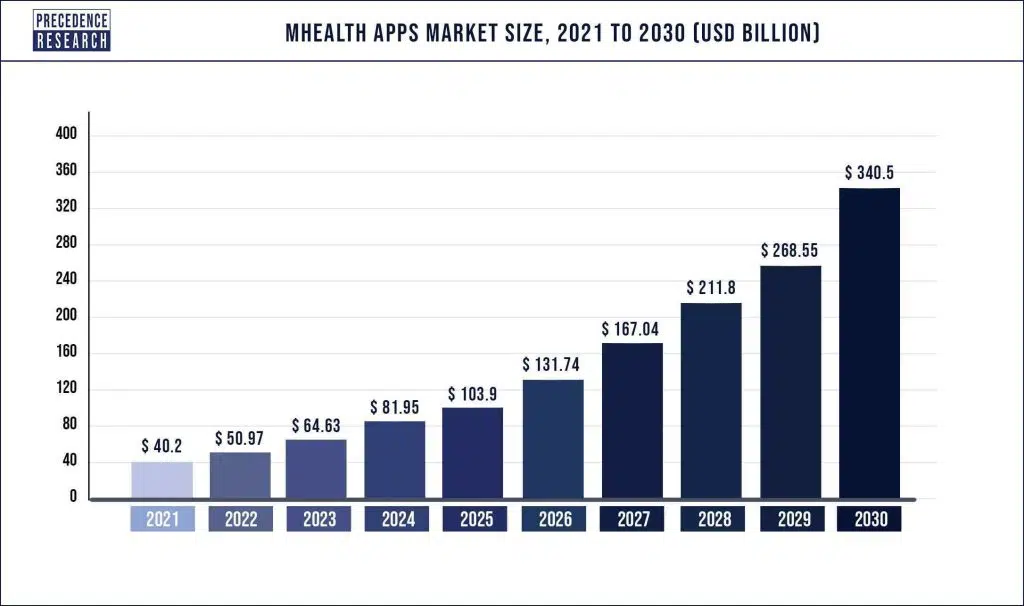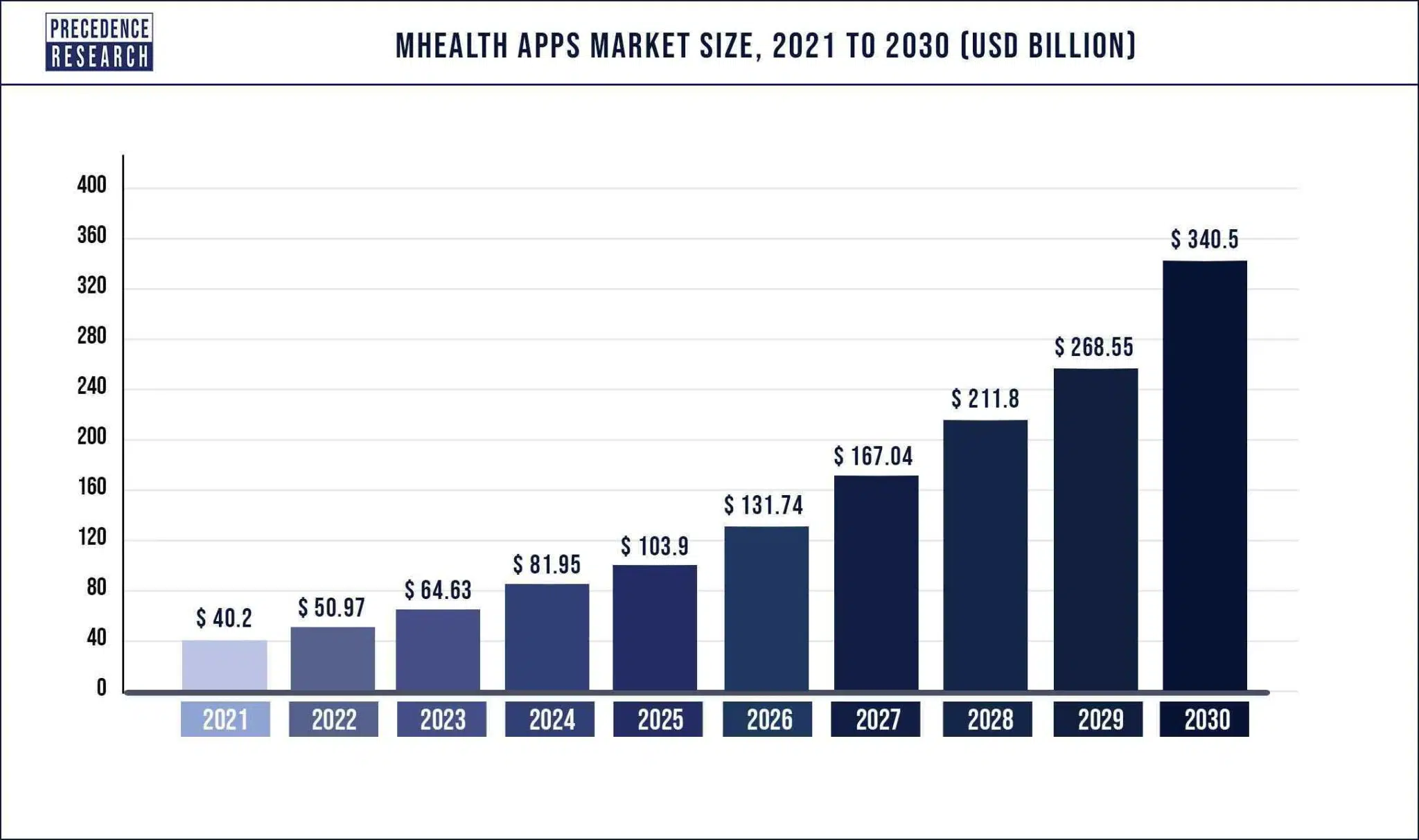 Source: https://www.precedenceresearch.com/
Listed below are some of the most popular apps for medical professionals, mental healthcare, and in-person visit, many of which are free or available as part of an institutional subscription or pricing starts.
15 Best Online Medical Apps for Patients and Doctors
S.no
App
Best feature
Price
Available on
1
Doctor
Best Therapy App
Medical Visits: $75
iPhone: 4.9 stars

Android: 4.9 stars

2
Talkspace
Most Affordable On-Demand Care
Free to download

Therapy: $260/month

 

iPhone: 4.1 stars

Android: 2.6 stars

3
Amwell
Best for Insurance Coverage
Everyday care: $75 (w/o insurance)
iPhone: 4.8 stars

Android: 4.6 stars

4
Heal
Best for Doctor House Calls
$159 (w/o insurance)

Telemedicine call: $79 (w/o insurance)

iPhone: 4.9 stars

Android: 4.4 stars

5
First Derm 
Best Dermatology Services App
Consultations start at $29.95

iPhone: 4 stars

Android: 2.9 stars

6
Maven

 

Best Women's Healthcare App

Free to download

iPhone: 4.8 stars

Android: 4.5 stars

7
ZocDoc
Best Appointment Scheduling App
Free
iPhone: 4.7 stars

Android: 4.2 stars

8
Fitbit
Best Activity Tracker App
Free
iPhone: 4.1 stars

Android: 3.8 stars

9
GoodRx
Best for Prescription Discounts
Free
iPhone: 4.8 stars

Android: 4.8 stars

10
Medisafe
Best Medication Reminder App
Free
iPhone: 4.7 stars

Android: 4.6 stars

11
Healow
Best Health Records Management App
Free
iPhone: 3.5 stars

Android: 4.2 stars

12
MyChart
Best Patient Portal App
Free
iPhone: 3.2 stars

Android: 4.2 stars

13
Teladoc
Most Affordable On-Demand Care

Free
iPhone: 3.5 stars

Android: 4.2 stars

14
WebMD
Best Medical Resource App
Free
iPhone: 4.7 stars

Android: 4.4 stars

15
Medical ID
Best id keeper app
Free
iPhone: 3.5 stars

Android: 4.2 stars
1. Doctor On Demand App
It is An on-demand and in-person visit appointment-based telemedicine service that provides physical and mental health care.
This healthcare app lets users consult with board-certified physicians via video, who can provide guidance and treatment for a variety of common conditions, such as colds, flu, allergies, rashes, headaches, etc. It is one of the best examples of healthcare app development services.
Features of Doctor On Demand App
Pediatric health care, Asthma, diabetes, and high blood pressure are just some of the chronic conditions that can be managed with a Doctor on demand app.
Psychiatrists and therapists are also available through the Doctor on Demand healthcare app.
There are no subscription fees associated with Doctor on Demand for minor health issues.
Different quick and convenient solutions charge flat rates to uninsured users.
Doctor on Demand accepts a wide range of major health insurance plans
Customer Review
Doctor On Demand is praised by users for being a convenient and quick solution to common united healthcare. "This app has changed my life," said one user with an ear infection. I would have lost my eardrum if I hadn't used this app and this wonderful doctor." You might be interested to learn the process of doctor on demand app development.
2. Talkspace – Best Therapy App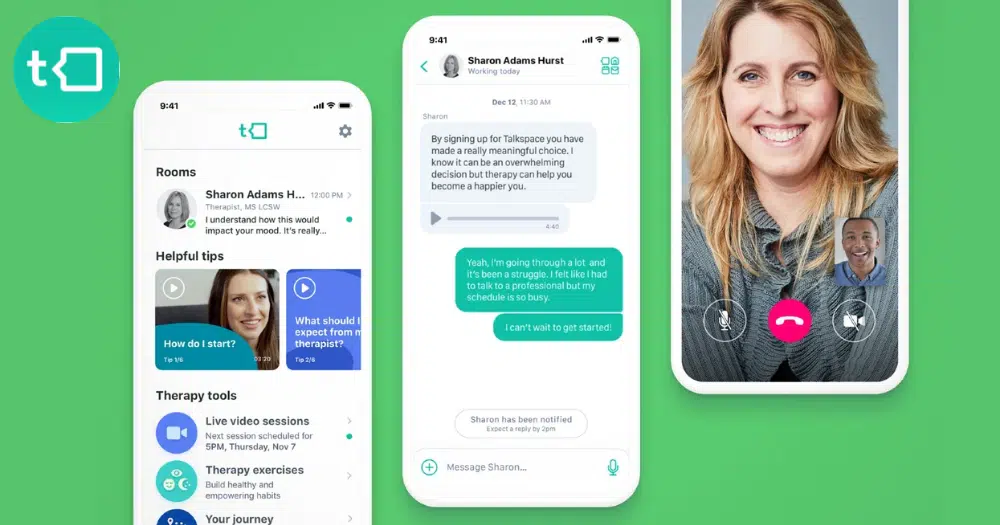 A counselor can be an invaluable resource when working towards recovery from mental health issues such as anxiety or depression. Talkspace psychiatry services is a great option for those who cannot arrange in-person counseling due to time or financial constraints.
There are more than 2,000 licensed therapists and psychiatrists offering private video consultation services and initial visits on this online therapy platform and telemedicine apps.
Talkspace App Features
A therapist matches users with a 24/7 text, video, and audio messaging service.
Premium packages include live online sessions as well.
Patients can seek help from Talkspace therapists for anxiety, depression, eating disorders, addiction, post-traumatic stress disorder, and LGBTQ+ issues.
A Talkspace psychiatrist is available, who can prescribe medication if needed.
Customer Review
Mental health issues can be addressed effectively with Talkspace telemedicine app's licensed therapists, say, users. It also connects patients and provides medical care.
According to one user, "I can't imagine my life without Talkspace medical care after being with my therapist for about one year and four months.". "This is a modern approach to therapy that is perfect for the modern age."
3. Teladoc – Most Affordable On-Demand Care
Patients with non-life-threatening illnesses and injuries can receive immediate virtual care through Teladoc telemedicine apps, another on-demand telehealth service. Using this service, people can easily address minor health issues via video chat or phone call without going to a doctor or ER.
Want to Launch Your Own Medical App?
Request A Free Quote
Teladoc App Features
You can easily set up an account and see exactly what services are available to you and their costs once you input the information for your health insurance.
For an "Everyday Care" appointment without insurance, the cost is $75.
With Users access app features, users can connect with doctors via phone and video chat.
A Teladoc visit can be shared with your primary care physician if you authorize the service.
Customer Review
The Teladoc app delivers on its promise of being a fast, convenient way to get medical help, according to its users. A user writes, "It's an easy-to-use app.". It's great to have access to such knowledgeable physicians. The tool is very helpful and the women's healthcare service is excellent."
4. Amwell – Best for Insurance Coverage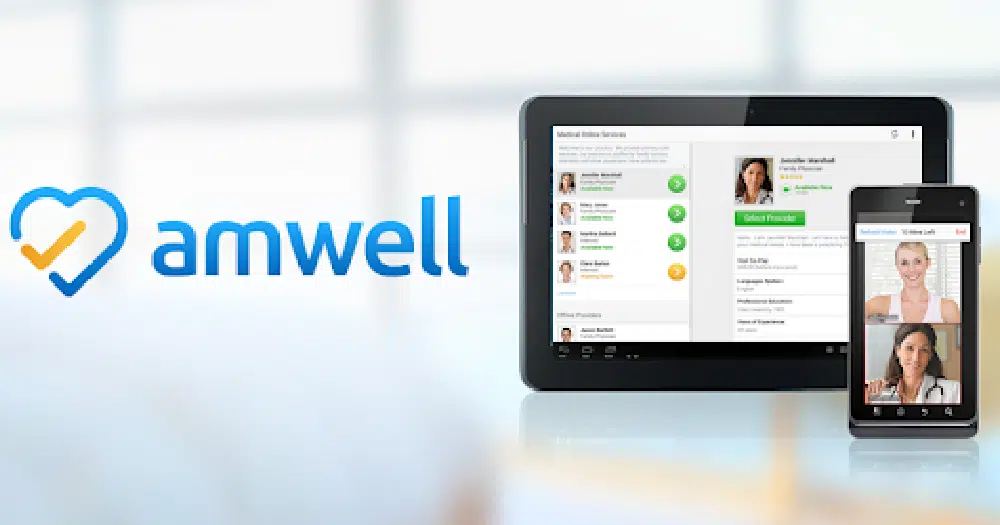 The Amwell app for android users or web app allows you to schedule doctor-on-demand appointments on-demand as well as access many other medical devices and services.
The Amwell app can be downloaded and used for free, but there are some fees associated with many of the services they offer. The cost of Amwell's services may be reduced or waived for individuals with health insurance that covers them.
Amwell App Features
For minor illnesses and conditions that don't require an ER or board-certified doctor visit, patients can use Amwell around the clock.
Log into the app or website, and you'll see a list of board-certified doctors who are available to have a video chat on the spot about your issue.
If necessary, Amwell's doctors can prescribe prescriptions and answer questions.
Aside from urgent care, Amwell also offers immediate access to therapy for chronic diseases, psychiatry, women's healthcare, nutrition counseling, urinary tract infections support, breastfeeding support and pediatric services.
Customer Review
A majority of Amwell customers are satisfied with both the best telemedicine apps themselves and the service they receive. One patient writes, "The app is easy to use.". For example, I spoke with the doctor within five minutes of logging in. "
5. Heal App– Best for Doctor House Calls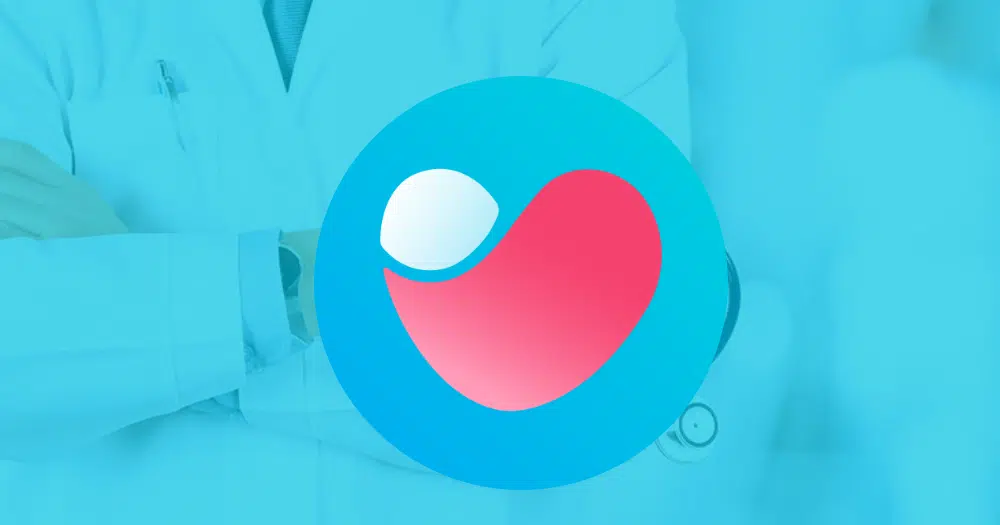 Through technology and affordability, Heal best online medical app treatment plan makes it more accessible.
Heal is a mobile app that lets you schedule a doctor on-demand house call for a variety of medical services. It costs $159 per visit for patients without insurance, and their co-pays are the same for those with coverage.
Heal App Features
Besides addressing acute conditions such as viruses, infections, and rashes, Heal's medical team can also provide top-of-the-class patient service by allowing patients in-house preventative care, such as flu shots and physicals, and pediatric care, including vaccinations.
There are 130 million Americans served by Heal best telemedicine apps in 11 states.
They provide telemedicine and house calls in the following states: California, Maryland, Georgia, Illinois, Louisiana, North Carolina, New Jersey, New York, Virginia, Washington, and Washington, DC.
Customer Reviews
Users of Heal are satisfied with the best telemedicine apps ability to provide quick, effective care. One user said, "This was the best first-time patient experience I've ever had.". He said, "The doctor was wonderful and helped me with everything I needed.". "I would definitely choose Heal again in the future."
6. First Derm – Best Dermatology Services App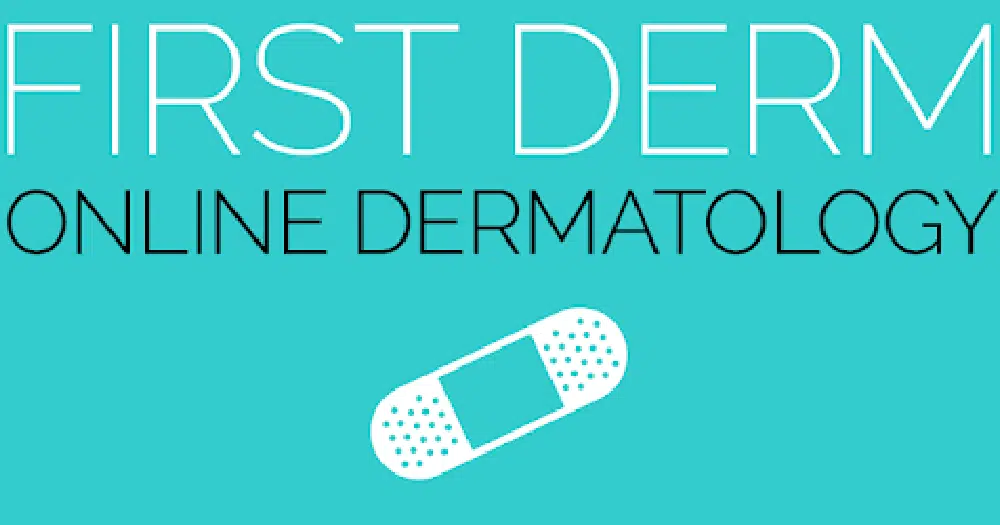 Doctor-on-demand dermatologist appointments, treatment plans, and prescriptions are available through First Derm.
Taking photos of your condition and describing your symptoms is simple with First Derm's artificial intelligence-based app.
First Derm Features
A board-certified user-friendly dermatologist reviews your information, along with your payment, within 48 hours and responds with professional advice and information.
As part of First Derm's free resources, patients can also access photos that can help them identify and treat common skin conditions without having to consult a dermatologist.
Customer Reviews
Users praise First Derm for providing dermatologist appointments when in-person appointments are unavailable. It took me five weeks to get an appointment with a dermatologist," reports one user. It was a great experience using this app. My results were quickly returned, and I found the system to be easy to use and understand."
7. Maven – Best Women's Healthcare App

Maven provides women and families with an alternative "digital clinic" that meets their physical and mental health needs.
Using Maven, women can speak with medical providers about health concerns, nutrition, physical therapy, mental health, prenatal care, and pediatric care for their families through video chats and private messages.
Maven App Features
Living in rural areas with limited in-person care options, bringing the kids to face-to-face appointments, and neglecting self-care to focus on the family's needs are all problems solved by virtual visits.
A Maven appointment costs just $18 and is considerably less expensive than most face-to-face visits covered by insurance.
Customer Reviews
Maven reportedly meets its promise of improving women's access to healthcare. One user writes, "Maven is amazing.". "The doctor was very helpful and professional, and he even prescribed medicine for me." Another user writes, "This app fits my schedule, and the doctors are wonderful."
8. ZocDoc – Best Doctor Appointment App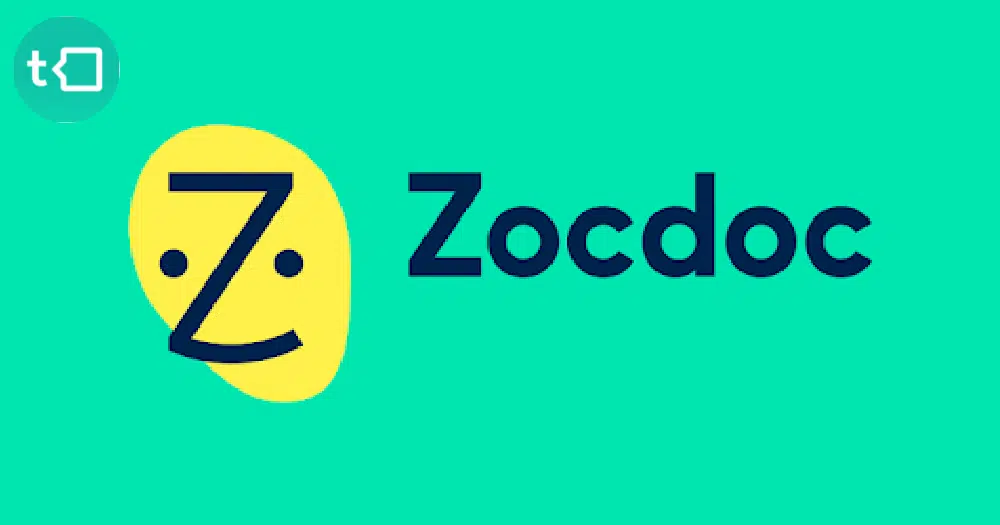 Using ZocDoc is easy and quick. No more waiting on hold, no more finding out there are no appointments available for weeks.
The ZocDoc app lets users select the types of care they need, such as primary care, dentistry, psychiatry, vision, dermatology, and more, and enter information such as their location, appointment time, and insurance type.
Features
Patients can then book appointments online instantly from the app by viewing providers who have appointments available in the next 24 hours. Notifications will also be sent to you by ZocDoc.
In addition to New York, Baltimore, Washington D.C., Seattle, Atlanta, Houston, Dallas, Austin, Boston, Philadelphia, Chicago, Denver, San Francisco, Miami, Los Angeles, and San Diego, ZocDoc works with practitioners in major metropolitan areas, including New York, Baltimore, Washington D.C., Seattle, Atlanta, Houston, Dallas, Austin, and Boston.
Despite this, new providers are joining the network every day. Here is a detailed guide on doctor appointment app features.
Customer Reviews
Compared to other methods, ZocDoc users say the app makes it much easier to schedule an appointment and find a doctor. According to one user, the website of my insurance company was a nightmare. With Zocdoc, you don't have to worry about headaches. Getting appointments is easy with it."
9. Fitbit App– Best Activity Tracker App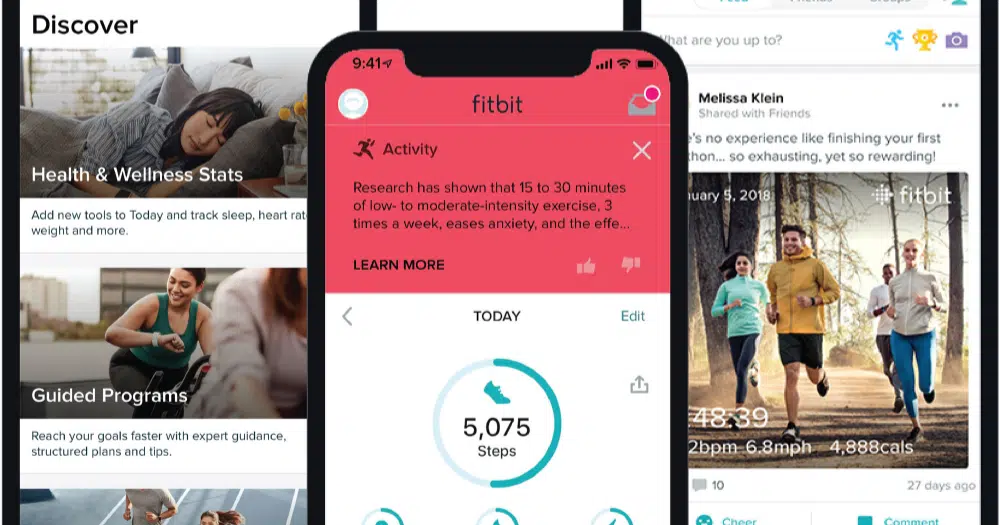 It is estimated that over 63 million Fitbits have been sold since the first one was introduced in 2009. Today's Fitbit trackers are compatible with the official Fitbit app and third-party apps that serve calorie counting, workout customization, and brain training purposes.
Features of Fitbit App
Fitbit's app comes with many features, including step tracking, heart rate monitoring, food logging, and hydration measurement. Even sharing workout photos and competing against friends and family is possible.
You can still track basic health and activity data using your smartphone with Fitbit's MobileTrack feature, even if you don't own one of Fitbit's wearable devices.
This feature lets you track steps, distance, calories burned, weight changes, and fitness goals with your phone. Android and iOS users can download the Fitbit app.
Customer Reviews
A Fitbit user praises the app for helping him lead a healthier and more active lifestyle. Another user says, "I need encouragement and motivation all the time.". "With Fitbit, I can track my progress and challenge myself to reach my goals."
10. GoodRx – Best for Prescription Discounts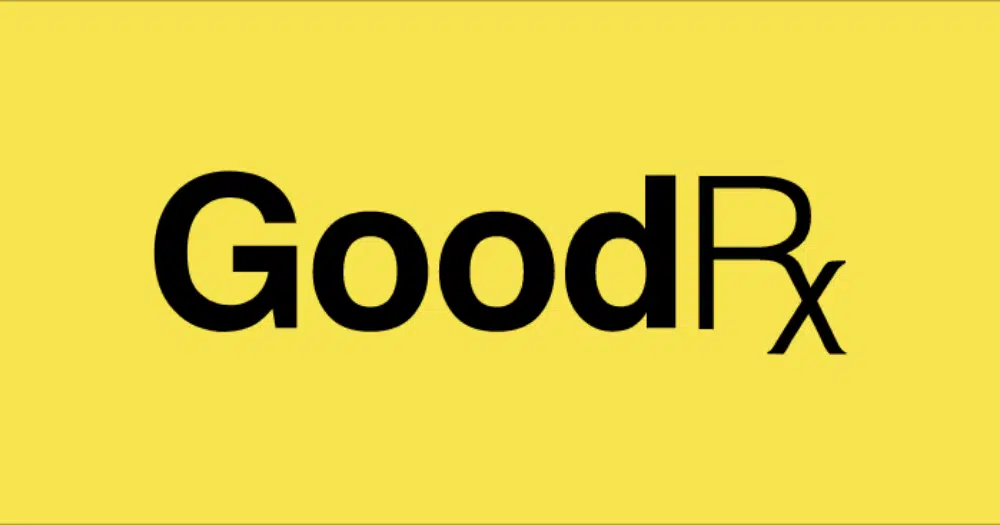 Saving money on prescriptions is GoodRx's mission. To find the lowest prices in their area and save time, consumers can use GoodRx's mobile app or website to search for prescription medications and contact lenses at over 75,000 pharmacies.
Features
Also available is a price tracker that lets users compare prescription prices at different pharmacies in their area.
GoodRx's coupon finder is one of its key features. Users can activate free coupons for the selected prescription by tapping "Get Coupon" on the app's screen.
When picking up prescriptions, users can show the pharmacy the in-app coupon.
Launch Your Own Doctor On Demand App
Request A Free Quote
Customer Reviews
The GoodRx community is loyal. According to one user, "I've saved a lot of money with this app.". It's great. One user says, "This app is easy to use, quick, and painless." Another says, "The prices are very good, and so easy to use."
11. Medisafe – Best Medication Reminder App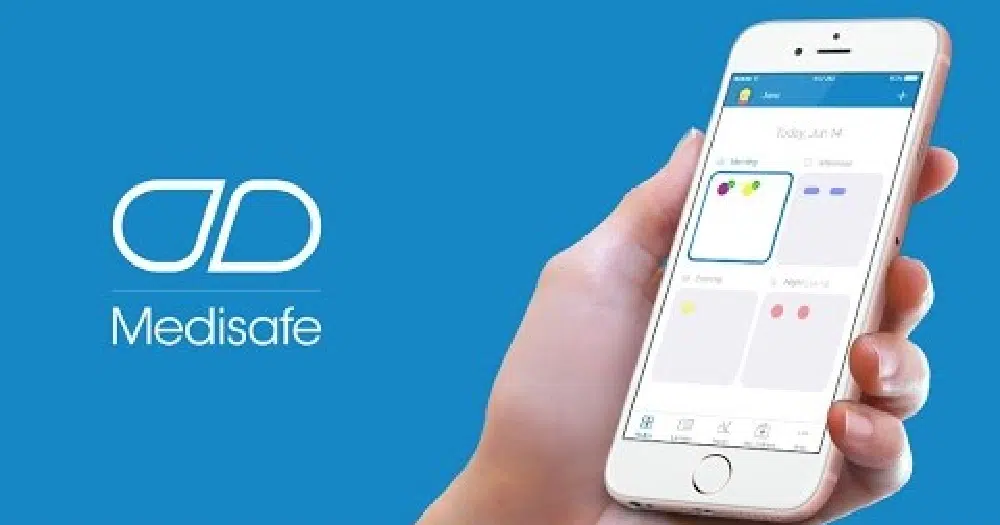 You receive notifications from Medisafe at the exact time you need to take your medicine, turning your smartphone into a "virtual pillbox".
Medisafe Features
Adding prescriptions and non-prescriptions like vitamins and supplements manually is easy with CVS, Rite Aid, Walgreens, and other major pharmacy chains.
The app also lets you track prescription refills, get medical resources, and get coupons for future prescriptions.
Customer Reviews
The Medisafe apps have been overwhelmingly well received by users who say they keep track of their medications. A user writes, "I really like how easy it is to use, and how the notifications help me stay on track.". "I have found it to be more useful than any other reminders I have tried alone.".
12. Healow – Best Health Records Management App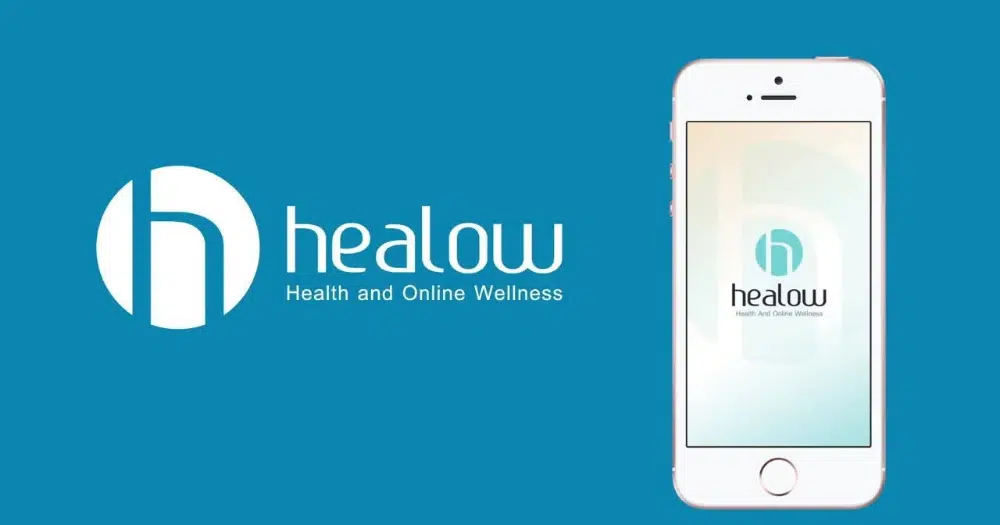 All of an individual's electronic health records (EHRs) are accessible through the Healow app.
Patients can access their medical records, including lab test results and medications, immediately through Healow, which has more than 100,000 providers. To ensure that all of your doctors have access to your consolidated health records, you can transfer them between providers.
Features
In addition to appointment booking, medication reminders, refill requests, and activity tracking, the app offers a variety of other features.
A minor child, spouse, or aging parent can be added to the account with that adult's consent.
Apps are Also available for pediatricians' and prenatal care providers' records, Healow Kids and Healow Mom.
Customer Reviews
The app helps Healow users manage their healthcare and keep track of medical information. "I love this app," a user says. My doctor could communicate with me and I was able to see my history. This feature is awesome! "
13. MyChart – Best Patient Portal App

In addition to providing access to electronic health records, online appointment scheduling, and patient-doctor communications, MyChart is another patient portal app.
Smartphone, tablet, and computer users can access their health records, test results, prescribed medications, and immunization history through the mobile app.
Features
Patients can easily schedule appointments and pay for services with appointment scheduling and bill pay features.
Additionally, MyChart allows users to contact their doctors and share medical records with other doctors.
MyChart allows users to incorporate their fitness and health data from an activity tracking app.
Customer Reviews
MyChart users highly rate the app for its effectiveness in managing their healthcare and medical records. "It's a great way to access all my medical information quickly and easily," says one user."
14. WebMD – Best Medical Resource App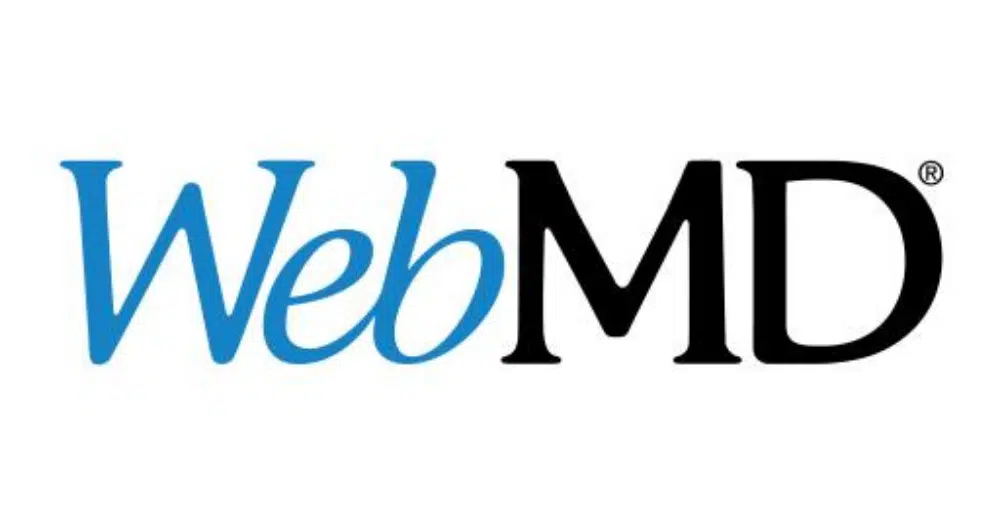 Users can access even more information and resources with the WebMD app. Symptom Checker is a feature in the app that lets users input information about their symptoms and the location of the issue to gain insight into potential conditions or issues.
Features
WebMD's directory allows users to find nearby physicians, hospitals, or pharmacies if they require medical attention.
Databases are also available for different conditions, prescriptions, and over-the-counter medications.
Users can also set up medication reminders in the iPhone version of the WebMD app.
Customer Reviews
Information and advice from WebMD are frequently sought by users of the app. I've never installed an app that's been so helpful," says one user. Online, it offers the most comprehensive and reliable information about health for free, medicine, drugs, and more."
15. Medical ID App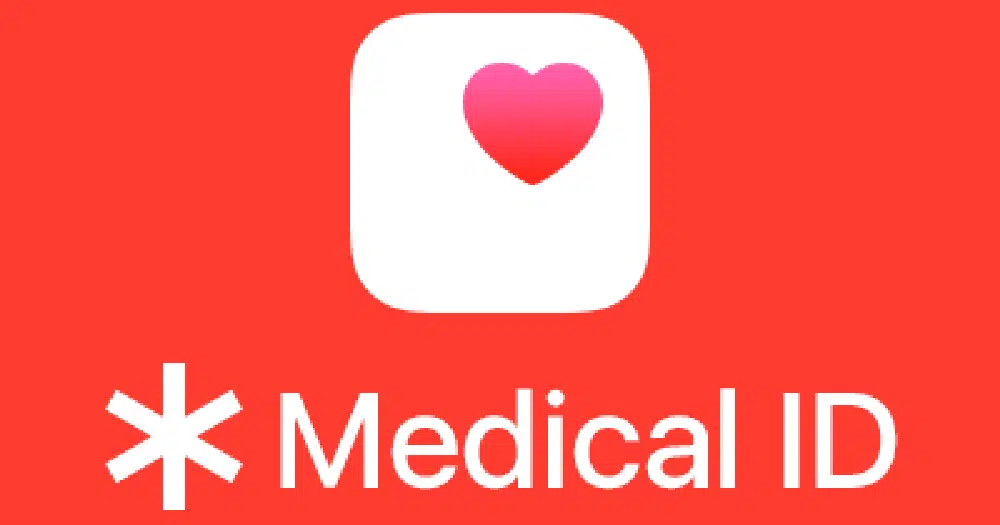 In case of a medical emergency, how can you explain your health problems to someone who finds you and your phone? It allows you to store multiple medical profiles on your phone for free, with a premium option available.
Features
Your blood type, medical contacts, and allergies are easily accessible from your home screen. This feature proved to be a game changer in covid pandemic.
Medics or emergency personnel can quickly determine your condition before treating you.
If you close the mobile health app, your emergency contacts will still be able to see your GPS location.
Customer Reviews
The app is highly rated by medical id users for its effectiveness in managing their diabetes healthcare and medical records. "It's a great way to access all my medical information quickly and easily," says one user."
Benefits of Medical Apps for Patients and Doctors
A doctor or other medical professional can benefit greatly from using smartphone applications in three main ways:
Efficiency
Medical professionals, especially physicians and mental health professionals, value urgent care more than anything else. You spend less time caring for patients as more knock on your door daily. A typical doctor's visit now lasts about 15 minutes, and it may continue to decrease.
If you want to provide a high standard of care while working faster, how do you do that? What is the best way to balance your job requirements in a day without making mistakes? Make the most of your time during patient visits by incorporating online medical apps into your daily routine.
Accuracy
healthcare providers are always concerned about accuracy. Medical professionals and doctor's office can easily access patient records using mobile apps instead of confusing paper trails. There can be a reduction in inaccurate diagnoses, a reduction in prescription errors, as well as many other confusing scenarios when this is done.
Apps can also be used by doctor's office for research and collaboration, such as discussing symptoms with other professionals and determining an accurate diagnosis. Medical malpractice lawsuits can also be avoided with accuracy, which is always a good thing.
Convenience
Convenience is the key advantage that essentially differentiates the previous two advantages. Today, medical professionals and major health insurances can easily access tools that help them be more accurate and efficient. Getting data is no longer a matter of traveling, searching through thick textbooks, or running between patients and computers.
Among the greatest benefits of mobile apps is that they're available to medical professionals who have smartphones, whether they're personal or hospital-provided.
How to Choose the Best Online Medical App?
Since there are so many health and wellness apps available today. In this blog, we ranked healthcare apps that could assist a wide range of users with a wide range of healthcare issues on the basis of:
1. Platform
As a result, we searched for apps that were available for a variety of smart devices in order to ensure accessibility for as many people as possible. For users who prefer desktops and laptops, we prioritized apps that could be accessed via a website.
2. Services available
By searching for apps that provide robust services, users won't waste valuable storage space on an app that only performs one very specific function. Our list of apps serves different purposes, but many of them provide related essential services.
3. Communication methods
Apps provide multiple ways to connect with doctors and healthcare providers, which is one of the benefits of using one. Apps that support video and phone chats, secure messaging, live chat, and more were prioritized.
Hire Certified Healthcare App Developers
Request A Free Quote
Conclusion on Telemedicine Apps
In addition to helping you rethink how you approach your health, apps can put you in the driver's seat to take decisive (and healthy) steps before small problems become larger ones. It is important to note, however, that apps do not replace medical treatment, and you should consult your physician if you have any questions regarding an app.
Due to the fact that many apps offer widely accepted medical facts and data, they may prompt you to have new conversations with your doctor about your condition. In the least, medical apps for patients improve documentation so that your doctor will have more information about your symptoms and habits the next time you see him or her.
FAQs on Medical Apps
1. Telemedicine apps: which is the best?
Startups focused on easing consumer friction with common health issues like colds and rashes, who need quick care at an affordable price, are emerging outside traditional insurance and health networks. This type of service is currently growing rapidly in the telemedicine market, with examples such as Lemonaid, MDLIVE, and Doctor on Demand.
2. How Can I Get A Remote Doctor Consultation at the Most Affordable Price?
The cost of a single appointment with an MD can be as low as $75 through apps like Doctor on Demand. Depending on your insurance status and the type of service you need, most apps will charge you differently. A basic consultation will normally cost under $100, while psychiatric sessions will normally cost upwards of $175.
3. In 2023, What are the Best Healthcare Apps?
In 2023, the following healthcare apps will be the best:
Generis – Nutrition & DNA
Teladoc – 24/7 access to doctors
Better Help – Online Counseling
MDacne – Customized acne treatment
Leafly – Cannabis Community
MySugr – Diabetes Tracker Log
EyeCare Live
Heal – Physician house calls are back